Renan Barao: UFC Bantamweight Champion in Waiting?
March 31, 2012

Renan Barão has flown in under the radar. Outside Brazil, the 25-year-old has failed to generate the hype normally associated with a 29-fight unbeaten streak and a 65 percent finishing record. Following the strangling of Brad Pickett and a unanimous decision victory over Scott Jorgensen, however, "Renan Mota do Nascimento Pegado" will not linger in relative obscurity for long.
The Brazilian's official UFC statistics display the components of a definitively well-rounded game. With his skills divided between 36 percent submissions, 38 percent striking and 26 percent takedowns, Renan is a rare breed. The Nova União product's 93 percent success rate in takedown defence is similarly impressive, placing him firmly in the "new wave" of fighters emanating from Rio and São Paulo.
While Brazil has long been known for producing Muay Thai fighters packing stellar submission skills, we are also beginning to associate MMA's motherland with excellent defensive wrestling. Like his teammate José Aldo, Barão's wrestling skills have been honed for the purpose of range control—to finish fights rather than to "play MMA" as a point-scoring exercise. Should the 25-year old win a decision, we may assume that his opponent has merely survived. 
If we were inclined to continue drawing parallels between Renan and the featherweight champ, we could comfortably amuse ourselves for an age. Aside from sharing a practice room, Barão and Aldo both attribute their "warrior" mindset to a gritty upbringing packed with adversity and strife. Renan remembers "a lot of chaos, a lot of suffering" while growing up, claiming that these troubles helped to produce an indomitable spirit and impressive work ethic, the foundation of his recent success.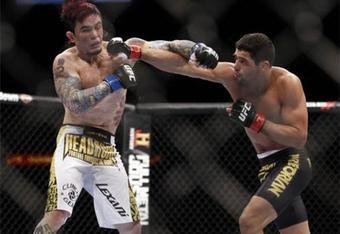 One look at a highlight reel exposes the young fighter as a liar. Not only is Barão an unstoppably hard worker and unbreakable competitor, he is also unspeakably gifted—the timing, accuracy and power showcased by Natal native can be sharpened, but can never be learned from scratch. Renan Barão has always been a phenom-in-waiting.
Who need concern themselves with Barão's rise? Dominick Cruz and Urijah Faber, for starters. While the Brazilian's next scheduled fight is against the hard-as-nails Ivan Menjivar, Cruz and Faber need to start thinking about Renan now. Even with the bantamweight champ's blistering footwork, and Faber's undeniable talent, it would not be shocking to see an Aldo-esque beatdown if Barão enters the cage with either man.
Take note, MMA fans: a wonder has landed. Renan Barão already possesses the mind, skills and heart of a champion; the belt is sure to follow suit.