Washington Redskins Mock Draft: Seven Areas of Immediate Need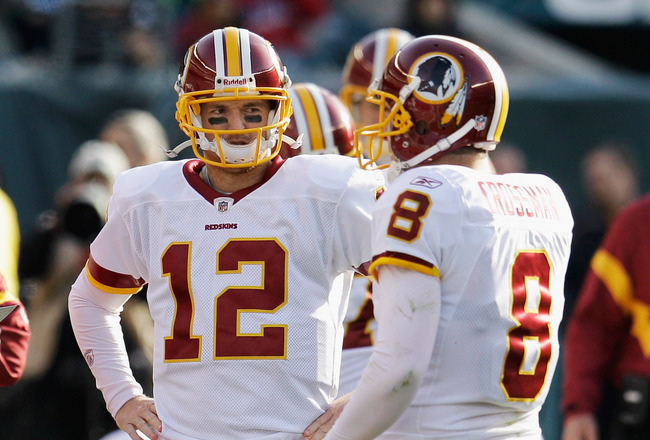 Rob Carr/Getty Images
It is hard to believe the 2012 NFL Draft is still several weeks away.
So much has happened in the NFL since the Giants beat the Patriots in Super Bowl XLVI.
Peyton Manning is now a Bronco.
The Saints franchise has been significantly damaged by the bounty-gate incident.
Redskins and Cowboys fans have united in their stand against the NFL for salary cap penalties imposed against the two teams.
As for the Redskins, they made the biggest pre-draft news by selling the farm, and quite a bit of the livestock as well, to the Rams in order to grab the No. 2 spot in the draft where they will draft their new franchise quarterback.
However, Redskins fans are well aware that the team's needs run far deeper than just signal caller. While the 'Skins have tried to address some of these needs through free agency, the cap penalties levied against them by the NFL have certainly hampered their efforts. As such, the Redskins will have to resort to the draft to address these pressing areas of concern.
Naturally, this close to the draft, the Internet is flooded with mock drafts of all sorts. An excellent, full seven-round draft, prepared by Wes Stueve appeared here at Bleacher Report recently.
Similarly, there have been numerous articles written analyzing the Redskins most pressing needs in the upcoming draft. Dan Hope recently wrote a great article outlining the five areas of need for the Redskins in the draft.
Manny Geraldo prepared a very good mock draft for all all seven rounds for the 'Skins.
This article is a hybrid of sorts. It is somewhat a merging of the concepts and ideas set forth by Mr. Stueve, Mr. Hope and Mr. Geraldo.
Keep Reading

Washington Redskins: Like this team?