2012 NFL Mock Draft: Grading the Career Potential of Every First-Round Pick
April 5, 2012
Ronald Martinez/Getty Images
1. Indianapolis Colts: Andrew Luck, QB, Stanford
Luck could be the best quarterback to be drafted in the last 10 years. If he lives up to the hype, he'll have a Hall of Fame career.
Career Potential: A+
2. Washington Redskins (via St. Louis): Robert Griffin III, QB, Baylor 
Griffin hasn't even scratched the surface of what he can do on the football field. If Coach Shanahan doesn't mess things up, RG3 will have a fantastic career.
Career Potential: A+
3. Minnesota Vikings: Matt Kalil, OL, USC
Kalil has the potential to be a starter at left tackle for a decade or more. Any team in the NFL would take that every year.
Career Potential: A
4. Cleveland Browns: Ryan Tannehill, QB, Texas A&M
I think Tannehill has the same amount of potential as Luck and Griffin, he just might take another year or two to realize it. He could have the best career out of all the quarterbacks in this draft if he ends up in the right system.
Career Potential: A+
5. Tampa Bay Buccaneers: Trent Richardson, RB, Alabama
If Richardson played 15 years ago, he'd be getting an A+. Unfortunately for Richardson, he plays a position that isn't the focus of the game anymore.
Career Potential: A-
6.   St. Louis Rams (via Washington):  Morris Claiborne, CB, LSU
Shut-down corners are not a dime a dozen. Claiborne has a Darelle Revis-esque ceiling, but if he can even come close to that the Rams will have made a great pick.
Career Potential: A+
7. Jacksonville Jaguars: Melvin Ingram, DE/OLB, South Carolina
I'm not a huge fan of Ingram, but I understand that NFL teams may place a top-10 value on him. He will surprise me if he is able to consistently win in space. I don't think he will ever be a dominant player.
Career Potential: B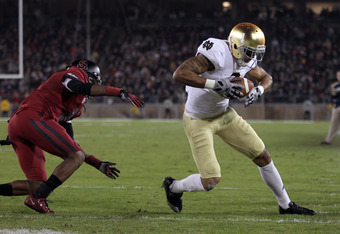 Ezra Shaw/Getty Images
8. Miami Dolphins: Michael Floyd, WR, Notre Dame
If Floyd keeps his nose clean off the field he can be the best receiver in the 2012 NFL draft. If the Dolphins solve their quarterback issue, Floyd could have a monster career.
Career Potential: A
9. Carolina Panthers: Quinton Coples, DE, North Carolina
Coples will be as good as he wants to be. He could be the Defensive Rookie of the Year or hardly see the field. I think he'll be closer to the former.
Career Potential: A+
10. Buffalo Bills: Cordy Glenn, OL, Georgia
Glenn is exactly the type of lineman that Buddy Nix might draft. He doesn't have a ton of upside, but his versatility and athleticism will keep him in the starting lineup somewhere.
Career Potential: B+
11. Kansas City Chiefs: Luke Kuechly, LB, Boston College
Kuechly looks like Jerod Mayo to me. He doesn't make an enormous amount of impact plays, but he will be a solid player for your defense.
Career Potential: A-
12. Seattle Seahawks: Justin Blackmon, WR, Oklahoma State
Blackmon isn't Calvin Johnson or Larry Fitzgerald. He is a true "X" receiver, however, and those don't just grow on trees.
Career Potential: A
13. Arizona Cardinals: Riley Reiff, OL, Iowa
Reiff may not be pretty getting the job done like Matt Kalil, but the job does get done. Whether he plays guard or tackle in the NFL, Reiff will be a solid lineman for as long as he is healthy.
Career Potential: B+
14. Dallas Cowboys: David DeCastro, OL, Stanford 
Like Richardson, DeCastro gets marked down only because of the position (right guard) that he plays. He has the potential to be the best guard in the game early in his career.
Career Potential: A-
15. Philadelphia Eagles: Fletcher Cox, DL, Mississippi State
Cox might be my favorite 2012 NFL draft prospect on the defensive side of the ball. He has produced even though he is raw technically. Consider that he was a true junior last year and you might well have a monster on your hands in the very near future.
Career Potential: A+
16. New York Jets: Mark Barron, S, Alabama
Barron is not Ed Reed or Ronnie Lott. That said, he should be able to solidify a terrible Jets safety corps from last year.
Career Potential: B
17. Cincinnati Bengals (via Oakland): Dre Kirkpatrick, CB, Alabama
Kirkpatrick has some rawness to his game, but his length, speed and willingness to support the run puts him ahead of many other rookie corners.
Career Potential: A
18. San Diego Chargers: Whitney Mercilus, DE/OLB, Illinois
Mercilus has a lot of potential, but wow is he raw. He has a good first step and has improved a lot during his career. If he is able to complete his development, he could produce 10-plus sacks a year.
Career Potential: B+
19. Chicago Bears: Devon Still, DT/DE, Penn State
Still has the potential to take over whole games, not just plays and series. If he doesn't keep his motor running though, he will not last as a starter.
Career Potential: A-
20. Tennessee Titans: Dontari Poe, DL, Memphis
Potential is all Poe really has. He flashed at times during his career at Memphis, but all too often he was pushed far away from the play. However, nobody can deny that he has incredible athleticism.
Career Potential: A+
21. Cincinnati Bengals: Peter Konz, C, Wisconsin
If Konz is able to stay healthy, he has the potential to have a long, distinguished career snapping the ball. Hopefully his issues with his ankles and blood clots are in the past.
Career Potential: B+
22. Cleveland Browns: Kendall Wright, WR, Baylor
Wright could be a "Z" or "slot" receiver in the NFL, he just doesn't have the size to be an "X." Wright should have a fine career, but his upside is limited. 
Career Potential: A-
23. Detroit Lions: Jonathan Martin, OL, Stanford
Jonathan Martin might start as a left tackle in the NFL, but I doubt he will end up there. I see him as an average starting right tackle five years from now.
Career Potential: B-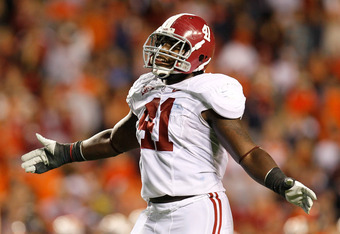 Kevin C. Cox/Getty Images
24. Pittsburgh Steelers: Courtney Upshaw, LB, Alabama
If I were an NFL GM, I wouldn't have a problem taking Upshaw in the top 10. He is a phenomenal football player, even if he is a little smaller and less athletic than many people thought. Put him in the right system and the sky is the limit.
Career Potential: A
25. Denver Broncos: Janoris Jenkins, CB, North Alabama
Jenkins could be the best cornerback in the league. He could be out of the league before he ever plays a game. He has a ton of baggage, but many of those bags are full of potential.
Career Potential: A+
26. Houston Texans: Rueben Randle, WR, LSU
Randle already has the deep game. If he can develop his intermediate routes, Randle's value and potential to be a star in the NFL will certainly rise.
Career Potential: A-
27. New England Patriots (via New Orleans): Nick Perry, DE/OLB, USC
Perry has upside as an OLB in a 3-4 system. If he can make the transition, he could be a double-digit sack guy for a couple of contracts.
Career Potential: B+
28. Green Bay Packers: Michael Brockers, DT/DE, LSU
Brockers has the frame to be a dominant defensive lineman. Playing alongside B.J. Raji certainly wouldn't hurt his career.
Career Potential: A+
29. Baltimore Ravens: Dont'a Hightower, LB, Alabama
Hightower isn't a dynamic linebacker in space, but he can get after the quarterback and deliver some big hits.
Career Potential: B+
30. San Francisco 49ers: Coby Fleener, TE, Stanford
Those looking for Fleener to be the next Rob Gronkowski need to calm down. Fleener isn't an every-down player like Gronkowski, but his speed and pass-catching will get him on the field.
Career Potential: B
31. New England Patriots: Stephon Gilmore, CB, South Carolina
Gilmore could easily be picked before this spot in the draft due to his excellent size and speed combination. If he buys into the Patriots system, Gilmore could be the next Ty Law in New England.
Career Potential: A
32. New York Giants: Doug Martin, RB, Boise State
Martin is as complete a back as Trent Richardson, but not nearly as explosive. He'll have a solid career, but I don't see him setting any records any time soon.
Career Potential: B