Fantasy Baseball: BABIP Wonders – Five Pitchers That Could Improve
March 31, 2012

Jeff Gross/Getty Images
We took a look at the batters who could regress or improve based on last year's BABIP, as well as some pitchers who could be due for regression. Now we'll look at some pitchers who could be due for improvement.
Ryan Dempster, Chicago Cubs 
Dempster sported a .324 BABIP last year, which led to a 4.80 ERA. His past three BABIPs have been .294, .302 and .280 with corresponding ERAs of 3.85, 3.65 and 2.96. If he can get his walk rate down and ground ball rate up, he should see improvement. 
Madison Bumgarner, San Francisco Giants 
He had one of the highest BABIPs (.322) among starters. He was nearly untouchable from August through the close of the year, posting a 2.18 ERA over his last 74.1 innings. His BABIPs for the final months dipped below .295. He could be a breakout pitcher this year. 
Ubaldo Jimenez, Cleveland Indians
He had more issues than just his .314 BABIP (.271 and .280 the previous two years), but that was one factor in his fall from grace. His strand rate went way down (65.0 percent) and his HR/FB rate (9.3 percent) went way up. He isn't a lock to bounce back, but if he can get his velocity back to form, with his filthy stuff, the odds are good. 
John Danks, Chicago White Sox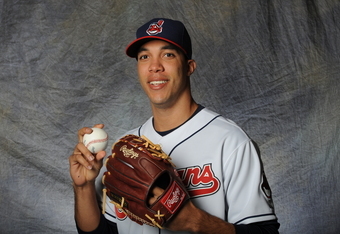 Rich Pilling/Getty Images
Danks posted his first ERA over 4.00 since 2007. It should be no surprise that his BABIP (.313) was his first BABIP over .295 since 2007 as well. The previous two years it was below .275. He started and ended slowly, but his middle months were what we have come to expect from Danks. 
Felix Hernandez, Seattle Mariners 
King Felix has a .307 BABIP last year, which is 11 points higher than his career mark and 44 and 29 points higher than his previous two years respectively. His 3.47 ERA was over a point higher than the 2.38 combined ERA from 2009 and 2010. He was snake-bitten in the season debut, being saddled with a no-decision despite allowing one run over eight innings, but he should be even better in 2012.
2012 Fantasy Baseball Starting Pitcher Rankings
2012 Fantasy Baseball Sleepers