Final Four 2012: Why Regular-Season Kansas vs. Ohio State Matchup Means Nothing
March 31, 2012

Jim Rogash/Getty Images
The last time Kansas and Ohio State faced each other on Dec. 10, Jared Sullinger was held out because of back spasms, and Tyshawn Taylor played with a torn meniscus.
That makes Saturday's Final Four matchup between the Jayhawks and Buckeyes completely different, along with a host of other developments.
Sullinger, of course, is a superstar. He's averaging 17.6 points, 9.1 rebounds, 1.2 steals and 1.0 blocks this season, while shooting 53 percent from the floor. Sully is also averaging 18 points and 8.2 rebounds in four NCAA tournament games.
The verdict is still out on Taylor. He had a miserable start to the NCAA tournament, but had a breakthrough performance against North Carolina in the Elite Eight, posting 22 points, six rebounds, five assists and five steals in the Jayhawks' 80-67 victory.
Taylor can blow up and unravel in the same breath. He had 13 assists against Ohio State on Dec. 10, but he also had seven turnovers.
Perhaps the biggest difference for the Jayhawks has been the emergence of center Jeff Withey, who has become one of the best low-post defenders in college basketball. Withey had 10 blocks against N.C. State in the Sweet 16 and posted 15 points, eight rebounds and three blocks against North Carolina in the Elite Eight.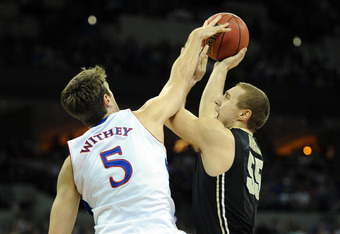 Eric Francis/Getty Images
Withey had two points and two blocks against Ohio State in the regular-season clash. Of the Dec. 10 battle, he said this on Friday:
"'It was so long ago. We've both grown so much. It feels like a year ago. It's going to be a different game tomorrow.'"
Withey will likely play some defense against Sullinger, which means he'll be a pivotal player for the Jayhawks on Saturday. If he can disrupt Sullinger's game, he can sway the balance to Kansas' side.
But, beyond all the developments for both teams, it's also worth noting this is the Final Four—not just some regular-season game. There is a lot more at stake, and how players deal with the pressure is just as important as how talented they are.
One thing's for sure: This will be a completely different game than the December duel.
Follow me on Twitter. We can talk about Kansas vs. Ohio State.