NCAA Tournament 2012: Grading Each Final Four Team's Best Big Dance Performance
March 31, 2012

Kevin C. Cox/Getty Images
By the end of the day, the Final Four will be over with and the 2012 NCAA Tournament will be on to the championship game.
Yeah, it's gone fast.
The only true shame about this year's Final Four is that it doesn't feature any Cinderella teams, unlike last year's Final Four. Each of the teams that have made it to the National Semifinals are products of big-time basketball programs with tons of resources.
But nobody is here by accident. Louisville, Kentucky, Ohio State and Kansas all had to play great basketball to get to the Final Four. In fact, all four of them are playing their best basketball of the season.
Here's a look back at each team's best game to this point in the tournament.
No. 4 Louisville Cardinals: vs. No. 1 Michigan State Spartans in Sweet 16
Louisville was a heavy underdog heading into its tilt against the top-seeded Spartans, as surely a scrappy team with minimal talent wouldn't be able to handle one of the most well-rounded teams in the country.
So much for that. Louisville had Michigan State's number from the very start and the Spartans ended up scoring just 44 points all game. The final score was 57-44.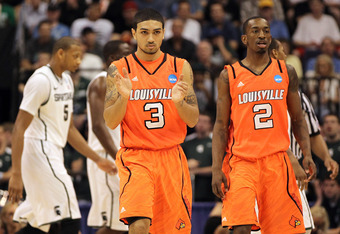 Jamie Squire/Getty Images
The Spartans came into the game as one of the most efficient offensive teams in the nation and they weren't known for playing sloppy basketball. Sure enough, Louisville forced them into being dreadfully inefficient and horribly sloppy.
All told, Michigan State shot just 28.6 percent from the floor and committed an uncharacteristic 15 turnovers. Star forward Draymond Green was responsible for the bulk of Michigan State's troubles, as he was just 5-of-16 from the field with six turnovers. He settled for seven three-pointers, making one of them.
In typical Louisville fashion, the Cardinals had their own issues on offense. None of it ended up mattering, though, as they were never really in danger of coughing up their lead. They made it impossible for the Spartans to get in sync. Because we're talking about a talented team headed by a truly great coach in Tom Izzo, that's impressive.
Grade: A-
No. 1 Kentucky Wildcats: vs. No. 3 Baylor Bears in Elite Eight
Before you ask, Kentucky's win over No. 4 Indiana in the Sweet 16 was very impressive. The Wildcats could do little wrong in that game.
But that win wasn't as impressive as Kentucky's utter domination of Baylor in the Elite Eight. The Wildcats had a 20-point lead by halftime and the game was already well out of hand by the time Baylor got its act together. This game was not as close as the 82-70 final score would indicate.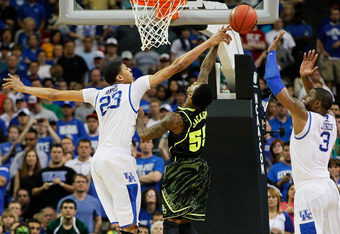 Kevin C. Cox/Getty Images
The game was won in the first half and it was won with half-court defense. According to ESPN Stats & Information, Baylor was just 7-of-24 shooting when in its half-court offense in the first half. I for one remember not being surprised at the time, as the Bears are a team that like to attack the basket and they found that very hard to do against Kentucky. They were unable to adjust and that made it way too easy for Kentucky to put the game in its pocket.
On defense, Baylor had no answer for Michael Kidd-Gilchrist, who had 19 points on 7-of-10 shooting with just one three-pointer. Anthony Davis was highly efficient, as he had 18 points on 6-of-9 shooting. He also pitched in 11 rebounds and six blocks. Typical Davis numbers.
The numbers only do so much to tell the story. Anybody who watched the whole game knows that Kentucky basically toyed with Baylor. The Wildcats made a very talented Bears team look like a youth team.
Grade: A
No. 2 Ohio State Buckeyes: vs. No. 1 Syracuse Orange in Elite Eight
Ohio State didn't exactly have a tough road to the Elite Eight, so there was some concern over whether the Buckeyes would be ready for a tough and battle-tested team like the Orange.
It wasn't looking so good early on. Jared Sullinger got in foul trouble early and had to take a seat, and without him the Orange were able to hang around.
Jim Rogash/Getty Images
The game turned when Sullinger returned in the second half and put the Buckeyes on his back. He looked to make a play every time the ball was in his hands, and he ended up scoring 15 of his 19 points in the second half. A good portion of those came at the free-throw line, as Sullinger showed that he wasn't afraid to attack the teeth of Syracuse's zone.
This is probably because he knew he didn't have to worry about running into Fab Melo. Syracuse definitely missed him in this game, and not just on defense. The Buckeyes ended up owning the boards, out-rebounding Syracuse 37 to 22.
Ohio State didn't dominate the Orange in this game. It's more apt to say that the Buckeyes out-muscled Syracuse, which is something that very few teams managed to do this season. 
Grade: B
No. 2 Kansas Jayhawks: vs. No. 1 North Carolina Tar Heels in Elite Eight
Once it was determined that Kendall Marshall wouldn't be playing in this game, you kinda knew that North Carolina was doomed.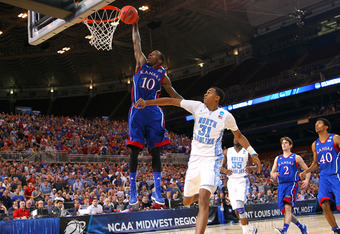 Dilip Vishwanat/Getty Images
As it turned out, Marshall's absence opened the door for Tyshawn Taylor to have his best game of the tournament. He broke out of his slump to score 22 points and he definitely took advantage of North Carolina's Marshall-less offense. He had five steals and ended up scoring half of Kansas' transition points all on his own.
The Jayhawks won this game partly because of him and because of what they were able to do against the Tar Heels' talented frontcourt. Tyler Zeller and John Henson were held to just 22 points on 11-of-23 shooting, and they combined to grab just three rebounds.
It's therefore not a huge surprise that the Tar Heels settled for a lot of three-pointers. Luckily for Kansas, they weren't hitting them. North Carolina was just 2-of-17 from distance. Harrison Barnes was 0-of-5.
Would things have been any different if Marshall had been playing? Of course. The Tar Heels damn near lost to Ohio without Marshall. It's not a surprise that they lost to Kansas.
Because of that, Kansas' win in this game is only worth so much.
Grade: B-