Final Four 2012 Scores: Players Who Will Step Up in Kansas vs. Ohio State
March 31, 2012

Dilip Vishwanat/Getty Images
When you're playing in the Final Four, you either rise to the occasion or sink like a stone.
There will be plenty of players trying to make their mark in Kansas vs. Ohio State on Saturday. Some are stars, some are vital role players. But you don't have to score 20 points to make an impact.
Here are four players who will step up in the Final Four.
Aaron Craft, G, Ohio State
Like I said, a player doesn't have to score 20 points to be a difference-maker.
Aaron Craft is averaging 8.8 points this season, but he's also averaging 2.5 steals and is a critical component of Ohio State's pressure defense. He had six steals against Cincinnati in the Sweet 16.
Craft is matched up with dynamic point guard Tyshawn Taylor in the Final Four. Taylor just went off for 22 points, six rebounds, five assists and five steals in Kansas' upset of North Carolina, but he has been erratic at times this season and he's not immune to coughing the ball up.
I think Craft frustrates Taylor and it becomes a big part of Ohio State advancing to the national championship game.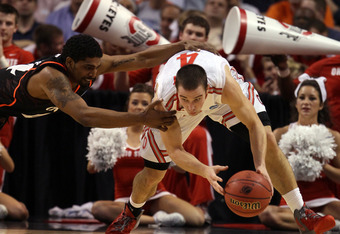 Elsa/Getty Images
Jeff Withey, C, Kansas
Jeff Withey was overshadowed by Taylor and Thomas Robinson during the regular season, but he's getting plenty of credit for his play in the NCAA Tournament.
Withey, with his rebounding and shot-blocking ability, has been a huge asset for the Jayhawks in the tournament. Against N.C. State, he had 10 blocks. Against North Carolina, he posted 15 points, eight rebounds and three blocks.
I expect Withey to alter some shots and continue his work on the class against Ohio State.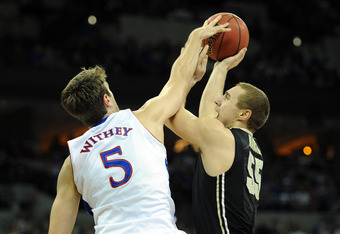 Eric Francis/Getty Images
Jared Sullinger, F, Ohio State
NBA scouts may be 50-50 on Jared Sullinger, given he's not the most explosive player, but one thing's for sure: Sullinger's a star in college basketball.
Sullinger is averaging 17.6 points, 9.1 rebounds, 1.2 steals and 1.0 blocks this season and he's been spectacular throughout the tournament. After scoring 23 points and grabbing 11 rebounds against Cincinnati, he posted 19 points and seven rebounds against Syracuse in the Elite Eight.
Sullinger will likely be matched up against explosive Robinson for most of the game, but I still expect him to score big with his post game.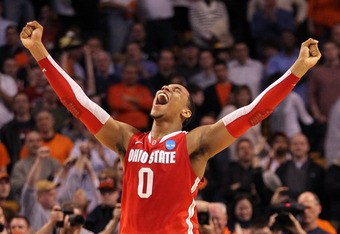 Jim Rogash/Getty Images
Thomas Robinson, F, Kansas
Thomas Robinson is a legit top-three pick in the NBA draft. He's an explosive athlete who attacks the glass.
Robinson isn't a big-time shot-blocker, so in that regard I don't think he'll severely limit Sullinger defensively, but I do think he will have a huge impact on the glass and when he gets the ball down low in the post.
Superstars shine on the big stage and I expect Robinson to continue his marvelous play against the Buckeyes.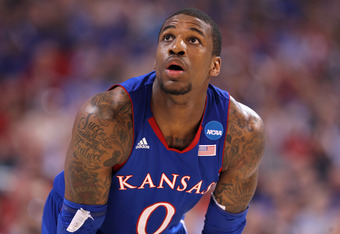 Andy Lyons/Getty Images
Follow me on Twitter. We can talk about the Final Four.