Final Four 2012: Kentucky Wildcats Have Proven This Is Their Tourney to Lose
March 31, 2012

Kevin C. Cox/Getty Images
If this NCAA Tournament has proven anything to us all, it is that the Kentucky Wildcats look unstoppable under head coach John Calipari and standout freshman forward Anthony Davis.
The Wildcats have been rolling through the competition this tournament, outscoring their opponents, 346-297. Most of that has been due to the excellent play of Davis, but as well as strong performances from players like Doron Lamb and Michael Kidd-Gilchrist.
While the rest of the field has been playing extremely well to get to where they are today, the Wildcats have just been playing at a level that just excels above the rest.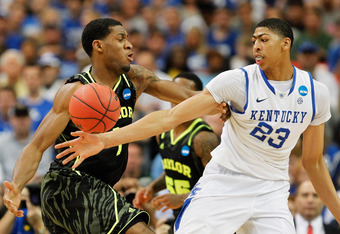 Streeter Lecka/Getty Images
The team will face off against the Louisville Cardinals in their last obstacle to the national title game, but despite the way they have overcome the difficult path to get here, the Wildcats will just be too much for the team to make another strong performance against.
Of course, anything could happen, but it will take a major collapse on the Wildcats' part at this point in the tournament to really drop the ball here.
On the other side of the bracket, the Wildcats have only faced the Kansas Jayhawks, but that was just the second game of the season, since then so many things have changed.
The Ohio State Buckeyes, on the other hand, are a very interesting opponent, as they create a rematch of last year's Sweet 16 game where the Wildcats upset the No. 1 seed Buckeyes to end their title dreams early.
Both those teams have been playing well as of late, especially the Jayhawks who knocked off the North Carolina Tar Heels in the Elite Eight.
Either team could give the Wildcats a serious fight for the title, but the Wildcats still stand to be one of the most consistent and dominant teams of the tourney.
They first have to get past Louisville to even worry about either of those teams, but if trends continue, the Wildcats should continue to be heavy favorites to take home a title.