Fantasy Baseball Draft Strategy 2012: Mid-Round Pitching Studs to Build Around
March 31, 2012

Scott Cunningham/Getty Images
In every fantasy baseball draft I have ever done, I have maintained the stance that drafting pitching early is a bad move. Even the best pitchers only play in 20 percent of the team's games. 
Instead, you should take good hitting early and use some of the middle rounds to load your rotation up with guys like this. You can bring in more than one and still build a potent offense. 
Gio Gonzalez, Washington Nationals
The Nationals are a good team this year, and Gonzalez is the kind of pitcher who will do fine moving out of Oakland. The ones to worry about there are guys like Trevor Cahill, who used the spacious outfield to his advantage.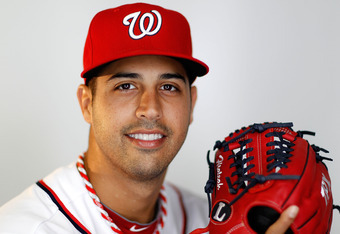 Mike Ehrmann/Getty Images
Gonzalez is more of a power pitcher, and those numbers don't tend to be dramatically hurt when going to a new division. Also, the National League East is not loaded with great hitting parks. Philadelphia is hitter-friendly and we don't know about Miami yet. Still, Atlanta and New York are great to pitchers, and Washington is fair. 
On top of all of that, Gonzalez is now pitching in a league without a DH and on a better team. I expect his numbers from Oakland to improve in nearly every area. 
Dixon's Projections
| | | | | | | | |
| --- | --- | --- | --- | --- | --- | --- | --- |
| IP | Hits  | BB  | ER  | K | W | ERA | WHIP |
| 207  | 181 | 83 | 74 | 196  | 16  | 3.22  | 1.28 |
Tim Hudson, Atlanta Braves
The disadvantage to Hudson is that he pitches to contact, so he'll allow a lot of hits. Fortunately, he won't surrender many walks. 
Additionally, there's a lot of ground balls with him, which lead to double plays. That keeps the ERA down in a big way.
On top of all of that, Hudson pitches in a spacious park for a good team, so the opportunities to win games will be there all year. He's certainly a guy that you can count on being taken late in the draft, but the numbers won't make you miss any of the perennial Cy Young contenders that will be going early. 
Dixon's Projections
| | | | | | | | |
| --- | --- | --- | --- | --- | --- | --- | --- |
| IP | Hits | BB  | ER  | K | W | ERA | WHIP  |
| 209  | 186   | 61  | 79 | 153   | 14  | 3.40  | 1.18  |
Vance Worley, Philadelphia Phillies
He really got the attention of many people last year. The best thing about Worley is he's got the stuff to neutralize both lefties and righties at Citizens Bank Park. 
As is the case with the other players, the Phillies are going to win a lot of games, so the pitchers will be in position to bring that category in. 
The drawback is that Worley pitches to a lot of contact, so the strikeouts aren't going to be high. Fortunately, the contact is not loud at all, so we're not usually looking at much more than seeing-eye singles against him. That limits the threat of big innings, which keeps the ERA consistently strong. 
Dixon's Projections
| | | | | | | | |
| --- | --- | --- | --- | --- | --- | --- | --- |
| IP | Hits | BB  | ER  | K | W | ERA | WHIP  |
| 173  | 163   | 55  | 72 | 148  | 13  | 3.75  | 1.26 |