Final Four 2012: Historic Louisville-Kentucky Rivalry Will Help Wildcats
March 31, 2012

Streeter Lecka/Getty Images
The historic rivalry between Louisville and Kentucky is well-documented. It's college basketball's version of Auburn vs. Alabama.
Having a Final Four matchup between Louisville and Kentucky is like having a giant party and then watching as chaos erupts and your house burns down. It sounds fantastic at first, but then it turns ugly.
How Louisville and Kentucky respond to the drama surrounding them on Saturday will indeed be part of the matchup. Sure, the players will say nothing matters once the ball hits the floor, but that's simply not true. Both teams will be handling the pressure of playing in the Final Four plus dealing with roaring fan bases.
So who benefits from the increased buzz?
Some may say Louisville, given the underdog Cardinals have nothing to lose, but the reality is Kentucky has more star power and thus more leeway to make mistakes on the hardwood.
For anyone to beat Kentucky this year, they are going to have to play near-perfect basketball. The Wildcats erupted for 102 points against Indiana and then outclassed a highly athletic team in Baylor in the Elite Eight.
A starter can falter and they still have the capability of winning by 20 points or more. Star player Anthony Davis, who got into foul trouble early against Indiana, scored a grand total of nine points and the Wildcats still looked like an NBA team.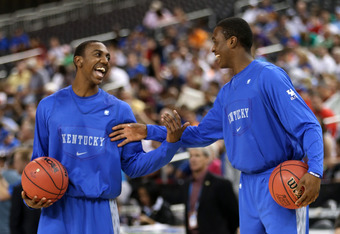 Jeff Gross/Getty Images
There is the possibility of Cardinals junior point guard Peyton Siva impacting the game against freshman Marquis Teague. Siva is averaging 1.7 steals this season, and the Cardinals, with their pressure defense, have the ability to frustrate Teague. Against Louisville on Dec. 31, Teague went 1-of-8 from the floor with four turnovers.
But, the difference now is Teague has improved dramatically in 2012. I don't know if he made a New Year's resolution or what, but even head coach John Calipari, who has historically been hard on point guards, has become his biggest fan.
If this game were being played in Louisville, I could see it being an advantage for the Cardinals. But it isn't. It's being played in a neutral arena.
The short and sweet of it is the Cardinals can't afford to make many mistakes against Kentucky, and the added pressure brought on by the rivalry won't make them as sharp.
Follow me on Twitter. We can talk about Louisville vs. Kentucky.