Tiger Woods Masters: Winning at Augusta More Important Now Than Ever
March 30, 2012

Sam Greenwood/Getty Images
Tiger Woods is coming off of his first PGA tournament win since 2009, and he will need to ride that momentum in the 2012 Masters at Augusta to claim an ever-so-needed major victory.
Woods hasn't won a major title since the 2008 U.S. Open, and hasn't sported a green jacket since the 2005 Masters tournament.
And while every year is important for Tiger to claim whatever titles he can, he is coming into this year's tournament as a winner, and has a chance to claim arguably the biggest title of them all.
For the first time in quite awhile, Tiger looks like he is the clear favorite at taking home this year's title, and he can do so while he continues to repair his image.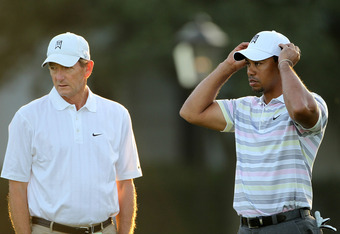 Jamie Squire/Getty Images
More importantly, Tiger is doing this on an entirely different path. He is without former swing coach Hank Haney—although one would think the two are still together with how much Haney speaks of him—and has clearly started to do a fine job in refining his game.
Woods has actually done well here the last few years, finishing fourth in both in 2010 and 2011. Coming so close those last two times, and now with some momentum going for him, this is the tournament that Tiger should be able to finally claim as his own, as he has four other times over his career.
Both of those years would have been huge wins for Tiger after everything that happened with his personal life, but now more than ever is his career becoming relevant again.
Nobody is going to condemn what Tiger did as OK, but it seems like as time has gone by, Woods has returned to relevancy, and many don't really have a gripe with who he is.
Woods has always been a fan favorite, and his return to the top will be just as good for him as it is for the entire golfing community.
He carries the image of the game, and when he is playing at his best, there is arguably nobody more intriguing to watch in any given tournament.
Jeff Chase is a Featured Columnist for the Chicago Cubs and Arizona State football.