NBA Rumors: Magic Must Replace Head Coach Stan Van Gundy with Nate McMillan
March 31, 2012

Ezra Shaw/Getty Images
The Orlando Magic have made numerous roster changes over the years in an attempt to persuade star center Dwight Howard into staying with the franchise long-term, but the next move that must be made is replacing head coach Stan Van Gundy with Nate McMillan.
Van Gundy, like his brother Jeff, is a very good coach, but both of them are not championship-caliber coaches. They are capable of leading a successful team on a deep playoff run, but they are not capable of leading a team to a title.
If the Magic don't make a deep playoff run this season, Van Gundy and general manager Otis Smith might not return to the team next season, and McMillan could be a top candidate to take over the squad.
The fates of Magic coach Stan Van Gundy and general manager Otis Smith won't be clarified until after Orlando does what it does in the playoffs. 

The whispers, though, have already begun to spread on the coaching grapevine that Nate McMillan will emerge as a prime candidate to replace Van Gundy if this is it for SVG in Central Florida.
Van Gundy is like Mike Brown and Avery Johnson. Both of those coaches are strong regular season coaches, but their inability to deliver on postseason expectations limits their ability to lead a legitimate title contender.
McMillan is a spectacular coach. He's a very good teacher and he's able to get the most out of what he's given.
As the leader of the Portland Trail Blazers from the start of the 2005-06 season until February, McMillan always had to deal with injuries to key players but was always able to help the Blazers play at a high level in a very competitive Western Conference.
Injuries to Greg Oden and Brandon Roy prevented the Blazers from being a real title contender, but that did not stop them from being a team that was quite difficult to play against.
With the Magic, McMillan would shine because he would have a dominating center and a team that would love to play for him.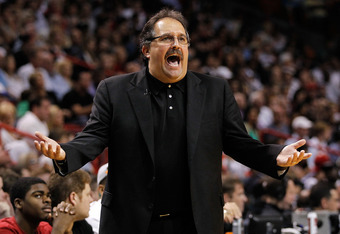 Mike Ehrmann/Getty Images
Van Gundy is a strict coach and is very demanding. Some players like that style because it pushes them to play harder, but some players don't like that fiery style and don't respond well to it.
The Magic are a pretty young team with little playoff experience, so McMillan's player-friendly style would almost certainly be a fit. The Magic need someone who can develop their talent but also be less intense on the court and in the practice gym.
This doesn't mean they are babies or need to be coddled, it just means that Van Gundy's coaching style isn't a fit for the Magic.
Van Gundy is a good coach, but he won't bring Orlando to the promised land anytime soon.
Replacing him with a bright coach who the players will enjoy playing for, like McMillan, is the change that must be made this offseason to move the franchise forward.