2012 NFL Draft: Creating a Perfect Mock Draft for the Carolina Panthers
March 31, 2012

Joe Murphy/Getty Images
With March coming to a close, the 2012 NFL Draft is now just less than a month away. And as we all know, the ultimate goal of the NFL draft is to effectively snag the best available talent to fill various team needs.
Unfortunately, however, drafts don't always go as planned. Teams are often burned by busts or spurned by the squads picking before them.
But what if there was a perfect draft? What if the Carolina Panthers ended up with a perfect haul in the upcoming event?
If so, the best possible 2012 draft for Carolina may look like this:
First-Round (Ninth overall): Morris Claiborne, CB, LSU
Texas A&M's Ryan Tannehill could end up as Carolina's best friend on April 26th. After Tannehill's fairly impressive pro day performance, it is just about certain that he has Cleveland considering him with the fourth overall selection.
If the Browns do indeed splurge on perhaps the most polarizing prospect in the draft at No. 4, it could have LSU's standout corner Morris Claiborne falling to the Panthers at No. 9.
The rest of the top-10 would have to fold out as so, assuming Andrew Luck, Robert Griffin and Matt Kalil are picked up by Indianapolis, Washington and Minnesota, respectively:
4. Cleveland Browns: Ryan Tannehill
5. Tampa Bay Buccaneers: Trent Richardson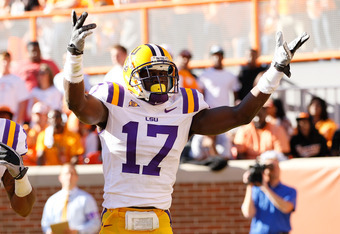 Kevin C. Cox/Getty Images
6. St. Louis Rams: Justin Blackmon
7. Jacksonville Jaguars: Michael Floyd/Melvin Ingram
8. Miami Dolphins: Quinton Coples/Michael Floyd/Melvin Ingram
9. Carolina Panthers: Morris Claiborne
To say this is a stretch is quite an understatement. But being that I'm constructing the perfect 2012 draft outcome for the Panthers, I will consider this potential steal a possibility.
If the Panthers see Claiborne drop to them at the ninth overall selection, you may see a record in the NFL Draft for the fastest selection in history.
With their ineffective defense against both the pass and run, Claiborne should be Carolina's most coveted prospect in the entire draft. 
At 6'0" and 185 lbs, Claiborne has been one of college football's best cornerbacks over the last two seasons. In fact, he may be the best defensive player coming out in 2012. He has good hands, exceptional speed and the ability to be an elite cover corner in the NFL. 
Claiborne appears to be a slam-dunk pick and has even warranted more praise than his former teammate and the fifth overall selection from last year's draft, Patrick Peterson.
For more on the aforementioned scenario, check out my detailed piece on how the LSU product can end up in Charlotte.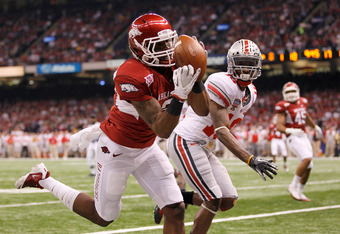 Kevin C. Cox/Getty Images
Second-Round (40th overall): Brandon Thompson, DT, Clemson
Carolina's defense allowed 130.8 rushing yards per game this past season, ranking 25th in the NFL. They also ranked near the bottom of the league in passing yards allowed, averaging 246.8 per. These numbers are clearly a product of the team's lack of a pass rush as well as its weak run defense.
If Marty Hurney and crew end up passing on first-round favorites Dontari Poe and Michael Brockers, Clemson's Brandon Thompson could be the pick if he's available. Thompson, a relatively unsung hero in this class of defensive tackles, should be a very appealing option for Carolina in the second round.
The 6'2", 310-pound tackle has quite the skill set that should translate very well at the next level. He possesses great explosiveness, good strength and the ability to evolve into the big run-stuffer this team needs.
Thompson finished his 2011 campaign with 46 total tackles, 7.5 tackles for a loss, 2.5 sacks and a forced fumble.
Fourth-Round (104th overall): Joe Adams, WR/PR, Arkansas
Gearing up on special teams in the draft isn't the sexiest approach, but it's certainly a must for Carolina. 
Many pointed out their unreliable defense as the major culprit of their ten-loss total. Their special teams, however, was just as bad, if not worse.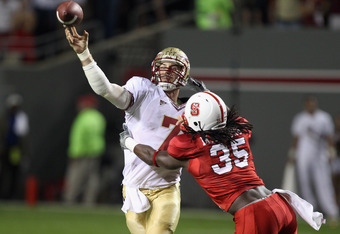 Streeter Lecka/Getty Images
If Carolina is looking to add a punt returner, Arkansas' Joe Adams would be a great option.
As a wide receiver in 2011, Adams had 54 catches for 652 yards and three touchdowns. He had 50 catches for 813 yards and six touchdowns in 2010, and 29 catches for 568 yards and seven touchdowns in 2009.
As a punt returner, Adams is known for one very big play. His punt return for a touchdown against Tennessee last season was nothing short of amazing. He seemed to shake off the entire Volunteers' punt team en route to the end zone.
Adams led the nation with four punt returns for touchdowns and was tied with Jayron Hosley for the third-highest average per return. 
The Razorback would provide a dynamic special teams' presence and a relatively solid target for Newton.
Fifth-Round (143rd overall): Russell Wilson, QB, Wisconsin
Head coach Ron Rivera has already affirmed the possibility of the team looking into a backup for Cam Newton in the draft.
If so, Wisconsin's Russell Wilson would be a nice grab in the fifth-round. 
Wilson has consistently shown his good arm through both NCAA games and, more recently, at the NFL Combine. He doesn't have the greatest strength but is capable of making just about every throw.
In his 2011 season at Madison, Wilson threw for 3,175 yards along with 33 touchdowns and just four picks. He also tossed the ball at a very efficient rate, completing 72.8 percent of his passes.
Now, Wilson's ground attack isn't nearly as dangerous as Newton's, but quite frankly, it isn't supposed to be. Wilson would be a backup. All he would be asked to do is play the same game as Newton if needed.
Wilson's rushing numbers aren't flashy by any means. However, he's a quarterback that can sniff out quite a few ways to score. That's something Newton often proved in his rookie season.
Wilson also draws some similarities to Newton in both the athletic and competitive departments. He's a guy that's smooth in the pocket and also wouldn't be afraid to break off a run.
Sixth-Round (180th overall): Terrell Manning, OLB, North Carolina State
After letting Dan Connor and Jordan Senn walk and seeing Jon Beason and Thomas Davis go down to season-ending injuries in 2011, the front office must look into some linebacker depth.
If they pass up on Boston College's Luke Kuechly with their first overall selection, the Panthers could take a talent within the state. The Wolfpack's Terrell Manning has the potential to be quite a steal if he lands here.
Manning recorded incredible numbers during his 2011 campaign at North Carolina State. He racked up 76 tackles, 14.5 tackles for a loss, 5.5 sacks, three interceptions and four forced fumbles.
The 6'2", 237-pounder exhibits great instinct, decent speed and good coverage skills. He could, however, go as high as the fourth-round depending on other teams' needs.
Sixth-Round (207th overall): Levy Adcock, OT, Oklahoma State
Carolina just traded running back Mike Goodson to Oakland for guard Bruce Campbell. The front office also signed former Colts guard Mike Pollack after letting Travelle Wharton and Mackenzy Bernadeau go.
But since the team has definitely found their franchise guy in Newton, they may need some more depth on the line, especially at the tackle positions.
Oklahoma's Levy Adcock could be a sensible selection for the tackle spot here, considering that Jeff Otah has played just four games in the last two seasons.
Adcock possesses great size at 6'6" and 322 pounds. He exhibits good mobility, nice footwork and can certainly use his strength to his advantage.
Seventh-Round (216th overall): Bryan Anger, P, California
As I stated earlier, the entire Carolina special teams unit was nothing short of disappointing in 2011.
Punter Jason Baker unfortunately contributed to that. He ranked 29th in average yards per punt, 32nd in net and 27th in punts kicked inside the 20. Baker has since been let go by the team.
Since Carolina isn't carrying a punter on the current roster, it seems more than likely they'll take one in the draft.
One of the nation's best punters last season was California's Bryan Anger. Regarded as the draft's top prospect at the position, Anger is a strong candidate to replace Baker.
Anger averaged 44.3 yards per punt. Eighteen of those were 50 or more yards. He also pinned 19 punts inside the 20-yard line.