Toronto Blue Jays: Should Travis Snider Be Traded for a Starting Pitcher?
March 31, 2012
Jim McIsaac/Getty Images
Before I begin, let me just say, I like Travis Snider.
He's improved both offensively and defensively as a player since making his first major league appearance for the Toronto Blue Jays in 2008. He possesses a good amount of power in his bat, and the fact that he's left-handed makes him a nice asset offensively, particularly when facing off against right-handed pitchers.
He also had a good showing in Spring Training this year, tying the team in home runs (four), and leading in RBI (16).
Which is why, I think, since he's been playing at a higher level, the Blue Jays should trade him before said level falls.
When you think about it, does Snider truly fit in the organization long-term?
He lost out to Eric Thames for his starting job in left field. Colby Rasmus, the starting center fielder, won't be a free agent until 2015. Jose Bautista, the right fielder, signed a contract last year that extends until 2015, plus an option for 2016.
Then, there's the backups. Rajai Davis's contact ends this year, but the Blue Jays do have a $3 million club option for 2013. Ben Francisco has another arbitration year and won't be a free agent until 2014.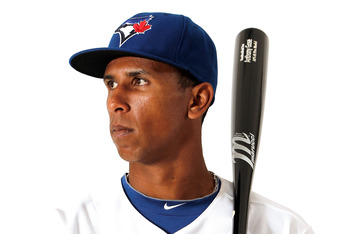 Jonathan Ferrey/Getty Images
If you want, you could also throw Adam Lint into the mix, considering he has experience in left field, as well.
And then, you have a couple of prospects who could work out for the organization over the next several years.
There's speedy center fielder Anthony Gose, who, like Snider, bats left-handed. He had 70 steals in Double-A New Hampshire last season, and he had an impressive showing on Thursday, stealing four bases against Boston. Yes, four steals in one game! He also does a great job defensively. Gose will be starting in Triple-A Las Vegas this season, but I wouldn't be be surprised if he gets a call-up sometime this season.
There's Jake Marisnick, who played in Single-A Lansing last season. His .320 batting average was good for second in the Midwest League and his .888 OPS was fourth-best.
Moises Sierra is another prospect who could be called up within the next year. He has power potential and has a rocket for an arm. After missing nearly all of 2010 due to injuries, he had a solid 2011 season. He recorded a .277 batting average, 18 home runs, 67 RBI, and 16 stolen bases.
Other outfield prospects to consider even farther in the future include Chris Hawkins and Jacob Anderson.
So, where does that leave Snider to fit in this organization?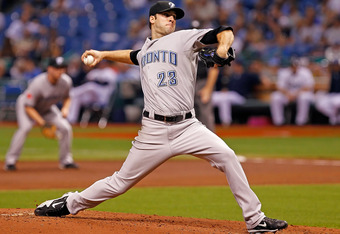 J. Meric/Getty Images
General Manager Alex Anthopoulos has done a great job in creating a stronger farm system, thanks to him stockpiling high-draft picks. But now is the time to grab someone big in the pitching department. The team needs a pitcher that can fill in somewhere within the first three spots in the rotation.
They have Ricky Romero, and I expect him to have similar, if not better, numbers than the great 2011 season he had. I also like Henderson Alvarez. Though his win-loss record may not indicate it, he had good showings in his 10 starts last year. Of course, because this is his first full season in the majors, he shouldn't be near the top of the rotation, unless injuries occur.
But the rest of the rotation, I'm cautious about.
Brandon Morrow is their second man in the rotation, and he can certainly throw strikeouts. However, last year, he recorded a 4.72 ERA and just can't seem to get that ERA down. I know he's been very impressive in Spring Training, but can he continue to do that throughout the regular season? And should he really be that high in the rotation?
There's Brett Cecil, who did go 15-7 in 2010. However, he had difficulties in 2011, recording a disappointing 4-11 in 20 starts, with a 4.73 ERA.
You have Kyle Drabek, who had a 6.06 ERA in 18 games (14 starts), and had a 7.44 ERA in 15 starts for Triple-A Las Vegas.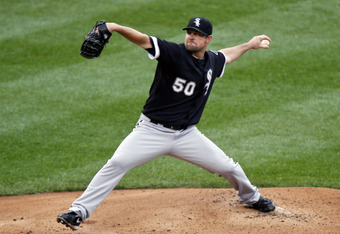 Ed Zurga/Getty Images
Aaron Laffey is another option, and he had a good start to Spring Training before being blasted in his last two games against Minnesota and Boston. In addition, he hasn't had a major league start since 2010, when he was with the Cleveland Indians, and his career thus far has gone up and down.
And finally, there's oft-injured Dustin McGowan, who also did a great job in Spring Training but was diagnosed with plantar fasciitis and will now miss the start of the season.
The Blue Jays need a quality pitcher to help out the rotation, especially if they want to start battling for the AL East division this year.
They could go with Wandy Rodriguez of the Houston Astros. The Astros need players and Wandy is locked up for another two seasons, with a 2014 option available. The only downside is that he's worth $23.5 million in that same time period.
But, hey, if Anthopoulos can somehow get the Los Angeles Angels to eat all but $5 million out of Vernon Wells' contract when they traded him, surely they could get the Astros to eat part of Wandy's contract, if they get him? And even if they can't, not having Wells has given them some space to work with (plus, the organization being owned by Rogers Communications certainly helps).
Or what about John Danks and/or Gavin Floyd of the Chicago White Sox? Both of them are available for the right price, according to the Boston Globe, even though Danks had already signed an extension back in December. Yes, the contract is worth $65 million, but they would have him until the end of 2016. Floyd's contract ends this year, but there is a club option available for 2013, and if the Blue Jays want to, they could use that club option to give more of their prospects extra time to develop.
Surely, with Snider and some sort of package to go alongside him, they could get a good deal? He's still very young, at just 24 years old, has improved in both facets of the game, possesses pop in his bat, and already has experience at the major league level.