Official Chicago Cubs 2012 Lineup Released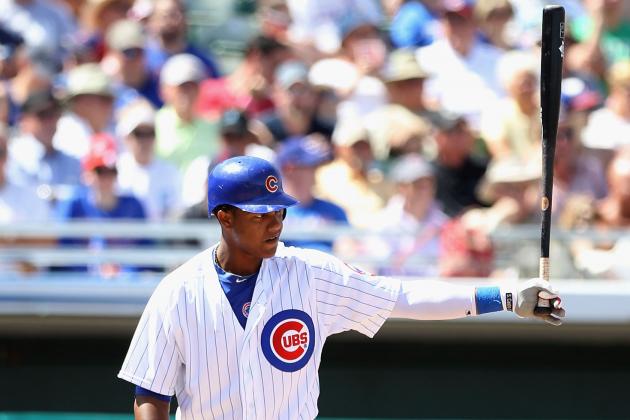 Christian Petersen/Getty Images

After the official rotation was released and discussed, today is the day that Dale Sveum has announced what the official Opening Day lineup should be, barring injury, according to the Chicago Tribune.
While a lot of stock can be put into things like lineup order as well as spring training production, taking these facts with a grain of salt is putting it lightly.
Promptly pour the entire salt shaker into your mouth.
Spring training statistics don't hold a bucket of water next to the ocean of the season. While it may be nice that guys like Joe Mather produced like Albert Pujols injected with super-soldier serum, it has virtually no bearing on what the season brings for him.
Take that exactly the same way for those who struggled, like David DeJesus. It has no weight on anything that is coming in the next few weeks and over the next few months.
We'll all forget very quickly about what happened during these pre-season festivities like we do every year.
Lord knows I'm excited to get past the spring shenanigans and get the season started, regardless of the expectations. Baseball season is here, and let's see what the Cubs will be bringing to the plate this season.
Begin Slideshow

»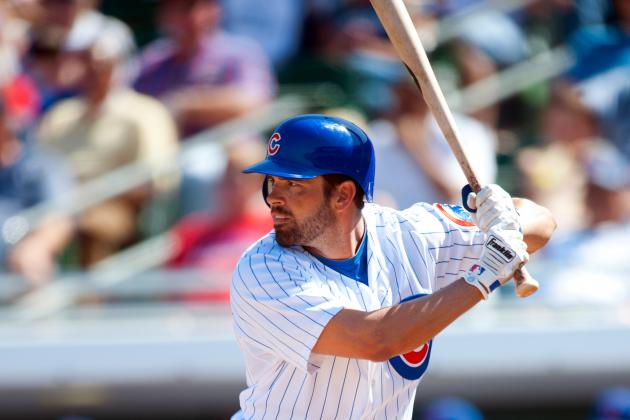 Rob Tringali/Getty Images

The only player on the Cubs who could ever be called a former or future legitimate lead-off hitter, DeJesus has a lot to prove after dealing with an injury-plagued down-season in 2011.
The hard-working outfielder has had the poor luck of bouncing around some of baseball's very worst teams in the league. From Kansas City to Oakland, it doesn't look good that he'll see very much winning as a Cub either.
If he wants to change that, he'll need to simply produce to his career numbers, which is perfectly within his range at 31 years old.
Try your best to forget his spring training production which saw him hit a meager .167. I repeat, it means nothing. The quality of his production cannot be postulated by 40 spring training at-bats, and anyone saying such is playing a very ignorant game.
The defensively-talented right fielder won't be running much on the bases, amassing only 11 stolen bases in the last three years. It will be a rare sight to see him running, so he'll never be that type of lead-off hitter.
What he gives the Cubs that nearly no other player does however, is on-base skills. It's going to be a frightful offense when it happens to be chock full of guys who have no idea how to take a walk. Castro, Barney, Byrd, Soriano, take heed. No fan should expect them to change their ways, but if the team wants to even be a pretender, they'll need to get on-base. The teams that lead the league in on-base percentage are virtually always offensive leaders in this game, it's just how it works. DeJesus can start that off the right way, he just needs to revert to his days of producing as a Royal.
His time as a Cub may be short, but let's all hope he stays healthy and starts every game off by getting on-base and getting around the horn enough to put some runs on the board.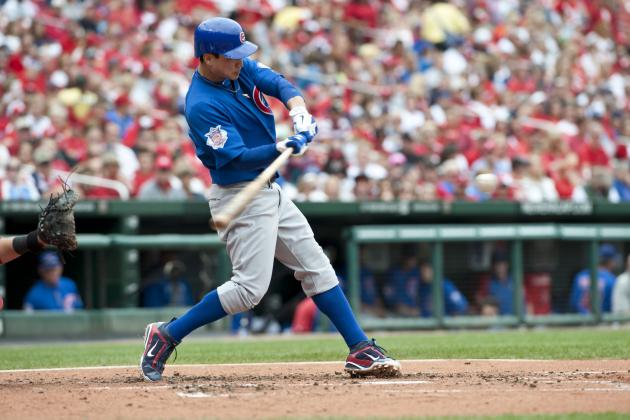 Ed Szczepanski/Getty Images

It is hard not to be impressed with Barney's spring numbers.
After going 4-for-4 in yesterday's game, he has brought his batting average up to .450 in his 40 at-bats. It's absolutely stellar and he can put that in his back pocket with pride, but he'll need to show he's more than a one-month wonder as he was last year.
Barney has certainly bulked up and he needed it. A starting player in baseball cannot have league-worst power AND patience, it just doesn't work. It is humbling to know that he saw his problematic areas is making strides to change them.
It doesn't look like he'll ever be a guy who knows how to take a walk or get on-base well, but his added power could certainly make up for it.
If he can net 35-plus extra-base hits, it might be enough to off-set his detriments in other offensive areas.
While DeJesus may not net more than a handful of stolen bases next year, Barney won't be doing much better. If the team gets 15 total from the two of them, they'd be lucky.
Either way, the only player in the entire line-up who will top 15 stolen bases himself will be Castro. This isn't a team that will be moving much after they get on-base, which is good, because they'll need to cherish whenever they do get on-base.
All-in-all, Barney has plenty of problems.
If his new-found power is legitimate, he may actually have a place as a full-time guy. But if he fades after one month of play again, he can fit in quite nicely as an ideal utility infielder.
I would not mind having him on the team for some time, but whether it's in a full-time role or a back-up situation should be decided this season.
If Barney struggles he needs to be moved down to the 8-hole to alleviate the concern, and it's possible that Blake DeWitt may start siphoning some of his at-bats.
I truly hope that Barney takes the next step up this season so the team has one less position to worry about. I'm not entirely optimistic, but what is this time of year for anything except a positive outlook?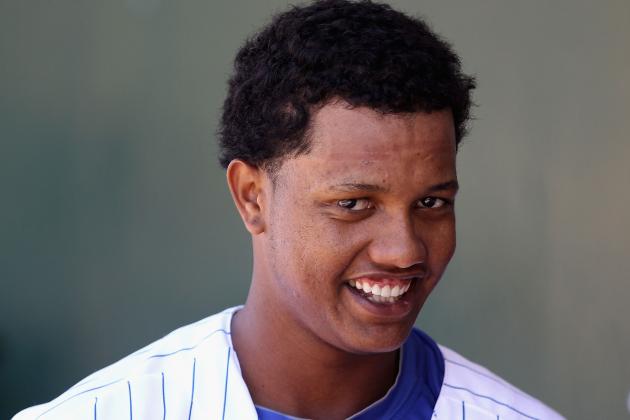 Christian Petersen/Getty Images

The franchise rides or dies with the growth of Starlin Castro.
Will he turn into the 20-plus home run hitter this season? Will he ever?
Is this the season he turns his unbelievable raw talent in the field to consistent work?
Will he be able to harness his incredible speed and be an elite thief on the bases?
So many questions, and each one makes this season that much more exciting. Thank the sweet baby Jesus for Starlin Castro.
It is true that Castro struggled batting third last season, but any assessments made on further production based on his 178 at-bats in the role is extremely premature.
Sometimes, I even forget that he just turned 22 years old. These are the seasons built for trial-by-fire, and this is his time to mature into whatever role he will amount to.
There are no complaints here, it is Castro's role to lose at this point in time.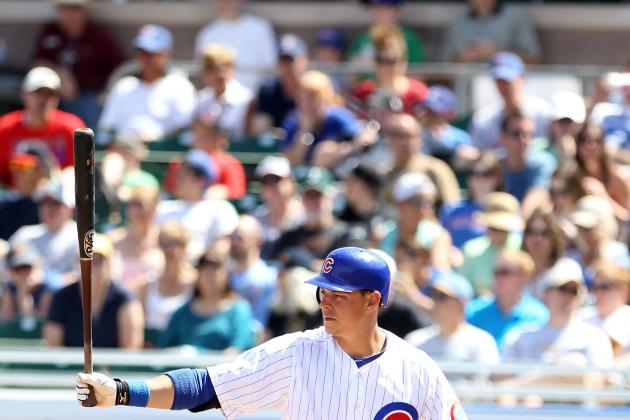 Christian Petersen/Getty Images

A virtual unknown on the national circuit, but a guy who has been noticed by Cubs fans this offseason has been Bryan LaHair. It's virtually unpredictable as to what to expect from him this year.
Jumping into the 4th spot in his first season as a full-timer is quite a work-load.
As a 29-year-old demi-rookie, he may have an incredibly short leash. Fans have learned what Anthony Rizzo can do and how wildly talented he is. Any inkling of failure or of young Rizzo's minor-league success will get the fans all a-clamoring for the benching of LaHair.
In truth, LaHair has many qualities this team needs.
Power, something the team has next to none of.
Patience, something the team may actually have even less of.
LaHair has shown both of these traits his entire minor-league career and it's clear he simply wants the chance to prove it on the major league circuit.
This is your shot, Bryan. You may never get a chance to be a starter again, and you're in position to bat behind a budding star.
This is the best chance you're ever going to get, so make the most of it. Chicago is hoping you will every step of the way right now, but they'll turn on you before you know it.
Twenty home runs or more would be a good start, and if he's hitting when it counts, he could last the entire season as the incumbent first baseman. I wouldn't bet on him lasting the whole season, but that's just my two cents.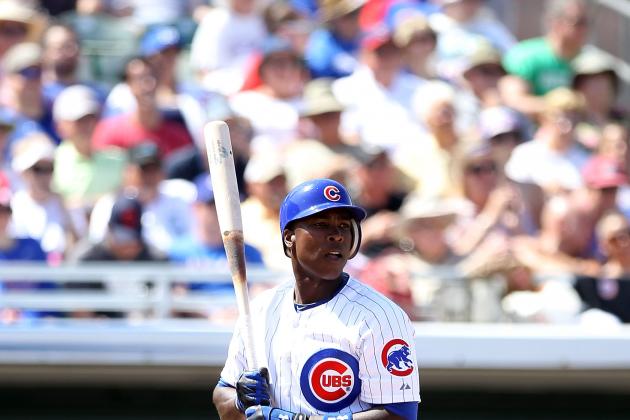 Christian Petersen/Getty Images

Terrible defense and terrible contract aside, Soriano's season from 2011 at least excelled in one area: power. He had his patented unholy patience and was just ugly on the bases, but his 26 home runs were as useful as they ever get.
He's looked healthy this spring and apparently has shortened his swing a bit.
Who knows what that means to his actual on-the-field production, but it's always nice to have something positive about a player so consistently surrounded by negativity.
If he can make a bit more contact this season paired with his usual 25-plus home run power, he could be utilized exceptionally in the fifth spot.
If Soriano continues his decline in talent due to age or injury, he could find his way down to the very bottom of the lineup.
Let's hope he has a little bit of life left in that old body of his.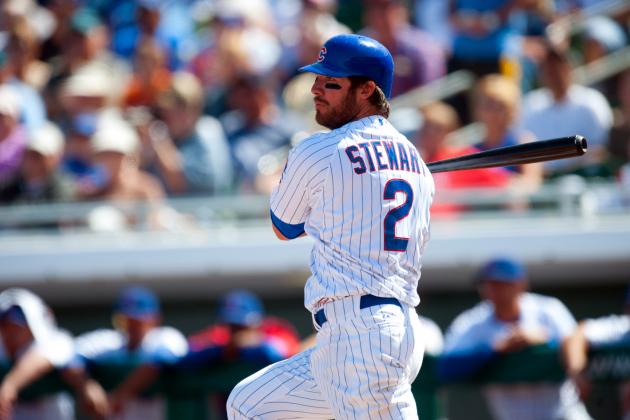 Rob Tringali/Getty Images

If anyone is a complete and utter wild card, Stewart is it.
Dealing with injuries all offseason, there is no way any of us speculators can know if he's truly ready to go. Most fans look at Stewart's injury-filled 150 at-bats from last year and make crude judgments, but that is a little silly.
What we know about him is that he should be a shoo-in for 20 home runs if he can simply play most of the year. We know he's a highly touted and talented guy who is still only 27 years old, despite floating around Colorado for a few years.
He doesn't have to do a lot to make it as the third baseman the whole year, but replacing Aramis Ramirez and his offensive prowess won't ever happen. If Stewart does miss time due to injury, the Cubs are really in a bad way.
Who could take his place?
Jeff Baker? A poor defensive third baseman who can't play against any right-handed pitcher.
Blake DeWitt? You'll get solid defense without any semblance of power, which the team desperately needs in the middle of the lineup.
All-in-all, if they want to even shoot for .500, the team needs Stewart to stay mostly healthy and produce how he did in his full seasons as a Rockie.
If he can't do so, the team is going to struggle early and often.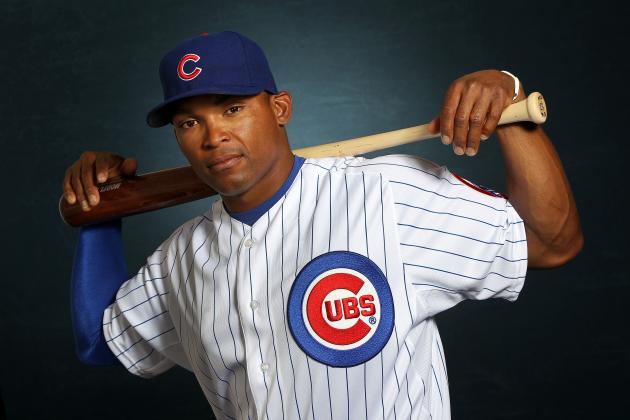 Jamie Squire/Getty Images

Byrd was incredibly mismatched batting third last year, something I'm sure he would have to admit.
He's not someone known for patience or exorbinant power, meaning he couldn't be less suited for the spot.
He's a solid No. 2 hitter if he has real support behind him, but he's best fit for the middle to lower-half of the lineup. It's a good thing that's where he has ended up.
Byrd's 2011 season was forgettable and was the continued slope of a four-season offensive decline.
He'll likely not top 15 home runs and won't get on-base acceptably unless he's hitting for a really high average, but outside of last season he has been a quality person to hit with runners on-base.
The Cubs need people hitting when they do get men on the base-paths, and Byrd needs to rebound to do so.
His time as a Cub is not long, but let's hope that he makes the best out of what is left.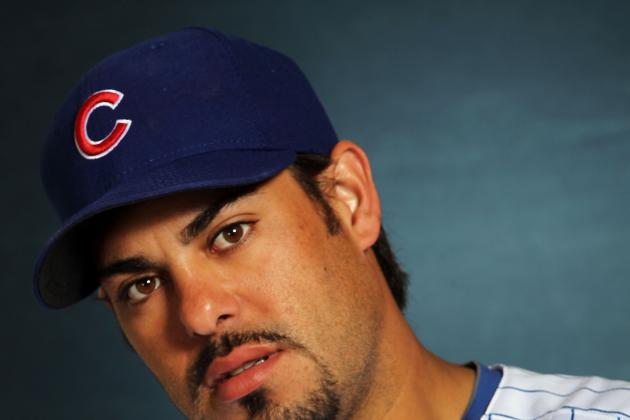 Jamie Squire/Getty Images

Every other season, Soto tears up the MLB at the plate.
With clock-like repetition, Geovany is consistently inconsistent.
What we know is that he'll give 15-plus homeruns if he can get even 300 at-bats, which is pretty stellar for a catcher. We also know that he can take a walk, which is always a nice bonus.
His injury issues are hopefully behind him, and he's been showing his power this spring as well. If he continues his hot-hitting when the season starts he could see his way up the line-up. If Soriano or LaHair fall apart, the team could use his extra-base hits in the middle of the lineup.
Otherwise, Soto batting eighth could be a real value for the team. Yet, if he is producing, he should not be buried so low in the lineup.