Fantasy Baseball Sleepers 2012: Players Who Will Flourish with New Team
March 31, 2012
Jamie Squire/Getty Images
You can't fill your fantasy roster with stars, which is what these guys are here for. All three of these players are in new uniforms this year, and all will have a great deal of success with the new teams. 
The situations are perfectly aligned for them to have good seasons, which is exactly what's going to happen. They aren't the biggest names, but you can sign them and rely on solid yearlong production. 
Melky Cabrera, San Francisco Giants
Here's a pretty good tip for you when looking at a hitter entering the National League West. Do not look at the power home run unless they're going to the Diamondbacks or Rockies. Hitting in San Francisco, San Diego or Los Angeles, the numbers don't translate. But if you have a guy who hits a lot of doubles, it indicates that he has a swing to succeed in that park, and that's Cabrera.
Make no mistake, he'll hit some homers in San Francisco, but that won't be a huge part of the game. But with the gap-to-gap swing, I like him to get on base a lot, which means a lot of steals, runs scored and a pretty high average. Don't forget that the Giants will have Buster Posey and Pablo Sandoval returning healthy this year to drive Melky in. 
He will be a big part of the top of the order this season, and his swing is made to succeed at AT&T Park. 
Dixon's Projections
| | | | | | | |
| --- | --- | --- | --- | --- | --- | --- |
| AB  | Hits  | Runs  | HR  | RBI  | SB  | AVG |
| 591  | 171 | 89 | 14 | 61 | 17 | .289  |
Raul Ibanez, New York Yankees
A lefty with power at Yankee Stadium. Just imagine the possibilities, as the ball flies out of right field at that yard.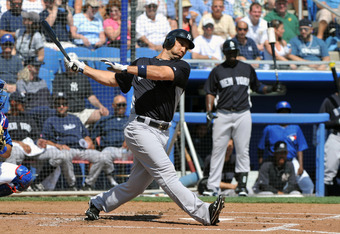 Al Messerschmidt/Getty Images
We'll have to see where he fits into the Yankees lineup as the season gets going, but the power numbers will be there. There isn't a weak spot in that order, so pitchers can't pitch around Ibanez, meaning there will be men on base to drive in. 
On top of all of that, he'll be the team's primary designated hitter this season, so he'll be focused squarely on hitting. 
Obviously, you're not drafting Ibanez for the average, but don't expect that to be terrible either. When you consider his power, the average will be more than good enough to get you by.
Dixon's Projections
| | | | | | | |
| --- | --- | --- | --- | --- | --- | --- |
| AB  | Hits  | Runs  | HR  | RBI  | SB  | AVG |
| 533  | 138 | 76 | 27 | 87 | 1 | .259 |
Cody Ross, Boston Red Sox
The man whose swing is built for Fenway Park will leave more than a few dents on the Green Monster as the season goes on. 
On top of that, he's leaving the National League West, which is a great pitching division, and heading to the American League East, a great hitting division. 
As if all of that wasn't enough, being in Boston is going to make the numbers better. It's not just the more hitter-friendly park, but it's also about being on a team with offensive talent up and down the order. That will bring in good pitches and solid RBI chances. 
| | | | | | | |
| --- | --- | --- | --- | --- | --- | --- |
| AB  | Hits  | Runs  | HR  | RBI  | SB  | AVG |
| 507  | 138 | 71 | 22 | 73 | 4 | .272  |