WWE WrestleMania 28: GM Battle Holds the Key to Reviving the US Title, Mid-Card
March 30, 2012

Fans have long lamented the perceived devaluation of WWE's mid-card titles, that is, the Intercontinental and United States championships.
At WrestleMania however, a match seen by many as pointless filler with an obvious outcome may hold the key to reviving the United States title and elevating it back to its proper status within the company.
Five men have held the United States title in the last year. All of them, including the current champion, will be competing in the battle for General Manager supremacy, Team Teddy vs. Team Johnny.
Beyond that, seven of the last nine champions will be featured in the match. The other two? Just two guys you might have heard of named Sheamus and Daniel Bryan, but I hear they're a bit preoccupied with other things.
Any combination of these Superstars would go a long way towards restoring the once proud legacy of the United States championship.
Over the past year, all of these former champions have tangled themselves up in a web of intrigue that could be exploited for potentially blockbuster matches in the near future.
Zack Ryder won the belt from Dolph Ziggler, then lost it to Ziggler's partner in crime Jack Swagger just a few weeks later.
Who took the belt from Swagger? The man who replaced Ryder and the Assistant to the General Manager on SmackDown, Santino Marella.
Imagine a Fatal Four-Way match featuring the last four champions: Ryder vs. Santino vs. Ziggler vs. Swagger, with the title up for grabs.
Suddenly, it's every man for himself.
Chants of "Woo! Woo! Woo!" give way to an emphatic "COBRA!" shout. Vickie Guerrero, torn between her allegiance to both Swagger and Ziggler, shrieks from the outside as allies become enemies with championship gold up for grabs.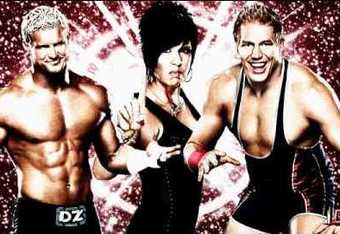 Then there's the bad blood that has been simmering on the back burner between The Miz and R-Truth that was never given proper resolution. Imagine what sort of fireworks could be created by throwing Kofi Kingston into the mix, now that he's established a partnership with R-Truth.
So many great mid-card storylines, along with the title belt itself, could breathe new life into them as a result of this match.
Dolph Ziggler and Kofi Kingston in a big time title match or No.1 contender's match together?
Dear lord, the combined athleticism would be staggering.
The lengths to which any of these guys are capable of going—for the sake of entertainment and championship gold—would demonstrate emphatically that the United States title is a prize worth laying it all on the line for.
It would also do amazing things for the character stagnation that many of these Superstars have suffered through various points in the past year.
Can you imagine what an opportunity like that would do for someone like The Miz? The man can't buy a victory lately. His credibility is in shambles. Put him in the title hunt with all of these other future studs and watch the look in his eye change. Watch him get his edge back. Watch him be awesome again.
With so many possible combinations for great matches, as well as the alliances, past and present, built over many of these competitors, the potential also exists for dramatic character shifts, if not out-and-out face/heel turns.
Maybe Dolph Ziggler turns on Jack Swagger and breaks away from Vickie Guerrero? Such a move may turn him into a face, but he could just as easily break away from the two of them and remain a heel. Anyone who thinks Ziggler's promo skills aren't good enough for him to strike out on his own, I'll have words with in the comments section.
Or perhaps Santino, realizing that he's facing down a horde of gold hungry Superstars, gets more serious about his in-ring work, more focused on overcoming such a daunting challenge, while still retaining aspects of his charm and comedic edge.
WWE can't lose sight of the reason fans have come to appreciate the character in the first place, but they want a champion with a modicum of credibility heading into these high profile matches. There's no reason Santino—with a few tweaks—can't be that champion.
And then, of course, there's Zack Ryder.
Ryder lost the title he worked so hard to earn despite not having medical clearance to wrestle, and hasn't gotten his rematch yet. After having most of his momentum swept out from under him, this is the perfect opportunity to reestablish a dependable, hilarious, versatile and wildly popular character as a force to be reckoned with.
Any of these scenarios would go a long way towards putting the United States title, and any of the men who have been associated with it over the past year, back on a path towards success.
It all starts Sunday when the fate of each brand's respective General Manager is revealed.
The match itself may not steal the show, but it has the potential to be the most important match for WWE going forward. The fate of almost the entire mid-card hangs in the balance.