2012 Fantasy Baseball Projections: Matt Kemp and This Year's Biggest Sluggers
March 30, 2012

Kevork Djansezian/Getty Images
One of the most exciting aspects of any MLB season is the home run chase, and to see which players are taking the race by storm.
While it isn't always the most rewarding thing when they get hit against your own team, one certainly wouldn't mind it if they are on one's own fantasy baseball roster.
As of late, the biggest sluggers in the game are constantly changing, and it will likely be no different this year. The following batters will once again make a huge impact on the season with their bats, and will also dominate your fantasy baseball season with the long ball all season long.
Giancarlo Stanton, RF - Miami Marlins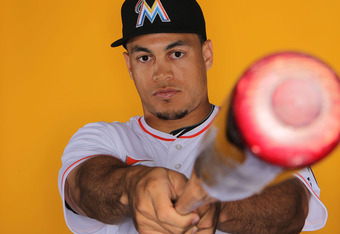 Marc Serota/Getty Images
Last season, Stanton erupted onto the scene slugging 34 home runs in 150 games. With another season under his belt, as well as a name change, Stanton should be ready to shine for the Marlins in their first season at the new stadium.
Stanton will likely be the team's big hitter once again, and it won't hurt having batters like Jose Reyes likely in front of him. It will remain to be seen where new manager Ozzie Guillen will place Stanton in the order, but one would have to imagine the three or four spot.
With Reyes, Hanley Ramirez and Gaby Sanchez around him, expect Stanton to be scoring and knocking in runs all season long. 
It also doesn't hurt that his new home will be in a dome.
Jose Bautista, RF - Toronto Blue Jays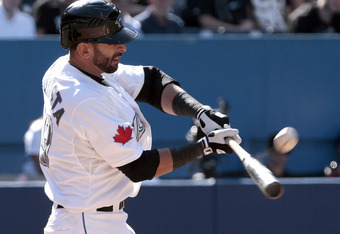 Abelimages/Getty Images
While Bautista isn't the best hitter in the game, he at least has the power numbers to keep you interested in playing him in your lineup each day he is active.
Bautista actually did raise his batting average to .302 this past season, but it will remain to be seen if he will keep that up in 2012. At least one could expect him to be a huge slugger, as last season he knocked 43 out of the park while racking up 103 RBI.
It won't be easy to claim the home run title three years in a row, but with back-to-back appearances atop the home run rankings, it is hard to argue against Bautista being the man to look upon for knocking them out of the park this season.
Matt Kemp, CF - Los Angeles Dodgers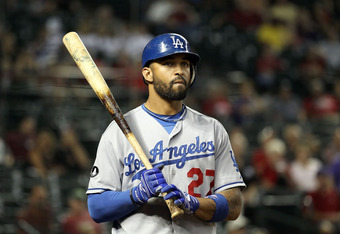 Christian Petersen/Getty Images
The Dodgers finally have new ownership under a group led by Magic Johnson, but more importantly, Kemp is coming into this season with a new, big, fat contract.
Kemp was given a eight-year, $160-million contact this offseason, keeping him around for quite some time to come. While the new ownership group would have likely wanted to negotiate this themselves, it is what it is, and they have one of the best players in the game.
Kemp had a ridiculous 2011 season, batting .324 with 39 home runs and 126 RBI. Some will argue he was cheated out of the National League MVP award last season, so expect him to be playing with a chip on his shoulder to prove that he deserved it.
Jeff Chase is a Featured Columnist for the Chicago Cubs and Arizona State football.
Follow @Real_Jeff_Chase