Manchester City Transfer: Why Cristiano Ronaldo Should Not Sign with City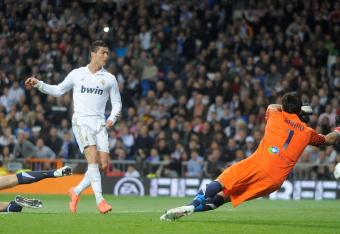 Cristiano Ronaldo
Denis Doyle/Getty Images
It appears that Manchester City is making plans to sign Cristiano Ronaldo from Real Madrid. The amount would be a transfer fee of $128m with a wage of $640m to $800m a week as reported in Goal.
The Reasons In Favor
The idea appears to be a good one, since Ronaldo's agent, Jorge Mendes, is establishing a close relationship with Manchester City. The owner of Manchester City, Sheikh Mansour, is a fan of Ronaldo and Real Madrid.
Ronaldo has played in Manchester United, a Premier League team which could count in his favor. Real Madrid would most likely feel content to send Ronaldo back to England, since he is nostalgic for the Premier League.
The result is that maybe Ronaldo will fare better in England than in Spain.
The Reasons Against
The reasons against Ronaldo signing with Manchester City or other clubs in the Premier League are broken in half. One is the UEFA Financial Fair Play Act, which demands fiscal responsibility from the club.
The other,when it comes to a personal level, is Ronaldo's personality. The two parts for the reason against Ronaldo in Manchester City will be dealt with in this article.
A. UEFA Financial Fair Play Act
UEFA Financial Fair Play (Courtesy of ESPN Soccernet)
Manchester City is committed to compliance with the UEFA Financial Fair Play Act, with Ronaldo being expensive. The situation can be resolved (and this was proposed in Goal), with City selling off Carlos Tevez in the hope that there is a club for the latter.
The idea of selling Edin Dzeko, Nigel De Jong, Emmanuel Adebayor, Roque Santa Cruz, and Wayne Bridge would also help the situation for City. The idea of selling these players was published in Goal as well.
B. Ronaldo's Personality
The UEFA Financial Fair Play Act can be resolved, but Ronaldo himself is another issue. According to an article published in the Metro UK online magazine, Ronaldo made irrational demands on Manchester City.
The demands were based on what Ronaldo supposedly said about the owners of Manchester City attracting his attention with a picture of a Bentley filled with cash. Ronaldo demanded $240m for any deal with Manchester City.
Afterwards, Metro UK reported that Ronaldo insisted on retaining his number 7 shirt and the Captain's armband. Ronaldo also asked for $640k a week as his salary from Manchester City.
Manchester City denied the story and that any deal happened. The story about Ronaldo would have died with the denial of the allegations.
The story (with the allegations) may have had some truth with the UEFA Champions League match between Real Madrid and Dinamo Zagreb after Real Madrid won.
According to The Guardian, Ronaldo told the press that he is regularly booed because he is "rich, handsome, and a great player." The response of the program Crackovia (a sports comedy program which is broadcast on the Catalan TV station TV 3) was to do a satire of Ronaldo with his comments.
Does Manchester City need Ronaldo when it has enough problems with Tevez? The answer is a resounding no.
This article is
What is the duplicate article?
Why is this article offensive?
Where is this article plagiarized from?
Why is this article poorly edited?

Manchester City: Like this team?