NCAA Bracket 2012: Breaking Down Ohio State vs. Kansas Final Four Matchup
March 30, 2012
Jim Rogash/Getty Images
While the Final Four will be all about the Kentucky-Louisville matchup, the game that everyone should be focused on his Ohio State and Kansas. Not only is it a more balanced matchup, but there are more NBA prospects on the court. 
Neither team is loaded with high-end talent, but they have great college players who have pushed their programs to this point. 
So who has the advantage in this game? And who will win?
Here are the keys to victory for both teams, followed by a prediction. 
Ohio State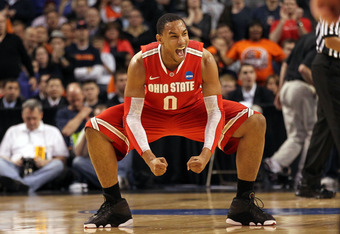 Jim Rogash/Getty Images
Get Jared Sullinger involved early and contain Kansas' guard play. 
In the game Ohio State played against Kansas earlier this season, Sullinger did not play due to back spasms. As you would expect, the Buckeyes struggled to get their offense going, and the Jawhawks ran all over them. 
Sullinger is back and better than ever now, and Ohio State has hit its stride at the right time. Controlling the paint is going to be the key to this game. Sullinger is the best big man in this game, so he gives his team an advantage. 
Kansas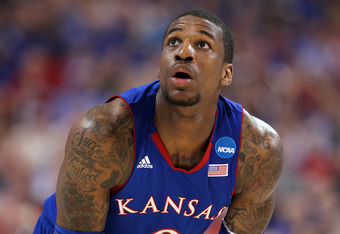 Andy Lyons/Getty Images
Control the tempo on offense and don't try to match the Buckeyes' strength inside. 
With Sullinger healthy, these two teams really are evenly matched. Neither one shoots the ball great from the outside, so whoever wins the battle inside is going to control this game. 
Where Kansas has to excel in this game is on the glass. Rebounding has been critical to the Jayhawks' success in this tournament. Not giving Ohio State second-chance points will tip the scales in their direction. 
Make sure that everyone gets involved in the offense. Ohio State is strong on defense, and Thad Matta knows how to take stars out of the game.
Everyone has to contribute offensively for the Jayhawks to win. Thomas Robinson and Tyshawn Taylor are great, but they will need help. 
Prediction
Ohio State 74, Kansas 71
Ohio State has more talent top to bottom and is playing better right now. 
Final Four Bracket
No. 1 Kentucky vs. No. 4 Louisville
No. 2 Ohio State vs. No. 2 Kansas
Championship Game
Kentucky-Louisville Winner vs. Ohio State-Kansas Winner