2012 NFL Mock Draft: Fresh First-Round Picks with College Highlights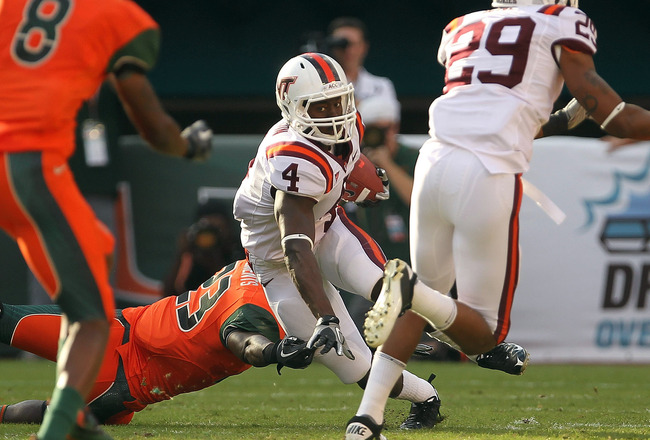 Mike Ehrmann/Getty Images
With less than a month before the NFL Draft, there won't be a whole lot of movement in draft boards as pro days and interviews wind down. Teams have just about all the information they will ever need to properly evaluate these prospects.
However, this is also a season for rumors to spread as teams try to send smokescreens over what their true intentions are. Sometimes, a team will show interest in a player by scheduling an interview when they are actually intent on drafting someone else.
In today's age of fast information, it is important to stick to one's board and original film study to filter the false news.
With that in mind, here is my latest mock draft.
Indianapolis Colts: Andrew Luck, QB, Stanford
There has been some rumblings that Robert Griffin III is in play for the first overall pick, but make no mistake—Andrew Luck is still the superior prospect.
What sets Luck apart is his cognitive ability, which, in today's NFL, is becoming a more important part of the game than ever before.
Luck is as close to a franchise-changing quarterback as you can get.
After his excellent showing at the combine, he may have solidified himself as the best quarterback prospect ever. Not only is he a great "classic" pocket passer, but he actually outperformed Cam Newton at just about every drill at the combine. He even out-jumped the former Heisman Trophy winner.
The Colts should just focus all of their attention on their later picks because this is a done deal. Luck is the best prospect in the draft and perhaps the best quarterback prospect ever.
Washington Redskins (From St. Louis Rams): Robert Griffin III, QB, Baylor
Bruce Allen may have sold his soul for the rights to RGIII, but it could be well worth it.
Griffin lit up his pro day and gave way to rumblings that he could possibly be the first pick in the draft. He is certainly worthy of the pick, but I have a hard time believing the Colts will pass on Luck.
Griffin is actually a superior arm talent to Luck and brings an extra level of athleticism to the position. His football acumen, while not on the level of Luck's, is still very impressive.
Any way you spin it, this kid oozes of stardom, and the Redskins will not be disappointed in their trade.
Minnesota Vikings: Matt Kalil, OT, USC
Now that St. Louis is officially out of the way, the Vikings find themselves in the driver's seat of the draft.
Based on their needs, I would not have a huge problem with them taking Morris Claiborne at this spot, but left tackle is a bigger need at this point, especially with a young quarterback at the helm.
Kalil is clearly the best tackle in this draft.
He is athletic and quick on his feet and should be able to start right away at left tackle. He does have some flaws in his game, but his huge upside in terms of natural athletic ability suggests that his best football is ahead of him.
With all of the needs Minnesota has on the offensive line, this pick is a no-brainier. Kalil will be a franchise left tackle and a bedrock on the line for the next decade.
Cleveland Browns: Trent Richardson, RB, Alabama
Richardson blew up his pro day, giving any team even more of a reason to spend a top-five pick on him.
Usually, picking running backs so high is the draft is just not worth the investment, but Richardson is one guy I would make an exception for. He has the physicality, vision, burst and pass protection ability to step in right away and carry an offense on his back.
Meanwhile, the Browns have not had such an exciting player since Braylon Edwards was catching bombs from Derek Anderson. Justin Blackmon is a possibility here, but Richardson is such a superior talent that I would have a tough time passing him up.
Tampa Bay Buccaneers: Morris Claiborne, CB, LSU
Claiborne may not have the amount of game-changing plays as his former teammate Patrick Peterson, but as a pure cover corner, Claiborne is as sound as they come.
He has the ideal size and fluidity to compliment his outstanding technique to step in right away and start. The Bucs gave up a ton of big plays last year, and with Ronde Barber aging and Aqib Talib facing legal issues, they need to add a top-level corner.
Throw in the fact that he is, by far and ahead, the best player remaining on the board, and there is just no way Claiborne makes it out of the first five picks.
St. Louis Rams: Justin Blackmon, WR, Oklahoma State
The trade with the Redskins works out for the Rams in more ways than one.
Not only are they able to add a few more first-round picks for the next few years, but they are still able to add the draft's best wide receiver, which happens to be a huge position of need for the Rams.
Blackmon is not quite the prospect A.J. Green or Julio Jones was in last year's draft, but he will be a big, physical target for Bradford to throw to, which is not a luxury Bradford has been able to enjoy in his short NFL career.
Jacksonville Jaguars: Quinton Coples, DE, North Carolina
Jacksonville did themselves a favor by keeping Jeremy Mincey, but they need a younger, more dynamic presence on his opposite side.
Coples is quite the risky prospect as his senior tape did little to impress, but he was playing a new position at defensive end. Meanwhile, his junior tape, in which he played defensive tackle, was quite productive, and his combine numbers were nothing short of impressive.
It may take some time for Coples to reach his potential, but he is the most gifted pass rusher in this year's class.
Miami Dolphins: Ryan Tannehill, QB, Texas A&M
At this point, it would be an upset if the Dolphins did not pull the trigger on Tannehill with their top-10 pick.
Tannehill has a ton of ability, has only one year of starting experience under his belt and makes a lot of mistakes often found in inexperienced quarterbacks.
He tends to throw into tight coverage and does not have the kind of anticipation that more experienced quarterbacks have developed over time.
Tannehill could become a very good starter with a few years of development, but I am not sure if the Jeff Ireland regime has that much time to wait before everyone gets fired. This may be the right pick for the Dolphins, but not the best pick for this coaching staff and front office.
Carolina Panthers: Dontari Poe, DT, Memphis
Poe shot up draft boards after blowing up the combine with his ridiculous 40-yard dash time, but he carries with him a lot of risk. He seemed to take some plays off and did not put up the numbers you would like to see.
Plus, coming from a smaller program, there is going to be an adjustment period in the NFL that may take longer than most.
Nonetheless, he shows the ability to dominate the line of scrimmage and has all of the physical tools to do the same in the NFL. Besides, the Panthers have such a massive need at defensive tackle that Poe will probably start from day one.
Buffalo Bills: Luke Kuechly, LB Boston College
With the signing of Mark Anderson, the Bills don't have a lot of needs on defense. However, their linebacking corps is making a scheme adjustment to a 4-3, and stopping the run was a huge issue for them last year.
Kuechly is not going to make a ton of tackles for a loss, but he is as technically sound as they come and has deceiving athleticism. He is always in the right spot and never misses on a tackle.
With all of these new additions on defense, the Bills may find themselves with one of the best units in football.
Kansas City Chiefs: Dre Kirkpatrick, CB, Alabama
The Chiefs were able to get Stanford Routt to replace Brandon Carr, but having multiple quality-cover corners is hardly a problem.
Simply put, the Chiefs don't have a lot of needs, especially after signing Eric Winston to shore up the offensive line.
Kirkpatrick is almost on the same talent as Claiborne, but is more suited to be a zone corner. That does not mean, however, that Kirkpatrick can't play in man coverage, because he has enough natural talent to do it all.
Seattle Seahawks: David DeCastro, OG, Stanford
With the release of Robert Gallery, Seattle finds themselves with a hole at the guard position.
Luckily for them, one of the best guard prospects of the last ten years is theirs for the taking.
DeCastro is about as clean as you can find as a guard prospect. Guards are usually not taken this early in the draft, but he has all of the signs of being one of the best at his position for a very long time. He has the power, intellect, and technique to start immediately for just about any team in the NFL.
Arizona Cardinals: Riley Reiff, OT, Iowa
Even after bringing back Levi Brown, the Cardinals still have a ton of needs on the offensive line.
Reiff will be able to start right away at right tackle and may even push Brown to start on the left side.
Reiff does not have a ton of upside, but he is technically sound and put together a very solid senior year of film. His arms are a bit shorter than ideal, but on the right side, he should be able to excel despite his elite measurables.
Dallas Cowboys: Fletcher Cox, DT, Mississippi State
Now that the Cowboys have filled most of their holes in their secondary, they can focus on just taking the best player available, preferably on defense.
Cox would be a best fit as a five-technique in a 3-4, penetrating and getting up the field. Perhaps he can move inside and give Jay Ratliff some rest. Defensive coordinator Rob Ryan will also be able to kick him inside on passing situations to generate some pressure up the middle.
Coming from a smaller school, there is always a little risk that comes with defensive lineman adjusting to the quality of play the at the pro level, but Cox has the potential to be the best defensive tackle in this entire class.
Philadelphia Eagles: Mark Barron, S, Alabama
It's not Andy Reid's style to spend a first-round pick on a safety, but based on how their safeties performed in 2011, I would make an exception.
Kurt Coleman is better suited to a rotational role, as he was responsible for a lot of missed tackles that led to a lot of big plays. The Eagles let up a lot of big runs, but that is a real indictment on their safety play.
Barron is a terrific run player that can make plays in the backfield, shooting up the field like a cannon. He could use some work in man coverage, but he would be the perfect man to resume the role former Eagle great Brian Dawkins played.
New York Jets: Melvin Ingram, DE, South Carolina
Somehow, the Jets are able to land Melvin Ingram at the 16th overall pick.
Ingram's stock is on the rise after a spectacular pro day.
Ingram has enough athletic ability to play in any scheme at a lot of different positions. He can be a 4-3 end, 3-4 outside linebacker, or even a 4-3 SAM linebacker. He is explosive and has a terrific motor.
He can sometimes get too high to flush himself out of plays, but there is a ton of upside that goes along with him. The Jets, who have been looking for a rush linebacker since they whiffed on Vernon Gholston in 2008, will be ecstatic to land him this late in the first round.
Cincinnati Bengals: Cordy Glenn, OT, Georgia
The Bengals have a lot of options with two first round picks, but they find their long-term replacement for Bobbie Williams with this pick.
Despite starting at left tackle for the Bulldogs, Glenn is probably better suited to play guard. He doesn't have the quickest feet in the world, but he packs a ton of power and could be a real masher in the middle.
The Bengals seem to have their tackle situation settled for the foreseeable future, so they would be getting the best out of Glenn by putting him on the inside of the line.
San Diego Chargers: Stephon Gilmore, CB, South Carolina
Quentin Jammer is clearly on the decline after a disappointing 2011 campaign, and the Chargers need to find his long-term replacement before his age starts to have a further negative impact on the defense.
Gilmore's stock is slowly creeping up draft boards.
I would not be surprised if the was the second corner off the board. Gilmore has good speed, is technically sound, and has good ball skills to compliment his long arms. That kind of rare combination gives Gilmore a chance to be a special player in the NFL.
Chicago Bears: Courtney Upshaw, DE, Alabama
Defensive end is not the biggest need for the Bears, but the value at this spot is too good to pass up.
Upshaw, despite playing as an outside linebacker in a 3-4, would probably be better suited to put his hand in the dirt and play defensive end in a 4-3.
His arms are a big shorter than ideal, but he plays all facets of the game well and knows how to put pressure on the quarterback.
With Israel Idonije back in the lineup, he will not have to start right away. Allowing him to ease into his new position will help his confidence to be a long-term starter opposite Julius Peppers.
Tennessee Titans: Michael Brockers, DT, LSU
The Titans need to find another presence on the interior of their defensive line after losing Jason Jones to free agency.
Brockers can stop the run with the rest of them, but it is his intriguing upside as a pass rusher that will help his draft stock more than anything.
He did not produce as much as a pass-rusher on tape, but his pro day numbers gave scouts hope that he can develop into a special player at the next level.
Cincinnati Bengals: Michael Floyd, WR, Notre Dame
With Andre Caldwell leaving via free agency and Jerome Simpson dealing with drug charges, the Bengals find themselves in a bit of a hole at the receiver position.
Floyd has a ton of natural talent in terms of making tough catches in traffic. He's not a speedster, but opposite of A.J. Green, he would be a perfect target to compliment Green with his physicality and playmaking ability.
There are certainly plenty of questions he has to answer for after a series of alcohol-related incidents, but he appears to be a changed man after spending his last year at Notre Dame in the seclusion of the freshman dorms.
Besides, it's not like off-field incidents have kept the Bengals away from selecting players in the past.
Cleveland Browns: Kendall Wright, WR, Baylor
Blame Colt McCoy for the Browns offensive struggles all you want, but he was not given many weapons to throw to.
Wright is an explosive receiver that can be the field-stretcher the Browns have been looking for.Wright struggled at the combine, but was able to rebound with a solid pro day. His "game speed' is much faster than the relatively mediocre 40-yard dash time he posted at the combine.
Adding Trent Richardson and Wright to an offense on the same day makes this team just a quarterback away from being competitive in the AFC North.
Detroit Lions: Jonathan Martin, OT, Stanford
The Lions can go in a lot of different directions at this spot, but getting Matthew Stafford some long-term protection has to be a top priority.
Jeff Backus is coming back, but he is a declining player with a limited number of years left. Having Martin learn under a seasoned veteran like Backus is an ideal situation for the team and player.
Martin is a very talented kid, but he has some holes in his game that he can tweak before becoming the starter at left tackle.
Pittsburgh Steelers: Dont'a Hightower, ILB, Alabama
The Steelers have not been able to add many players in free agency, but they are known to build their team in late April, not in early March.
The Steelers have a pedigree of taking the best player available, regardless of need. In this case, the best player available also matches up well with their need at inside linebacker.
James Farrior is no longer on the team, and Lawrence Timmons was forced to play out of position due to injuries to their outside linebackers.
Hightower showed us what an elite athlete he is. He has a chance to be the best inside linebacker in this draft—if he can play with a high motor all of the time.
Adding a talent like Hightower while moving Timmons back to his more natural position will make a huge impact on a Steeler defense that desperately needs to get younger.
Denver Broncos: Devon Still, DT, Penn State
Much was made about the change at quarterback in Denver, but losing Brodrick Bunkley will prove to big a bigger loss than Tim Tebow. Bunkley was one of the best two-down run stoppers in football last season, and replacing him will be quite a daunting task.
However, being able to get Devon Still can make the concerns about the defensive tackle situation in Denver go away. Still is a bit inconsistent in terms of production, but he has to potential to be a very good player.
As good as Bunkley was against the run, he was almost useless on third downs in passing situations. Still can a least provide some kind of production in an area that Denver has been lacking.
Houston Texans: Mike Adams, OT, Ohio State
After cutting the best right tackle in football in Eric Winston, the Texans need to find a top-level talent at the position if they want to continue to have a dominant running game.
Adams struggles against some of the top-level pass rushers, but as a right tackle in the Texans' zone-blocking scheme, he has a chance to excel.
Picking this late in the first round, Houston would be thrilled to land a player that was once projected to go in the top 10 picks of the draft.
New England Patriots: Nick Perry, DE, USC
The Patriots are set to go into next season without their best two pass-rushers from last year.
For a team that struggled against the pass as much as they did, losing almost the entirety of their average pass-rush will only make things worse.
Perry is a talented player with lot of upside, but his is very inconsistent on tape.
Only his high bust potential will have him fall to the Patriots this late in the first round, but with their dire need for a pass rusher with the free agency pool just about dry, they are almost forced to roll the dice on Perry.
Green Bay Packers: Whitney Mercilus, DE/OLB, Illonis
Once one of the best units in football, the 2011 Packer defense took such a steep nosedive that they were the only unit to recede more yards than the Patriots.
Other than Clay Matthews, the Packers have no other source of pass rush.
Finding a presence opposite Matthews would help the Packers from giving up so many big plays.
Mercilus was a bit of a one-year wonder, as he went from a virtual non-factor to leading the nation in sacks in just one year.
He tends to flush himself out of plays, but he flashes a considerable amount of natural talent. If the Packers are able to harness his raw ability, they may have found their answer at outside linebacker opposite Matthews.
Baltimore Ravens: Peter Konz, C, Wisconsin
The Ravens suffered a devastating blow when Ben Grubbs decided to head to New Orleans, but they were fortunate enough to keep veteran center Matt Birk.
Konz can step in at guard to try an compensate for the loss of Grubbs, and when Birk decides to retire, he can resume the role of center.
San Francisco 49ers: Rueben Randle, WR, LSU
Even though they think they have found a deep threat with the acquisition of Randy Moss, the 49ers still could use another receiver to build around.
Besides, it's not like Moss is any kind of long-term solution.
In fact, I wouldn't be surprised if all of the 49ers' picks were on the offensive side of the ball, as all 11 defensive starters from last year are under contract.
With his big frame and ability to separate with speed, Randle is going to be a nice addition to a limited 49er offense.
New England Patriots: Janoris Jenkins, CB, Northern Alabama
Janoris is on the same talent level as the other top corners in this class, but his character concerns will cause him to fall into the bottom of the first round.
Meanwhile, the Patriots have serious issues in their secondary.
If they are to move Devin McCourty to free safety, it will leave one of the corner spots wide open. If nothing else, Kyle Arrington can be moved into a reserve role for added depth.
If Jenkins is going to succeed, working under the supervision of Bill Belichick will give him the best chance. If he does not buy into the system, Belichick will have no problem shipping him out.
New York Giants: David Wilson, RB, Virginia Tech
As Brandon Jacobs goes to the Bay Area, the Giants find themselves with an open spot at the running back position.
Wilson has all of the physical tools to be a special back at the next level, but he has some trouble finding his holes and picking up blocks. He is also known to put the ball on the ground.
Still, with some proper coaching and some time to ease into a complimentary role next to Ahmad Bradshaw, Wilson can provide the Giants with a ton of talent to form one of the best running back tandems in football.
Keep Reading