A Humble, but Talented Addition for the Nashville Predators
March 30, 2012

Bruce Bennett/Getty Images
His hockey résumé and list of honours is anything but humble. Ryan Ellis, Nashville's rising young star on defence, however, most certainly is.
He has four gold medals while wearing the Team Canada jersey, two Memorial Cups with the Windsor Spitfires of the Ontario Hockey League (OHL), top OHL defenceman honours in 2009 and 2011 and the OHL's most outstanding player award in 2011.
But it doesn't end there.
Ellis was also named the Canadian Hockey League's Top Defenceman and Player of the Year in 2011.
Still, it's only a fraction of what the 11th overall selection of the Predators in 2009 has accomplished prior to his NHL career.
For the native of Freelton, Ontario, a town just west of Toronto, having the opportunity to make an impact with a Nashville squad looking to win its' first championship is as motivating as it gets.
"I didn't quite expect it," said Ellis, of being chosen by Nashville. "But I couldn't be happier that it happened. It's a great place to play hockey and grow up. We've got a great group of guys and they are all so supportive. Everyone is close and everyone wants each other to succeed."
With Ellis, Nashville gets a smooth-skating blueliner with plenty of offensive upside and a veteran savvy.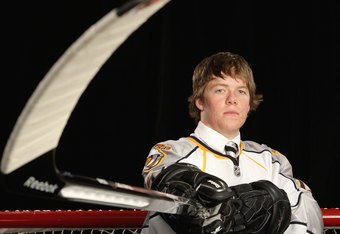 Jamie Squire/Getty Images
The 21-year-old also has one of the game's top rearguards to learn from in the form of Shea Weber, Nashville's captain, a respected leader who happens to possess one of the league's hardest shots.
"That's one of the first thoughts that came to my mind when I was drafted," said Ellis, who began his international career with Canada by winning three gold medals in 2008 at the World U17 Hockey Challenge, IIHF World U18 Championship and Ivan Hlinka Memorial Tournament. "He's an unbelievable player that can do everything. If we could run the power play together one day, that would be very exciting. He's a great player. But the whole defensive corps is great."
Ellis, who netted his 300th career OHL point on February 25, 2011 to become only the third defenceman in OHL history to reach the mark, following Denis Potvin (330 points, 1968–73) and Rick Corriveau (329 points, 1987–92), is getting his first taste of NHL action this season, including his first big-league tally.
On January 7, Ellis, who was the game's third star, notched his milestone marker courtesy of a slapshot from the top of the right circle at the 14:28 mark of the third period in a 5-2 Nashville win over Carolina.
It was, by his standards, a trademark goal.
"I think for me, I score using the slap shot, top of the circle," he noted. "On the power play, it's either a one-timer or something like that. That's always how I've scored goals. I'll get the odd one in close but it's mostly from the back end."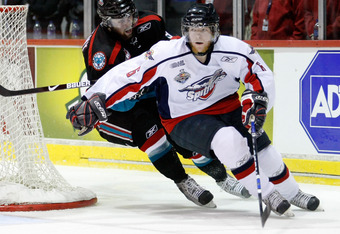 Richard Wolowicz/Getty Images
The Predators brass likely doesn't care how Ellis lights the lamp. They're just happy to see the up-and-coming star contributing to a Central Division club eager to make some noise in the upcoming Stanley Cup playoffs.
It's obvious the Predators were thrilled with their decision to bring Ellis into the fold.
"This is probably the most dynamic player in the draft, and by far the best offensive defenceman in the draft," said Predators President of Hockey Operations/General Manager David Poile, in the moments after the selection of Ellis. "This will be the guy that could be a big offensive defenseman in the National Hockey League. He will be running the power play and he can help us be the offensive team we are striving to be."
While he's less than 50 games into his NHL tenure, the former Windsor captain is showing he's more than capable of contributing both on offence and defence.
Ellis, who was once tabbed in a poll of OHL coaches as the Western Conference's Smartest Player, top Offensive Defenseman, and the player with the hardest shot, is eager to do whatever he can to see Nashville hang a Stanley Cup banner from the rafters.
"I think someone who I compare myself to is (former NHLPA member) Brian Rafalski, or (Florida defenceman) Brian Campbell, one of the two," noted Ellis. "They are smaller guys, but they compete physically and they are offensive and very responsible on their own end, as well. I think that's who I would like to be compared to anyway."
Related Content