Fabricio Werdum vs. Mike Russow: Head to Toe Breakdown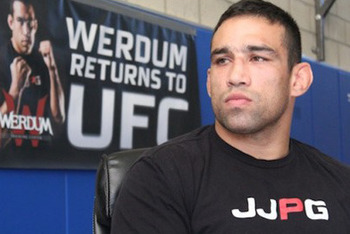 Via mmaweekly.com
While UFC 146 will feature a main card full of heavyweights, two highly regarded big men will has to wait until UFC 147 to throw down.
Fabricio Werdum and Mike Russow are set to square off in Rio de Janeiro, Brazil, this June.
The bout features two fighters currently making waves in the UFC's heaviest division. Russow holds an unblemished UFC record of 4-0 and is riding an impressive 11 fight win streak, while Werdum is coming off an impressive win over Roy Nelson.
This is an early breakdown of the fight. We will examine the various elements of combat that will determine who comes out on top, including striking, wrestling, grappling and intangibles.
For each category one fighter will earn an extreme, significant, moderate or slight edge over his opponent. If the matchup is deemed too close to call, it will be termed "even."
Let's get cracking.
Striking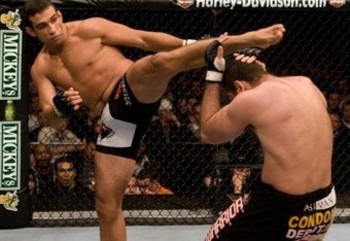 Fabricio Werdum
While the Brazilian's bread and butter will always be his submission game, there is no denying that he has come along way as a striker over the past couple of years. Werdum's bludgeoning of Roy Nelson was a far cry from the slap and run tactics he employed during his first UFC fight, against Andrei Arlovski.
The most dangerous weapon in Werdum's striking arsenal is the Thai clinch, which relied on heavily against "Big Country." The key for Werdum in this bout will be getting inside so he can put those knees to use once more.
Mike Russow
Russow is a pretty powerful guy that has scored two knockouts in four UFC contests. Granted, his TKO win over Jon Madsen was awarded in effect because of a cut, but a win is a win and a stoppage is a stoppage.
If Russow can keep Werdum at bay he should have the advantage in the striking. He is the harder hitter of the two and could potentially stop the fight on the feet.
Edge: Even
People tend to think that Werdum has a suspect chin. Fact is, his only loss by knockout came against Junior Dos Santos and there is no shame in that. He is a technical striker, but doesn't hit all that hard.
Russow's standup is not as pretty as Werdum's, but he does have knockout power and a granite chin. Chances are Werdum will hit Russow as often as Russow hits Werdum, but if the fight ends on the feet, odds are that Russow will be the victor.
Wrestling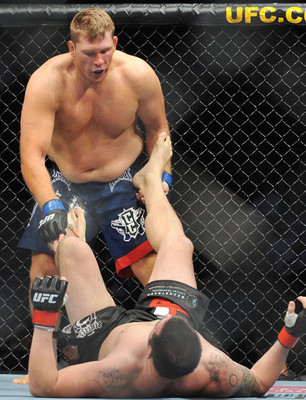 Via zimbio.com
Fabricio Werdum
Werdum is not a particularly strong wrestler, but he has a pretty good record of bating fighters to the ground.
The jiu-jitsu ace would love to fight this one out on the mat, but he will be dealing with an opponent who is no slouch in the takedown game.
Mike Russow
In his last fight, Russow showed a real nice ability to mix in takedowns with strikes. He smartly used his shot to rack up points on the judges' scorecards.
In his fight with Werdum, the key won't so much be getting his opponent to the mat, but rather keep it on the feet.
Edge: Russow (Moderate)
Russow gassed at the end of his previous bout and cannot afford to do so against Werdum. Part of his advantage in the wrestling comes from his strength, the other part is just skill-level. Considering how scary the prospect of dealing with Werdum on the ground is, Russow will need to maintain his energy for a full 15 minutes to avoid losing any piece of his edge in wrestling.
If Russow fights a smart match he can actually take advantage of his edge in the wrestling by scoring a late takedown in the latter portions of each round. He won't want to have to kill too much time in Werdum's guard, but should be able to score some points in this contest as he did in his last.
Grappling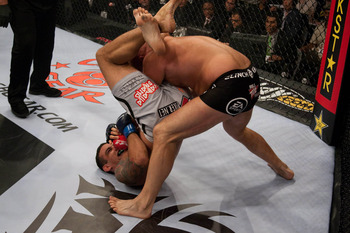 Via mmabay.co.uk
Fabricio Werdum
Werdum is a two-time Abu Dhabi gold medalist. He has the best ground game of any heavyweight mixed martial artist on the planet.
Mike Russow
Russow is a talented grappler in his own right, but Werdum is on another level. That said, Russow's confidence must be sky-high since he repeatedly jumped into the guard of another accomplished grappler, John Olav Eiemo, and avoided any serious scares.
Edge: Werdum (Significant)
Though Russow is a good grappler he should do all he can to avoid hitting the canvas with Werdum. If he plays with fire for more than the last 30 seconds of each round it is almost inevitable that Werdum will win via submission or dominant decision.
Intangibles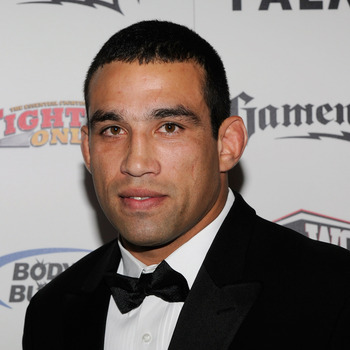 Ethan Miller/Getty Images
Fabricio Werdum
Between his time grappling and practicing MMA, Werdum boasts no small measure of experience. He also has the benefit of having been up against the likes of Fedor, Overeem, Antonio Silva, Junior Dos Santos and Roy Nelson.
The jiu-jitsu expert has never shown weakness in terms of endurance. He came in out of shape for his match against current champion, Junior Dos Santos, but it seems he has learned his lesson from that incident.
It also doesn't hurt that this contest will go down in Werdum's native Brazil.
Mike Russow
Russow is a very experienced fighter as well, even if his resume does not include the star-power of Werdum's. The Chicago native has spent time on the big stage in the UFC and Pride promotions.
Russow's last fight produced questions about his cardio, and that is an issue he will have to rectify if he hopes to emerge victorious in this bout.
Perhaps his biggest asset is his intelligence. Russow is a very crafty fighter who knows how to win.
Edge: Werdum (Slight)
The experience against high-level competition, coupled with Russow's cardio concerns tilt this one in Werdum's favor. However, Russow's game-planning and intelligence mitigates what would otherwise be a moderate or significant advantage for his opponent.
How Each Fighter Wins the Fight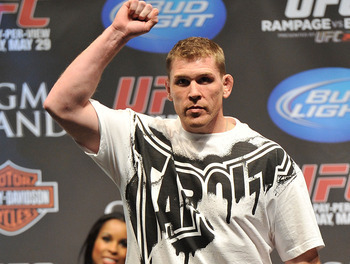 Fabricio Werdum
Getting the clinch will be the key for Werdum.
In terms of build and skill-set, Russow is similar, though not identical, to Roy Nelson. Werdum dominated that fight by closing the distance and battering the shorter fighter with a barrage of heavy knees. He can win this fight in the same way.
Additionally, because Werdum does not own much of a double-leg takedown, he will have to rely on the clinch for getting the fight into his realm where he holds a decided advantage over his foe.
Mike Russow
Russow wins if he executes a perfect game-plan or scores a big right hand.
If Russow can keep Werdum out of the clinch he won't have to worry about being taken down, and he won't have to worry about eating knees. If he can turn this fight into a distanced kickboxing match he will have the advantage.
By keeping Werdum on the outside, Russow can tally points with his fists and possibly even finish the fight. Even if Werdum is able to keep it close he won't be capable of stuffing Russow's shot, which could decisively tip the balance in the American's favor.
Of course, taking the fight to the ground is only good policy for Russow if he does it to steal rounds, rather than test Werdum for any significant portion of time.
The Bottom Line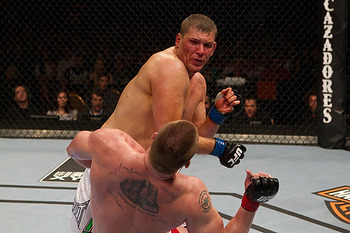 Winner: Russow
Upset special!
While many will see this as an easy victory for Werdum, I'm not so sure. Russow is not the most intimidating fighter to be pitted against, but he is as tough as nails and knows how to win.
Though Russow's physique and style will invite comparisons to Werdum's latest victim, Roy Nelson, it should be noted that he is far more mobile than "Big Country," at least when it comes to shooting a double-leg and breaking a clinch.
If Werdum has his way, he will get to exhibit a mix of poetic Muay Thai and beautiful jiu-jitsu. If Russow has his, this will be an ugly fight.
Werdum is unquestionably the more skilled fighter, bigger name and bigger draw, but I expect Russow to play the foil in Werdum's homecoming match.
Ultimately, Russow will do enough damage on the feet and score enough with takedowns late in each round to win a decision. This will be a dangerous fight for him, but so long as he keeps his composure he will be able to keep Werdum at his weakest--as a kickboxer.
Though I gave Werdum the edge through the analysis process, it's Russow's ability to isolate Werdum's weaknesses that will make the difference.
Keep Reading