2012 NBA Mock Draft: Austin Rivers and More Overhyped Players
March 30, 2012

Streeter Lecka/Getty Images
Just because someone is a phenomenal player in college, it doesn't mean his game will always translate to the NBA level of the game. It has been seen with past hyped college stars like Adam Morrison and Tyrus Thomas.
Hype will always help a player make it into the first round, and while it will remain to be a mystery who will and will not succeed, many will argue that some players are just not fit for the jump.
The following is a breakdown of the first round of this year's NBA draft.
(Players' names in italics are considered over-hyped).
1. Charlotte Bobcats: Anthony Davis, F, Kentucky Wildcats
Perhaps the most dominant player of the NCAA tournament thus far has been the Wildcats' freshman forward Davis. Coming into the season, he was arguably the best player heading into the 2012 draft, and he still stands to be that man.
2. Washington Wizards: Michael Kidd-Gilchrist, F,  Kentucky Wildcats
Believe it or not, but Wildcats could go with the first and second pick in this year's draft. That's what happens when you are arguably the best team in the nation. The Wizards have a lot of big men on their roster, especially with their acquisition of Nene from the Nuggets early on. Kidd-Gilchrist will be able to mesh with this team right away, giving John Wall another option.
3. New Orleans Hornets: Andre Drummond, C, UConn Huskies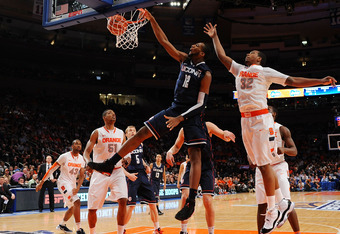 Michael Heiman/Getty Images
The Hornets are in need of a big man to potentially replace their acquisition of Chris Kaman, so selecting a guy like Drummond would be an ideal replacement.
Drummond was ranked the second-best recruit heading into this college basketball season, but he has a lot of question marks surrounding pro potential, especially after his poor performance in the first round of the NCAA tournament.
Against Iowa State, Drummond scored just two points on 1-of-4 shooting in 26 minutes of play. He also only had three rebounds and was virtually invisible.
He did average 10.2 points per game for the season, but right now he isn't quite looking the way many had expected him to.
4. Portland Trail Blazers: Harrison Barnes, F, North Carolina Tar Heels (From New Jersey)
The Trail Blazers have a ton to work out with surprises in the results of Greg Oden and Brandon Roy, so they will be looking to add whatever they can get in the draft. Small forward isn't their biggest need, but Barnes could likely play a flex between the 2-guard and the 3-spot.
5. Toronto Raptors: Thomas Robinson, F, Kansas Jayhawks
The Raptors haven't had a powerful big man since they lost Chris Bosh to the Miami Heat, so adding a player like Robinson will help reinforce their frontcourt. They still need a few more pieces to add around the floor, but it will at least be a start.
6. Sacramento Kings: Jared Sullinger, F, Ohio State Buckeyes
The Kings really need a talented forward who can player either the 3 or 4 to fill out their roster, and that is exactly what they will get in Sullinger. The Buckeyes' sophomore forward is averaging 17.6 points per game, as well as grabbing 9.3 boards per night. Pair that with the play of Tyreke Evans and DeMarcus Cousins, and this team is on the right path towards getting all the right pieces in place.
7. Detroit Pistons: Arnett Moultrie, F, Mississippi State Bulldogs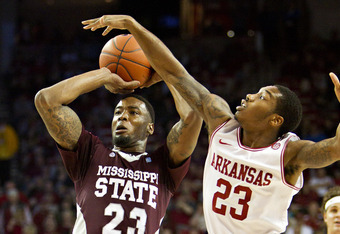 Wesley Hitt/Getty Images
Moultrie made some serious noise before this year's draft by going out with a bang in the Bulldogs loss to Massachusetts in the first round of the NIT. 
In that game, he went 12-for-23, scoring 34 points and grabbing six rebounds. He wasn't quite that man this entire season, averaging 15.8 points and 10.6 rebounds per game. Still, he provides nice size at 6'11" and would likely find a spot on the Pistons' starting lineup right away.
There is still much to prove, especially after weak games against stronger teams—ones that weren't even that strong—like the Alabama Crimson Tide. In their February game, Moultrie scored just seven points in 40 minutes of play.
Perhaps he will excel at the next level, but he has much to prove against the tougher opposition.
8. Cleveland Cavaliers: Cody Zeller, C, Indiana Hoosiers
The Cavs are slowly rebuilding their team after the departure of LeBron James, with their next most important piece coming at the center position. Adding the younger Zeller brother would bolster this team's frontcourt, definitely taking them into the right direction for their rebuild.
9. Utah Jazz: Jeremy Lamb, G, UConn Huskies (From Golden State)
At this point in the draft, it will be too hard for the Jazz to pass on Lamb, who would be the top player still on the board. They are in need of an athletic shooting guard to add to the mix of Devin Harris, Derrick Favors and Al Jefferson. Lamb could potentially make the Jazz quite dangerous in 2012.
10. Milwaukee Bucks: Bradley Beal, G, Florida Gators
The Gators put together a great season this past year, most notably due to the play of star freshman guard Beal. Putting him alongside Brandon Jennings in the backcourt will make the Bucks a very dangerous team coming down the floor, plus his size will be a nice complement to Jennings.
11. Portland Trail Blazers: Tyler Zeller, C, North Carolina Tar Heels
With Oden likely being entirely out of the picture, the Blazers will need to make sure to rejuvenate their frontcourt. Zeller is a consistent player, who may be a bit raw at times, but he should be able to come in and quickly add some solid play for this team.
12. New Orleans Hornets: Austin Rivers, G, Duke Blue Devils (From Clippers via Minnesota)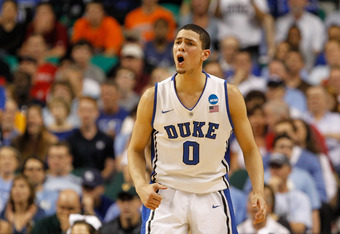 Streeter Lecka/Getty Images
The Hornets just may lose recently acquired guard Eric Gordon this offseason, and if they do, they will need to replace him quickly. The obvious choice at this place in the draft will be Duke's Rivers, who is the son of Boston Celtics head coach, Doc Rivers.
The Duke guard proved to be incredibly inconsistent throughout his freshman year, but did show promising play over the last few games.
Unfortunately for Rivers, he will always be associated with the Blue Devils' first-round loss to Lehigh in the opening round of the NCAA tournament, which certainly hampered his stock.
He did score 19 points in that game, but he also went just 5-of-14 for the third straight time. He didn't overwhelm the college world as expected, so it seems unlikely that he will do just that in the NBA.
13. Phoenix Suns: Meyers Leonard, C, Illinois Fighting Illini
The Suns may get a steal here with Leonard, as they will likely not start him right away. This will give Leonard time to develop behind players like Marcin Gortat, giving the team a nice option at center in the near future.
14. Denver Nuggets: Perry Jones, F, Baylor Bears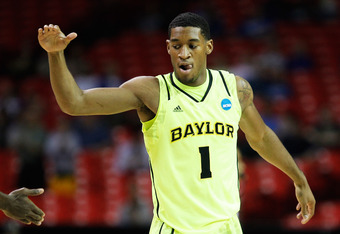 Streeter Lecka/Getty Images
The Nuggets certainly could benefit by adding a player that could virtually fill their void at power forward with the departure of Nene, and the fact that Jones stands at 6'11" doesn't hurt.
They already do have JaVale McGee, but players like Kenneth Faried and Timofey Mozgov are huge question marks.
Thing is, Jones still has much to prove, and he may not be able to succeed at the next level as easily as many hope.
He did put up 17 points and eight rebounds against the Kentucky Wildcats, but he was still questionable against that level of talent, as he went 6-of-14. He also didn't fare well in the first two rounds, scoring just a combined nine points on 4-of-14 against both South Dakota State and the Colorado Buffaloes.
15. Houston Rockets: Terrence Jones, F, Kentucky Wildcats (From New York)
The Rockets are likely looking for a center in this year's draft, but nobody is really worth it at this spot in the draft. Drafting a guy like Jones is a safe bet and will be a good player that could take over the role in the lineup from guys like Chase Budinger or Chandler Parsons.
16. New Jersey Nets: Kendall Marshall, G, North Carolina Tar Heels (From Houston)
The Nets may find themselves in need of a point guard if Deron Williams walks after this season, but even if he doesn't, the team could still use a guy like Marshall at the 2-guard spot. He can certainly play either position, and would make the team much more athletic as they continue to try and build up their team.
17. Minnesota Timberwolves: Terrence Ross, F, Washington Huskies (From Utah)
While Ross is listed by some as a forward, at 6'6", he is perfectly capable of playing the 2-spot. The Wolves have solid players all around the floor, but one area where they are arguably lacking is at the 2. The addition of Ross would give the Wolves a good young core for many years to come.
18. Boston Celtics: John Henson, F, North Carolina Tar Heels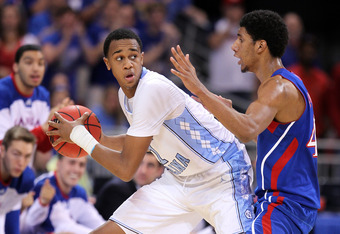 Andy Lyons/Getty Images
Henson will likely have the duty of replacing the likes of Kevin Garnett, whether that be soon or in the immediate future. That will be a tough man to replace, and Henson will have a lot to live up to if this becomes the situation.
The Tar Heels really played well this season, and that was mostly due to their talent from head-to-toe. Henson was a great piece in the lineup, but there is no guarantee that he will find such success without players like Marshall, Zeller and Barnes at his side.
If Henson can perhaps bulk up a little and stay healthy, the Celtics may have themselves a great pick for their future.
19. Philadelphia 76ers: Andrew Nicholson, F, St. Bonaventure
The 76ers are aging pretty badly in their frontcourt, most notably with Elton Brand. A guy like Nicholson will be able to play at the 3 and 4 spot, as well as adding some nice depth for the team. Doug Collins has the 76ers playing well, and he should be able to use a guy like Nicholson to help bolster their team next year.
20. Memphis Grizzlies: Quincy Miller, F, Baylor Bears
The Grizzlies are another team that is running somewhat thin at the 2 and 3 spot, and could benefit by adding a guy like Miller to their depth. Tony Allen hasn't been terrible, but O.J. Mayo has been incredibly inconsistent over the last few years. Adding another guy behind Rudy Gay won't hurt either.
21. Houston Rockets: Fab Melo, C, Syracuse Orange (From Dallas via Lakers)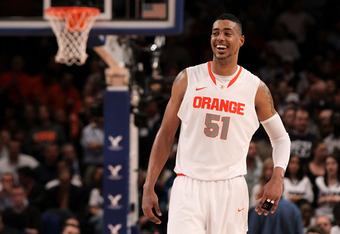 Jim McIsaac/Getty Images
The Rockets are in desperate need of a big man since Yao Ming retired, and while they do have pieces like Samuel Dalembert and Marcus Camby, neither of those guys are really set to contribute for the long run.
Melo did miss the NCAA tournament this season due to being held ineligible to compete, but he was still regarded as one of the better players this past season. 
He only averaged 7.8 points and 5.8 rebounds per game, but the 7'0" beast has been regarded as a great defender.
That will remain to be seen at the pro level, but without Yao, the team still desperately needs a scoring big man.
22. Boston Celtics: Damian Lillard, G, Weber State (From Clippers via OKC)
The situation with Rajon Rondo is Boston looks as if it will always be up in the air, so if Lillard slips this low in the draft, the Celtics would at least have a great backup and possible replacement for their future at the point. Lillard averaged 24.5 points per game this past season, but they fell in the second round of the CIT tournament to Loyola Marymount.
23. Atlanta Hawks: Tony Wroten, G, Washington Huskies
The Hawks are running extremely thin at the 2-guard, as the future of Kirk Hinrich is up in the air, as well as that of Tracy McGrady. They will need to potentially find an immediate replacement for those two men, and the Huskies freshman in Wroten could fit the bill rather perfectly. He could also spell Jeff Teague when needed.
24. Indiana Pacers: Jeff Taylor, F, Vanderbilt Commodores
The Pacers are pretty well set across the board, but they may start investigating options for Danny Granger down the line. The Commodores' senior forward would be a fine addition to the team, especially with his offensive production on the rise. he has raised his scoring in each of the last two seasons, ending his college career averaging 16.4 points per game his senior year.
25. Cleveland Cavaliers: Doron Lamb, G, Kentucky Wildcats (From Lakers)
The Cavaliers must continue to build their backcourt around their first overall pick of last year in Kyrie Irving, so there is no better running mate than Lamb. The Wildcats sophomore guard can score, and does so in big moments of the game. The Cavs need to add another scorer; Lamb can be that guy.
26. Orlando Magic: Moe Harkless, F, St. Johns 
The Magic need to continue to build around Dwight Howard to keep him happy and in Orlando for a long time, so adding a scorer like Harkless should help take some of the load off of the big man. The freshman averaged 15.3 points and 8.6 rebounds per game this past season, as well as 1.4 blocks per night.
27. Golden State Warriors: Dion Waiters, SG, Syracuse Orange (From San Antonio)
The Warriors no longer have Monta Ellis in town, so they will need to continue to add pieces to make up for the loss in scoring at their guard position. Klay Thompson will continue to get his shot, but the team may be looking at any other options that they may like. Waiters can score, but he still has some consistency to prove.
28. Miami Heat: Royce White, F, Iowa State Cyclones
The Heat have good depth at the point guard position, but things are rather shaky behind their big three. Adding a versatile player like White would give them options at mostly the 2 and 3, but at 6'8" he could possibly play a bit of 2 when the lineup goes big. He proved to have all the right tools this past season, averaging 13.1 PPG with 9.2 rebounds and 5.1 assists per game.
29. Oklahoma City Thunder: Marquis Teague, G, Kentucky Wildcats
There is really nobody behind Russell Westbrook in the Thunder's lineup, and the addition of Teague could potentially allow Westbrook to move to the 2-guard. While that would likely be a situation down the the line, the Thunder would at least be able to make this young team even more dangerous for years to come.
30. Chicago Bulls: Mason Plumlee, F, Duke Blue Devils
Plumlee is nothing more than an average power forward, but the Bulls don't really need much more than that. If he can improve his offensive game, it could give the team a reason to move on from Carlos Boozer, who hasn't been exactly phenomenal since coming over. The team certainly has depth at this position, but it will give them some flexibility to make a move for a 2-guard.