2012 NFL Mega Mock Draft, 7 Rounds: Projecting Every Pick for Every Team
Doug Pensinger/Getty Images
Andrew Luck may be the face of the 2012 NFL draft, but he's certainly not the only elite prospect available
With a record 65 underclassmen having declared for this year's NFL draft, the 2012 draft class is loaded with plenty of star power and notable prospects.
Names of former college stars like Andrew Luck, Robert Griffin III, Justin Blackmon and Trent Richardson will highlight the first night of draft weekend, which kicks off on April 26th, but this is a draft that will run deep with intriguing players, and teams should be able to find great value in the later rounds.
Now that many of this year's top free agents have been signed, we're beginning to get a better understanding of which needs all 32 teams will be trying to fill in this year's draft.
After the first two picks, the first round still remains largely a mystery, as the Vikings have numerous options that they could explore with the No. 3 overall pick.
With just a few weeks to go, the first-round picture should start to clear up as the draft draws closer and we start to figure out what teams like Minnesota, Cleveland, Tampa Bay and the rest of the teams in the Top 10 plan on doing.
The 2012 draft is sure to have its fair share of surprises and head-scratching picks, and it should be very interesting to see how it all goes down.
While there's still a lot of questions that have to be answered between now and draft weekend, now that the compensatory picks have been announced and all 253 selections slots have been made official, it's time to begin speculating about how each round will shape up.
With that in mind, here's a look at how I project all seven rounds of the 2012 NFL draft to ultimately play out.
Begin Slideshow

»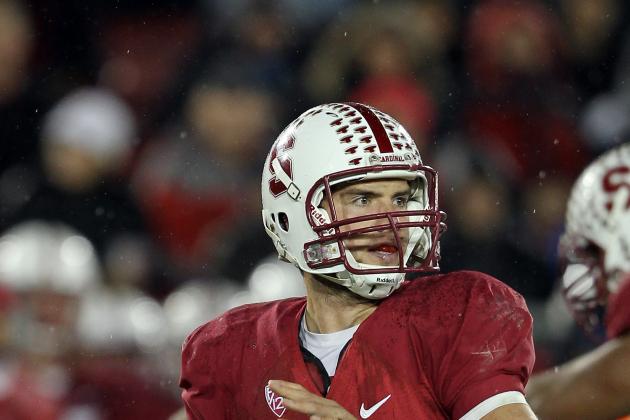 Ezra Shaw/Getty Images
Andrew Luck
No Colts fan could have ever imagined seeing Peyton Manning playing anywhere but Indianapolis, but that's a reality that every former Manning supporter must now face.
Manning has moved on to the Mile High City, and it's now time for the Colts to figure out how to move on from one of the biggest legends in the history of the sport.
While no quarterback will ever again be able to give the organization all that Manning gave it during his years in a Colts uniform, there does happen to be two potential star quarterbacks available in this year's draft who could step in as new faces of the Indianapolis franchise.
Stanford's Andrew Luck and Baylor's Robert Griffin III are two of the best quarterback prospects to come along in years and both of them have the potential to develop into dynamic playmakers at the NFL level.
For the past year, Luck has been the consensus favorite to be the No. 1 overall pick of the 2012 draft, but RG3's rise to stardom this past season has made some question if Luck is truly superior to the Heisman winner.
Griffin may have the higher ceiling and upside, but it's Luck who is the more further along at this point in his development, and he's the right fit for Indianapolis.
Colts fans have been hearing all about Luck for the past six months, and by now, most have embraced the idea of the Stanford signal-caller leading the team into a new era.
Luck has the potential to grow into one of the most efficient, consistent and successful starting quarterbacks in the NFL in the years to come, and his early tenure in Indianapolis should be one of the league's biggest storylines over the next few seasons.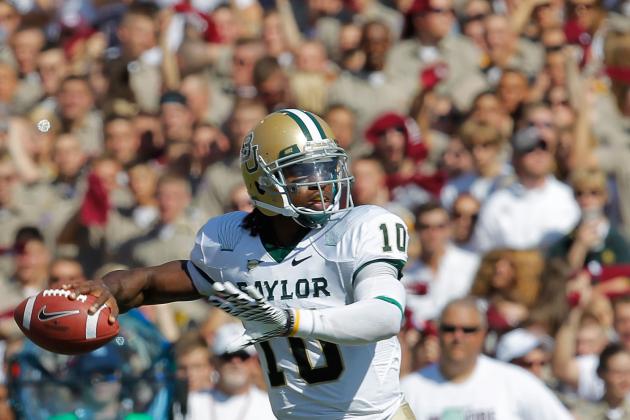 Sarah Glenn/Getty Images
Robert Griffin III
The Redskins have been searching for some semblance of an identity since Dan Snyder bought the team back in 1999, and now it seems like they're finally on the verge of finding it.
Robert Griffin III was the savior that the Baylor football program desperately needed, and he appears to be the savior that Washington has been in search of for over a decade.
We've never seen a quarterback prospect quite like RG3 before.
Griffin's a world-class athlete with a cannon for an arm and he's got the type of charisma and personality that you look for in a star athlete. He's one of the most electrifying and explosive athletes to ever enter the NFL, and he's far from just your ordinary dual-threat quarterback.
The Heisman winner proved that in 2011 when he excelled as a pocket passer, completing 72 percent of his passes for over 4,200 yards and finishing the season with an outstanding 37-6 touchdown-to-interception ratio.
Now it's true, Art Briles doesn't exactly run a conventional pro-style attack, but Griffin should have no problem adapting to an NFL offense like the one Mike Shanahan employs.
The question that has been posed since the Redskins swapped with St. Louis for the No. 2 pick is this: Did Washington give up too much?
That simply can't be answered right now, but personally, I believe that in five years when we look back on the 2012 draft, we'll be calling the Redskins lucky for being able to land a rare player like Robert Griffin III with the No. 2 pick.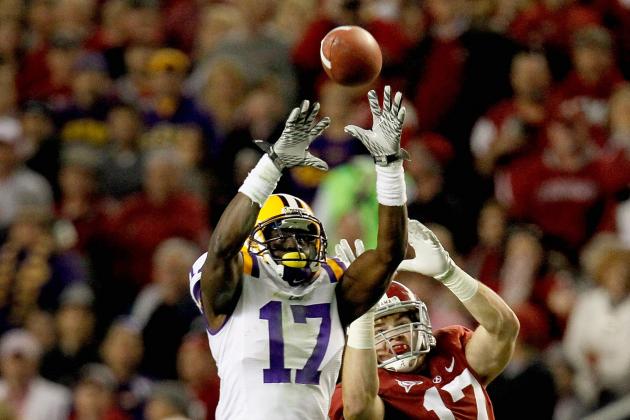 Kevin C. Cox/Getty Images
Morris Claiborne
Since we already know how the first two picks in the draft are going to play out, the Minnesota Vikings are the team that really has the chance to shape the early part of the first round with their pick. The No. 3 pick is this year's catalyst pick, as whatever the Vikings end up doing will have a ripple effect throughout the Top 10.

Conceivably, the Vikings have four options: Trade down or select one of three elite prospects—LSU CB Morris Claiborne, USC OT Matt Kalil or Oklahoma State WR Justin Blackmon—with the third pick. Many seem to feel that Kalil is likely to be the pick here, but remember, the Vikings already have two serviceable starting tackles, Charlie Johnson and Phil Loadholt, compared to zero truly consistent cornerback options.

The Vikings are going to have to give Morris Claiborne some serious consideration, as he's one of this year's most gifted prospects and he also fills a huge need.

With a rare combination of size, speed, instincts and shutdown ability, Claiborne is a better overall cornerback prospect at this point than former LSU teammate Patrick Peterson was when he was selected with the fifth overall pick of the 2011 draft.

Kalil could become a leader of an NFL offensive line down the road in his career, but when you play in the same division as Aaron Rodgers, Jay Cutler and Matt Stafford, you simply can't afford to be without an impact player in the secondary.
Claiborne is the most sensible option for Minnesota, if the Vikings decide to stay at No. 3.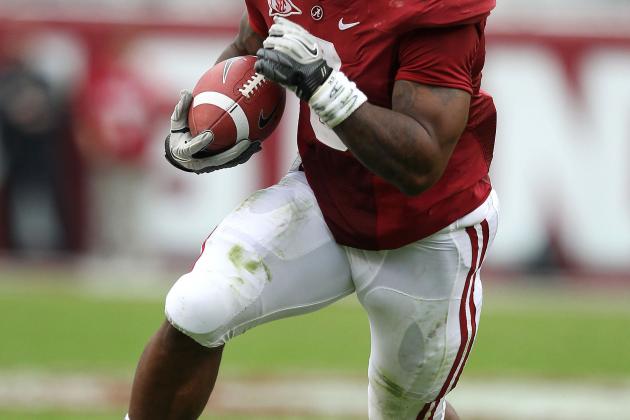 Mike Zarrilli/Getty Images
Trent Richardson
Whether Minnesota chooses Matt Kalil or Morris Claiborne at No. 3 is really inconsequential to the Browns, as Cleveland will probably only be choosing between three prospects—Alabama RB Trent Richardson, Texas A&M QB Ryan Tannehill and Oklahoma State WR Justin Blackmon.
The Browns could use help at all three positions, which is why they will be one of the most interesting teams to follow over these next few weeks.
While many would argue that Tannehill isn't worth the No. 4 overall pick, it's obvious that Colt McCoy is not the answer at quarterback in Cleveland, and drafting the Texas A&M signal-caller would at least give the team some hope for the future.
Still, the Browns best strategy would be to wait until the No. 22 or No. 37 pick, where they could take a look at a "second-tier" quarterback prospect like Michigan State's Kirk Cousins or Oklahoma State's Brandon Weeden.
The best course of action at No. 4 would be to take RB Trent Richardson, who would be both the best player available as well as a player who could fit a big need.
Peyton Hillis has been one of the league's most overrated players for the past few years, but that doesn't mean that his departure from Cleveland didn't leave a big hole in the Browns' backfield.
That's a hole that a strong power back like Richardson would have no trouble filling.
The 5'9'', 228-pound junior plowed his way to 1,679 yards on the ground during Alabama's run to a national championship this past season, and he showed that he could be an elite work-horse back at the NFL level.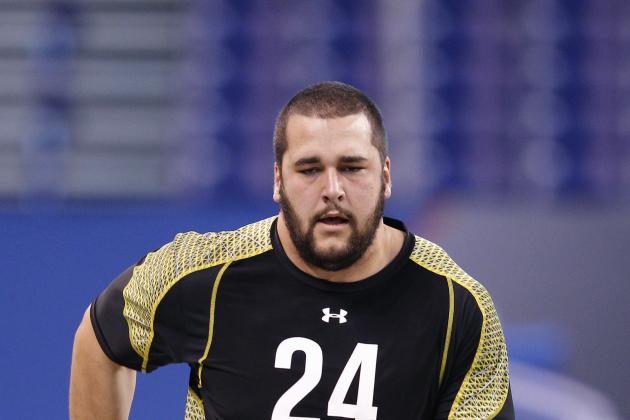 Joe Robbins/Getty Images
Matt Kalil
If the Vikings decide to pass on USC OT Matt Kalil at No. 3, he may slip by the Browns, but there's no way that he'll get by Tampa Bay at No. 5.
While the Buccaneers don't exactly have a bad pair of offensive tackles in Donald Penn and Jeremy Trueblood, neither of them are close to being standouts, and Kalil would be an instant upgrade over either of them.
With the signings of high-priced free agents like WR Vincent Jackson and CB Eric Wright, the Bucs solved two key problems and alleviated the need to draft either Justin Blackmon or Morris Claiborne at No. 5.
Trent Richardson is now likely the team's top target, but if Kalil falls in their lap, he would be too valuable to pass up.
The younger brother of Panthers center Ryan Kalil is one of the most athletic offensive tackles to come out of the college ranks in the past decade, and he's the type of polished prospect that could instantly develop into a reliable starter as a rookie.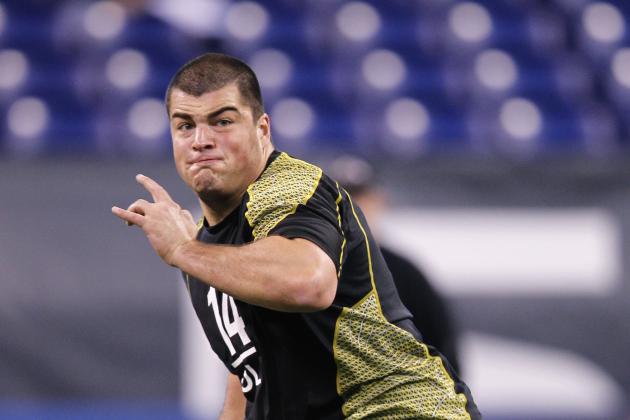 Joe Robbins/Getty Images
David DeCastro
The Rams pulled off a terrific trade when they swapped first-round picks with the Redskins and picked up a ton of future high picks in the process. After moving back from two to six, it will be interesting to see which prospect St. Louis will now target.
WR Justin Blackmon would seem to be a sensible option, but given how awful the Rams' offensive line was last year, the better idea could be to take a top-notch offensive line prospect like Stanford guard David DeCastro or Iowa tackle Riley Reiff.
It's certainly rare to see guards go in the Top 10 of the draft, but given how rarely you see a guard who is as complete of a prospect as DeCastro is, it wouldn't be surprising if a team like the Rams took a chance on him earlier than some might expect.
DeCastro is the total package as far as skills are concerned and he projects as a future Pro Bowl regular in the mold of a guard like Steve Hutchinson.
St. Louis may need to find Sam Bradford a No. 1 receiver; however, if the Rams don't find him some better protection than they gave him last year, Bradford probably won't be healthy enough to throw to anybody.
After giving up a league-high 55 sacks last season, solidifying the offensive line has to be a top priority for the Rams in this year's draft, and a player like DeCastro would certainly help strengthen their front five.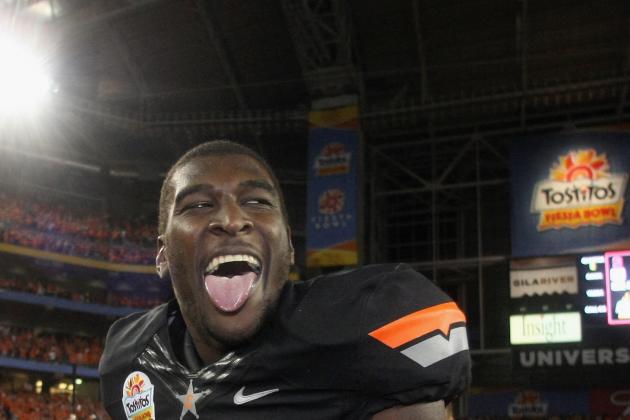 Donald Miralle/Getty Images
Justin Blackmon
Jacksonville fans have to be concerned about QB Blaine Gabbert's dismal rookie season performance. Gabbert, who was the 10th pick in the 2011 draft, looked over-matched by the level of competition he faced on a weekly basis. Finding Gabbert some help at the offensive skill-positions besides RB Maurice Jones-Drew would certainly help to ease some of the pressure he's facing.
The Jaguars went out and signed WR Laurent Robinson this offseason, but the rest of their receiver corps leaves something to be desired. Jacksonville would probably love to get its hands on Oklahoma State WR Justin Blackmon, but the Jaguars are going to have to cross their fingers and hope that he somehow slips by St. Louis at six and falls to them.
Blackmon is a gifted playmaker who put together a supremely impressive highlight-reel during his last two years in Stillwater.
Blackmon, Robinson and Mike Thomas is the type of receiver trio that could help Gabbert get out of the funk that engulfed him as a rookie last season.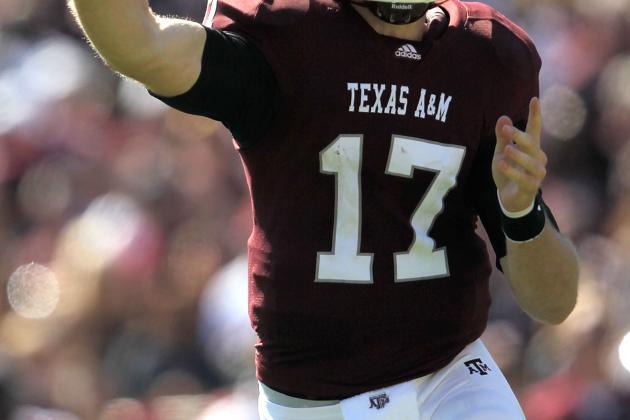 Sarah Glenn/Getty Images
Ryan Tannehill
The Miami Dolphins are a team that has some intriguing talent on both sides of the ball; however, they happen to have one glaring hole, and it's at the most important position on the field: quarterback.
The Dolphins failed to reel in either of the two top free-agent quarterbacks that were on the market, Peyton Manning or Matt Flynn; they lost Chad Henne, who left for Jacksonville; and they're now down to Matt Moore and David Garrard as the team's two top options at the position.
While Moore and Garrard are capable of being serviceable starters, neither of them is going to get a fanbase like Miami's all riled up and excited.
It now seems like it's time for the Dolphins to invest a first-round pick in a quarterback of the future, and Texas A&M's Ryan Tannehill might just be the right choice at No. 8.
Tannehill may not have had the senior season that some were hoping to see, but he's still a coveted commodity that some team is going to take a chance on in the Top 10 of this year's draft.
The question is, will that team be Miami?
Trading up all the way to No. 3 is an avenue that the Dolphins might explore if they feel that Cleveland will snatch Tannehill up at No. 4. Overall, though, it remains to be seen just how the third-rated quarterback will affect the Dolphins' decision-making and how he'll impact the movement in the Top 10.
Tannehill should be one of the most interesting prospects to follow over the next few weeks, and we'll have to wait and see if it turns out to be Cleveland, Miami or possibly another franchise that falls for him the hardest before the draft.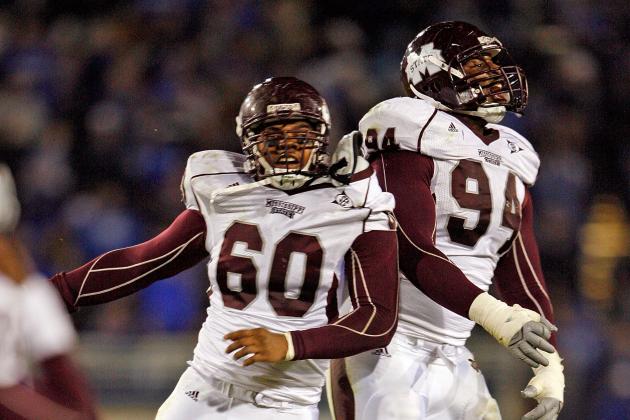 Andy Lyons/Getty Images
Fletcher Cox
Ron Rivera had to be pleased about the play of his sensational rookie quarterback Cam Newton last season, but the former defensive coordinator couldn't have been happy about the performance of his defense, which ranked 28th in the NFL in total defense.
Carolina's defense could use help at all three levels, but the Panthers would especially benefit from finding a disruptive defensive tackle that's capable of causing havoc in the interior.
This year's top tackle prospect, Mississippi State's Fletcher Cox, could be just the type of disruptive defender that the Panthers need.
Cox entered the draft a year early after enjoying a monster junior campaign in 2011, in which he racked up five sacks and 14.5 tackles for loss.
The 6'4'', 298-pound junior really boosted his stock this past season, and Cox showed that he has the strength, quickness and tenacity to develop into a force as both a run-stuffer and a backfield penetrator at the NFL level.
Joe Robbins/Getty Images
Riley Reiff
Buffalo covered two big areas of concern this offseason by re-signing top wideout Steve Johnson and bringing in DE Mario Williams to boost an anemic pass rush.
Those two signings will likely have a big effect on the Bills' draft strategy, as Buffalo won't be forced to overdraft a receiver or an end at No. 10 strictly based off of need.
While that doesn't necessarily mean that Buffalo won't target a receiver like Kendall Wright or Michael Floyd, or a defensive end like Melvin Ingram or Whitney Mercilus, the better option would be to take Iowa offensive tackle Riley Reiff if he's available at No. 10.
Reiff is the type of tackle that the Bills have needed since they traded away Jason Peters, and he might be the missing link that could shore up Buffalo's offensive line.
Teams like St. Louis, Jacksonville and Miami could all have an interest in Reiff, but if the 6'5'', 313-pound former Hawkeye drops to the 10th pick, there's a good chance that he'll be a Bill.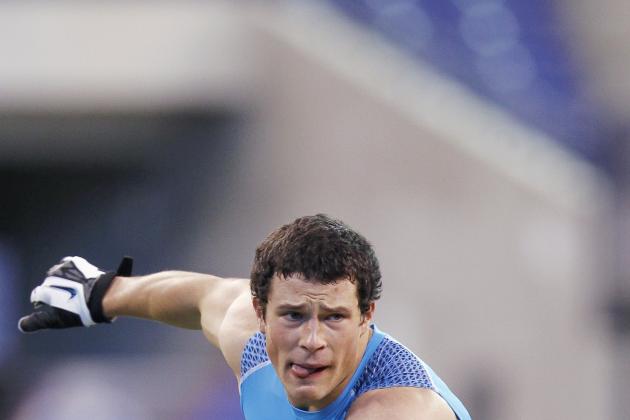 Joe Robbins/Getty Images
Luke Khuecly
Kansas City already has three-fourths of a true showcase linebacker unit, as Tamba Hali, Derrick Johnson and Justin Houston are all defensive playmakers. What the Chiefs just need to do now is find another inside 'backer to stick next to Johnson in the team's 3-4 front.
Brandon Siler and Jovan Belcher are two quality run-stuffers, but the defense would be better off with another athletic playmaker who can track ball-carriers from sideline to sideline.
LB Luke Kuechly is the ideal fit for what Kansas City should be looking for in an inside linebacker prospect.
Kuechly racked up an astounding 532 tackles during his career at Boston College, and he showed that he's the type of defensive leader that possesses the proper intangibles and make-up to become a star in the NFL.
The Chiefs may be hoping that OG David DeCastro falls to them at No. 11, but if DeCastro doesn't escape the Top 10, and Kuechly's still available, Scott Pioli would be wise to pick up the future Pro Bowl 'backer.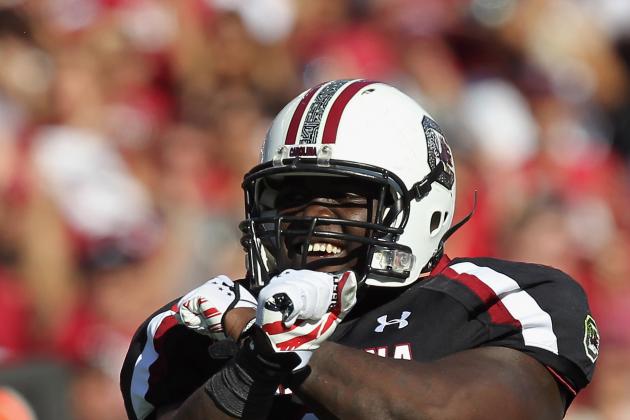 Streeter Lecka/Getty Images
Melvin Ingram
If the Seahawks hadn't signed QB Matt Flynn to a three-year deal, Seattle would have been the favorite to trade up for Ryan Tannehill. Now with quarterback taken care of, though, the team can look to address other needs on the defensive side of the ball.
Seattle could be enticed by a cornerback prospect like Dre Kirkpatrick or Janoris Jenkins, but defensive end should be the bigger priority. If this year's top end prospect, South Carolina's Melvin Ingram, is available at No. 12, it would seem to be a perfect team-prospect match.
After a breakout senior campaign, in which he notched 10 sacks and 15 tackles for loss, Ingram has proven that he's worthy of being a Top-15 pick in this year's draft.
The 6'1'', 264-pound senior is one of the most versatile defensive line prospects in years, and he would provide an instant boost to Seattle's pass rush next season.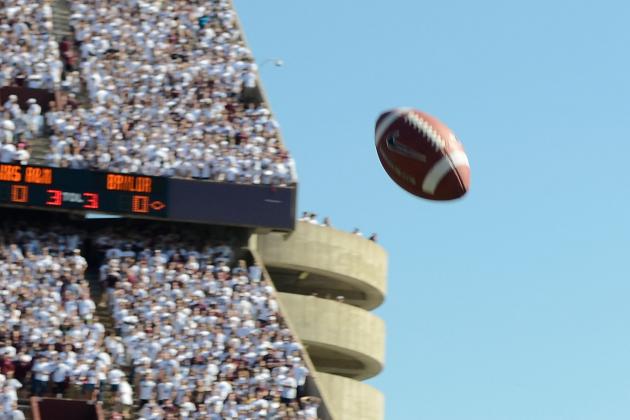 Sarah Glenn/Getty Images
Kendall Wright
The Cardinals missed Steve Breaston last season, as Larry Fitzgerald seemed to lack a proper complementary No. 2 receiver to detract the attention of defenses away from him.
Finding an explosive second receiver who has the speed to scare secondaries would be a good idea, and there isn't a receiver in this year's draft that's any more explosive than Kendall Wright.
While Wright may have disappointed with a slow 40-time at the combine, he rebounded with a strong pro day performance, and plus, if you just watched any Baylor game last year, then you know what a difference-maker Wright was on the field for the Bears.
Arizona could use another game-changer in the passing game, and the combination of Fitzgerald and Wright could be lethal.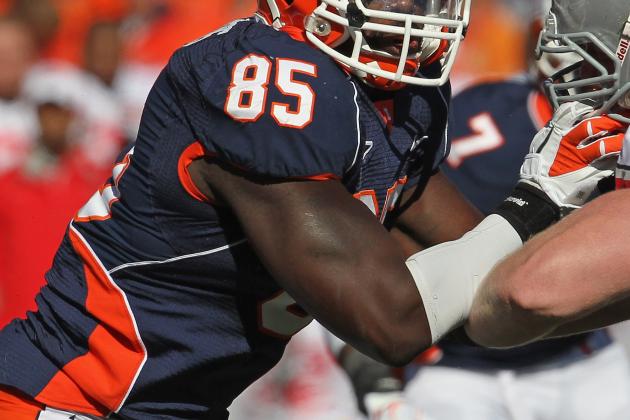 Jonathan Daniel/Getty Images
Whitney Mercilus
Dallas went out and was proactive in plugging holes with free agents like OG Nate Livings, LB Dan Connor, CB Brandon Carr and S Brodney Pool.
The Cowboys are now free to focus in on key areas like the offensive line and the defensive front seven with the No. 14 pick.
OG David DeCastro is probably the ideal prospect for Dallas but he most likely won't be available at No. 14.
Instead, the Cowboys could look to draft either a nose tackle like Memphis' Dontari Poe, a 3-4 end like Mississippi State's Fletcher Cox or a rush linebacker like Illinois' Whitney Mercilus.
This past season, Mercilus transformed from an unknown into an All-American, as he racked up 16 sacks and 22.5 tackles for loss.
The 6'3'', 261-pound junior played end in a 4-3 scheme at Illinois, but he has the skill set to play either end in a 4-3 scheme or outside linebacker in a 3-4 system in the NFL.
Dallas has one of the best edge-rushers in the NFL in Demarcus Ware, but his counterpart, Anthony Spencer, was barely average last year, and he may not be with the team following this upcoming season.
Finding another young, athletic pass-rusher to groom is something that Dallas has to consider early in this year's draft.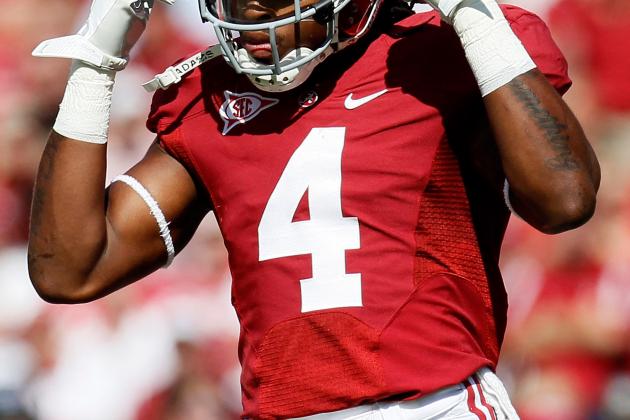 Kevin C. Cox/Getty Images
Mark Barron
Philadelphia may have one of the deepest groups of cornerbacks in the NFL with Nnamdi Asomugha, Asante Samuel and Dominique Rodgers-Cromartie. However, the Eagles lack a true playmaker at the safety position. Nate Allen, Kurt Coleman and Jaiquawn Jarrett are all solid, but none of them are standouts.
It's always tough to predict where the Eagles will look with their first-round pick. Obviously, the team could use a top-flight linebacker, but the franchise hasn't selected a linebacker in Round 1 since 1979, and that trend will likely continue again this year, especially since Philadelphia just picked up middle linebacker DeMeco Ryans in a trade with the Texans.
The Eagles could take an interest in this year's top safety prospect, Alabama's Mark Barron, who is the type of leader and playmaker that would really bolster an already strong secondary.
Down the line, Barron could very well end up becoming a Brian Dawkins-type of impact defender for the Eagles if Philadelphia decides to take him at No. 15.
With the recent severe injury to offensive tackle Jason Peters, taking an offensive tackle in the first round is also a possibility for Philadelphia.
Domenic Centofanti/Getty Images
Michael Floyd
While most of the media's focus will be on the Jets' quarterback position this offseason after the addition of the Tim Tebow circus, an equally important story will be the team's wide receiver corps, as there are a lot of uncertainties surrounding the unit heading into next season.
The most important question that has to be answered is, can Santonio Holmes and Mark Sanchez coexist?

Even if they can, more help is still needed, as Jeremy Kerley is more suited for a No. 3 role, and recently acquired Chaz Schilens isn't exactly going to strike much fear in the heart of opposing secondaries. Finding a standout receiver with the No. 16 pick could be in the Jets' draft plans, and they wouldn't be able to do much better than Notre Dame's Michael Floyd.

Floyd has the size, speed, hands, hops and playmaking ability to develop into a consistent No. 1 receiving target for an NFL offense, and he would give quarterback Mark Sanchez a much needed weapon to use in the passing game.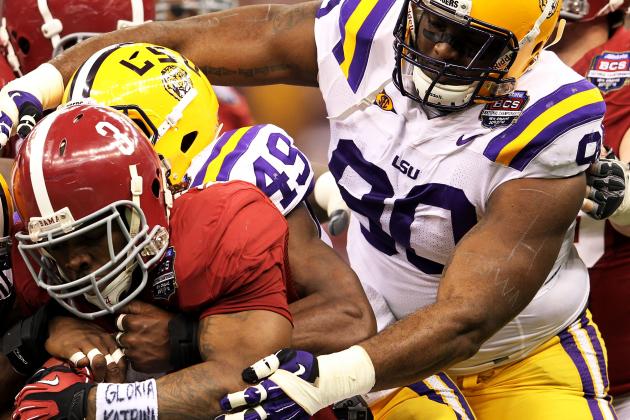 Andy Lyons/Getty Images
Michael Brockers
The Bengals have the benefit of having two first-round picks to play around with this year, which means that they could go in a lot of different directions with the 17th pick.
One route the team could look to explore is drafting a young talented defensive tackle to groom for the future.
While Cincinnati already has two solid tackles in Domata Peko and Geno Atkins, it wouldn't hurt to find another big, athletic tackle to add to the rotation.
LSU's Michael Brockers is the type of top-tier tackle prospect that might look good in a Bengals uniform.
Brockers is still a raw and unrefined talent at this point, but it's his enormous potential that has everyone so intrigued with the one-year starter.
Last year, the 6'5'', 322-pound redshirt sophomore was a key cog for college football's top defensive line, and he flashed the type of quickness and power that you need to develop into a dominant defensive tackle at the NFL level.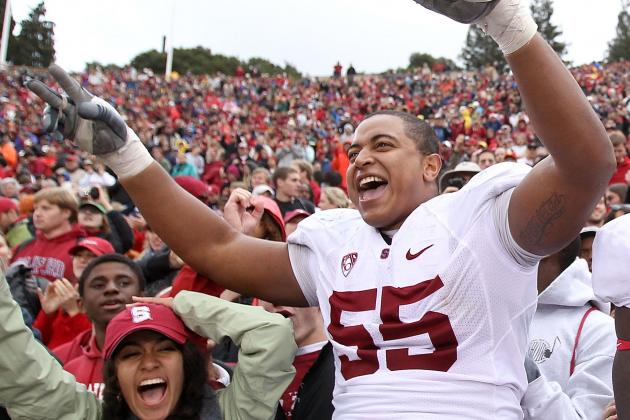 Ezra Shaw/Getty Images
Jonathan Martin
The Chargers knew that they had holes to fill this offseason, so the team went out and reeled in free agents like receivers Robert Meachem and Eddie Royal, linebacker Jarret Johnson and safety Atari Bigby.
All were solid pickups; however, you can fault San Diego for not going out and picking up a key lineman, whether it be offensive or defensive, to help out in the trenches.
That means that the Chargers will likely focus their attention on both of their lines in this year's draft, as more help is needed on both sides of the ball.
After releasing left tackle Marcus McNeill a few weeks ago, San Diego is now in need of a young offensive tackle whom the team can mold the line around for the future.
The tackle that the Chargers could be looking for is Stanford's Jonathan Martin.
Martin may be just a notch below the top two tackle prospects in this year's draft, Matt Kalil and Riley Reiff, but he still has the ability to develop into an anchor for an NFL offensive line.
The 6'5'', 312-pound junior possesses terrific athleticism for his size, and he has the chance to grow into a complete bookend tackle over the next few years.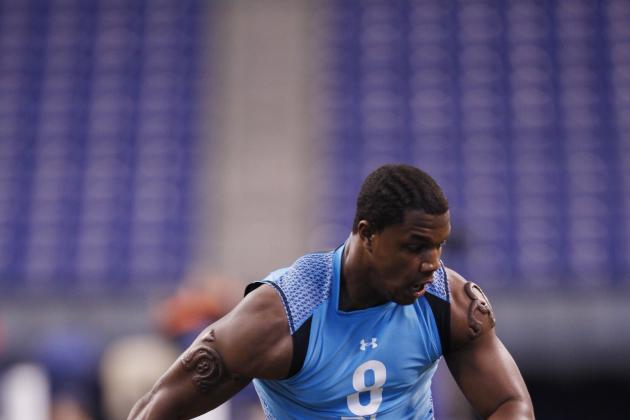 Joe Robbins/Getty Images
Quinton Coples
Quinton Coples reminds me a lot of former Miami Hurricane and current Arizona Cardinal defensive end Calais Campbell.
Like Campbell, Coples entered this past season as a projected Top-5 draft pick; however, he failed to live up to the hype and he didn't have the truly dominant performance that many were expecting.
While Coples certainly won't drop to the 50th pick like Campbell did in the 2008 draft, he may not be the surefire Top-10 pick that many seem to be billing him as either.
If the 6'5'', 284-pound junior slides past Carolina at No. 9, he could drop into the teens where a team like Chicago could take a serious interest in him.
The Bears currently have 32-year-old Julius Peppers and 31-year-old Israel Idonije leading the way at defensive end, and an infusion of another young edge-rusher could really add some juice to the defensive front.
Coples and Corey Wootton would give the Bears a talented pair of young defensive ends to build around for the future.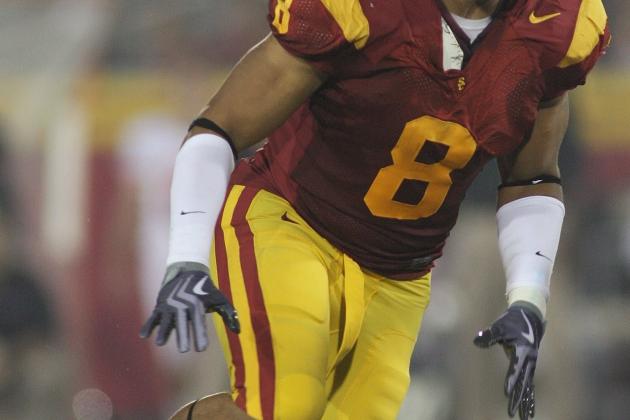 Jeff Golden/Getty Images
Nick Perry
Tennessee ranked 31st in the NFL in sacks last season, which means the Titans will likely be looking for a defensive end early on in this year's draft. Adding Kamerion Wimbley will help, but the team could still benefit from adding a young, speedy pass-rusher to the mix.
One prospect who would fit in well in Tennssee's defense is USC's Nick Perry.
Perry is a strong, athletic edge-rusher who made a living in opponents' backfields last season, racking up 9.5 sacks and 13 tackles for loss in 2011.
The 6'2'', 271-pound junior has the potential to develop into a double-digit sacks-per-year type of end in the NFL, and he would really add a lot to Tennessee's nearly nonexistent pass rush.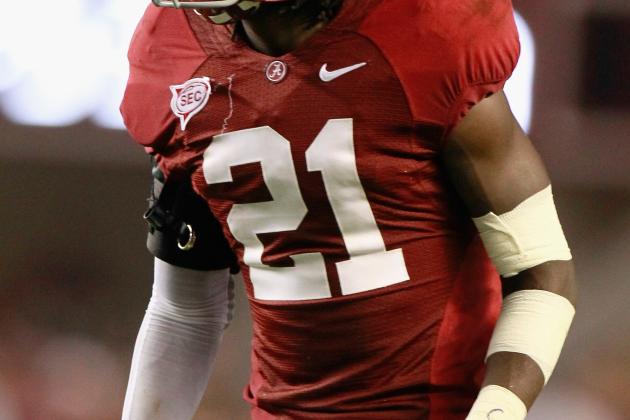 Kevin C. Cox/Getty Images
Dre Kirkpatrick
It was clear that Cincinnati missed CB Johnathan Joseph last season, as Leon Hall was the team's only real playmaker in the defensive backfield in 2011.
The Bengals should be shopping for a future replacement for aging corner Nate Clements with one of their early picks in this year's draft, and No. 21 is the place where they just might find a bargain.
Alabama's Dre Kirkpatrick is the type of corner that would be a perfect complement to Hall in Cincinnati's secondary and there's a good chance that he'll be available when the Bengals are picking at 21.
The 6'1'', 186-pound Kirkpatrick is a big, physical corner in the mold of players like Sean Smith and Charles Tillman and he has great man-to-man cover skills and a knack for making a big play in run support.
Kirkpatrick could come in and compete with Clements for a starting position right from his first day in training camp.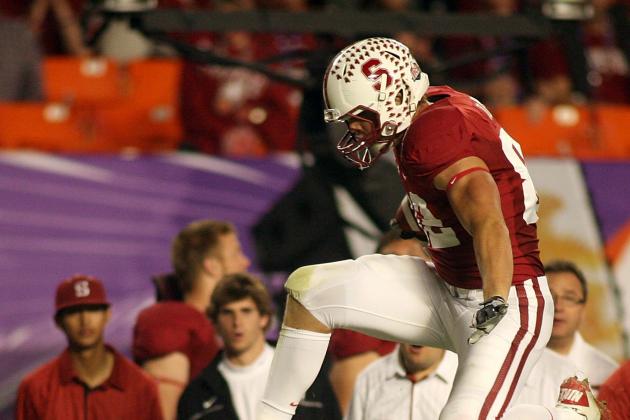 Marc Serota/Getty Images
Coby Fleener
There are no true elite star tight end prospects this year, but there is one player who has caused quite a bit of buzz for himself in recent weeks and that's Stanford's Coby Fleener.
After an extremely impressive performance during his workouts at the Cardinal pro day, Fleener has now distinguished himself as the top tight end available in this year's class, and he's the only one who is worth a first-round pick.
The athletic and physically gifted 6'6'', 247-pound Fleener hauled in 34 passes for 667 yards and 10 touchdowns in 2011, and he proved that he's the type of dangerous receiving threat that can find the seam and create big plays down the field.
If Cleveland passes on Justin Blackmon at No. 4, the Browns could strongly consider taking a receiver with the 22nd pick, but they also could think about taking an explosive tight end like Fleener to add to the passing game.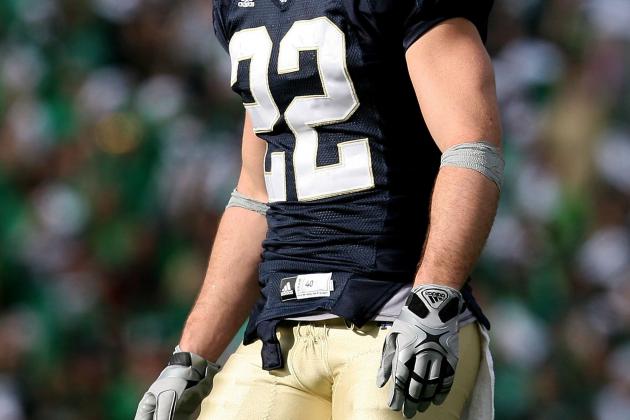 Jonathan Daniel/Getty Images
Harrison Smith
After the dreadful Matt Millen era, Detroit has been one of the best drafting teams in the NFL over the past few years, and that young talent paid off in a big way last season when the team made its first playoff appearance of the millennium.
Detroit has very few glaring weaknesses that need to be filled, but the Lions most definitely could use some help in the secondary, whether it be at corner or safety.
A defensive back who's stock is ascending and who would fit in well in Detroit's defensive scheme is Notre Dame safety Harrison Smith.
Smith was a defensive difference-maker who took on a leadership role for the Irish defense over the past few years, and he could have a similar type of effect in Detroit.
The 6'1'', 213-pound safety has the size, instincts, intangibles and range to develop into a valuable secondary stalwart in the NFL.
Jamie Sabau/Getty Images
Mike Adams
It seems like the Steelers have had to deal with offensive line problems for the past few years, as injuries always seem to take some sort of toll on the unit and force some sort of shuffling to take place.
Last season was no different, as two of the Steelers tackles, Willie Colon and Max Starks, experienced significant injuries last year.
While the club is grooming 2011 second-round pick Marcus Gilbert to take one of the tackle spots, pairing Gilbert with another top young tackle might be in the team's best interests.
One tackle prospect that Pittsburgh could have an interest in taking at No. 24 is Ohio State's Mike Adams.

Adams is a former 5-star recruit who really shined during his final two seasons in Columbus. While he didn't impress many onlookers at the combine, Adams should still be right in the late first-round mix, as he has the type of size, athleticism and overall skill set that teams are looking for in a starting caliber offensive tackle.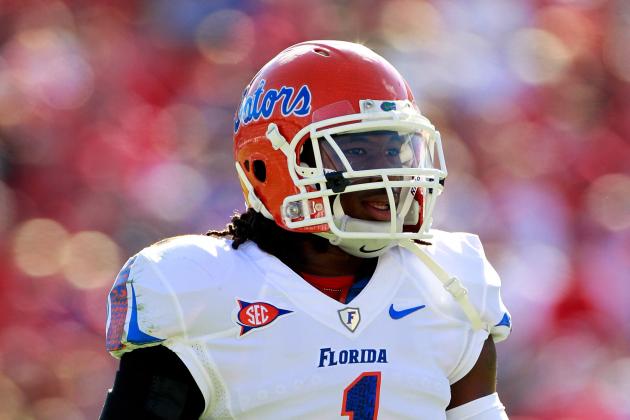 Sam Greenwood/Getty Images
Janoris Jenkins
One of Denver's top priorities in this year's draft will be to surround newly signed quarterback Peyton Manning with some new fancy young offensive weapons; however, the Broncos also have to focus on filling some key holes on the defensive side of the ball as well.
If the Broncos choose to pass on taking an offensive skill-position player at No. 25, they could look to add a starting caliber cornerback like Janoris Jenkins instead.
Jenkins was a showcase defender during his time in Florida, where he looked destined to be a future Top 15 pick, but his off-the-field lifestyle got him booted from the team, and it's forced many personnel people to call into question his true worth.
The 5'10'', 193-pound Jenkins has the physical skills and make-up to evolve into a No. 1 cornerback for an NFL defense some day, but he's going to need to earn a team's trust, and it will be interesting to see which organization decides to put their faith in the former Gator.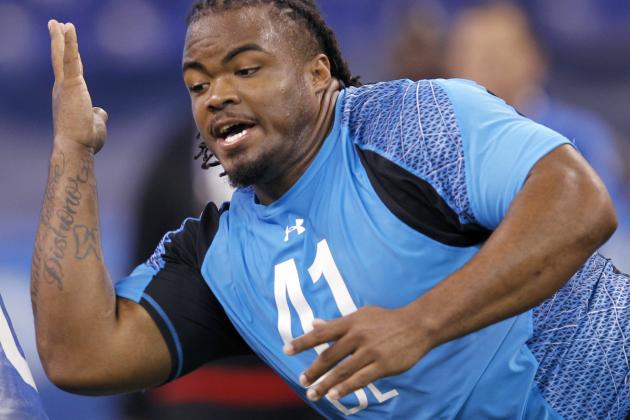 Joe Robbins/Getty Images
Dontari Poe
Memphis DT Dontari Poe is one of the real enigmas of this year's draft class. Poe was one of the stars of the combine when he put up absolutely freakish numbers for an athlete that's 6'3'', 346 pounds. However, when scouts went back and watched Poe on tape, they realized that he didn't always utilize his tremendous physical gifts to the best of his ability, as he failed to dominate against average competition.
Conference-USA isn't exactly a league known for its stellar offensive line play, but Poe still had trouble making flash plays during his junior season and he only finished with just one sack and eight tackles for loss in 2011.
Still, given his physical package, Poe is the type of rare tackle prospect that could develop into the linchpin nose tackle of a three-man defensive line in the NFL.
The Texans, who have many of the key pieces for a dominant defensive front seven besides a nose tackle, would probably love to get their hands on a player like Poe.
Houston may have to trade up a few spots to have a chance to land Poe on draft night, but if the Texans end up getting him, he could end up being well worth the investment for Wade Phillips' budding defense.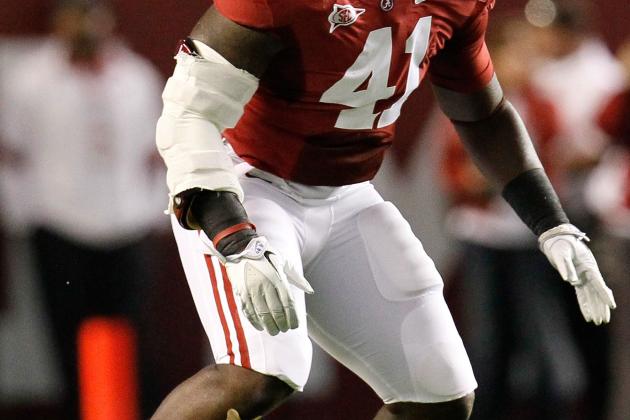 Kevin C. Cox/Getty Images
Courtney Upshaw
If you're going by which prospects are just the best pure football players in this year's draft, then Alabama's Courtney Upshaw has to be near the top of the list. However, the problem is, at this point, Upshaw hasn't truly distinguished himself as either a 3-4 outside rush linebacker or a 4-3 defensive end.
The 6'1'', 272-pound senior has the versatile skill set to play either role in the NFL, but the fact that he still has the tweener label attached to his name at this point in the process could end up hurting his draft stock.
Upshaw has the talent and physical ability to be a Top 15 pick, as he showed during this past season when he racked up 8.5 sacks and 17 tackles for loss for the Tide's dominant defense.
If we're just talking fits based on defensive systems, then a team like New England is probably the best home for a player like Upshaw, as he would give the Patriots a dangerous edge-rusher who is capable of either putting his hand in the ground or standing up and rushing the passer.
Upshaw is the type of sound, experienced and intelligent defender that Bill Belichick loves, and if he starts to slide down the draft board a bit, Belichick would probably love to get a crack at him.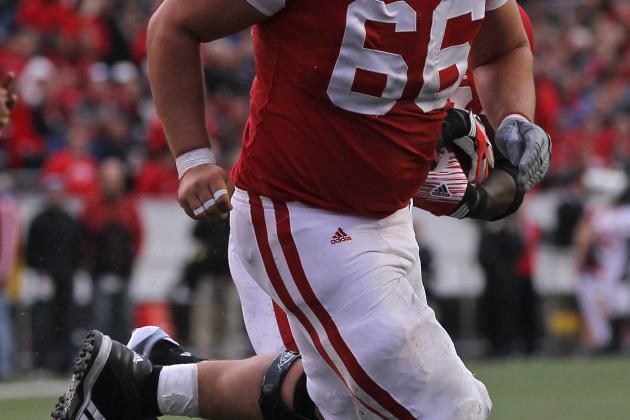 Jonathan Daniel/Getty Images
Peter Konz
The Packers made the decision to let long-time starting center Scott Wells walk this offseason. The 31-year-old Wells was getting up there in age, but the fact is, he started 100 games over the last eight years in Green Bay, and he was one of the key leaders for the offensive line during that time.
The team will likely now be hoping that this year's top center prospect, Wisconsin's Peter Konz, will be available at the No. 28 pick, but that's not a given, as Konz is a hot commodity that teams like Detroit, Denver and New England could all be interested in.
Konz is a big, powerful blocker and he was the leader of one of college football's top offensive lines, starting 31 games during his three years on the field in Madison.
If Green Bay could somehow get its hands on Konz, he's the type of center prospect that could come in and instantly become one of the anchors of the offensive line as a rookie next season.
This is also a spot where you could start to see a prospect like Boise State defensive end-linebacker tweener Shea McClellin enter the conversation.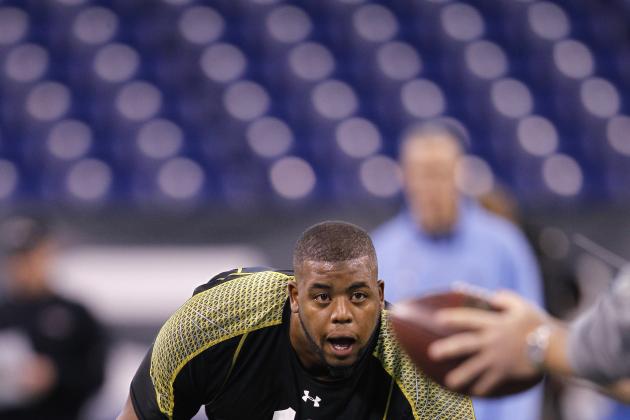 Joe Robbins/Getty Images
Cordy Glenn
The Ravens have some big holes to fill up front along their offensive line. OG Ben Grubbs left for New Orleans in free agency and left tackle Bryant McKinnie and center Matt Birk are both well past their primes.
Baltimore could use help at tackle, guard and center, and they could target one of the three positions with the No. 29 pick.
Wisconsin's Peter Konz and Kevin Zeitler could both be near the top of the Ravens' wish list, but Georgia's Cordy Glenn could be the real steal if he falls down to the bottom of the first round.
Glenn is a huge, powerful and surprisingly athletic tackle who has the chops to play either inside or out in the NFL.
The versatile 6'5'', 345-pound senior could solve a key problem as either a guard or a tackle for Baltimore's offensive line.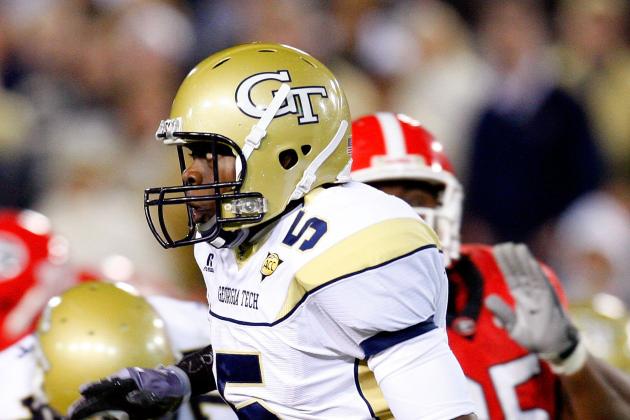 Kevin C. Cox/Getty Images
Stephen Hill
San Francisco managed to get by on running the football effectively and playing great defense last season, and the 49ers rode that formula all the way to the conference championship game.
Still, there's no getting around the fact that the team's passing attack, which ranked 29th in the NFL in 2011, needs some major improvement, especially in the red zone, as that's where the offense always seemed to implode.
The 49ers went out and added receivers like Randy Moss and Mario Manningham in the offseason, but they could also look to bring in a young receiver who is capable of being a threat in the red zone.
Georgia Tech's Stephen Hill is the type of big, athletic receiver who could help with some of San Francisco's red zone troubles, and there's a chance that he could be available when the team is on the clock at No. 30.
Hill has been one of the biggest risers in this year's draft class, and he's now one of the true wild card picks of the first round.
Some team could fall in love with the 6'4'', 215-pound receiver's potential somewhere in the middle of the first round, but if Hill falls on draft night, San Francisco is the type of team that would probably scoop him up with the 30th pick.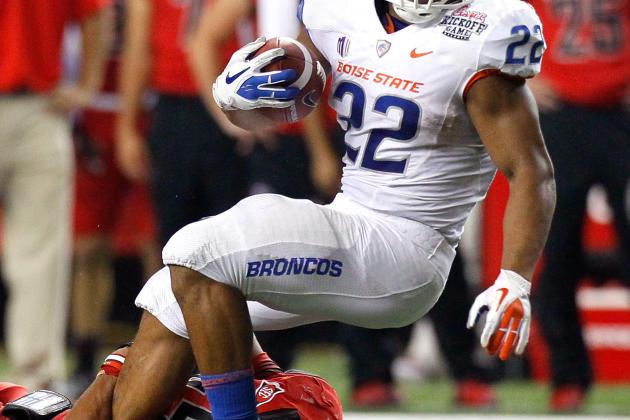 Kevin C. Cox/Getty Images
Doug Martin
New England only averaged 110 yards on the ground per game last season, and that was with BenJarvus Green-Ellis leading the way. Now that Green-Ellis is gone, the Patriots could be looking for another young running back to tote the rock as a rookie, as neither Stevan Ridley or Shane Vereen looked like they were ready for pressure-packed roles last year.
Boise State's Doug Martin is the type of back who would fit in well in New England's offense. Martin is a versatile back who ran for over 1,200 yards in each of his final two seasons as a Bronco and he also proved his worth as a receiver as well.
The 5'9'', 223-pound Martin could replicate a lot of what Green-Ellis brought to the backfield last season and he could flourish as a secondary weapon in New England's already loaded high-power offensive attack.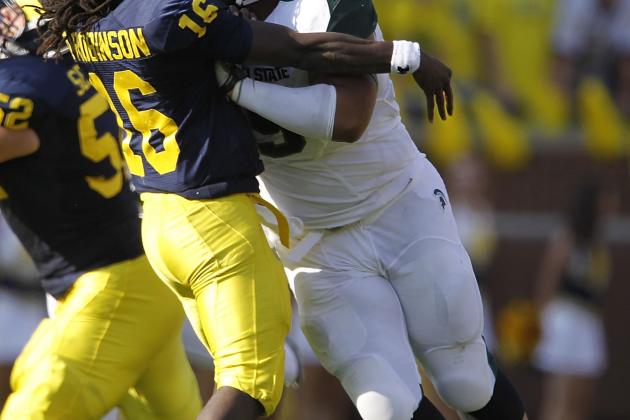 Leon Halip/Getty Images
Jerel Worthy
In recent years, the Giants have been a team that has shown that they like to take the best player available on their board instead of trying to mix and match filling specific needs. New York will likely implement a similar strategy at the end of the first round in this year's draft, as there's simply no way to tell which players will be available when the team is picking at No. 32.
The three areas of obvious need are offensive tackle, tight end and linebacker, but don't be surprised if the Giants pull off a bit of a shocker and select one of the big-name defensive tackles that might drop to them.
New York already has some intriguing tackles like Chris Canty, Linval Joseph and Marvin Austin, who sat out his entire rookie season with an injury last year, but more help is needed. They could use a big, aggressive and physical presence like Michigan State's Jerel Worthy.
The 6'2'', 308-pound Worthy was inconsistent throughout his career in East Lansing, but he showed enough flashes of dominance to warrant interest as a first-round pick in this year's draft.
Worthy could develop into a valuable impact defender in the interior—one who hogs up blocks and frees up ends like Jason Pierre-Paul and Justin Tuck to make plays off the edge.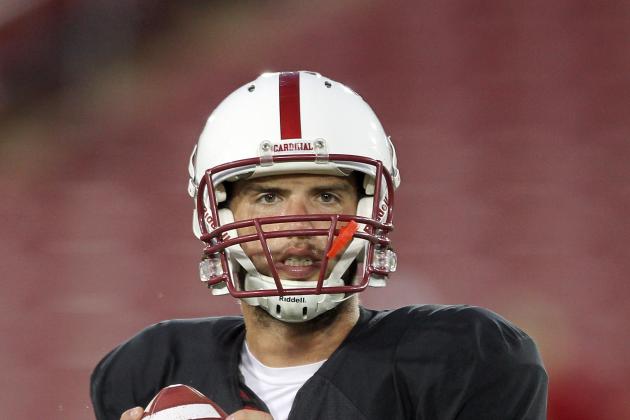 Ezra Shaw/Getty Images
Andrew Luck
1. Indianapolis Colts: QB Andrew Luck, Stanford
2. Washington Redskins: QB Robert Griffin III, Baylor
3. Minnesota Vikings: CB Morris Claiborne, LSU
4. Cleveland Browns: RB Trent Richardson, Alabama
5. Tampa Bay Bucs: OT Matt Kalil, USC
6. St. Louis Rams: OG David DeCastro, Stanford
7. Jacksonville Jaguars: WR Justin Blackmon, Oklahoma State
8. Miami Dolphins: QB Ryan Tannehill, Texas A&M
9. Carolina Panthers: DT/DE Fletcher Cox, Mississippi State
10. Buffalo Bills: OT Riley Reiff, Iowa
11. Kansas City Chiefs: LB Luke Kuechly, Boston College
12. Seattle Seahawks: DE Melvin Ingram, South Carolina
13. Arizona Cardinals: WR Kendall Wright, Baylor
14. Dallas Cowboys: DE/LB Whitney Mercilus, Illinois
15. Philadelphia Eagles: S Mark Barron, Alabama
16. New York Jets: WR Michael Floyd, Notre Dame
17. Cincinnati Bengals: DT Michael Brockers, LSU
18. San Diego Chargers: OT Jonathan Martin, Stanford
19. Chicago Bears: DE Quinton Coples, North Carolina
20. Tennessee Titans: DE Nick Perry, USC
21. Cincinnati Bengals: CB Dre Kirkpatrick, Alabama
22. Cleveland Browns: TE Coby Fleener, Stanford
23. Detroit Lions: S Harrison Smith, Notre Dame
24. Pittsburgh Steelers: OT Mike Adams, Ohio State
25. Denver Broncos: CB Janoris Jenkins, North Alabama
26. Houston Texans: DT Dontari Poe, Memphis
27. New England Patriots: DE Courtney Upshaw, Alabama
28. Green Bay Packers: C Peter Konz, Wisconsin
29. Baltimore Ravens: OT/OG Cordy Glenn, Georgia
30. San Francisco 49ers: WR Stephen Hill, Georgia Tech
31. New England Patriots: RB Doug Martin, Boise State
32. New York Giants: DT Jerel Worthy, Michigan State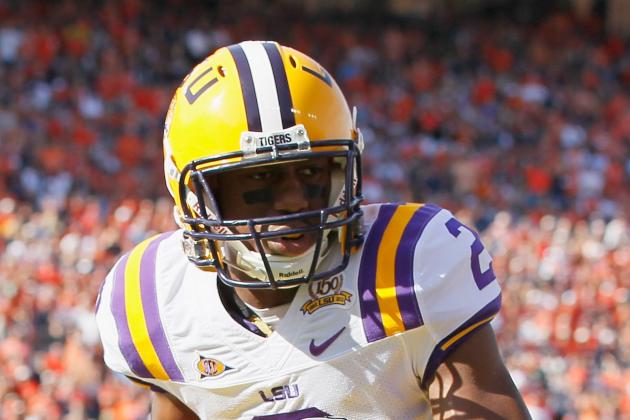 Kevin C. Cox/Getty Images
Rueben Randle
33. St. Louis Rams: WR Rueben Randle, LSU
34. Indianapolis: CB Stephon Gilmore, South Carolina
35. Minnesota Vikings: RB David Wilson, Virginia Tech
36. Tampa Bay Bucs: LB Lavonte David, Nebraska
37. Cleveland Browns: QB Kirk Cousins, Michigan State
38. Jacksonville Jaguars: OT Kelechi Osemele, Iowa State
39. St. Louis Rams: DT Devon Still, Penn State
40. Carolina Panthers: CB Josh Robinson, UCF
41. Buffalo Bills: WR Alshon Jeffery, South Carolina
42. Miami Dolphins: DT Kendall Reyes, Connecticut
43. Seattle Seahawks: LB Dont'a Hightower, Alabama
44. Kansas City Chiefs: QB Brandon Weeden, Oklahoma State
45. Dallas Cowboys: OG Kevin Zeitler, Wisconsin
46. Philadelphia Eagles: WR Brian Quick, Appalachian State
47. New York Jets: DE/LB Shea McClellin, Boise State
48. New England Patriots: C Philip Blake, Baylor
49. San Diego Chargers: TE Dwayne Allen, Clemson
50. Chicago Bears: WR Mohamed Sanu, Rutgers
51. Philadelphia Eagles: RB Chris Polk, Washington
52. Tennessee Titans: LB Zach Brown, North Carolina
53. Cincinnati Bengals: RB Lamar Miller, Miami
54. Detroit Lions: DE Chandler Jones, Syracuse
55. Atlanta Falcons: TE Orson Charles, Georgia
56. Pittsburgh Steelers: RB LaMichael James, Oregon
57. Denver Broncos: DE Andre Branch, Clemson
58. Houston Texans: DT/DE Jared Crick, Nebraska
59. New Orleans Saints: Forfeited (Defensive Bounty Program)
59. Green Bay Packers: CB Trumaine Johnson, Montana
60. Baltimore Ravens: WR Nick Toon, Wisconsin
61. San Francisco 49ers: OG Amini Silatolu, Midwestern State
62. New England Patriots: CB Casey Hayward, Vanderbilt
63. New York Giants: OT Bobby Massie , Ole Miss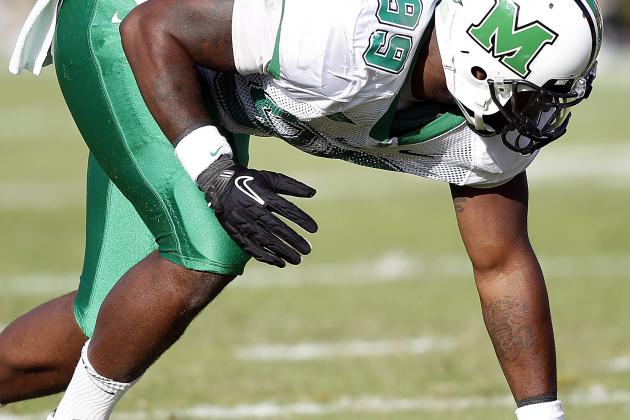 Bob Levey/Getty Images
Vinny Curry
64. Indianapolis Colts: DE/LB Vinny Curry, Marshall
65. St. Louis Rams: OT Mitchell Schwartz, Cal
66. Minnesota Vikings: LB Keenan Robinson, Texas
67. Cleveland Browns: WR A.J. Jenkins, Illinois
68. Tampa Bay Bucs: RB Vick Ballard, Mississippi State
69. Washington Redskins: CB Alfonzo Dennard, Nebraska
70. Jacksonville Jaguars: DE Ronnell Lewis, Oklahoma
71. Buffalo Bills: DE Jonathan Massaquoi, Troy
72. Miami Dolphins: OT Brandon Mosley, Auburn
73. Miami Dolphins: S George Iloka, Boise State
74. Kansas City Chiefs: DT Brandon Thompson, Clemson
75. Seattle Seahawks: RB Chris Rainey, Florida
76. Houston Texans: OT Jeff Allen, Illinois
77. New York Jets: RB Bernard Pierce, Temple
78. Oakland Raiders: Forfeited:(Terrelle Pryor Supplemental Draft selection)
78. San Diego Chargers: DT/DE Billy Winn, Boise State
79. Chicago Bears: OT/OG James Brown, Troy
80. Arizona Cardinals: OT Matt McCants, UAB
81. Dallas Cowboys: DT Josh Chapman, Alabama
82. Tennessee Titans: WR Tommy Streeter, Miami
83. Cincinnati Bengals: WR Jeff Fuller, Texas A&M
84. Atlanta Falcons: WR Devon Wylie, Fresno State
85. Detroit Lions: OT Zebrie Sanders, Florida State
86. Pittsburgh Steelers: QB Brock Osweiler, Arizona State
87. Denver Broncos: DT Alameda Ta'amu, Washington
88. Philadelphia Eagles: LB Sean Spence, Miami
89. New Orleans Saints: WR Marvin McNutt, Iowa
90. Green Bay Packers: RB Robert Turbin, Utah State
91. Baltimore Ravens: LB Travis Lewis, Oklahoma
92. San Francisco 49ers: DT Mike Martin, Michigan
93. New England Patriots: S Antonio Allen, South Carolina
94. New York Giants: RB Cyrus Gray, Texas A&M
95. Oakland Raiders: DE Cam Johnson, Virginia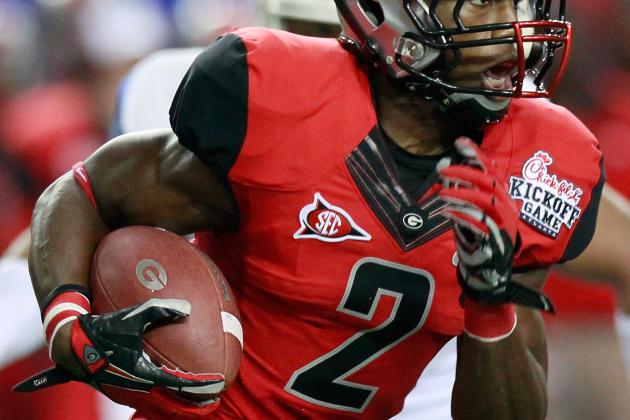 Kevin C. Cox/Getty Images
Brandon Boykin
96. St. Louis Rams: CB Brandon Boykin, Georgia
97. Indianapolis Colts: WR Ryan Broyles, Oklahoma
98. Minnesota Vikings: C Ben Jones, Georgia
99. Houston Texans: WR Joe Adams, Arkansas
100. Cleveland Browns: CB Dwight Bentley, Louisiana-Lafayette
101. Jacksonville Jaguars: QB Russell Wilson, Wisconsin
102. Washington Redskins: LB Mychal Kendricks, Cal
103. Miami Dolphins: WR Chris Givens, Wake Forest
104. Carolina Panthers: WR T.Y. Hilton, FIU
105. Buffalo Bills: CB Jamell Fleming, Oklahoma
106. Seattle Seahawks: QB Nick Foles, Arizona
107. Kansas City Chiefs: RB Ronnie Hillman, San Diego State
108. Denver Broncos: RB Isaiah Pead, Cincinnati
109. Washington Redskins: OT/OG Tony Bergstrom, Utah
110. San Diego Chargers: S Markelle Martin, Oklahoma State
111. Chicago Bears: CB Jayron Hosley, Virginia Tech
112. Arizona Cardinals: DE/LB Bruce Irvin, West Virginia
113. Dallas Cowboys: RB Terrance Ganaway, Baylor
114. Philadelphia Eagles: OT Nate Potter, Boise State
115. Tennessee Titans: OG Joe Looney, Wake Forest
116. Cincinnati Bengals: TE Michael Egnew, Missouri
117. Detroit Lions: CB Josh Norman, Coastal Carolina
118. Cleveland Browns: OT Matt Reynolds, BYU
119. Pittsburgh Steelers: CB Chase Minnifield, Virginia
120. Denver Broncos: C David Molk, Michigan
121. Houston Texans: CB Leonard Johnson, Iowa State
122. New Orleans Saints: LB Josh Kaddu, Oregon
123. Green Bay Packers: OG Brandon Brooks, Miami (Ohio)
124. Buffalo Bills: TE Deangelo Peterson, LSU
125. San Francisco 49ers: CB Ryan Steed, Furman
126. New England Patriots: WR Jarius Wright, Arkansas
127. New York Giants: TE Ladarius Green, Louisiana-Lafayette
128. Minnesota Vikings: WR Marvin Jones, Cal
129. Oakland Raiders: LB Nigel Bradham, Florida State
130. Baltimore Ravens: C Mike Brewster, Ohio State
131. New York Giants: LB Bobby Wagner, Utah State
132. Green Bay Packers: QB Ryan Lindley, San Diego State
133. Green Bay Packers: DE Trevor Guyton, Cal
134. Minnesota Vikings: OT Andrew Datko, Florida State
135. Dallas Cowboys: S Phillip Thomas, Syracuse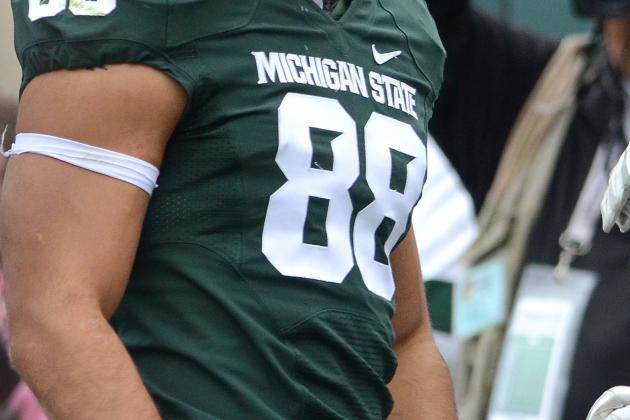 Mark A. Cunningham/Getty Images
Brian Linthicum
136. Indianapolis Colts: TE Brian Linthicum, Michigan State
137. Denver Broncos: S DeQuan Menzie, Alabama
138. Minnesota Vikings: LB James-Michael Johnson, Nevada
139. Cleveland Browns: DE Jake Bequette, Arkansas
140. Tampa Bay Bucs: CB Omar Bolden, Arizona State
141. Washington Redskins: RB Edwin Baker, Michigan State
142. Jacksonville Jaguars: CB Coty Sensabaugh, Clemson
143. Carolina Panthers: S Christian Thompson, South Carolina State
144. Buffalo Bills: QB Chandler Harnish, Northern Illinois
145. Miami Dolphins: DE Tyrone Crawford, Boise State
146. Kansas City Chiefs: WR DeVier Posey, Ohio State
147. Buffalo Bills: DT Marcus Forston, Miami
148. Oakland Raiders: S Trenton Robinson, Michigan State
149. San Diego Chargers: P Drew Butler, Georgia
150. Chicago Bears: QB Kellen Moore, Boise State
151. Arizona Cardinals: S Brandon Taylor, LSU
152. Dallas Cowboys: TE Rhett Ellison, USC
153. Philadelphia Eagles: DT Mike Daniels, Iowa
154. New York Jets: S Janzen Jackson, McNeese State
155. Tennessee Titans: CB Shaun Prater, Iowa
156. Cincinnati Bengals: LB Audie Cole, North Carolina State
157. Atlanta Falcons: DE Jacquies Smith, Missouri
158. Detroit Lions: RB Boom Herron, Ohio State
159. Pittsburgh Steelers: DE Taylor Thompson, SMU
160. Cleveland Browns: OG Senio Kelemete, Washington
161. Houston Texans: LB Tank Carder, TCU
162. New Orleans Saints: DE Derrick Shelby, Utah
163. Green Bay Packers: CB Mike Harris, Florida State
164. Baltimore Ravens: LB Kyle Wilber, Wake Forest
165. San Francisco 49ers: FB Chad Diehl, Clemson
166. Cincinnati Bengals: OG Brandon Washington, Miami
167. New York Giants: WR Dwight Jones, North Carolina
168. Oakland Raiders: TE Kevin Koger, Michigan
169. Baltimore Ravens: DT/DE Akiem Hicks, Regina
170. Indianapolis Colts: OT Markus Zusevics, Iowa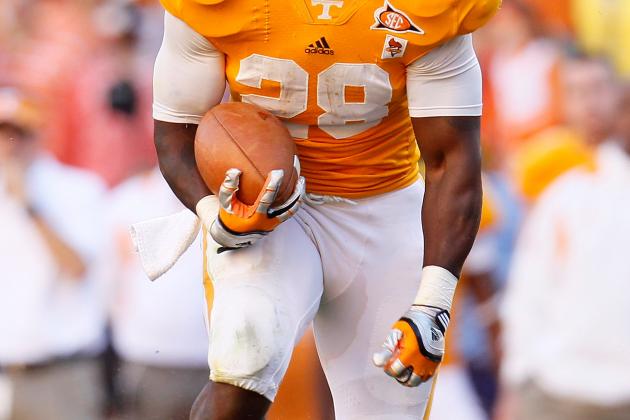 Kevin C. Cox/Getty Images
Tauren Poole
171. St. Louis Rams: RB Tauren Poole, Tennessee
172. Philadelphia Eagles: TE James Hanna, Oklahoma
173. Washington Redskins: DE Malik Jackson, Tennessee
174. Tampa Bay Bucs: C Quinton Saulsberry, Mississippi State
175. Minnesota Vikings: CB Coryell Judie, Texas A&M
176. Jacksonville Jaguars: DT Derek Wolfe, Cincinnati
177. Arizona Cardinals: DE Chas Alecxih, Pittsburgh
178. Buffalo Bills: LB Terrell Manning, North Carolina State
179. New Orleans Saints: OT James Carmon, Mississippi State
180. Carolina Panthers: LB Vontaze Burfict, Arizona State
181. Seattle Seahawks: S Duke Ihenacho, San Jose State
182. Kansas City Chiefs: OT Lamar Holmes, Southern Miss
183. San Diego Chargers: WR Keshawn Martin, Michigan State
184. Chicago Bears: LB Emmanuel Acho, Texas
185. Arizona Cardinals: CB Robert Blanton, Notre Dame
186. Dallas Cowboys: CB Keith Tandy, West Virginia
187. New York Jets: P Shawn Powell, Florida State
188. Denver Broncos: QB Case Keenum, Houston
189. Oakland Raiders: CB Trevin Wade, Arizona
190. Tennessee Titans: DT Jaye Howard, Florida
191. Cincinnati Bengals: S Aaron Henry, Wisconsin
192. Detroit Lions: Forfeited (Tampering)
192. Atlanta Falcons: RB Brandon Bolden, Ole Miss
193. Pittsburgh Steelers: WR Jermaine Kearse, Washington
194. Philadelphia Eagles: QB B.J. Coleman, Chattanooga
195. Houston Texans: RB Darrell Scott, South Florida
196. Miami Dolphins: TE David Paulson, Oregon
197. Green Bay Packers: WR Marquis Maze, Alabama
198. Baltimore Ravens: OG Lucas Nix, Pittsburgh
199. San Francisco 49ers: LB Brandon Lindsey, Pittsburgh
200. Philadelphia Eagles: CB Asa Jackson, Cal Poly
201. New York Giants: S Brandon Hardin, Oregon State
202. New York Jets: WR Patrick Edwards, Houston
203. New York Jets: OT Marcel Jones, Nebraska
204. Cleveland Browns: WR Eric Page, Toledo
205. Cleveland Browns: LB Demario Davis, Arkansas State
206. Indianapolis Colts: WR Juron Criner, Arizona
207. Carolina Panthers: OG Adam Gettis, Iowa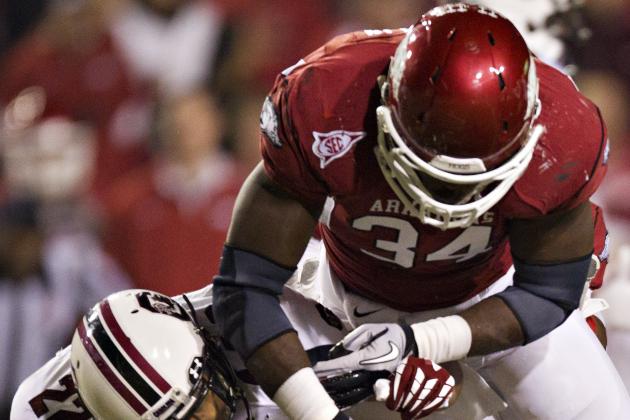 Wesley Hitt/Getty Images
Jerry Franklin
208. Indianapolis Colts: LB Jerry Franklin, Arkansas
209. St. Louis Rams: LB Tyler Nielsen, Iowa
210. Minnesota Vikings: DE Frank Alexander, Oklahoma
211. Cleveland Browns: CB Ron Brooks, LSU
212. Tampa Bay Bucs: WR Chris Owusu, Stanford
213. Washington Redskins: WR Rishard Matthews, Nevada
214. Indianapolis Colts: OG Andrew Tiller, Syracuse
215. Miami Dolphins: CB Donnie Fletcher, Boston College
216. Carolina Panthers: DE Jack Crawford, Penn State
217. Buffalo Bills: RB Lennon Creer, Louisiana Tech
218. Kansas City Chiefs: OG Mark Asper, Oregon
219. Detroit Lions: FB Bradie Ewing, Wisconsin
220. Chicago Bears: TE George Bryan, North Carolina State
221. Arizona Cardinals: TE Emil Igwenagu, Massachusetts
222. Dallas Cowboys: WR Travis Benjamin, Miami
223. Minnesota Vikings: DT DaJohn Harris, USC
224. Green Bay Packers: DT Hebron Fangupo, BYU
225. Seattle Seahawks: OT Donald Stephenson, Oklahoma
226. San Diego Chargers: RB Michael Smith, Utah State
227. Tennessee Titans: TE Evan Rodriguez, Temple
228. Jacksonville Jaguars: OG Desmond Wynn, Rutgers
229. Atlanta Falcons: P Bryan Anger, California
230. Detroit Lions: QB Austin Davis, Southern Miss
231. Pittsburgh Steelers: S Cyhl Quarles, Wake Forest
232. New York Jets: LB Shawn Loiseau, Merrimack
233. Houston Texans: S Charles Mitchell, Mississippi State
234. New Orleans Saints: DT Vaughn Meatoga, Hawaii
235. Green Bay Packers: DE James Brooks, North Alabama
236. Baltimore Ravens: CB Tashaun Gipson, Wyoming
237. San Francisco 49ers: OT Jeff Adams, Columbia
238. Kansas City Chiefs: LB Darius Fleming, Notre Dame
239. New York Giants: DE Jamie Blatnick, Oklahoma State
240. Pittsburgh Steelers: K Blair Walsh, Georgia
241. Green Bay Packers: OT Tom Compton, South Dakota
242. New York Jets: OG Ryan Miller, Colorado
243. Green Bay Packers: LB Miles Burris, San Diego State
244. New York Jets: CB Cliff Harris, Oregon
245. Cleveland Browns: LB Chris Galippo, USC
246. Pittsburgh Steelers: LB Najee Goode, West Virginia
247. Cleveland Browns: DT Tydreke Powell, North Carolina
248. Pittsburgh Steelers: WR Taveon Rogers, New Mexico State
249. Atlanta Falcons: CB Jeremy Lane, Northwestern State
250. San Diego Chargers: DE Julian Miller, West Virginia
251. Buffalo Bills: C Garth Gerhart, Arizona State
252. St. Louis Rams: DE Louis Nzegwu, Wisconsin
253. Indianapolis Colts: RB Alfred Morris, Florida Atlantic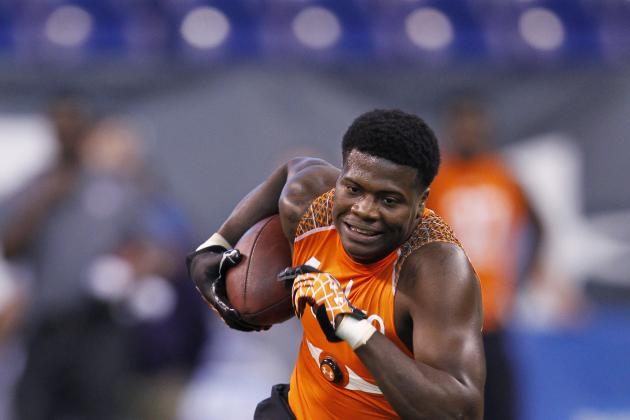 Joe Robbins/Getty Images
Kendall Wright
1-13. WR Kendall Wright, Baylor
3-80. OT Matt McCants, UAB
4-112. LB Bruce Irvin, West Virginia
5-151. S Brandon Taylor, LSU
6-177. DE Chas Alecxih, Pittsburgh
6-185. CB Robert Blanton, Notre Dame
7-221. TE Emil Igwenagu, Massachusetts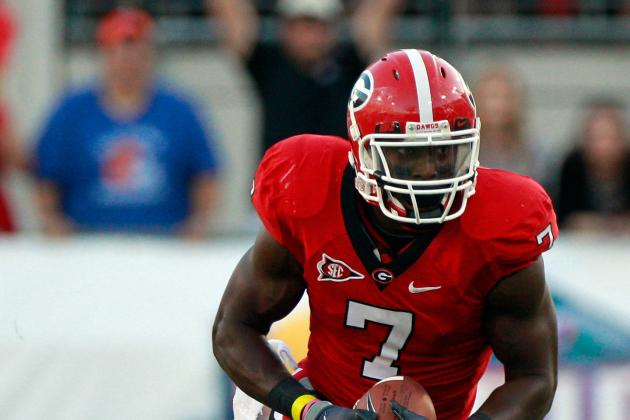 Sam Greenwood/Getty Images
Orson Charles
2-55. TE Orson Charles, Georgia
3-84. WR Devon Wylie, Fresno State
5-157. DE Jacquies Smith, Missouri
6-192. RB Brandon Bolden, Ole Miss
7-229. P Bryan Anger, Cal
7-249. CB Jeremy Lane, Northwestern State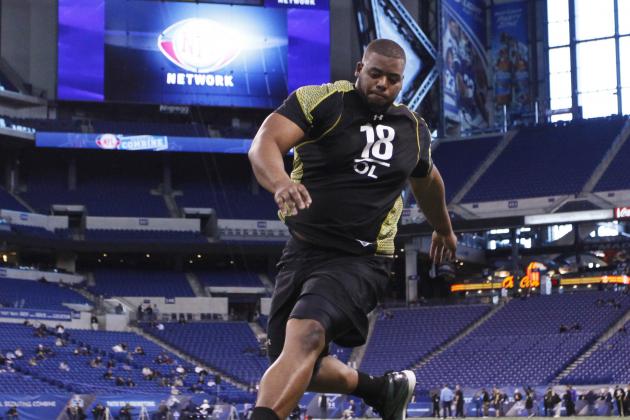 Joe Robbins/Getty Images
Cordy Glenn
1-29. OT Cordy Glenn, Georgia
2-60. WR Nick Toon, Wisconsin
3-91. LB Travis Lewis, Oklahoma
4-130. C Mike Brewster, Ohio State
5-164. LB Kyle Wilber, Wake Forest
5-169. DT Akiem Hicks, Regina
6-198. OG Lucas Nix, Pittsburgh
7-236. CB Tashaun Gipson, Wyoming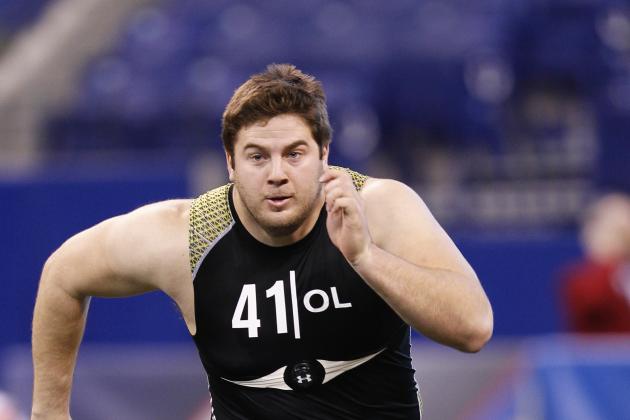 Joe Robbins/Getty Images
Riley Reiff
1-10. OT Riley Reiff, Iowa
2-41. WR Alshon Jeffery, South Carolina
3-71. DE Jonathan Massaquoi, Troy
4-105. CB Jamell Fleming, Oklahoma
4-124. TE Deangelo Peterson, LSU
5-144. QB Chandler Harnish, Northern Illinois
5-147. DT Marcus Forston, Miami
6-178. LB Terrell Manning, North Carolina State
7-217. RB Lennon Creer, Louisiana Tech
7-251. C Garth Gerhart, Arizona State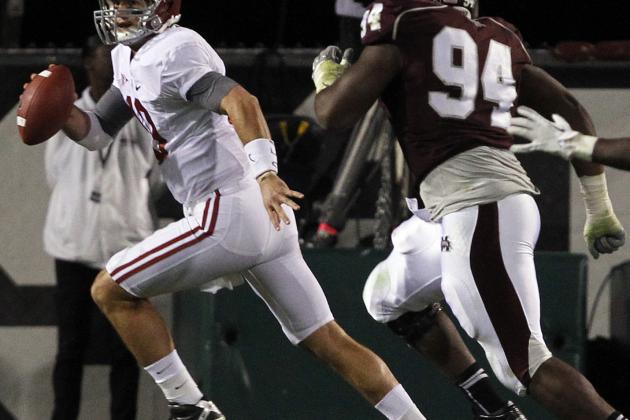 Butch Dill/Getty Images
Fletcher Cox
1-9. DT Fletcher Cox, Mississippi State
2-40. CB Josh Robinson, Central Florida
4-104. WR T.Y. Hilton, FIU
5-143. S Christian Thompson, South Carolina State
6-180. LB Vontaze Burfict, Arizona State
6-207. OG Adam Gettis, Iowa
7-216. DE Jack Crawford, Penn State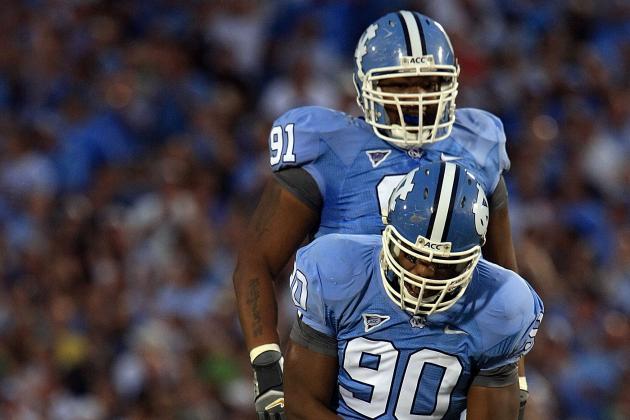 Scott Halleran/Getty Images
Quinton Coples
1-19. DE Quinton Coples, North Carolina
2-50. WR Mohamed Sanu, Rutgers
3-79. OT James Brown, Troy
4-111. CB Jayron Hosley, Virginia Tech
5-150. QB Kellen Moore, Boise State
6-184. LB Emmanuel Acho, Texas
7-220. TE George Bryan, North Carolina State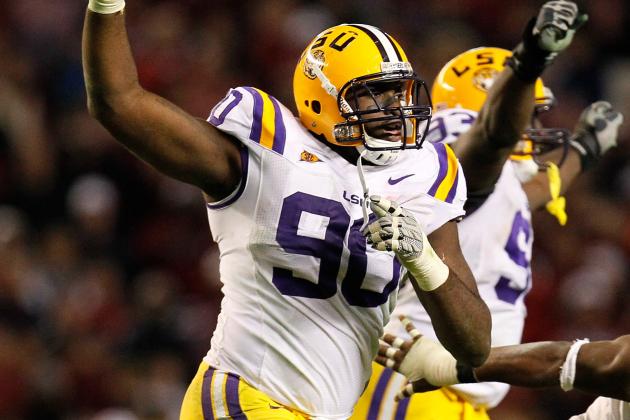 Kevin C. Cox/Getty Images
Michael Brockers
1-17. DT Michael Brockers, LSU
1-21. CB Dre Kirkpatrick, Alabama
2-53. RB Lamar Miller, Miami
3-83. WR Jeff Fuller, Texas A&M
4-116. TE Michael Egnew, Missouri
5-156. LB Audie Cole, North Carolina State
5-166. OG Brandon Washington, Miami
6-191. S Aaron Henry, Wisconsin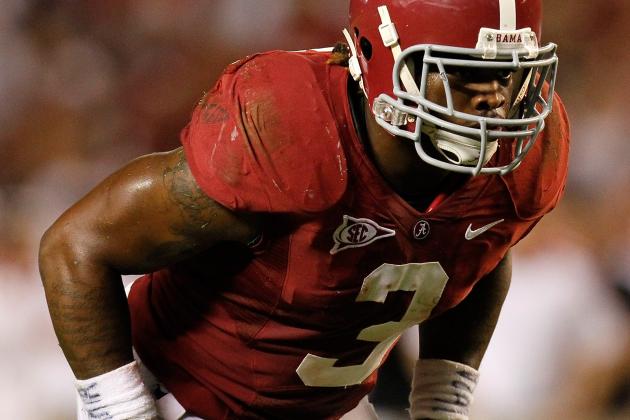 Kevin C. Cox/Getty Images
Trent Richardson
1-4. RB Trent Richardson, Alabama
1-22. TE Coby Fleener, Stanford
2-37. QB Kirk Cousins, Michigan State
3-67. WR A.J. Jenkins, Illinois
4-100. CB Dwight Bentley, Louisiana-Lafayette
4-118. OT Matt Reynolds, BYU
5-139. DE Jake Bequette, Arkansas
5-160. OG Senio Kelemete, Washington
6-204. WR Eric Page, Toledo
6-205. LB Demario Davis, Arkansas State
7-211. CB Ron Brooks, LSU
7-245. LB Chris Galippo, USC
7-247. DT Tydreke Powell, North Carolina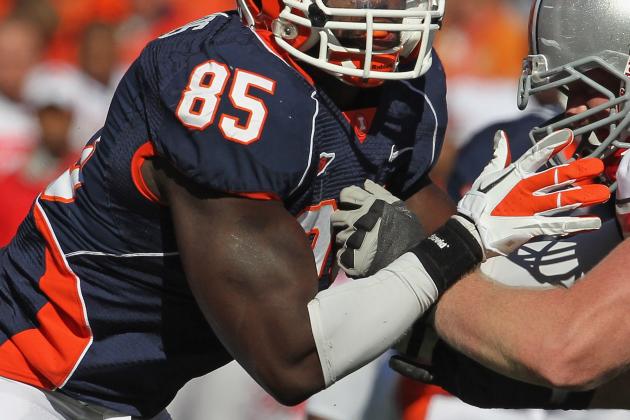 Jonathan Daniel/Getty Images
Whitney Mercilus
1-14. DE/LB Whitney Mercilus, Illinois
2-45. OG Kevin Zeitler, Wisconsin
3-81. DT Josh Chapman, Alabama
4-113. RB Terrance Ganaway, Baylor
4-135. S Phillip Thomas, Syracuse
5-152. TE Rhett Ellison, USC
6-186. CB Keith Tandy, West Virginia
7-222. WR Travis Benjamin, Miami
Sam Greenwood/Getty Images
Janoris Jenkins
1-25. CB Janoris Jenkins, North Alabama
2-57. DE Andre Branch, Clemson
3-87. DT Alameda Ta'amu, Washington
4-108. RB Isaiah Pead, Cincinnati
4-120. C David Molk, Michigan
5-137. S DeQuan Menzie, Alabama
6-188. QB Case Keenum, Houston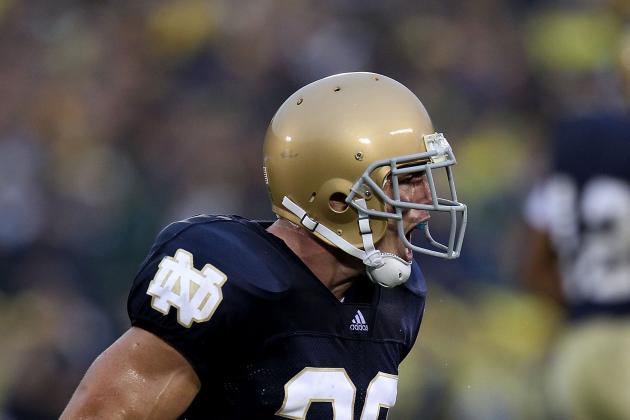 Jonathan Daniel/Getty Images
Harrison Smith
1-23. S Harrison Smith, Notre Dame
2-54. DE Chandler Jones, Syracuse
3-85. OT Zebrie Sanders, Florida State
4-117. CB Josh Norman, Coastal Carolina
5-158. RB Boom Herron, Ohio State
7-219. FB Bradie Ewing, Wisconsin
7-230. QB Austin Davis, Southern Miss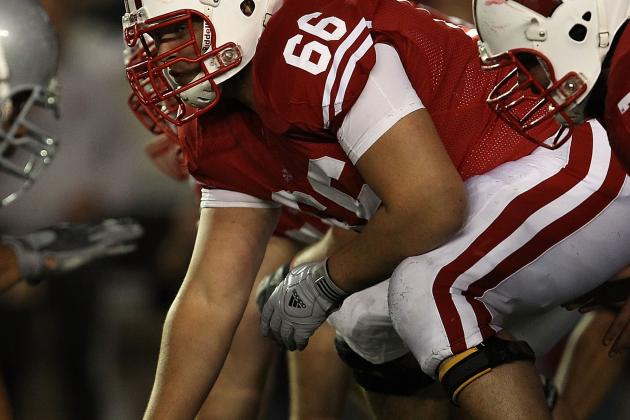 Jonathan Daniel/Getty Images
Peter Konz
1-28. C Peter Konz, Wisconsin
2-59. CB Trumaine Johnson, Montana
3-90. RB Robert Turbin, Utah State
4-123. OG Brandon Brooks, Miami (Ohio)
4-132. QB Ryan Lindley, San Diego State
4-133. DE Trevor Guyton, Cal
5-163. CB Mike Harris, Florida State
6-197. WR Marquis Maze, Alabama
7-224. DT Hebron Fangupo, BYU
7-235. DE James Brooks, North Alabama
7-241. OT Tom Compton, South Dakota
7-243. LB Miles Burris, San Diego State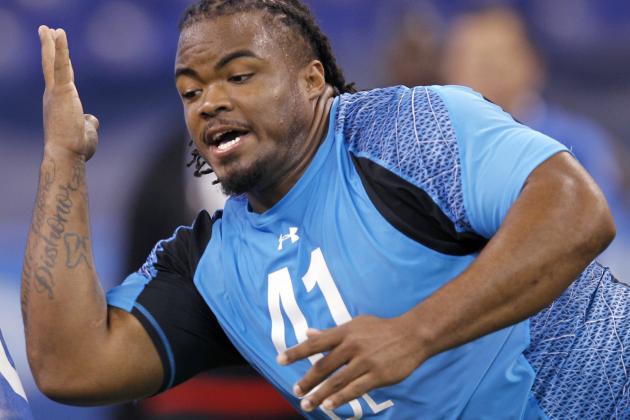 Joe Robbins/Getty Images
Dontari Poe
1-26. DT Dontari Poe, Memphis
2-58. DE Jared Crick, Nebraska
3-76. OT Jeff Allen, Illinois
4-99. WR Joe Adams, Arkansas
4-121. CB Leonard Johnson, Iowa State
5-161. LB Tank Carder, TCU
6-195. RB Darrell Scott, South Florida
7-233. S Charles Mitchell, Mississippi State
Christian Petersen/Getty Images
Andrew Luck
1-1. QB Andrew Luck, Stanford
2-34. CB Stephon Gilmore, South Carolina
3-64. DE/LB Vinny Curry, Marshall
4-97. WR Ryan Broyles, Oklahoma
5-136. TE Brian Linthicum, Michigan State
5-170. OT Markus Zusevics, Iowa
6-206. WR Juron Criner, Arizona
7-208. LB Jerry Franklin, Arkansas
7-214. OG Andrew Tiller, Syracuse
7-253. RB Alfred Morris, Florida Atlantic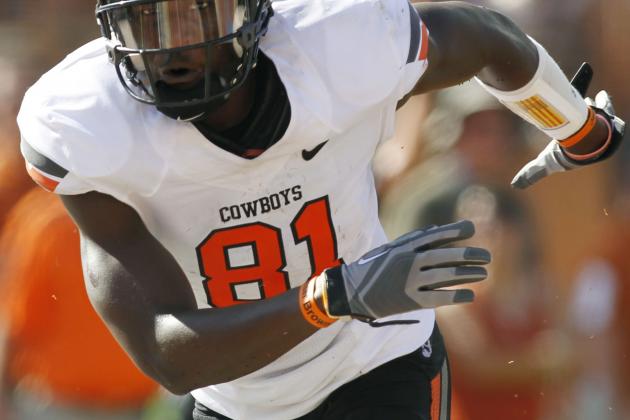 Erich Schlegel/Getty Images
Justin Blackmon
1-7. WR Justin Blackmon, Oklahoma State
2-38. OT Kelechi Osemele, Iowa State
3-70. DE Jonathan Massaquoi, Troy
4-101. QB Russell Wilson, Wisconsin
5-142. CB Coty Sensabaugh, Clemson
6-176. DT Derek Wolfe, Cincinnati
7-228. OG Desmond Wynn, Rutgers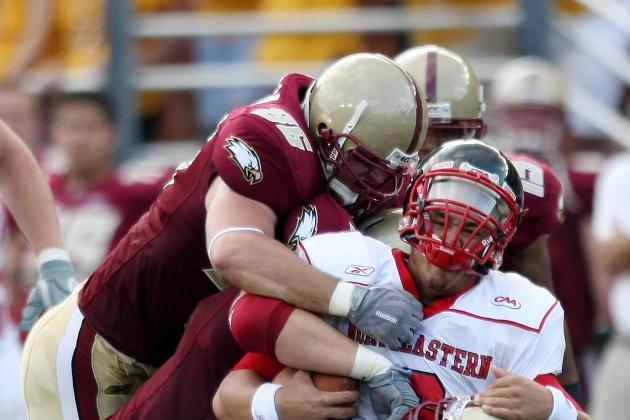 Elsa/Getty Images
Luke Kuechly
1-11. LB Luke Kuechly, Boston College
2-44. QB Brandon Weeden, Oklahoma State
3-74. DT Brandon Thompson, Clemson
4-107. RB Ronnie Hillman, San Diego State
5-146. WR DeVier Posey, Ohio State
6-182. OT Lamar Holmes, Southern Miss
7-218. OG Mark Asper, Oregon
7-238. LB Darius Fleming, Notre Dame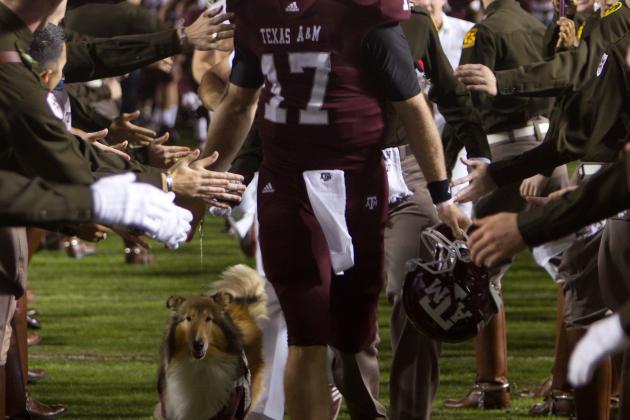 Darren Carroll/Getty Images
Ryan Tannehill
1-8. QB Ryan Tannehill, Texas A&M
2-42. DT Kendall Reyes, Connecticut
3-72. OT Brandon Mosley, Auburn
3-73. S George Iloka, Boise State
4-103. WR Chris Givens, Wake Forest
5-145. DE Tyrone Crawford, Boise State
6-196. TE David Paulson, Oregon
7-215. CB Donnie Fletcher, Boston College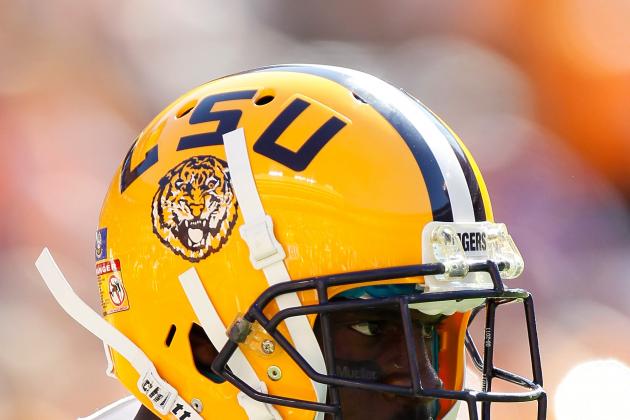 Kevin C. Cox/Getty Images
Morris Claiborne
1-3. CB Morris Claiborne, LSU
2-35. RB David Wilson, Virginia Tech
3-66. LB Keenan Robinson, Texas
4-98. C Ben Jones, Georgia
4-128. WR Marvin Jones, Cal
4-134. OT Andrew Datko, Florida State
5-138. LB James-Michael Johnson, Nevada
6-175. CB Coryell Judie, Texas A&M
7-210. DE Frank Alexander, Oklahoma
7-223. DT DaJohn Harris, USC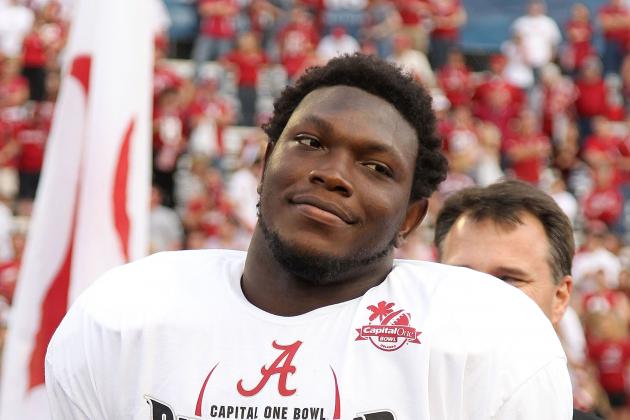 Mike Ehrmann/Getty Images
Courtney Upshaw
1-27. DE Courtney Upshaw, Alabama
1-31. RB Doug Martin, Boise State
2-48. C Philip Blake, Baylor
2-62. CB Casey Hayward, Vanderbilt
3-93. S Antonio Allen, South Carolina
4-126. WR Jarius Wright, Arkansas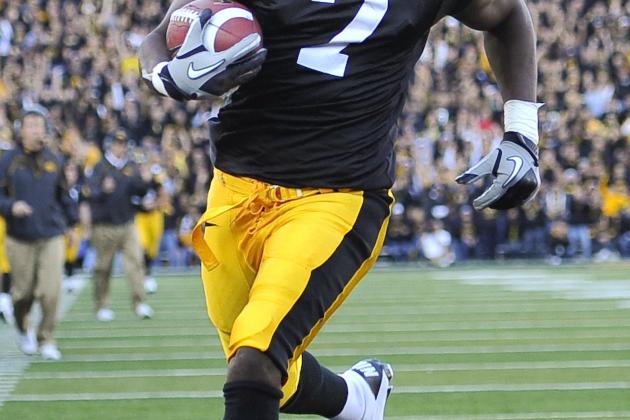 David Purdy/Getty Images
Marvin McNutt
3-89. WR Marvin McNutt, Iowa
4-122. LB Josh Kaddu, Oregon
5-162. DE Derrick Shelby, Utah
6-179. OT James Carmon, Mississippi State
7-234. DT Vaughn Meatoga, Hawaii
Leon Halip/Getty Images
Jerel Worthy
1-32. DT Jerel Worthy, Michigan State
2-63. OT Bobby Massie, Ole Miss
3-94. RB Cyrus Gray, Texas A&M
4-127. TE Ladarius Green, Louisiana-Lafayette
4-131. LB Bobby Wagner, Utah State
5-167. WR Dwight Jones, North Carolina
6-201. S Brandon Hardin, Oregon State
7-239. DE Jamie Blatnick, Oklahoma State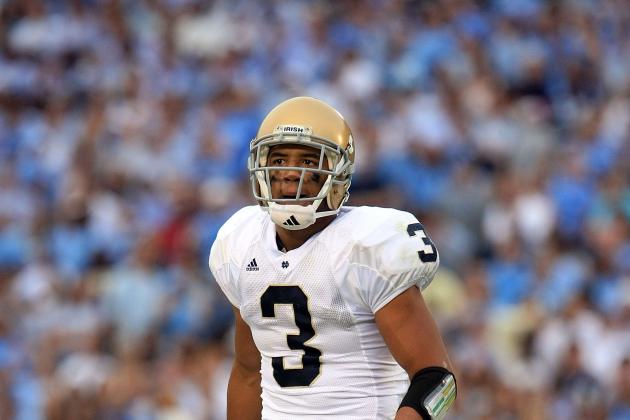 Scott Halleran/Getty Images
Michael Floyd
1-16. WR Michael Floyd, Notre Dame
2-47. LB Shea McClellin, Boise State
3-77. RB Bernard Pierce, Temple
5-154. S Janzen Jackson, McNeese State
6-187. P Shawn Powell, Florida State
6-202. WR Patrick Edwards, Houston
6-203. OT Marcel Jones, Nebraska
7-232. LB Shawn Loiseau, Merrimack
7-242. OG Ryan Miller, Colorado
7-244. CB Cliff Harris, Oregon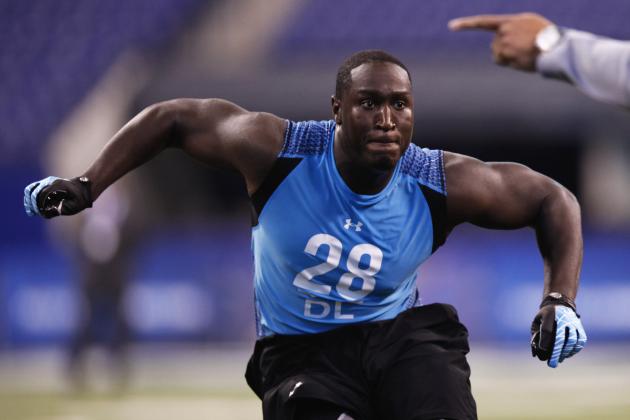 Joe Robbins/Getty Images
Cam Johnson
3-95. DE Cam Johnson, Virginia
4-129. LB Nigel Bradham, Florida State
5-148. S Trenton Robinson, Michigan State
5-168. TE Kevin Koger, Michigan
6-189. CB Trevin Wade, Arizona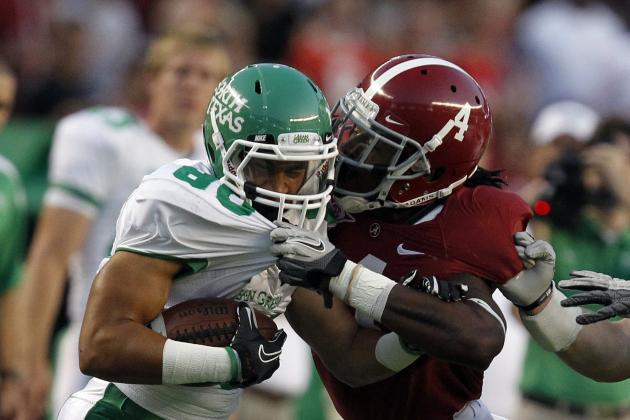 Butch Dill/Getty Images
Mark Barron
1-15. S Mark Barron, Alabama
2-46. WR Brian Quick, Appalachian State
2-51. RB Chris Polk, Washington
3-88. LB Sean Spence, Miami
4-114. OT Nate Potter, Boise State
5-153. DT Mike Daniels, Iowa
6-172. TE James Hanna, Oklahoma
6-194. QB B.J. Coleman, Chattanooga
6-200. CB Asa Jackson, Cal Poly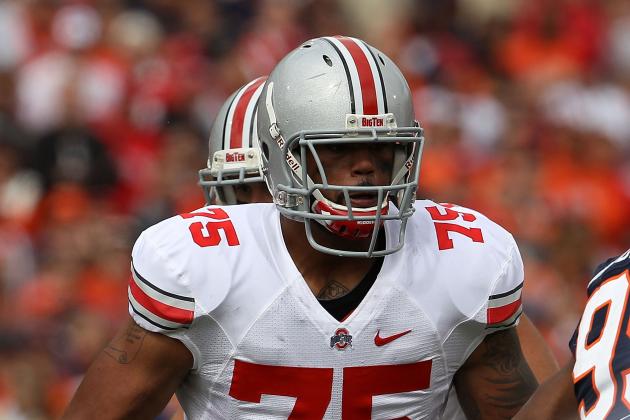 Jonathan Daniel/Getty Images
Mike Adams
1-24. OT Mike Adams, Ohio State
2-56. RB LaMichael James, Oregon
3-86. QB Brock Osweiler, Arizona State
4-119. CB Chase Minnifield, Virginia
5-159. DE Taylor Thompson, SMU
6-193. WR Jermaine Kearse, Washington
7-231. S Cyhl Quarles, Wake Forest
7-240. K Blair Walsh, Georgia
7-246. LB Najee Goode, West Virginia
7-248. WR Taveon Rogers, New Mexico State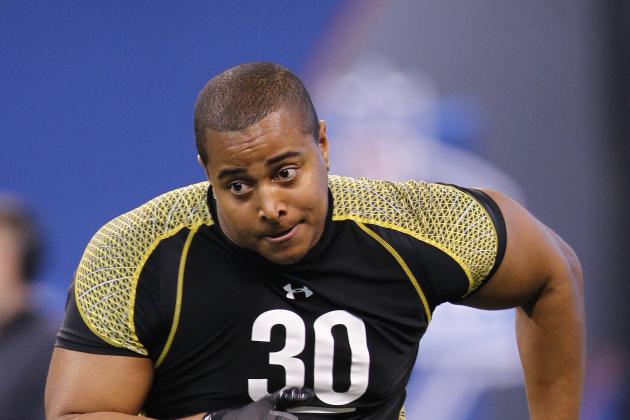 Joe Robbins/Getty Images
Jonathan Martin
1-18. OT Jonathan Martin, Stanford
2-49. TE Dwayne Allen, Clemson
3-78. DE Billy Winn, Boise State
4-110. S Markelle Martin, Oklahoma State
5-149. P Drew Butler, Georgia
6-183. WR Keshawn Martin, Michigan State
7-226. RB Michael Smith, Utah State
7-250. DE Julian Miller, West Virginia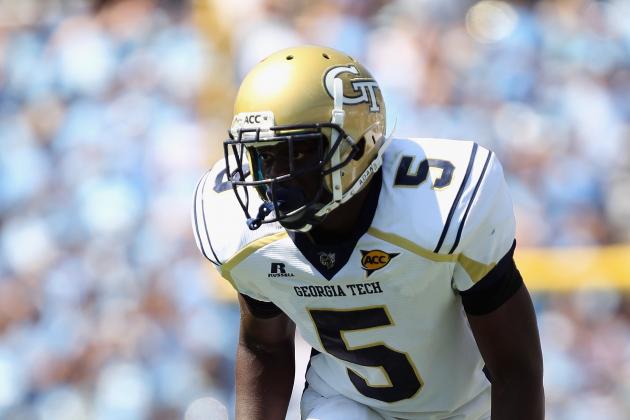 Streeter Lecka/Getty Images
Stephen Hill
1-30. WR Stephen Hill, Georgia Tech
2-61. OG Amini Silatolu, Midwestern State
3-92. DT Mike Martin, Michigan
4-125. CB Ryan Steed, Furman
5-165. FB Chad Diehl, Clemson
6-199. LB Brandon Lindsey, Pittsburgh
7-237. OT Jeff Adams, Columbia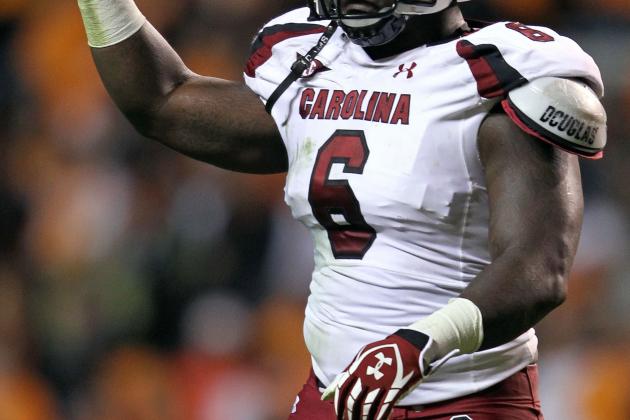 Andy Lyons/Getty Images
Melvin Ingram
1-12. DE Melvin Ingram, South Carolina
2-43. LB Dont'a Hightower, Alabama
3-75. RB Chris Rainey, Florida
4-106. QB Nick Foles, Arizona
6-181. S Duke Ihenacho, San Jose State
7-225. OT Donald Stephenson, Oklahoma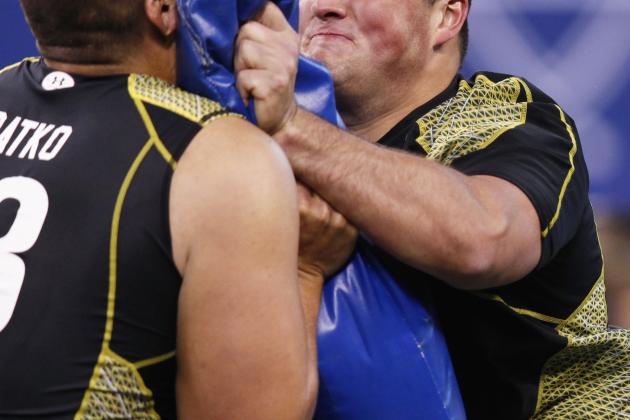 Joe Robbins/Getty Images
David DeCastro
1-6. OG David DeCastro, Stanford
2-33. WR Rueben Randle, LSU
2-39. DT Devon Still, Penn State
3-65. OT Mitchell Schwartz, Cal
4-96. CB Brandon Boykin, Georgia
6-171. RB Tauren Poole, Tennessee
7-209. LB Tyler Nielsen, Iowa
7-252. DE Louis Nzegwu, Wisconsin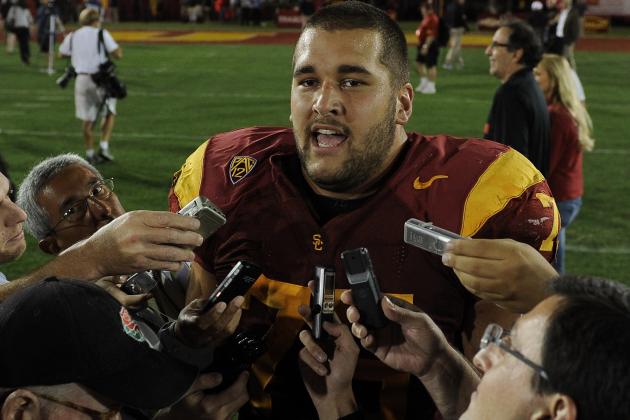 Harry How/Getty Images
Matt Kalil
1-5. OT Matt Kalil, USC
2-36. LB Lavonte David, Nebraska
3-68. RB Vick Ballard, Mississippi State
5-140. CB Omar Bolden, Arizona State
6-174. C Quinton Saulsberry, Mississippi State
7-212. WR Chris Owusu, Stanford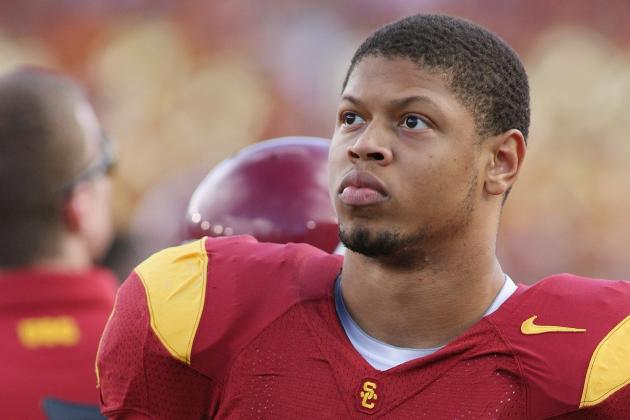 Jeff Golden/Getty Images
Nick Perry
1-20. DE Nick Perry, USC
2-52. LB Zach Brown, North Carolina
3-82. WR Tommy Streeter, Miami
4-115. OG Joe Looney, Wake Forest
5-155. CB Shaun Prater, Iowa
6-190. DT Jaye Howard, Florida
7-227. TE Evan Rodriguez, Temple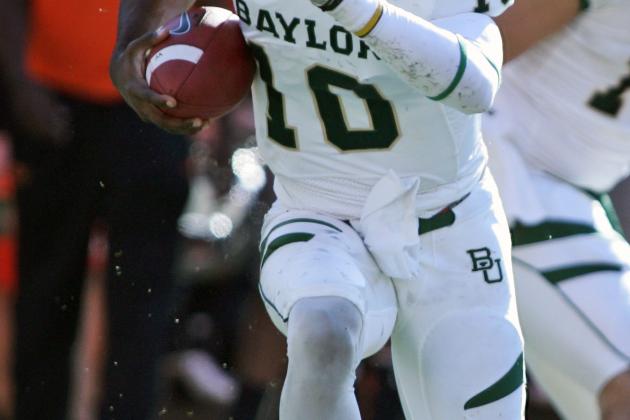 Brett Deering/Getty Images
Robert Griffin III
1-2. QB Robert Griffin III, Baylor
3-69. CB Alfonzo Dennard, Nebraska
4-102. LB Mychal Kendricks, Cal
4-109. OT Tony Bergstrom, Utah
5-141. RB Edwin Baker, Michigan State
6-173. DE Malik Jackson, Tennessee
7-213. WR Rishard Matthews, Nevada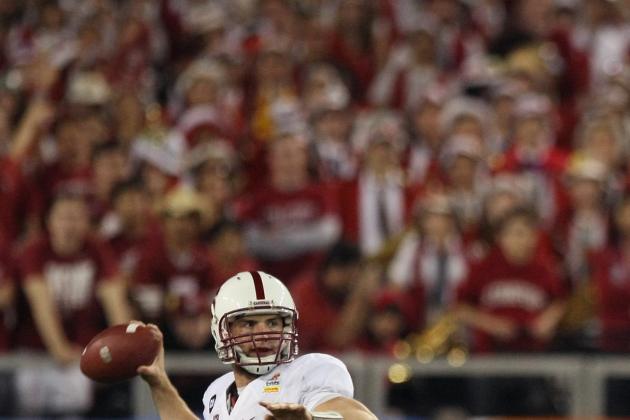 Donald Miralle/Getty Images
Andrew Luck
1-1: Andrew Luck, Indianapolis Colts
1-2: Robert Griffin III, Washington Redskins
1-8. Ryan Tannehill, Miami Dolphins
2-37: Kirk Cousins, Cleveland Browns
2-44: Brandon Weeden, Kansas City Chiefs
3-86: Brock Osweiler, Pittsburgh Steelers
4-101. Russell Wilson, Jacksonville Jaguars
4-106. Nick Foles, Seattle Seahawks
4-132. Ryan Lindley, Green Bay Packers
5-144. Chandler Harnish, Buffalo Bills
5-150. Kellen Moore, Chicago Bears
6-194. B.J. Coleman, Philadelphia Eagles
6-188. Case Keenum, Denver Broncos
7-230. Austin Davis, Detroit Lions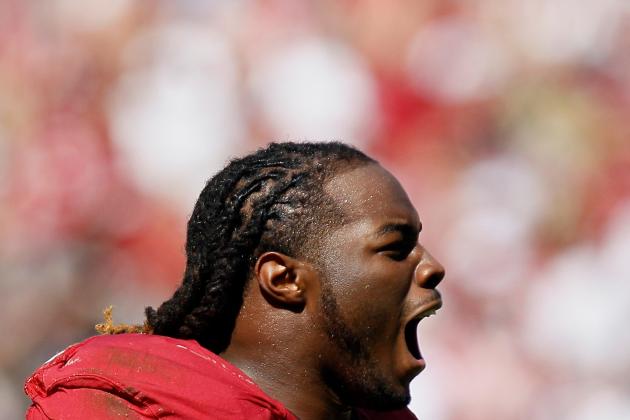 Kevin C. Cox/Getty Images
Trent Richardson
1-4. Trent Richardson, Cleveland Browns
1-31. Doug Martin, New England Patriots
2-35. David Wilson, Minnesota Vikings
2-51. Chris Polk, Philadelphia Eagles
2-53. Lamar Miller, Cincinnati Bengals
2-56. LaMichael James, Pittsburgh Steelers
3-68. Vick Ballard, Tampa Bay Bucs
3-75. Chris Rainey, Seattle Seahawks
3-77. Bernard Pierce, New York Jets
3-90. Robert Turbin, Green Bay Packers
3-94. Cyrus Gray New York Giants
4-107. Ronnie Hillman, Kansas City Chiefs
4-108. Isaiah Pead, Denver Broncos
4-113. Terrance Ganaway, Dallas Cowboys
5-141. Edwin Baker, Washington Redskins
5-158. Boom Herron, Detroit Lions
5-165. Chad Diehl, San Francisco 49ers
6-171. Tauren Poole, St. Louis Rams
6-192. Brandon Bolden, Atlanta Falcons
6-195. Darrell Scott, Houston Texans
7-217. Lennon Creer, Buffalo Bills
7-219. Bradie Ewing, Detroit Lions
7-226. Michael Smith, San Diego Chargers
7-253. Alfred Morris, Indianapolis Colts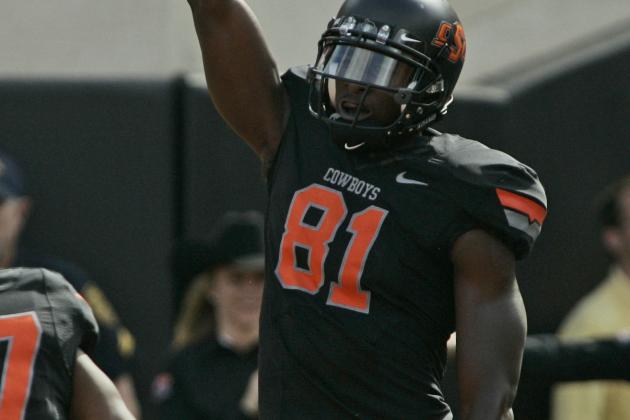 Brett Deering/Getty Images
Justin Blackmon
1-7. Justin Blackmon, Jacksonville Jaguars
1-13. Kendall Wright, Arizona Cardinals
1-16. Michael Floyd, New York Jets
1-30. Stephen Hill, San Francisco 49ers
2-33. Rueben Randle, St. Louis Rams
2-41. Alshon Jeffery, Buffalo Bills
2-46. Brian Quick, Philadelphia Eagles
2-50. Mohamed Sanu, Chicago Bears
2-60. Nick Toon, Baltimore Ravens
3-67. A.J. Jenkins, Cleveland Browns
3-82. Tommy Streeter, Tennessee Titans
3-83. Jeff Fuller Cincinnati Bengals
3-84. Devon Wylie, Atlanta Falcons
3-89. Marvin McNutt, New Orleans Saints
4-97. Ryan Broyles, Indianapolis Colts
4-99. Joe Adams, Houston Texans
4-103. Chris Givens, Miami Dolphins
4-104. T.Y. Hilton, Carolina Panthers
4-126. Jarius Wright, New England Patriots
4-128. Marvin Jones, Minnesota Vikings
5-146. DeVier Posey, Kansas City Chiefs
5-167. Dwight Jones, New York Giants
6-183. Keshawn Martin, San Diego Chargers
6-193. Jermaine Kearse, Pittsburgh Steelers
6-197. Marquis Maze, Green Bay Packers
6-202. Patrick Edwards, New York Jets
6-204. Eric Page, Cleveland Browns
6-206. Juron Criner, Indianapolis Colts
7-212. Chris Owusu, Tampa Bay Bucs
7-213. Rishard Matthews, Washington Redskins
7-222. Travis Benjamin, Dallas Cowboys
7-248. Taveon Rogers, Pittsburgh Steelers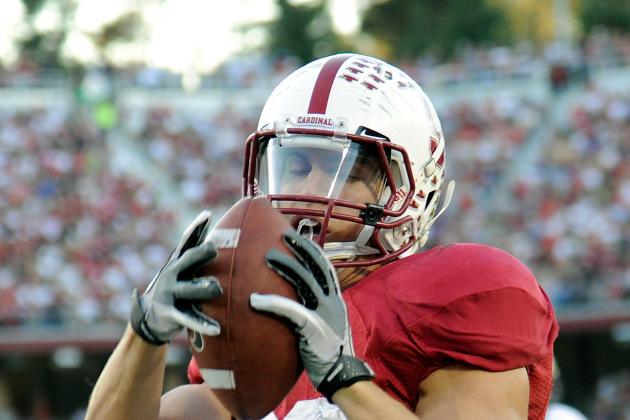 Thearon W. Henderson/Getty Images
Coby Fleener
1-22. Coby Fleener, Cleveland Browns
2-49. Dwayne Allen, San Diego Chargers
2-55. Orson Charles, Atlanta Falcons
4-116. Michael Egnew, Cincinnati Bengals
4-124. Deangelo Peterson, Buffalo Bills
4-127. Ladarius Green, New York Giants
5-136. Brian Linthicum, Indianapolis Colts
5-152. Rhett Ellison, Dallas Cowboys
5-168. Kevin Koger, Oakland Raiders
6-172. James Hanna, Philadelphia Eagles
6-196. David Paulson, Miami Dolphins
7-220. George Bryan, Chicago Bears
7-221. Emil Igwenagu, Arizona Cardinals
7-227. Evan Rodriguez, Tennessee Titans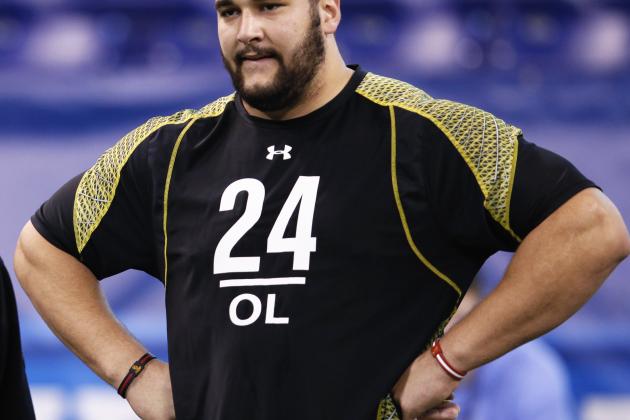 Joe Robbins/Getty Images
Matt Kalil
1-5. Matt Kalil, Tampa Bay Bucs
1-10. Riley Reiff, Buffalo Bills
1-18. Jonathan Martin, San Diego Chargers
1-24. Mike Adams, Pittsburgh Steelers
1-29. Cordy Glenn, Baltimore Ravens
2-38. Kelechi Osemele, Jacksonville Jaguars
2-63. Bobby Massie, New York Giants
3-65. Mitchell Schwartz, St. Louis Rams
3-72. Brandon Mosley, Miami Dolphins
3-76. Jeff Allen, Houston Texans
3-79. James Brown, Chicago Bears
3-80. Matt McCants, Arizona Cardinals
3-85. Zebrie Sanders, Detroit Lions
4-109. Tony Bergstrom, Washington Redskins
4-114. Nate Potter, Philadelphia Eagles
4-118. Matt Reynolds, Cleveland Browns
4-134. Andrew Datko, Minnesota Vikings
5-170. Markus Zusevics, Indianapolis Colts
6-179. James Carmon, New Orleans Saints
6-182. Lamar Holmes, Kansas City Chiefs
6-203. Marcel Jones, New York Jets
7-225. Donald Stephenson, Seattle Seahawks
7-237. Jeff Adams, San Francisco 49ers
7-241. Tom Compton, Green Bay Packers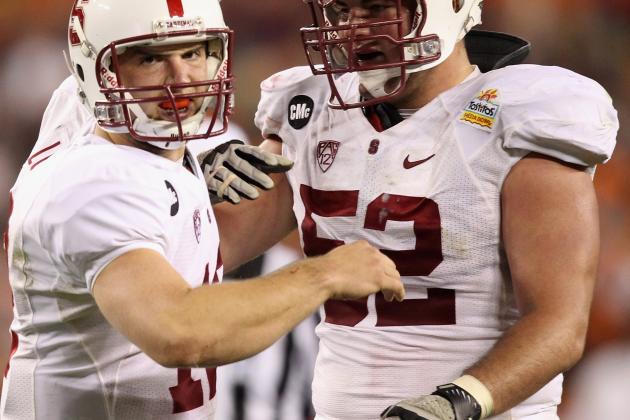 Christian Petersen/Getty Images
David DeCastro
1-6. David DeCastro, St. Louis Rams
1-28. Peter Konz, Green Bay Packers
2-45. Kevin Zeitler, Dallas Cowboys
2-48. Philip Blake, New England Patriots
2-61. Amini Silatolu, San Francisco 49ers
4-98. Ben Jones, Minnesota Vikings
4-115. Joe Looney, Tennessee Titans
4-120. David Molk, Denver Broncos
4-123. Brandon Brooks, Green Bay Packers
4-130. Mike Brewster, Baltimore Ravens
5-160. Senio Kelemete, Cleveland Browns
5-166. Brandon Washington, Cincinnati Bengals
6-174. Quinton Saulsberry, Tampa Bay Bucs
6-198. Lucas Nix, Baltimore Ravens
6-207. Adam Gettis, Carolina Panthers
7-214. Andrew Tiller, Indianapolis Colts
7-218. Mark Asper, Kansas City Chiefs
7-228. Desmond Wynn, Jacksonville Jaguars
7-242. Ryan Miller, New York Jets
7-251. Garth Gerhart, Buffalo Bills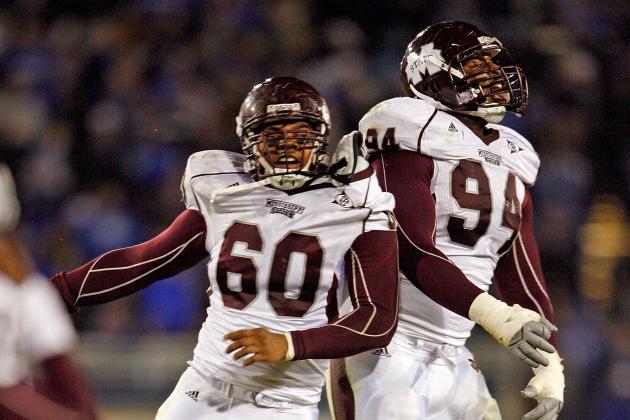 Andy Lyons/Getty Images
Fletcher Cox
1-9. Fletcher Cox, Carolina Panthers
1-17. Michael Brockers, Cincinnati Bengals
1-26. Dontari Poe, Houston Texans
1-32. Jerel Worthy, New York Giants
2-39. Devon Still, St. Louis Rams
2-42. Kendall Reyes, Miami Dolphins
3-74. Brandon Thompson, Kansas City Chiefs
3-81. Josh Chapman, Dallas Cowboys
3-87. Alameda Ta'amu, Denver Broncos
3-92. Mike Martin, San Francisco 49ers
5-147. Marcus Forston, Buffalo Bills
5-153. Mike Daniels, Philadelphia Eagles
5-169. Akiem Hicks, Baltimore Ravens
6-176. Derek Wolfe, Jacksonville Jaguars
6-190. Jaye Howard, Tennessee Titans
7-223. DaJohn Harris, Minnesota Vikings
7-224. Hebron Fangupo, Green Bay Packers
7-234. Vaughn Meatoga, New Orleans Saints
7-247. Tydreke Powell, Cleveland Browns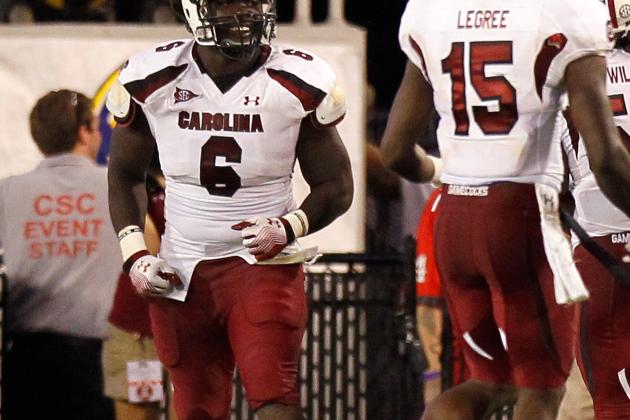 Kevin C. Cox/Getty Images
Melvin Ingram
1-12. Melvin Ingram, Seattle Seahawks
1-19. Quinton Coples, Chicago Bears
1-20. Nick Perry, Tennessee Titans
1-27. Courtney Upshaw, New England Patriots
2-54. Chandler Jones, Detroit Lions
2-57. Andre Branch, Denver Broncos
2-58. Jared Crick, Houston Texans
3-70. Ronnell Lewis, Jacksonville Jaguars
3-71. Jonathan Massaquoi, Buffalo Bills
3-78. Billy Winn, San Diego Chargers
3-95. Cam Johnson, Oakland Raiders
4-133. Trevor Guyton, Green Bay Packers
5-139. Jake Bequette, Cleveland Browns
5-145. Tyrone Crawford, Miami Dolphins
5-157. Jacquies Smith, Atlanta Falcons
5-159. Taylor Thompson, Pittsburgh Steelers
5-162. Derrick Shelby, New Orleans Saints
6-173. Malik Jackson, Washington Redskins
6-177. Chas Alecxih, Arizona Cardinals
7-210. Frank Alexander, Minnesota Vikings
7-216. Jack Crawford, Carolina Panthers
7-235. James Brooks, Green Bay Packers
7-239. Jamie Blatnick, New York Giants
7-250. Julian Miller, San Diego Chargers
7-252. Louis Nzegwu, St. Louis Rams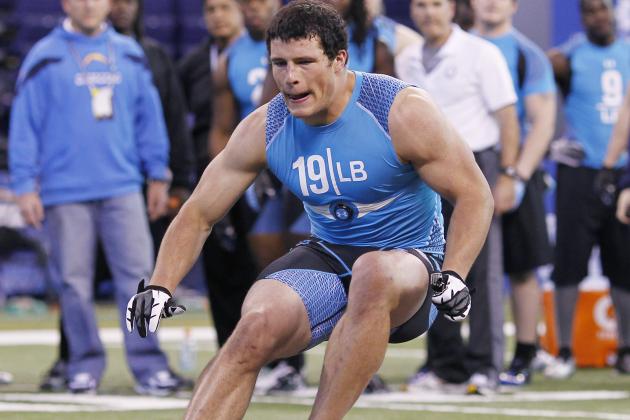 Joe Robbins/Getty Images
Luke Kuechly
1-11. Luke Kuechly, Kansas City Chiefs
1-14. Whitney Mercilus, Dallas Cowboys
2-36. Lavonte David, Tampa Bay Bucs
2-43. Dont'a Hightower, Seattle Seahawks
2-47. Shea McClellin, New York Jets
2-52. Zach Brown, Tennessee Titans
3-64. Vinny Curry, Green Bay Packers
3-66. Keenan Robinson, Minnesota Vikings
3-88. Sean Spence, Philadelphia Eagles
3-91. Travis Lewis, Baltimore Ravens
4-102. Mychal Kendricks, Washington Redskins
4-112. Bruce Irvin, Arizona Cardinals
4-122. Josh Kaddu, New Orleans Saints
4-129. Nigel Bradham, Oakland Raiders
4-131. Bobby Wagner, New York Giants
5-138. James-Michael Johnson, Minnesota Vikings
5-156. Audie Cole, Cincinnati Bengals
5-161. Tank Carder, Houston Texans
5-164. Kyle Wilber, Baltimore Ravens
6-178. Terrell Manning, Buffalo Bills
6-180. Vontaze Burfict, Carolina Panthers
6-184. Emmanuel Acho, Chicago Bears
6-199. Brandon Lindsey, San Francisco 49ers
6-205. Demario Davis, Cleveland Browns
7-208. Jerry Franklin, Indianapolis Colts
7-209. Tyler Nielsen, St. Louis Rams
7-232. Shawn Loiseau, New York Jets
7-238. Darius Fleming, Kansas City Chiefs
7-243. Miles Burris, Green Bay Packers
7-245. Chris Galippo, Cleveland Browns
7-246. Najee Goode, Pittsburgh Steelers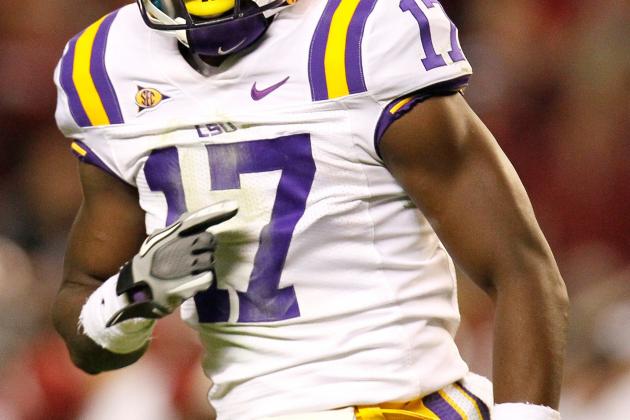 Kevin C. Cox/Getty Images
Morris Claiborne
1-3. Morris Claiborne, Minnesota Vikings
1-21. Dre Kirkpatrick, Cincinnati Bengals
1-25. Janoris Jenkins, Denver Broncos
2-34. Stephon Gilmore, Indianapolis Colts
2-40. Josh Robinson, Carolina Panthers
2-59. Trumaine Johnson, Green Bay Packers
2-62. Casey Hayward, New England Patriots
3-69. Alfonzo Dennard, Washington Redskins
4-96. Brandon Boykin, St. Louis Rams
4-100. Dwight Bentley, Cleveland Browns
4-105. Jamell Fleming, Buffalo Bills
4-111. Jayron Hosley, Chicago Bears
4-117. Josh Norman, Detroit Lions
4-119. Chase Minnifield, Pittsburgh Steelers
4-121. Leonard Johnson, Houston Texans
4-125. Ryan Steed, San Francisco 49ers
5-140. Omar Bolden, Tampa Bay Bucs
5-142. Coty Sensabaugh, Jacksonville Jaguars
5-155. Shaun Prater, Tennessee Titans
5-163. Mike Harris, Green Bay Packers
6-175. Coryell Judie, Minnesota Vikings
6-185. Robert Blanton, Arizona Cardinals
6-186. Keith Tandy, Dallas Cowboys
6-189. Trevin Wade, Oakland Raiders
6-200. Asa Jackson, Philadelphia Eagles
7-211. Ron Brooks, Cleveland Browns
7-215. Donnie Fletcher, Miami Dolphins
7-236. Tashaun Gipson, Baltimore Ravens
7-244. Cliff Harris, New York Jets
7-249. Jeremy Lane, Atlanta Falcons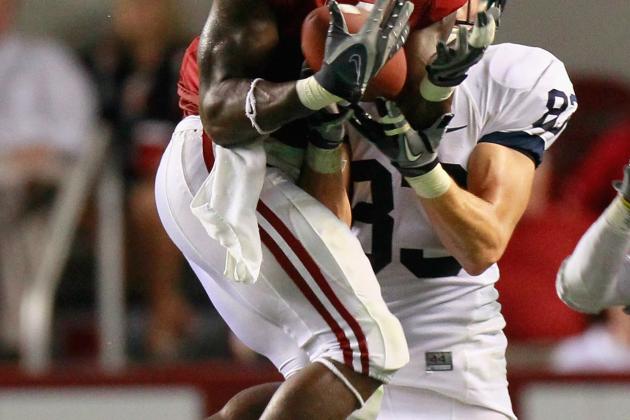 Kevin C. Cox/Getty Images
Mark Barron
1-15. Mark Barron, Philadelphia Eagles
1-23. Harrison Smith, Detroit Lions
3-73. George Iloka, Miami Dolphins
3-93. Antonio Allen, New England Patriots
4-110. Markelle Martin, San Diego Chargers
4-135. Phillip Thomas, Dallas Cowboys
5-137. DeQuan Menzie, Denver Broncos
5-143. Christian Thompson, Carolina Panthers
5-148. Trenton Robinson, Oakland Raiders
5-151. Brandon Taylor, Arizona Cardinals
5-154. Janzen Jackson, New York Jets
6-181. Duke Ihenacho, Seattle Seahawks
6-191. Aaron Henry, Cincinnati Bengals
6-201. Brandon Hardin, New York Giants
7-231. Cyhl Quarles, Pittsburgh Steelers
7-233. Charles Mitchell, Houston Texans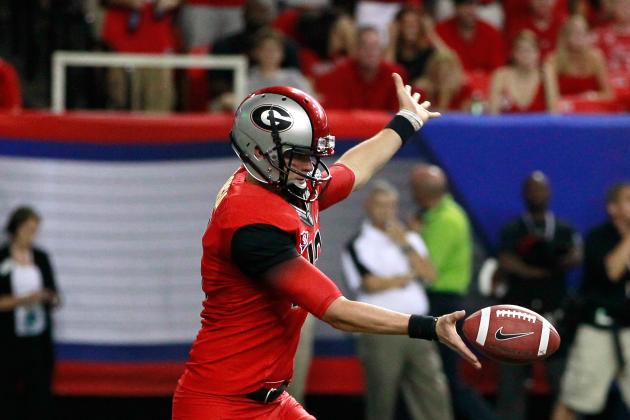 Kevin C. Cox/Getty Images
Drew Butler
5-149. Drew Butler, San Diego Chargers
6-187. Shawn Powell, New York Jets
7-229. Bryan Anger, Atlanta Falcons
7-240. Blair Walsh, Pittsburgh Steelers