San Diego Chargers: 5 Players Who Need to Be Replaced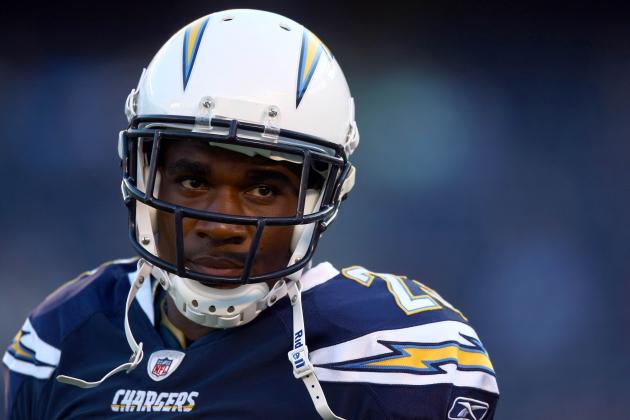 Donald Miralle/Getty Images

Looking at the San Diego Chargers from a roster standpoint, it's easy to see that five players have had their chances to prove themselves and after failed attempts it's time for them to go.
None of these players are the sole reason for an 8-8 record last season, but if they continue to play in San Diego it's only going to make things worse. Some of these players didn't meet expectations coming out of college and others have simply not gotten the job done on a consistent basis.
As the NFL draft quickly approaches, the Chargers have some decisions to make as to what positions they need to add depth to and plan the future for. Bringing in some quality veterans along the way via trade or free agency wouldn't hurt either.
Without further ado, here are five players who need to be replaced in San Diego.
Begin Slideshow

»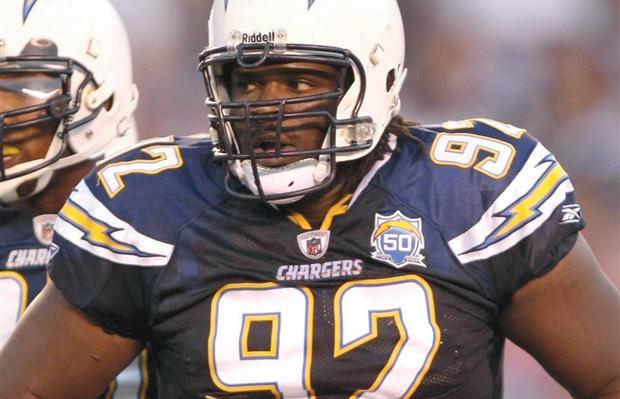 courtesy of vancouversun.com
Is anyone else just not sold on Vaughn Martin at defensive end? And no, it's not because he played his college ball in Canada.
Aside from being the first Canadian university football player taken in the draft, Martin has yet to really accomplish anything in a Chargers uniform. In his first two seasons, Martin didn't really get any playing time, but in 2011 he played 16 games and managed a sub-par 47 tackles and one sack. After three seasons, it might be a little early to say Martin's career as a football player in the states isn't working out, but maybe he's playing the wrong position. At 6-foot-4 327 pounds, Martin looks more like a nose tackle than a defensive end. That big bulky body would be more suited plugging a hole in the middle and gobbling up running backs.
Martin, the defensive end, needs to be replaced by a faster pass rushing D-lineman. However, I wouldn't give up on Martin as an NFL player yet. If he tried playing nose tackle and still failed then I would say he needs to be replaced in general.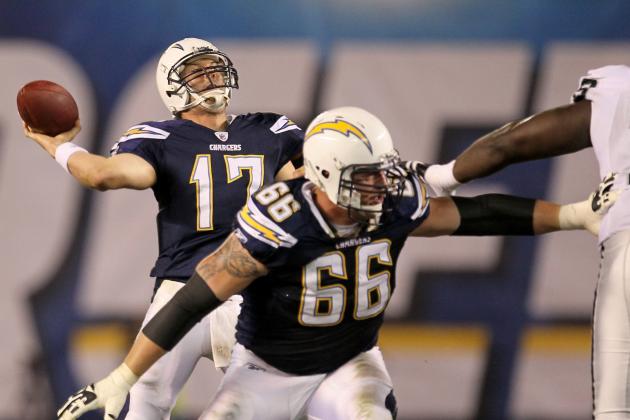 Stephen Dunn/Getty Images

No, this isn't a slide condemning Philip Rivers. Look at the big fella right in front of him. Big No. 66 right tackle Jeromey Clary wasn't expected to be a mainstay on the line when he was taken in the sixth round of the 2006 draft, but he's been with the team ever since and became a starter in 2007.
Personally, I think Clary is a little overrated. I doubt Clary has lasted so long in San Diego because he's the best option right now but rather due to the Chargers' neglect of the right tackle position. When Clary stepped in for the struggling Shane Olivea, it looked like the move would only be temporary until the Chargers addressed the problem through free agency or the draft, but that never really happened. Clary continued to start and in 2009 he was signed to one-year contract. He was also placed on injured reserve that very same year.
Last season Clary gave up 11 sacks and became a constant victim of speed rushers. At just 28 years old, Clary's career in the NFL is far from over but his time in San Diego has just about run out. The Chargers weren't expecting much from a sixth round draft pick, but Clary lasted a lot longer than most people would have figured.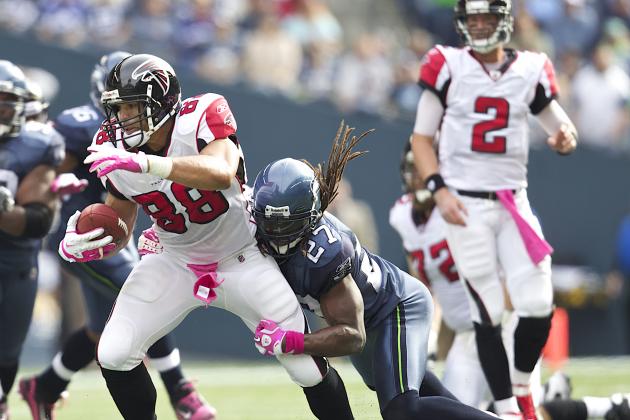 Stephen Brashear/Getty Images

Atari Bigby? Darrell Stuckey? Uh, who? The 2012 season hasn't started yet and I'm already doubting whether Bigby or Stuckey is the answer at strong safety. Stuckey has just two years of experience under his belt and newly acquired Bigby could end up being another Bob Sanders all over again.
After being cut from so many teams as an undrafted player, Bigby finally found a home with the Green Bay Packers in 2007 . That same year, Bigby played the best season of his career racking up 86 tackles and five interceptions. That success didn't last though as Bigby's career was plagued with injuries in the 2008 and 2010 seasons. In 2011, Bigby played in 15 games and managed just 18 tackles for the Seattle Seahawks.
Bigby started off hot with Green Bay but his career has cooled off since, and even if he does stay healthy in 2012, it won't be enough to help the Chargers' secondary. Right now, I'll say Bigby has the edge over Stuckey or a player taken through the draft, but at some point San Diego is going to see he isn't the answer long term. The quicker they bring in someone new, the better.
Stephen Dunn/Getty Images
Remember this San Diego?
Oh, how the pressure gets to Nate Kaeding. A decorated kicker coming out of the University of Iowa, Kaeding was taken in the third round of the 2004 draft and has managed to take fans on an emotional roller coaster in his unpredictable career.
In his rookie season, Kaeding converted 80 percent of his field goal attempts in the regular season but when the pressure was on in the playoffs he flopped miserably. Kaeding missed a potential game-winning field goal in the fourth quarter of a wild card playoff game against the New York Jets. Fans were devastated, but you have to remember that type of situation would phase any kicker, and Kaeding was just a rookie then.
In 2006, Kaeding's postseason nightmare continued when he missed a potential game-tying field goal in the 2006 playoffs against the New England Patriots that would have sent San Diego to the AFC championship game. Kaeding's reputation in San Diego wasn't getting any better and he realized that.
Two more missed field goals in the 2007 playoffs despite wins really got fans fed up with Kaeding's lack of control in the postseason, but the damage wasn't done yet. Kaeding missed all three of his attempted field goals in a playoff game against the New York Jets once again forcing the Chargers to make an early exit from the postseason, yet again.
See how there's a trend going on here? Kaeding has always been a dead-eye kicker during the regular season but when the game is on the line it's like the ball wants no business being anywhere near the uprights. To top it all off, Kaeding missed the entire 2011 season due to an ACL tear which he suffered covering a kick on the opening play of the season.
I like Kaeding and the fact that he's developing into of the league's most accurate kickers, but that means nothing if you can't make the kicks that count. Fans have been hurt too many times and it's time the Chargers made a change.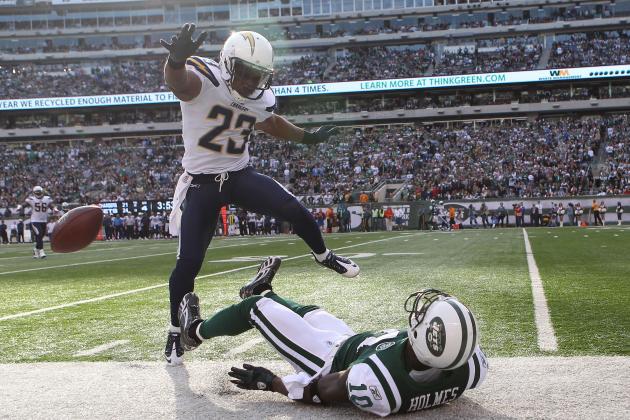 Nick Laham/Getty Images

Whether or not you believe cornerback Quentin Jammer lived up to his expectations as the fifth overall pick in the 2002 draft, it's apparent his time covering receivers is done in San Diego.
Coming out of the University of Texas, Jammer was a consensus first-team All-American who held school the record for interceptions in his senior year with seven. Known for his big hitter mentality and aggressiveness in coverage, Jammer looked like he had the potential to be shutdown corner at some point in his career.
Holding out his rookie year limited his development coming out of college, and while he made good plays occasionally, Jammer took a lot of heat from fans as to being the source of the team's poor pass defense. At best, Jammer managed to tip a few passes and make the tackle after receivers had already made the catch. As far as interceptions are concerned, Jammer managed to pick off a career-high of four passes in the 2003 and 2006 season.
As a fan, it's easy to blame Jammer for all the completed passes and passing touchdowns, but playing corner in the NFL is no joke. I was never sold on Jammer since he came to San Diego, yet after 10 years, he's still a starter. I'll admit Jammer has improved since his rookie year, but the Chargers need a finesse cover guy who can run with receivers step-by-step and get in the way of passes. Jammer was never that type of player and it's about time he be replaced.