Thunder vs. Lakers: Oklahoma City's Youth Shows Dominance over Aging Lake Show
March 30, 2012

Mike Ehrmann/Getty Images
The Oklahoma City Thunder have continued to run the Western Conference, and their 102-93 victory over the Los Angeles Lakers put the nail in the coffin that they have officially taken over with their youth and dominating play.
In Thursday night's victory, the Thunder's Kevin Durant and Russell Westbrook combined for 57 points, while the Lakers Kobe Bryant and Andrew Bynum put up a combined 48. 
The funny thing is, though, the Lakers were not so much outperformed statistically, they were actually outperformed physically.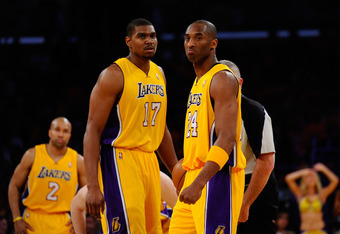 Kevork Djansezian/Getty Images
The Lakers made six more free throws than the Thunder and shot just a mere 4.5 percent less from the floor. Each team's third leading scorer was right on track with one another, as Pau Gasol put up 13 and Kendrick Perkins put up 12.
The difference factor here was age, which is what embodies both Westbrook and Durant, along with guys like Serge Ibaka and James Harden.
They have their mix of veterans in Kendrick Perkins,Thabo Sefolosha and now Derek Fisher, but by no means are those veterans bringing the team down.
The Thunder currently lead the entire NBA in terms of scoring, averaging 103.7 points per game. Their defense has been middle of the road, but that hasn't slowed them down, as they have jumped to a 39-12 record—the second best in the NBA.
There is also still no arguing the talent of Bryant, as he is still arguably one of the best players in the game, and Bynum is coming around to be a dominant big man. The thing is, it just seems that the Thunder's youth, not to mention talent, has been the key thus far in lifting them past their opposition.
If they continue to show that they can run the offensive tempo while stepping up the defense in the post season, one could argue that the Thunder will be extremely difficult to knock off. The one disadvantage that comes with youth is inexperience, and everyone knows the other top teams in the West carry plenty of that.
You can never eliminate the Lake Show during a playoff run, but with the way the Thunder are playing right now, it looks like that X-factor of their age will be key in continuing their run to claiming the franchise's first title.