Seattle Mariners: 5 Creative Ways to Save the Offense in 2012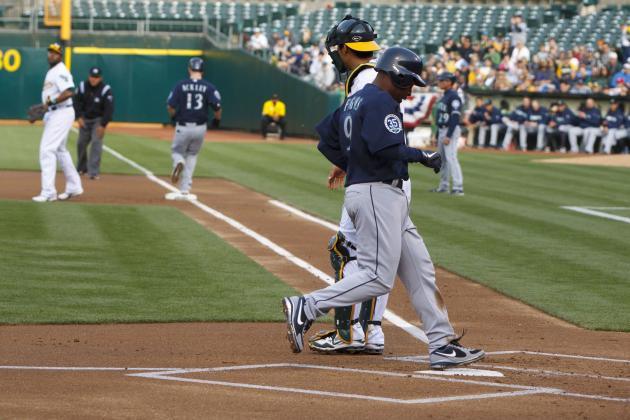 Jason O. Watson/Getty Images

After a promising, encouraging spring training with plentiful runs and even home runs, the Seattle Mariners offense disappointed in the first two games of the regular season.
They scored a single run in the first nine innings of each game, needing the 10th and 11th innings in the first game to finally spark some offense.
Friday's and Saturday night's games were much more of what we're hoping to see this season, but we can't be sure that that sort of offense will stick around.
For now, we can say that this offense is a work in progress since the majority of the hitters are young and still developing, but I don't think the fans will make it through another year of nearly nonexistent run support for the talented pitching staff.
So how can they shake things up to get some runs flowing?
Here are five creative ideas.
Begin Slideshow

»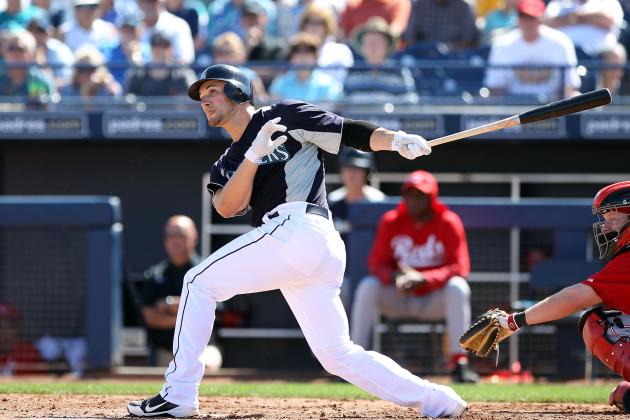 Christian Petersen/Getty Images

There is a lot of hitting talent in the Mariners organization, even far below the major league level, but there are only nine starting spots for hitters to play in everyday games.
As a result, it's been a tough spring for GM Jack Zduriencik and manager Eric Wedge, having to taper the roster down to an active 25. They shouldn't feel constrained, however, by who they have starting Opening Day.
For example, players like Munenori Kawasaki, Alex Liddi and Casper Wells will start the season on the bench, even though they're all capable of handling a starting job amidst the current competition.
Other players (Carlos Peguero, Trayvon Robinson and Chih-Hsien Chiang) who aren't even on the active roster easily merit a starting spot, but were sent down for any number of reasons ranging from inexperience to still-developing batter's eye.
A few weeks into the season, key hitters like Mike Carp and Franklin Gutierrez will rejoin the team, displacing even more talented, qualified hitters.
Pinch-hitters aren't commonplace on most teams, especially during the regular season, but they could be a huge asset for the M's if used properly.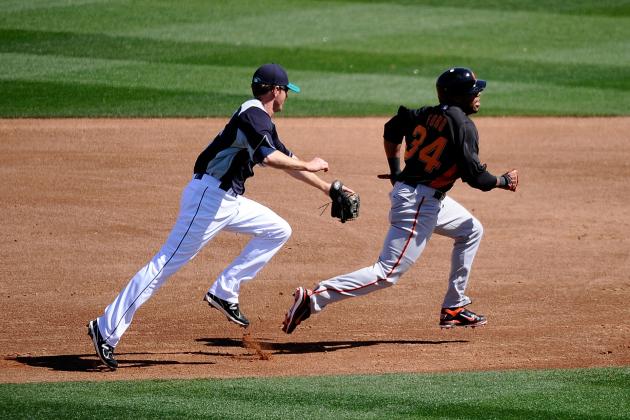 Kevork Djansezian/Getty Images

Pinch runners are also a rare occurrence on most teams, but they can be pretty effective in putting runs on the board.
In this picture, the runner is Darren Ford who is now on the Mariners (in the minors), and he has some serious speed—he would be a candidate for a pinch-running spot on the active roster.
Two things make this strategy viable (because normally you don't want your pinch-runners in for later at-bats).
Firstly, the Mariners can replace pinch-runners with pinch-hitters from the bench since, as I just described, they have plenty of capable hitters.
Secondly, Eric Wedge has made it clear early this year that he's going to be sending runners pretty often. There's speed pretty much throughout the lineup, so once a runner gets on, Wedge is willing to risk an out in order to advance him.
Including pinch-runners in the mix would be helpful for when guys like Miguel Olivo, Jesus Montero and Justin Smoak get on base late in tight games.
This goes against Billy Beane's out-prevention strategy, but the Mariners will take runs where they can get them, even and especially if that means playing small ball.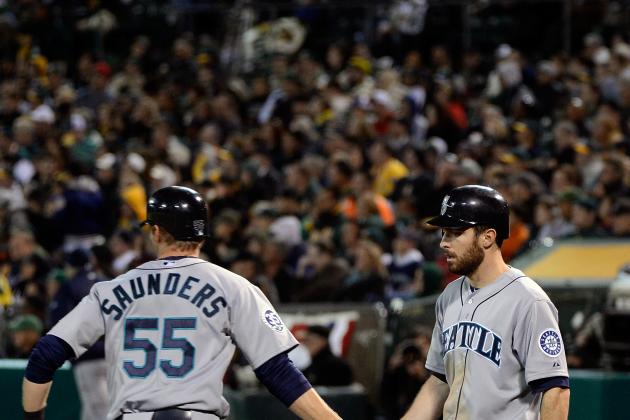 Thearon W. Henderson/Getty Images

Often, teams leave the bottom of the order for their weakest hitters, putting the best contact hitters at the top and the best power hitters in the middle. It's a decent strategy if you have a defined gap between your top and bottom hitters, but the Mariners aren't exactly in that situation.
This again goes back to the fact that a lot of the hitters on the team are together in the early development stage and is exemplified by Friday night's game. The bottom two hitters in the order went 4-for-7 with four of the team's seven runs, and the top two hitters went 6-for-9 with two more runs.
That left the middle of the order (hitters number three through seven) at 3-for-20, and that's the part of the order that usually puts up the most offense.
What's useful about this strategy is that instead of opposing pitchers just looking to make it to the bottom of the order for a few easy outs to break out of a jam, they'll face a more cyclical batting order. In other words, you could mark the top of the order in a number of different places.
Having players like Kyle Seager, Michael Saunders and potentially Franklin Gutierrez or Carlos Peguero in the bottom half of the order makes this strategy possible.
I also envision a pretty fluid batting order as the season progresses. We could see a very different lineup by the middle of summer, but if the M's utilize this technique in setting the batting order, they could experience offensive success regardless of the particular hitters.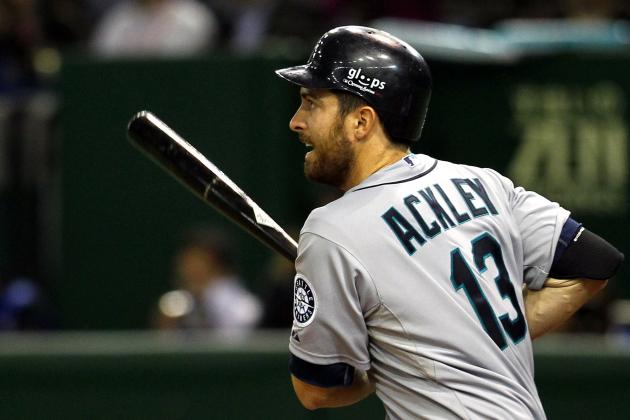 Koji Watanabe/Getty Images

Statistics have evolved from simple counters to accurate predictors over the course of the past century and a half.
Sabermetrics, the new brand of statistics developed by the Society for American Baseball Research (SABR), have been formulated to offer a detailed, accurate, complete portrait of a player, from pitching to hitting to fielding.
Value over replacement player (VORP) tells us how many runs a player contributed above the value a replacement player from the minors would've contributed. Wins above replacement (WAR) does the same thing but with wins instead of runs.
One of the cool developments of modern baseball has been that every pitch in every at-bat in every major league game and many minor league games has been recorded in a stat book. With those numbers, the statisticians can churn out their VORP and WAR values.
It may be too much to characterize a player by a few numbers, but many would argue that these new and improved numbers don't lie.
The idea here would be to watch some key numbers like VORP and WAR for a lot of the players in an organization and base the starting lineup off of them.
It may not work perfectly for every situation, but with significant sample sizes, statistics can very accurately predict how a player will perform. Of course, this strategy discounts other factors like a team's chemistry, weather conditions, etc., but it could generate some offense if the M's find themselves in need of runs.
For a detailed look at WAR as a team predictor, take a gander at this.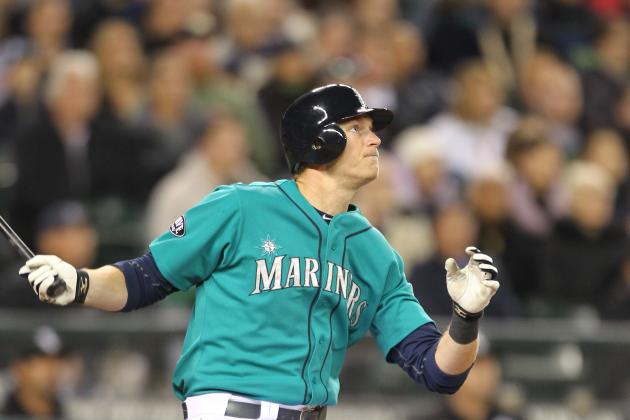 Otto Greule Jr/Getty Images

I've noticed that Michael Saunders seems to attack the first pitch in his at-bats with relative frequency. There's definitely some sense to the idea.
For a while now, the custom seems to have been to watch the first pitch go by, whether it's to add another pitch to the pitcher's count or to try to get accustomed to a pitcher's delivery point or something else.
Often, however, that first pitch is a very hittable strike. The first pitch can set the tone for the rest of the at-bat (i.e. a ball will put additional pressure on the pitcher and a strike will quickly put a batter behind in the count), so why not go out swinging?
If the first pitch is the best pitch you're going to see in the entire at-bat, it seems silly to watch it fly by as common practice.
It's true that opposing pitchers would probably catch on pretty soon, but then they would have to adapt their entire approach to an at-bat, and that change up would likely generate a hitter's advantage.
We might not have to resort to any of these five create solutions to a poor offense, but they could make the difference if the Mariners settle into another year of scoring two or three runs every game.
Let's hope for sustained offensive output as the season gets underway, but be prepared for the worst...