Could Baltimore Ravens Safety Ed Reed Hang Up His Cleats This Offseason?
March 30, 2012

Rob Carr/Getty Images
As Jeff Zribec of the Baltimore Sun points out, Baltimore Ravens safety Ed Reed's comments at times make him seem like quite the enigma. One must constantly break out the decoder ring to determine just what Reed is or is not suggesting.
This time around, it's retirement.
It's nothing new for Reed, who has been rumored to be considering retirement for a few seasons now. Last month, Ravens team owner Steve Bisciotti said that Reed "doesn't give definitive answers" when asked about his plans to return to the game in 2012.
That being said, Reed has told general manager Ozzie Newsome that he intends to play this season. What's more, speaking prior to his induction into the University of Miami Hall of Fame this week, Reed said that he's far more than 50 percent sure that he'll return to the field for his 11th season.
However, Reed also noted that he's been in ongoing discussions with the Ravens about his future, indicating that the decision to return might not be his alone.
Though Reed added that he'd "be with a walking cane out there" if he could, and believes he has four or five more seasons left in him, it seems as though the Ravens could be evaluating his status for this year.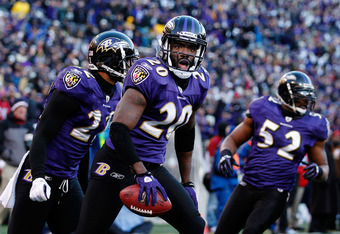 Rob Carr/Getty Images
"My partners, they do a great job of making sure I know the pros and cons of what's going on with my body and with the organization and where we're at. I plan on doing it, but depending, it could change," he said.
Reed had hip surgery in 2010, which could have lingering effects as he ages. However, he still managed to lead the league in interceptions that season (with eight) despite playing in just 10 games.
No other defensive player currently in the game has been able to force as many interceptions or read offenses like Reed, and though he's often overshadowed by his more media-friendly Pittsburgh Steelers counterpart Troy Polamalu, he's the more talented of the two.
In his career thus far, Reed has amassed 548 tackles, six sacks, 11 forced fumbles (as well as seven fumble recoveries) and has 57 interceptions—six returned for a touchdown.
In contrast, Polamalu has been in the league for just one season less, but has only 29 interceptions (and two touchdowns) and eight forced fumbles.
If Reed—or Reed and the Ravens—decide it's time for his professional career to end this year, safety becomes an immediate need in this year's draft. In fact, since the team currently has just three safeties on hand, they'll likely target the position at some point regardless.
Currently, the Ravens have Reed, Bernard Pollard and the newly-signed Sean Considine at the position. They lost two backup safeties (and special teams contributors) in Haruki Nakamura and Tom Zbikowski to free agency.
The Ravens would be well-served to pick up a safety in this year's draft—one who could also contribute to kick and punt coverage teams. Depending on when they're looking to pick one up, strong safeties Harrison Smith, Brandon Taylor and Winston Guy could all be available, as well as free safeties Trumaine Johnson, Trenton Robinson and Janzen Jackson.
It's hard to decipher exactly what the plans are moving forward with the Ravens and Reed. Though it seems like Reed intends to play, the mixed signals he's sent out could result in him taking the field or hanging them up.
Either way, the Ravens would be smart to add another safety in the draft. Reed will retire someday, of course, and their need to add depth at the position as well as bolster their special teams practically dictates that they must bring another safety on. There's nothing 50-50 about that.