NCAA Tournament 2012: What Underdogs Must Do to Reach Championship Game
March 30, 2012

Jamie Squire/Getty Images
Even this late in the tournament, upsets are still a big part in the folklore of the big dance. Both of the underdogs are in a spot where they can make the oddsmakers look ridiculous by pulling off an upset, but they have to follow a few essential steps. 
Before we go on, let's take a look at exactly who the underdogs are.
| | |
| --- | --- |
| Game | Favorite (courtesy of Bovada.lv)  |
| Game 1: Louisville vs. Kentucky  | Kentucky (-8.5)  |
| Game 2: Ohio State vs. Kansas | Ohio State (-3) |
So, what exactly do Louisville and Kansas need to do to pull these upsets off?


Louisville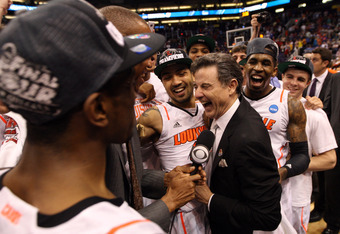 Jamie Squire/Getty Images
Move the ball, move the ball, and move the ball. Maybe you think this is a little simplistic, but the Cardinals' only chance in this game is if the teams are scoring in the low 70s, at the very most. If they need to hit 75 or more to win this game, it's not going to happen and it will be ugly.
The way to avoid this is to move the ball around, getting fewer shot attempts, but at a higher percentage. Moving the ball around will not only get Louisville a strong shooting percentage but more importantly will keep the ball away from Kentucky. 
If the Wildcats are getting a lot of possessions, they're going to score a lot of points and blow the Cardinals out of the gym. Louisville's best chance in this one is to move the ball, use the fact that they do have decent size, and keep the ball from the Wildcats. If that doesn't happen, the 8.5-point-spread is going to look minor at the end of the game.


Kansas
To win this game, the Jayhawks need to best simulate the scenario they had when they downed Ohio State earlier in the season. Jared Sullinger missed that game due to an injury and while he is playing in this one, Kansas can attack the rim, getting the big man into foul trouble. 
If that happens, then it basically comes down to a battle of Thomas Robinson and Tyshawn Taylor vs. Deshaun Thomas and William Buford. In that spot, the advantage lies with Kansas.
If Sullinger is logging significant minutes, then Thomas and Buford are getting good looks, as the big man is drawing attention. Also don't forget about Aaron Craft shutting the guards down on the outside. In that spot, Ohio State is the better team and it's not terribly close. 
So, when Kansas has the ball, they need to spread the floor and attack Sullinger in the paint, especially early. Get him a few early fouls and on the bench, and the advantage is with the Jayhawks. 
Without Sullinger on the floor a lot, Kansas matches up exceptionally well with the Buckeyes.


Follow @mdixon1985