Boston Celtics: KG Hates Playing Center, Austin Rivers News, Injury Updates
March 30, 2012

Ever since Kevin Garnett was moved from power forward to center, his role on the Celtics has greatly improved.  He's rebounding more and his scoring is up.  He's getting more open shots simply because other centers around the league aren't used to playing that far away from the basket.  Obviously KG is the type of player who is willing to do whatever it takes to make the team better.  
When asked (on Boston's sports radio WEEI) how he likes playing center, KG stated,
"I hate that position to be honest . . . I hate playing the 5. You have to have a lot more meat on your bones, you do a lot more banging, it's lot more physical presence, hard on your body.  You're the last at defense . . you have to block shots a lot more.  But 4 is probably more for my makeup. I tend to think I'm agile, that I have the ability to guard the ball off the dribble . . .  Some nights I feel like I'm holding up a wall playing some of these 5's in the league.  Anything Doc Rivers want, I'll run through a wall for that guy.  He's a player coach.  He's definitely the reason that I'm able to be in the position that I'm in or looking like I'm half decent in this league.  He cares about players bodies and time off.  I'd go through a wall for that dude . . . He would never tell me something wrong."
Asked how he was convinced to move from the 4 to the 5, KG stated,
"Well with Doc Rivers' system, it's much like Cuba, you don't really have a lot of say.  It's the Doc Rivers show and if you don't like it, you find another show to be apart of.  I understood that from day 1 and I never had a problem with it.  So if he needs me to play the 5, although it's my dislike and things that I don't like, but like I said, I'll do anything for him.  He asked me to play the 5 and thought it would be better for our team, so that's what it was."
Just another reason to love KG.
Ray Allen flew with the team to Minnesota and is getting close to returning from an ankle injury. In Wednesday's night game vs. the Utah Jazz, Allen went through warm ups but made the call that he couldn't go.  Perhaps with a couple days more rest, Allen could play tonight.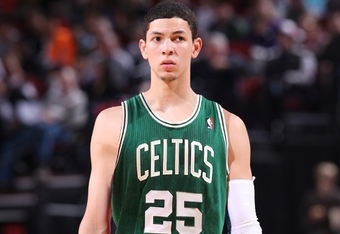 Unfortunately, the same can not be said for Mickael Pietrus.
"He still has concussion symptoms and until he's asymptomatic, no headaches and no sensitivity to light, we won't be able to test him," said GM Danny Ainge. "The league has implemented new procedures once he becomes asymptotic and he's not there yet, although he is improving each day."
Austin Rivers (heard also on WEEI) said that he would love to play for the Celtics,
"If that was to happen, I would love to.  I would love to play for any organization in the NBA. That's my dream. It would be great. It would be different. It would be an interesting aspect just to play for my dad."
Doc has never coached his son at any level, but Austin doesn't except to be treated any differently if the opportunity arose. 
"If this was to happen, I would want him to treat me like anybody else.  If I'm messing up, I want him to be hard on me. If I'm doing good, I want him to pat me on the back. That's the way he coaches. However he coaches Rondo or Kevin Garnett or Avery Bradley or any other player on that team, I want him to coach me. I don't want anything handed to me. I never have my whole life. I would have to mature and accept that responsibility.'
Seems like a nice fit for the Celtics.  Hopefully, we'll be watching him on a nightly basis in the Garden next season.