Ohio State vs. Kansas: Jayhawks' Thomas Robinson Key to Claiming 2012 Title
March 30, 2012

Dilip Vishwanat/Getty Images
The Kansas Jayhawks are playing like the top seed that they are in the 2012 NCAA tournament, but they won't get past the Ohio State Buckeyes in the Final Four that easily if star forward Thomas Robinson doesn't play to his full potential.
During this tournament, the junior forward has dominated the floor, but one area where he is noticeably lacking is in his field goal percentage. Making about 51.2 percent of his shot this season, down from 60.1 a year ago—though it should be noted his minutes have more than doubled—Robinson has continued to find consistency in this year's tournament.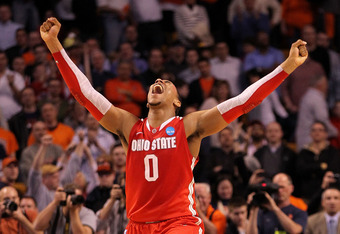 Jim Rogash/Getty Images
Robinson is averaging 17.7 points per game this season, but his tourney average is down to just 15.8 through the first four games.
More noticeably, during that span he has gone 22-of-58 from the field, which brings his percentage from the floor to a mere 37.9 percent. For someone you consider to be your star player that is just absolutely unacceptable.
He has continued to do a nice job on the boards, averaging 12.5 per round. Fact is, they need him to be consistent on both sides of the floor, and any offensive production similar to what he has done in the previous rounds just won't fly against the Buckeyes.
Deshaun Thomas and Jared Sullinger have been playing extremely well this tournament, and there is no doubt that they will put up a strong guard on Robinson, especially in the paint.
When these two teams met early on in the season, Robinson had a stellar game, scoring 21 points as he went 7-of-9 from the floor. If he can play like that again, the team really couldn't ask for anything more.
Robinson was impressive against the North Carolina Tar Heels in the Elite Eight, scoring 18 points and grabbing nine boards, but that was going up against an injured John Henson. Still, he only managed to make 6-16 shot attempts.
The Jayhawks are playing like true contenders right now, but so are the Buckeyes. The key difference to this game is Robinson taking and making the right shots. If they can get that going, the sky is really the limit for Bill Self's squad.
Jeff Chase is a Featured Columnist for the Chicago Cubs and Arizona State football.
Follow @Real_Jeff_Chase