2012 NFL Draft: Top 5 Needs for the New England Patriots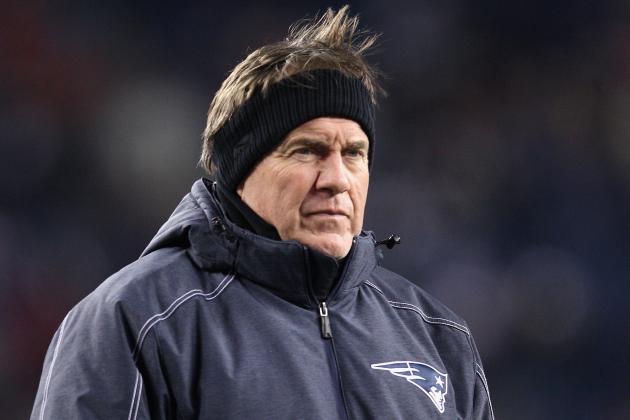 Elsa/Getty Images
Bill Belichick must juggle the need to win now while building for the future
With the 2012 NFL free-agency period winding down, it is time to turn our attention to the upcoming NFL draft.
The New England Patriots made several moves during free agency to bolster their roster, most of which were geared towards depth, with the lone exception being the signing of WR Brandon Lloyd.
The biggest decision the Patriots made following the Super Bowl was placing the franchise tag on Wes Welker, all but ensuring his return as Tom Brady's go-to target.
There were opportunities for the Patriots to add starting-caliber players, but the brain trust decided to pass on making headline-grabbing moves.
Whether Bill Belichick was reluctant to spend the money required to lure a prized free agent or because he didn't think any would fit in New England, the Patriots will enter the draft with several holes to fill if they wish to return to the Super Bowl next season.
Begin Slideshow

»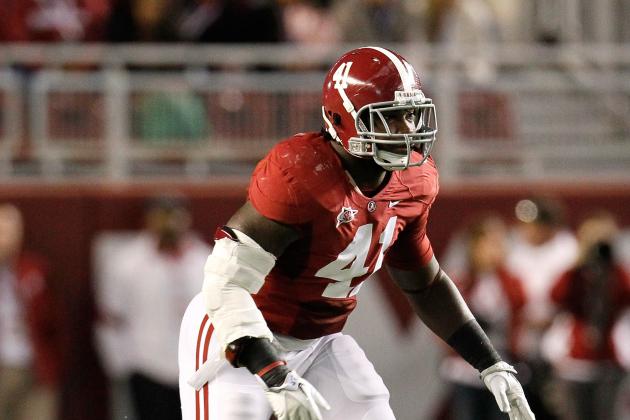 Kevin C. Cox/Getty Images
Can Courtney Upshaw be the pass rusher that the Patriots spend a 1st round pick on?
The Patriots have needed someone a dominant pass-rusher for most of Bill Belichick's tenure as head coach.
Whether Belichick is going to stick with the four-man defensive line he used for most of 2011 or is going to revert back to the 3-4 that he is known for, the Patriots must draft a player that can get up field and rush the quarterback.
With two picks in the first round—27th and 31st—the Patriots can either wait for the best available player or break the mold and trade up into the top half of the first round and get the stud they truly need.
Melvin Ingram, OLB/DE, South Carolina.
The ACC standout would be a difference-maker on the Patriots defense, but this would require Belichick to trade up for one of the more coveted pass-rushers in the 2012 draft. Ingram boasts the size and speed to play to play OLB in Belichick's 3-4, but while Ingram is the most talented pass-rusher of the three, he may also be the biggest risk as he lacks the coverage ability that 3-4 OLBs must have.
Making this move would be a bold one. The upgrade to the front seven would carry over into the secondary, as defensive backs and safeties would be expected to keep their man locked down for a few split seconds less.
Projection: Top 15 pick
Andre Branch, OLB/DE, Clemson.
The 6'4", 259-pound tweener can play OLB in a 3-4, but is strong enough to play DE in a 4-3. While at Clemson, Branch showed the versatility that Belichick loves and could be a three-down defender as long as he continues to develop. As an OLB, Branch will need to improve his coverage skills, and when playing with a hand on the ground, Branch will need to prove that he can hold up on run plays in the NFL.
Projection: 1st round
Courtney Upshaw, DE/OLB, Alabama.
Between a slow 40 time and increased size, Upshaw is more of a 4-3 end than Branch. Although, after playing in Nick Saban's 3-4 defense at Alabama, Upshaw has shown the ability to play the OLB position. Scouts do question Upshaw's speed, though he ran a 4.79 40-yard dash at the combine. As great as the SEC is, there is still a major jump from playing against the LSU's of the world to the New York Jets.
Projection: Top 25 pick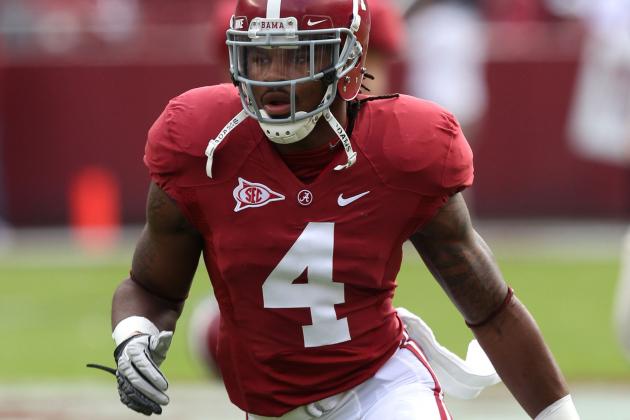 Mike Zarrilli/Getty Images
Mark Barron showed he is an exceptional athlete in the SEC, but can he cover at the NFL level
The Patriots desperately need to make an upgrade to their safety position, as Patrick Chung has shown flashes of Pro Bowl ability but is also injury-prone.
Newly signed Steve Gregory is a nice upgrade over last year's group and could be a solid free safety—though, in an ideal world, Gregory is a rotation player not a starter.
The Patriots need a young, athletic safety who can cover ground in the pass-happy NFL.
Unfortunately, this draft class is thin at safety.
Mark Barron, SS, Alabama.
Barron is an instinctive player and may be the best safety in this draft. He has good ball skills and is a strong tackler. The question with Barron is, can he play next to Chung? He played fast and covered well against SEC competition, but ideally, Barron is better suited to be paired with a ball-hawking free safety. Belichick will need to decide whether he wants to draft a slightly better version of Chung and whether they could play alongside each other.
Projection: Top 20 pick
Markelle Martin, FS, Oklahoma St.
Martin has the closing speed needed to play in zone and has the quickness needed to match up with slot receivers. He is aggressive in man coverage and would provide more playmaking ability than any current safety on the Patriots roster. Martin doesn't shy away from being physical and is an above-average tackler. He's closer to being a ball-hawk safety than Barron and would allow Chung to blitz more and play in the box for running plays.
Projection: 2nd-3rd round
Trenton Robinson, FS, Michigan St.
Robinson possesses the size of a safety, but has the tackling ability of a linebacker. He is above average in coverage and can provide support in the run game. While he doesn't have elite speed, his 4.52 40-yard dash at the combine is adequate. Robinson would provide the Patriots with a player who cold rotate in with Gregory and develop into a full-time starter for 2013.
Projection: 3rd round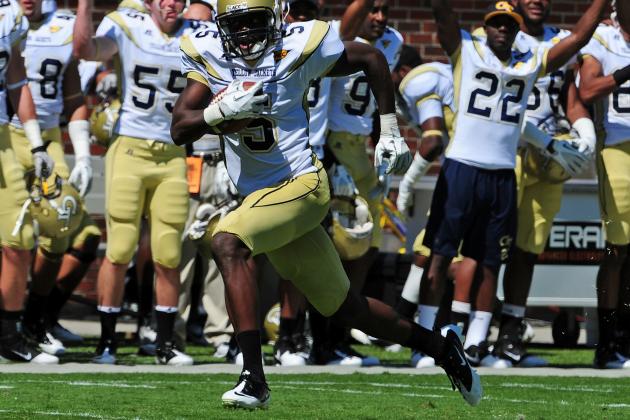 Scott Cunningham/Getty Images
Is Stephen Hill the deep threat that the Patriots need?
Even though the Patriots will enter camp with at least 10 receivers, they are all short-term answers.
Their biggest acquisition in free agency, Brandon Lloyd, will enter the season on the wrong side of 30, as good as he may be in Josh McDaniels' offense.
Like the safety position, the 2012 draft class isn't loaded with first-round talent at the wide receiver position.
Michael Floyd, WR, Notre Dame.
Floyd is one of the more proven receivers in this year's draft. Along with his track record at Notre Dame, Floyd has all the measurables that the Patriots want in a WR. He has the size (6'3"), the speed (4.47 40 time at the combine) and is a solid route-runner with great hands. While Floyd may not be the elite talent that Justin Blackmon is, he would be a major upgrade going forward for the Patriots.
Projection: Top 20
Stephen Hill, WR, Georgia Tech.
Hill could be this year's Mike Wallace. He is tall with long arms and big hands and is the fastest WR prospect in the draft. There are concerns about whether Hill can transition from the triple-option to a pro offense, although one benefit of playing in the option is Hill's skill as a blocking receiver—something that Belichick appreciates. The biggest question mark for Hill will be whether or not he can do more than run go routes. If Hill could sniff the production that Wallace provides the Steelers, this could be the missing piece for the Patriots offense.
Projection: 1st round
Tommy Streeter, WR, Miami
Streeter like is less proven than Floyd. He performed well at the combine as expected, showcasing his speed. Streeter is a raw talent and would be more of a project than Floyd and Hill. The Patriots could wait until the third round to draft him. A tall, lanky receiver would be an ideal player to pair with Gronkowski as a red zone weapon.
Projection: 2nd-3rd round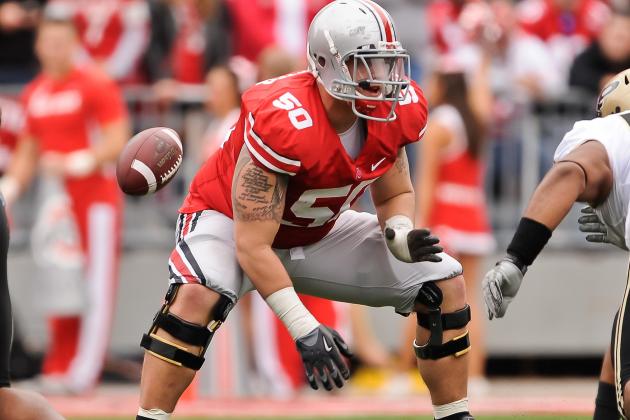 Jamie Sabau/Getty Images
The Patriots need to upgrade their offensive line and get younger moving forward
Dan Connolly signed an extension and is expected to take over as the full-time starter next season, ending the Dan Koppen era in New England.
As good as Connolly has been, he is more of a rotation player and is a better fit as a left or right guard.
Unfortunately, there isn't a third Pouncey brother in the draft, and there may not even be an elite prospect, but there are several solid players. Three such players from the Big Ten that would be worth selecting in the second or third rounds.
Peter Konz, C, Wisconsin
Konz is the best center in the draft. He has the elite size and strength needed to transition to the next level. Konz was underwhelming at the combine, but he plays stronger on the field and dominated defensive lineman during his time in the Big Ten. Konz moves well for a player of his size and excelled during screen plays, which the Patriots have been known to run.
Projection: 1st round
Michael Brewster, C, Ohio State
Brewster may not be as good as Nick Mangold was when he left Ohio State, but he has the tools to be as successful in the NFL. Even though he has the size, Brewster is not extremely powerful, making him better suited for passing team like the Patriots, where he can utilize his intelligence and solid technique. As a natural leader, he could learn under offensive line coach Dante Scarnecchia and become the leader of the Patriots' offensive line.
Projection: 2nd round
David Molk, C, Michigan
Molk is shorter than Brewster and Konz, but he is strong and exudes confidence. Molk moves well for a lineman and bulked up going into the combine, erasing some concerns that he couldn't hold up against larger defensive tackles in the NFL. As long as Molk can maintain his combine weight, he can be a very dependable starter in the NFL.
Projetion: 2nd-3rd round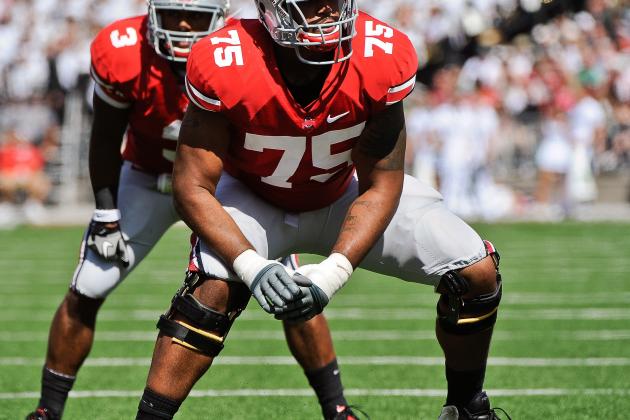 Jamie Sabau/Getty Images
Mike Adams could take over for the injury prone Sebastian Vollmer down the road
This may not be a sexy pick, especially after they drafted Nate Solder last season. However, with Matt Light potentially retiring, this is a pressing need.
Solder showed the upside last season that many saw coming into the 2011 draft and should develop into a solid left tackle for the next eight to 10 years.
The concern going forward is Sebastian Vollmer's injury history, along with his entering the last year of his contract.
Mike Adams, OT, Ohio State
As a tall prospect with long arms, he could excel against speed rushers. He needs to add strength and become more consistent in order to be a reliable tackle, but he moves well and drives defenders away during running plays. Adams has the skills needed and would serve well on a team like the Patriots where he won't be forced to start from day one. Projection: 2nd round
Zebrie Sanders, OT, Florida State
Sanders is an experienced prospect who has started 37 games at Florida State. He has shown his versatility by playing both tackle positions, but is better suited to play right tackle. Sanders needs to work on improving his technique and would benefit from more time in the weight room. He has shown the ability to mirror well during passing plays and has been aggressive at attacking his blocks during running plays.
Projection: 3rd round
Matt McCants, OT, UAB
McCants is slightly under the radar, but he has played very well during his time at UAB. He is an athletic tackle with long arms who mirrors well during pass protection. Fans may be concerned by his bench press results at the combine, but that it a typical problem for players with long arms. Mccants could develop into a solid left tackle, but he has a chance to be a terrific right tackle.
Projection: 4th round