10 Players Who Could Make Portland Trail Blazers Contenders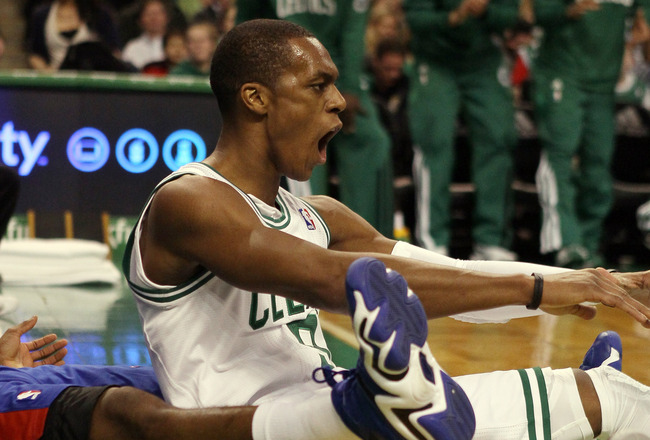 Elsa/Getty Images
The Portland Trail Blazers have seemingly entered the dreaded rebuilding phase, and while the roster for next season's squad is up in the air at this point in the year, there are a number of players who could come in an make an immediate impact next season.
The void left by Brandon Roy has been tough, replacing Greg Oden becomes the newest goal and swapping out Raymond Felton for a new facilitator looks like the most likely scenario after a rough year.
There are holes, it seems, all over the roster, but with money to spend, draft picks to use and improvements to be made by those already on the team, the Blazers find themselves in a good situation heading into a summer that could go down as one of the most important in team history.
Rajon Rondo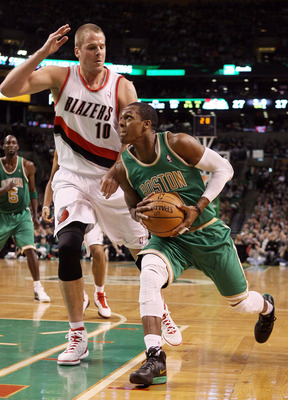 Elsa/Getty Images
At the March 15 trade deadline, fans in Portland got excited over the thought that Rondo might be coming to the Blazers this season, but after a day that saw the team build for the future instead of right now, it's time to begin the rebuilding phase in Portland once again.
Boston Celtics General Manager Danny Ainge has admitted that he is not beyond blowing up the Big Three sooner rather than later, and while it didn't happen at the deadline, the draft could be the best way to start over.
Looking as if it is going to make the playoffs this season, Boston will be out of the lottery, and could send Rondo Portland's way for a package surrounding one of Portland's two lottery picks.
Having the flexibility in the cap after Kevin Garnett and Ray Allen are off the books might very well mean that the team holds onto Rondo and builds through free agency.
If Portland can somehow snatch the 26-year-old point guard away from Boston, though, he could be the piece that brings the Blazers back to contention and helps LaMarcus Aldridge boost his game to a whole different level next season.
Deron Williams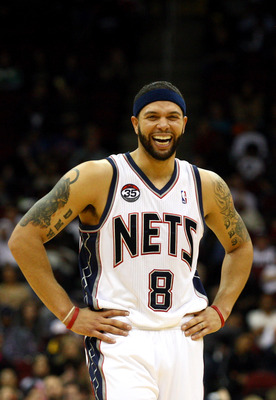 Chris Chambers/Getty Images
Deron Williams has announced that he will not opt into his contract the way Dwight Howard did, meaning he will undeniably become a free agent this summer.
Looking for a team that he can spend the rest of his career with, Williams should consider all teams interested, and Portland needs to present itself as one of those options.
Admittedly, it's going to be very tough to tear Williams away from the New Jersey Nets, Los Angeles Lakers and Dallas Mavericks of the world.
New Jersey can give him a five-year contract, the Lakers can offer him the limelight and Dallas can offer him a homecoming like no other can in the NBA.
So will the Blazers land their man? Maybe, maybe not.
Portland, though, has had so many problems and inconsistencies at the point guard position for so long now that there is no reason to sit back and watch him go elsewhere with $23 million in cap space to spend next season.
Aaron Brooks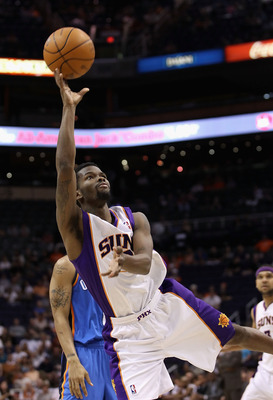 Christian Petersen/Getty Images
Although this year's draft is being touted as one of the deepest in a long time, the point guard position finds itself a little more shallow than the wing and post spots do.
Going out in free agency and hitting the guards should be the goal of the Trail Blazers this offseason, and while Aaron Brooks is no Deron Williams or Rajon Rondo, he could be a very good addition to the Portland backcourt.
Phoenix Suns point guard Steve Nash came out and said that he needs to see improvement to the team's roster in order to stick around next season, and while Brooks has been good throughout the early part of his NBA career, he could very well become a casualty of those changes.
The 27-year-old point guard has averaged 12.5 points for his career, but in a season where he started all 82 games for the Houston Rockets, Brooks put up career numbers, averaging 19.6 points and 5.3 assists while shooting nearly 40 percent from the three-point line.
Roy Hibbert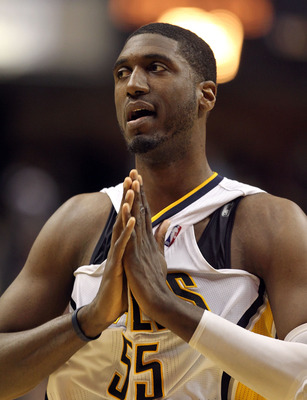 Andy Lyons/Getty Images
Having officially waived former No. 1 pick Greg Oden from the roster, the Trail Blazers are back to the drawing board when it comes to answering the question of who is their long-term solution at the center position.
Roy Hibbert could be that answer.
The 25-year-old center was an All-Star this season, and would officially give the Blazers youth and longevity at the position that has been filled by Joel Przybilla, Kurt Thomas, Marcus Camby and Juwan Howard the last few seasons.
Hibbert will be an unrestricted free agent come this summer, and tearing him away from the Pacers will be a difficult task, to say the least.
Having so much money to spend in the offseason, though, gives Portland the chance to send one heck of a "toxic offer" Indiana's way, not unlike the one that landed them Wesley Matthews from the Utah Jazz.
New Jersey Nets' Brook Lopez is also in this situation, but will likely be even more difficult to pick up considering the possible exit of superstar Deron Williams.
Ray Allen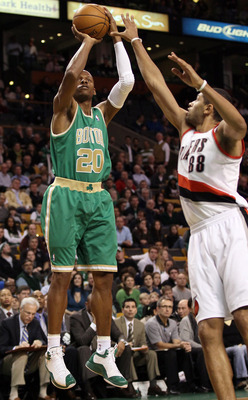 Elsa/Getty Images
A 37-year-old veteran isn't what most people think of when considering the future of a program that is currently rebuilding.
Obtaining players who can shoot and take the load off of LaMarcus Aldridge, however, very much is.
Ray Allen has become known throughout his NBA career as not just a three-point shooter, but a clutch three-point shooter—two things the Trail Blazers have been desperate for this season.
This isn't the first time the team has gone through a rebuilding process in the last five years. When the Blazers began to revamp the roster heading into the 2006-07 draft, the youth movement was in full effect.
Rookies and prospects couldn't quite get over the hump, and while injuries have drastically re-shaped the direction of this team, it was veteran leadership that the team was missing during its transitional period just a few seasons back.
The combination of Aldridge in his prime and Allen's veteran leadership would differentiate this Blazers team drastically from the one rebuilding a few seasons ago, and could legitimately help Portland reach a higher level of basketball by next season.
Andre Drummond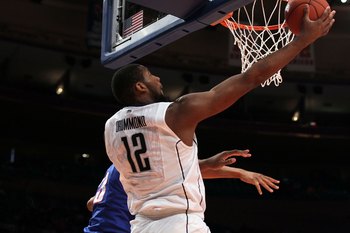 Jim McIsaac/Getty Images
While the Trail Blazers are going to need to establish a backup small forward to play behind Nicolas Batum next season, a top-five pick might not be the way to do it.
A big man, however, could be a game changer in Portland.
Andre Drummond's tournament experience was less-than impressive this season, but the 6'10", 270-pound center out of Connecticut could become the player Portland looks to for inside presence.
Portland fans may be wary about drafting another center so high in the draft; and rightfully so.
Drummond, though, is a physical defender, outstanding athlete and a player who has shown he can make plays on both sides of the floor.
If Portland obtains New Jersey's top-three protected pick this summer, and Drummond finds himself dropping as a result of his tournament performance, the Trail Blazers could snatch him up and find the big man they've been looking for now for nearly a decade.
Bradley Beal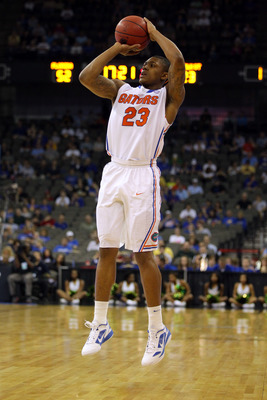 Doug Pensinger/Getty Images
Brandon Roy's sudden retirement before the 2011-12 season left the Trail Blazers with a gaping hole at the shooting guard position.
While the superstar's departure helped justify the signing of Wesley Matthews and opened up space to sign Jamal Crawford, the team is still looking for a true replacement at the 2-guard spot.
At 6'3", Beal has proven to be a dynamic player all over the floor, averaging 14.8 points, 6.7 rebounds and 1.4 steals during his freshman year at Florida.
His three-point shot can improve, which is something Portland has been missing for quite some time now; but the ability to create your own shot is something utilized at the NBA level seemingly now more than ever, and that ability is one thing that Beal will be bringing to the NBA immediately next season.
Kendall Marshall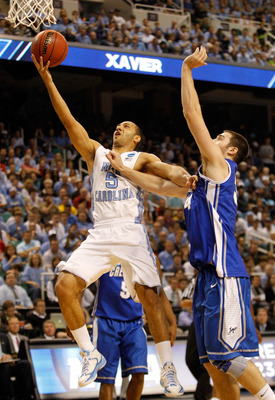 Streeter Lecka/Getty Images
Point guard has been a problem for the Trail Blazers all season, and snatching up North Carolina guard Kendall Marshall could help fill the role next year.
Raymond Felton has under-performed this season, and while the recent acquisition of Johnny Flynn is an interesting one, he's not likely to become the starter based on what he's done in his career thus far.
Marshall doesn't exactly fit the mold of the score-first point guard we see so often in today's NBA, but on a team that features LaMarcus Aldridge down low, the Trail Blazers should be just fine with a facilitator.
Averaging 9.7 assists per game, the 6'4" point guard was one of the best floor generals in all of college basketball this year, and if Portland can nab him in the draft this summer, he could be the long-term player that Rip City's been searching for since the departure of Damon Stoudemire nearly a decade ago.
Nicolas Batum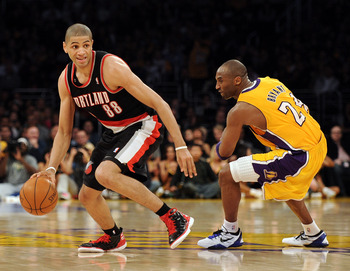 Harry How/Getty Images
Heading into this season, many wondered whether the Trail Blazers would choose Nicolas Batum or Gerald Wallace to move forward into the future.
It's safe to say, the team has made its decision.
Sending away Wallace in a deal with New Jersey this season opens up the minutes and cap space to retain Batum long term.
The team was unable to reach a contract extension with Batum this season, but while he will likely garner some decent offers around the league this summer, it's difficult to imagine Portland letting the 23-year-old walk in free agency.
Although it's difficult to imagine Batum ever becoming a No. 1 option on a championship team, he is the perfect complementary player who can affect the game on both ends of the court.
Defensively, he is a lengthy perimeter defender who can also stop a fastbreak. On the offensive end, he can play above the rim at times while helping spread the floor with his shooting ability.
He's going to have to work on his aggressiveness as his career continues, but for a player with so much versatility and so many intangibles, he can be a difference maker on a great team moving forward.
LaMarcus Aldridge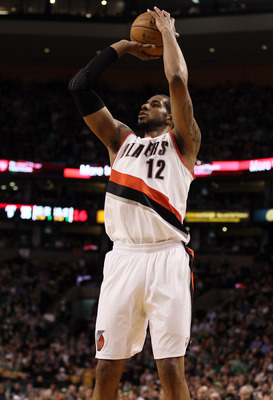 Elsa/Getty Images
LaMarcus Aldridge has to be considered the cornerstone of the Portland Trail Blazers franchise, and with so many variables affecting the outlook of next season's roster, he could very well come back once again as the face of next year's team.
Aldridge has stepped his game up, yet again, making his first All-Star appearance and almost averaging career-highs in points, rebounds and field-goal percentage this season.
When the future of the team looked as if it were going to be Aldridge, Brandon Roy and Greg Oden, the 6'11" power forward almost appeared to be the third wheel. Roy and Oden were supposed to be the franchise pieces, while Aldridge was a nice complementary player to the two superstars.
Through injury troubles, though, Aldridge has been given the spotlight.
Moving forward on this team, if he can continue to take his game higher and become even more aggressive on both sides of the floor, he could become the player who takes the team to the level fans thought they would be at just a few seasons ago.
Keep Reading

Portland Trail Blazers: Like this team?