NFL Free Agents 2012: Power Ranking Best Fits for Mike Wallace
March 30, 2012

Jared Wickerham/Getty Images
The fact that free-agent wide receiver Mike Wallace isn't signed yet is just baffling.
A home run threat every time he steps on the field, Wallace is one of the most exciting young wideouts in the league.
It's likely that obtaining Wallace would cost a first-round pick, but it's worth it. Wallace has proved his worth in the NFL—he led the Pittsburgh Steelers in receptions (72), yards (1,193) and receiving touchdowns (eight)—and using a first-round pick on a rookie just doesn't make sense given Wallace's talent.
However, he immensely decreased his chances of signing with another team when he told the San Francisco 49ers he wanted "Larry Fitzgerald money," which is highly unrealistic.
Here are four possible landing spots for the 25-year-old Wallace:
The Cleveland Browns have two first-round picks in the 2012 NFL draft but would have to sacrifice their No. 4 pick in order to acquire the 25-year-old Wallace.
The Browns lacked a solid WR in 2011, with Greg Little leading Cleveland in receptions and yardage with 61 and 709, respectively.
Cleveland hasn't had a solid WR since Braylon Edwards, who—aside from his 2010 campaign with the New York Jets—has yet to find success since leaving the Browns.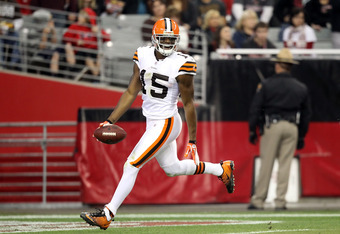 Christian Petersen/Getty Images
While Pittsburgh would rather see Wallace play outside of the AFC North, it may not have much of a say.
Given the Browns' track record of acquiring free agents, I think they're the least likeliest on this list to acquire Wallace.
The New England Patriots have two first-round picks in the draft this season and would use their No. 31 pick on Wallace if they were to make a move.
After placing the franchise tag on Wes Welker, it may be tough for the Patriots to go out and sign a guy like Wallace, who will likely require some cash, but could you imagine trying to defend Rob Gronkowski, Aaron Hernandez, Wes Welker and Mike Wallace?
Deion Branch played the role of home run hitter for the Pats last season, but Wallace would obviously be an upgrade. He'd know his role on the Pats and would be playing alongside a future Hall of Famer in Tom Brady.
As Michael David Smith of NBC Sports wrote, a Wallace and Patriots relationship is possible.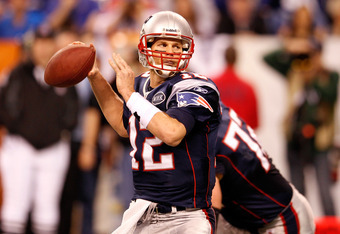 Rob Carr/Getty Images
Pairing Peyton Manning with a speedy wideout like Mike Wallace could be deadly for an AFC West that's wide open. Demaryius Thomas is currently the only real weapon Manning has, so Denver should be looking to add a guy like Wallace.
The Broncos have the 25th pick in the first round of the NFL draft, so they wouldn't be giving up too much to get Brown.
Denver ranked second-to-last in passing yardage last season. Adding Manning and Wallace would undoubtedly improve the Broncos' passing offense and make them a legit contender in the AFC West.
John Elway and the rest of the Denver brass has to know in the back of their minds that they need to provide Manning with more weapons this season.
1. Pittsburgh Steelers
The Pittsburgh Steelers want to sign Wallace to a long-term deal, and Wallace wants to stay in Pittsburgh.
Ben Roethlisberger has urged Wallace to remain with the Steelers, and even Hines Ward advised Wallace to stay in Pittsburgh during his retirement press conference.
Of course, announcing he wants to be the highest-paid wideout in the NFL isn't helping his cause.
In the end, I think Wallace is going to realize he can't get the amount of money he's dreaming of and that he has a good thing going in Pittsburgh with Roethlisberger and the Steelers' organization.
Follow Pete Schauer on Twitter @Pete_Schauer