2012 NFL Draft: How Alabama Pro Day Affected Trent Richardson's Stock
March 30, 2012

Ronald Martinez/Getty Images
NFL teams and fans finally got to see Trent Richardson perform at Alabama's second pro day, and it was disappointing to say the least. However, it will not affect Richardson's draft stock at all.
Richardson has been the unanimous No. 1-rated running back for more than a year now and he will not suddenly fall into the middle of the second round because of his pro day performance.
One of the main reasons Richardson's performance was not up to par is that he was not fully healthy. Richardson was only about 70 percent, according to ESPN on their airing of the pro day via ESPN3.com.
Teams around the league expect Richardson to be a bruising back that also contains the speed to get away through the second level of defenses. Throughout his college career, Richardson showed the ability to do just that.
However, on his pro day, Richardson ran a lackluster, unofficial 40-yard dash time of 4.58. Most teams look for their top running back to be around that 4.4 range and many expected Richardson to run a much faster time.
Despite the subpar 40-yard dash time, Richardson will not be devalued.
The importance of the 40-yard dash has been questioned over the years, and proven wrong by some running backs. The 40 times are typically the most eye-catching numbers, but they do no prove much.
There is no doubt that Richardson can run better than a 4.58 40-yard dash, and teams know that.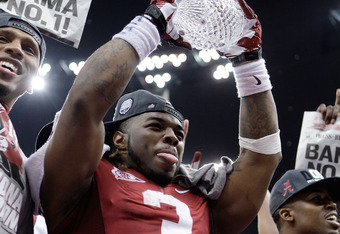 Andy Lyons/Getty Images
Richardson also did not do as well on the bench press as he wanted to. Richardson wanted to set a new record, but failed after only hitting 25 reps.
Despite the underwhelming performance by Richardson at his pro day, teams will still value him as a top-tier prospect.
The purpose of Richardson's pro day was to cement himself as either a top-five or top-10 pick. If Richardson is passed up and falls out of the top 10, then I am sure there will be many shocked faces around the league.
Teams have seen what numbers Richardson put up at his pro day, but more importantly they have seen what he can do on the field.
In three years, Richardson put up 3,130 rushing yards on 540 attempts, averaging out to 5.8 yards per carry. Richardson also ran for 35 touchdowns throughout his college career.
Teams have game tape and they have witnessed what Richardson can do. There's no way that one pro day performance will derail this running back.
The NFL will see Richardson's value as a runner, but also as a receiver out of the backfield. Richardson gained 727 receiving yards and seven touchdowns during his career at Alabama.
In today's NFL, it's very important for a team's running back to be able to catch the ball out of the backfield.
Before the second Alabama pro day, Richardson looked to be headed to one of the teams with a top-10 pick in the draft.
The Cleveland Browns, Tampa Bay Buccaneers and St. Louis Rams could all use Richardson and they pick fourth, fifth and sixth in the draft, respectively.
There are plenty of talented players in the upcoming draft, but Richardson is a running back prospect that doesn't come out every year—this type of player is seen only once every few years.
Richardson has the potential to take the league by storm in a manner that Adrian Peterson did when he came out of Oklahoma.
It would be different if there were more running back prospects at the level of Richardson. Some have compared Richardson to the situation of Da'Quan Bowers last year.
At one point, Bowers was looked at as the best overall player in the draft. However, because of a knee injury, Bowers was unable to perform at the NFL Combine and at Clemson's pro day.
At first, scouts and teams believed the injury to be minor and that it would not affect Bowers or his draft stock. As time went on, Bowers began to fall down draft boards and eventually fell to the middle of the second round on draft day.
This happened because there was a lot of defensive line talent in the 2011 NFL draft and experts believed that Bowers' injury could limit his success on the field.
No one has questioned whether Richardson will still be able to play well in the NFL, and no teams are letting him slide down their draft boards.
Richardson's draft stock has been the same since the start of the 2011 NCAA football season. He was, and is, the unanimous No. 1 running back in the 2012 NFL draft.