2012 NFL Draft: University of California Offensive Tackle Mitchell Schwartz
April 2, 2012

Mitchell Schwartz is an athletically gifted, versatile offensive tackle from the University of California.  At the combine in February, he measured in at 6'5-3/8" and 318 lbs. 
Schwartz is blessed with some great genetics, as his brother Geoff, plays on the offensive line for the Minnesota Vikings and his parents are wonderful people.  He is very versatile as has played on both sides of the offensive line at Cal.
I was excited at the opportunity to talk to him about his time at college and his thoughts on what the NFL will bring for him.  He is an engaging, cerebral person and was an incredibly interesting person to talk to.  He didn't disappoint and I walked away from the conversation thinking very good things about him and his future—and not just only in the NFL.
We talked about how he had played right and left tackle through his sophomore season.  He then finished his career out as a left tackle. 
I asked him if he thought  his versatility made him a more attractive pick for teams.  He said he thought it did and went on to explain why. "Some guys, body mechanics wise they might get stuck into playing the left or right side and they are not able to switch and be versatile and play both."
He said that the more versatile you are, the more valuable you are to teams and "I think it's a good thing to be able to play both and play both pretty well and show teams what I can do from that perspective."
In talking to him, you could tell that he is all about the team.  We talked about what it was like to play on the line with his teammates.  "You always want to be there for the five offensive linemen, you kind of have a weird bond that way."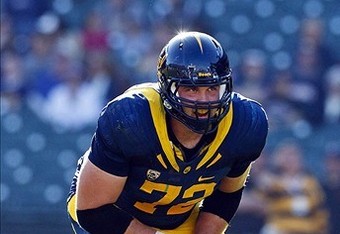 When I talked about missing games he said, "It's more important for his teammates" and not necessarily for him, and that he never wanted to let his teammates down by not playing a game.
He is clearly successful on the football field, but he also excels in the classroom.  He was named first-team All-Pac 12 for football and academics.  It is a testament to what kind of a person he is.  We talked about what it was like to win these awards.  He said, "It's definitely great honor," but that he didn't necessarily have the perspective to understand how unique it was or what it means at this point. 
He talked about how his parents pushed him and his brother to become great students and how the honor makes his parents more proud at this point than he is.  "You know at the end of the day you can play 20 years in the NFL or you can play two years.  You're going to have to fall back on your education at some point."
He said that along with the football program, Cal was the number one public school in the country and that was why he went there.  He said his ability to excel not only as a football player, but in the classroom, validated his decision to go there.  He told me, "It's nice for my parents to hang it on the wall or brag about it, but whatever they like to do" regarding the All-Pac 12 awards.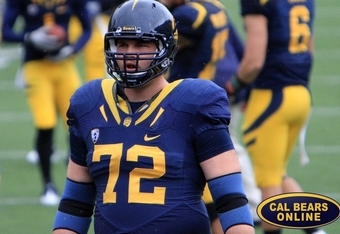 Cal has an award known as the "Brick Muller" award which goes to the offensive line's MVP.  Schwartz won this award for three straight years.  He said  this award meant more to him because it came directly from his coaches and his team. 
When explaining what the award was, he talked about how it didn't just take into account the best physical player on the field.  He said the award looked at the kind of guy you are off the field and how you're able to help out your teammates and conduct yourself in practice and in meetings. 
He said it was "special to see what the coaches thought of him and how he was viewed in the whole team aspect of it."  He then told me that was an individual award, but he felt it went back to what the offensive line did together as a unit. 
I was fascinated in talking to him about Human Development, a particular area of study for him.  He told me he was very interested in learning about why people do the things that they do.  He explained there are very few things that people do in life that are out of pure choice. 
He talked for quite some time about why people make the decisions they make and that people turn choices into decisions when they bring outside factors into a choice.  When the effects of choosing come into play, it is no longer a choice, it becomes a decision.  He told me that very few choices that people make in life are true free will choices.
Talking to him about the consequences for making choices and how these consequences might not even be conscious to an individual was very interesting and enlightening.  He said it helped him to understand people and to relate to them better.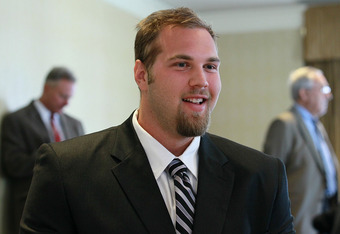 Justin Sullivan/Getty Images
We talked about what his future might bring in the NFL.  I asked him what he could offer the team that drafted him.  He said that he was a guy that could come in and start from day one and be successful.  He pointed to his coaching at Cal and how it set a great foundation for understanding the game and offensive line technique.
We talked about his thoughts on playing different spots along the line.  He said, "Not every team needs a left tackle right now so being able to come in and play right tackle right away if they need it" was important.  He also said that he was versatile enough to move inside and play guard if the team needed him to. 
Schwartz is incredibly durable and has started 51 straight games at Cal.  That's a rare accomplishment in and of itself.  We talked about durability and toughness.  He said that everyone gets hurt and banged up at some point and as an offensive lineman "you don't want to let down the guy next to you." 
We talked about what it was like for him from to be able to show teams his durability.  He said, "Just playing through stuff and being able to push through the small things, showing teams that for the most part I've been pretty healthy and that I have not missed a game and I don't expect to in the future either."
He mentioned that his brother plays in the NFL and that he thought it was a great benefit for him.  "It's not like a completely foreign thing to me.  I know what the process will be; I can react accordingly." 
He said that he thought he would come in and produce right away and "that's the purpose of the draft, trying to get a guy that will help your team."
I asked him if he had a message for fans of the team that drafts him.  "I think I'll be able to come in and play well for the team from the beginning."  He also said that he was not going to be a distraction and he would come in to work hard and do the best he could to produce for the organization.
I needed more as I think Schwartz was not being talked about enough.  I see him as being in the top tier of offensive linemen in this draft class.  I have heard the "experts" tell us where they think he is going to get drafted and it is much too low. 
If there is a player that is going to outperform his draft position, it will be Schwartz.  For some confirmation as to what I was seeing, I went to talk to a professional. 
I went directly to Cal's offensive line coach, Jim Michalczik.  Talking to Coach Michalczik gives us some very valuable insight from a person who would know.  Michalczik has a combined 21 years of experience in the collegiate and professional coaching ranks.  He served as the Oakland Raiders offensive line coach for two years and has coached at Cal from 2002-2008 and in 2011.
I asked him what is about Mitchell Schwartz that makes him a special talent coming out of college. Jim said:
I think his sheer size, he is a small 320 lbs. and what I mean by that is that he works hard to keep his weight down at 320.  He's a guy that could be even bigger and he has such a great frame to play and he's just so dang smart, he sees things and he can conceptualize things.  He's got a great feel and understanding for the game.  And the other thing I would say is that he is so competitive, he wants to win, he enjoys competing, and he wants to do things the right way.
During my time with Jim, he told me that Schwartz had a lot of things going for him that gave him an advantage over the other rookie offensive linemen in this draft.  He said:
His frame, his thinking, his technique, his physical nature, I think he is a guy that's going to play, that's going to be able to play and contribute and play earlier compared to most guys that are going to be rookies this year. He's more NFL ready than most guys coming out of college and the fact that his brother plays and he knows all those things.  He knows how it works and what it is, he's ready.
He told me that really solid NFL tackles have relatively long careers and he told me that he thought Schwartz had the makings of a player that could easily have a 10-12 year career.  Jim explained why:
If you look at what he's done in college he was a 50+ game starter.  Very durable, very competitive and smart, level headed and he takes care of his body and he does all of those things that if you are going to be successful in the NFL long term you need to do.  He has all of the physical tools to do that and all of the mental things to go with it.
I asked him if there was a difference in the strength that a player plays at and the strength that a player exhibits while doing exercises at the combine or at a players pro day.  He said there was a significant difference and that Schwartz displayed plenty of strength and that it would not be an issue.  He thought there was room for more.  He told me Schwartz was the kind of player that had the type of frame and physicality to dominate players in the NFL.
In our conversation, Jim and I talked about the things that made Schwartz unique.  He mentioned Schwartz's level of preparation:
Yeah, he is a student of the game, he studies film.  He understands offenses, not just what he has to do but the whole scheme, the whole concept.  He understands defenses and the ways people play and studies it.  You always talk about guys that do that but he's one of them that really gets it." 
It always came back to how special he was, what a great person Schwartz was.  I felt the same things from him and while I had my opinions as to why he stood out to me, I asked Jim what he thought. He said:

Mitch is top notch.  California is the number one public university in the country and Mitch is so dang bright, that's probably the reason why he came here was because of the academics.  He's such a bright guy, a good leader, holds his teammates up to expectations, just a hard worker.  He can be successful, if he wasn't playing football he would be successful at any business or whatever career he wanted to go into.
Mitchell Schwartz is a very bright person and he was extremely refreshing to talk to.  To say I was impressed by our conversation is a dramatic understatement.   He's one of those guys that has a special "something" that stands out and in April, an NFL team is going to be drafting a very high quality person to join their football team.
Much has made about the Kalil family and the brothers that play along the offensive line in Ryan and Matt.  It seems like people have forgotten that there are another pair of brothers that are about to reach similar levels of success on the NFL stage.  Geoff Schwartz just signed a free agent deal with the Minnesota Vikings and Mitchell is moving up draft boards and will be an NFL player for years.
According to a tweet by Geoff Schwartz, Mitchell has interest from several teams in the NFL. Cleveland, Atlanta and Kansas City are all teams on that list.
Mitchell Schwartz is the perfect example of a player that will outperform his draft position.  He is a talented football player and a very intelligent person.  He is not going to have any issues playing in the NFL and is one of those guys that should have a much higher draft grade because of the intangibles that he brings with him.
Scott Bischoff is a Contributor for Bleacher Report. Unless otherwise noted, all quotes were obtained first-hand.