NFL Draft 2012: Predicting Potential Landing Spots for QB Ryan Tannehill
March 30, 2012
Darren Carroll/Getty Images
Quarterback Ryan Tannehill of the Texas A&M Aggies just finished his first public workout since finishing the 2011 season as champion of the Meineke Car Care Bowl.
I would say it went pretty well.
According to Dane Brugler of CBS Sports, Tannehill completed 65-of-68 passes against air, with two drops and a deep overthrow intended for wide receiver Jeff Fuller. He also ran a 40-yard dash that timed somewhere in the high 4.5s to low 4.6s.
Tannehill was delayed in his ability to work out in front of teams due to an injury which required a pin in his foot. Fittingly, teams have kept mostly quiet about their interest in Tannehill, and have seemed to wait until now to start showing their hands.
The Browns, previously thought to be more likely to pass on Ryan Tannehill, especially after giving public endorsements to current quarterback Colt McCoy, are now reported to be considering Ryan at that No. 4 overall pick. They sent their offensive coordinator Brad Childress to his pro day to witness his workout.
Meanwhile, the Dolphins sent an entire contingent of their three top decision makers to College Station, including general manager Jeff Ireland, his right-hand man Brian Gaine and head coach Joe Philbin. Notably absent was former Texas A&M head coach and now current offensive coordinator Mike Sherman.
Previously unconsidered teams have also made efforts to show their hands.
The Philadelphia Eagles have let it be known they have interest and will conduct a private visit with Tannehill.
According to Brugler, the Seattle Seahawks joined in on the dinner that the Miami Dolphins hosted for Tannehill the night before the workout.
And yet, these are not the only teams that could consider Ryan Tannehill. There have been rumblings about the Kansas City Chiefs' potential interest in a quarterback in this draft. The Denver Broncos had previously surfaced as a team keeping a close eye on quarterback Brandon Weeden of Oklahoma State, and could potentially look for other quarterbacks at No. 25 overall in the draft.
How are we to make sense of all this?
Generally speaking, when trying to hash out situations like this, I like to look at the concepts of need, fit and incentive. This would be similar to a crime detective examining the issues of opportunity, means and motive.
Of the teams mentioned, the need is clearly strongest on the Miami Dolphins and Cleveland Browns.
The Dolphins have two quarterbacks on roster they made it a point to pay at levels comparable to a mediocre backup in the NFL. In this league, you often get what you pay for. If you shop for bargains, you get guys who are on the bargain rack for a reason. Both the owner and general manager also made some potentially embarrassing and highly straight-forward remarks about needing to find a franchise quarterback in the offseason who can replace Matt Moore. They do not just need someone to give the fans hope, they need someone to give the entire roster hope.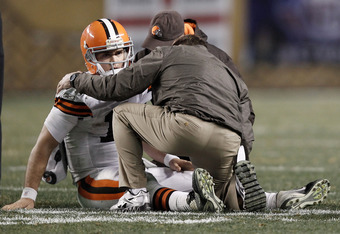 Jared Wickerham/Getty Images
Meanwhile, the Cleveland Browns are giving votes of confidence to a player who will probably never pan out as a starter in this league.
I once did a study of Peyton Manning's throwing velocity back in early 2010, prior to the bulk of his neck surgeries. In that study, I found that Manning's throwing velocity was stunningly low. It was not the same arm strength I had grown accustomed to from Peyton. An NFL scout iterated the exact same sentiment to on NFL.com, saying that Manning's Point A-to-Point B velocity had really fallen off significantly in 2010.
A Cleveland Browns fan later asked me to test out Colt McCoy's average velocity on stick throws. I found that his younger, livelier arm was pumping out the same velocity as a weakened Manning who the scout noted had clearly seen his arm strength drop significantly. That is not to say that Colt McCoy cannot be a good quarterback because he doesn't possess better-than-borderline arm strength.
However, what was most disturbing about McCoy's testing was the sheer number of throws I had to sift through before I had enough of a sample pool of intermediate distance (18-to-35 yards) "hot" throws that I could test. This is a quarterback who steers toward endless dinking and dunking, more so than any other quarterback I saw in 2011. He is protected greatly in that scheme.
Forgive me if I do not consider Colt McCoy a viable option for the Cleveland Browns going forward. In the Browns tape I reviewed, I honestly saw better quarterback play from Seneca Wallace.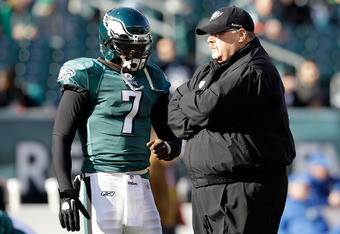 Rob Carr/Getty Images
The concept of need as it pertains to Ryan Tannehill does not fit the Eagles, Seahawks, Chiefs or Broncos in quite the same manner as the Dolphins and Browns. All of the aforementioned teams have starter-caliber quarterbacks on roster, some of whose contract ink has yet to dry.
The Eagles have Michael Vick locked into a long-term contract, signed in the offseason prior to the 2011 season. I have seen the idea floated that the Eagles are able to escape said contract after 2012, but this would be purely optional and would carry penalties.
The Chiefs not only have Matt Cassel locked into a long-term deal, they only just drafted quarterback Ricky Stanzi of Iowa in the third round of the 2011 NFL draft.
The Broncos just signed Peyton Manning to a five-year deal that would span more than the entire life of Ryan Tannehill's rookie contract. If everything goes right with Peyton, Ryan Tannehill will play out his entire rookie contract as a backup and then move on to another team. That would be an expensive hedge.
The Seattle Seahawks just won a bidding war with the Miami Dolphins over the right to start Matt Flynn. The Seahawks may say that he will compete with Tarvaris Jackson, but they do not expect much of a competition, and they paid Flynn like a starter.
The idea of fit is extremely important, because it guides what kind of grade you are likely to have on Ryan Tannehill. Your grade is going to guide whether a team that may not have a strong need could see picking Tannehill as being an opportunity. It will also guide whether one of the teams with true need decides that the grade is so high, the rewards so great, that it would be worth it to trade up for the player.
A lot of people will see this discussion of fit as suggesting that Ryan Tannehill does not fit every system. That is not the case. There is not a system out there that Ryan Tannehill does not stand a decent chance of being able to start in.
The fact of the matter is, Tannehill has weaknesses, just like any other draft prospect. The fit is all about whether a team values some unique quality in your game enough to forgive those weaknesses and grade you more highly than another team.
For example, Tannehill is an inexperienced quarterback, which is a negative. I have seen it put forward that having only 19 starts is irrelevant, but even as one who grades Tannehill highly, I do not find that to be the case. Cam Newton and Mark Sanchez were similarly inexperienced, but Sanchez is hardly a model for success, and Newton was a physical marvel—the likes of which I'd never seen at the position before.
The bottom line is, experience is good. I find it difficult to believe that the same people who disregard Tannehill's inexperience would, if the tables were turned and Tannehill had 47 starts, refrain from touting his 47 starts as a plus in his overall grade.
Yet, the experience Tannehill does have came in a read-progression West Coast offense run by former Packers head coach and Texans offensive coordinator Mike Sherman. There will be teams out there that run systems with philosophies and terminology so similar to Sherman's that they will be likely to look at the inexperience and disregard it. After all, a guy like Nick Foles may have 33 starts, but to a team that runs a similar West Coast offense to Mike Sherman's, they may consider Tannehill to be more "experienced" than Foles.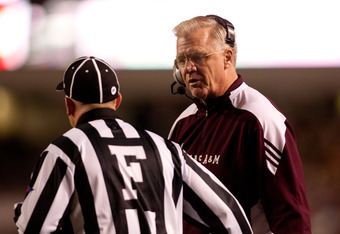 Darren Carroll/Getty Images
It is no coincidence that the teams letting their hand be publicly seen on Ryan Tannehill, all run West Coast offenses that share language and philosophy with the offense Tannehill learned at Texas A&M. In addition to the forgiveness of inexperience that comes with, Tannehill's mobility is generally viewed as a big plus in those schemes.
The odd teams out in this regard are the Chiefs and Broncos, leading one to believe that neither team may grade Tannehill as highly as the Dolphins, Browns, Eagles and Seahawks.
The last factor to look at is that of incentive. After all, the Dolphins, Browns, Eagles and Seahawks have all "outed" themselves as being interested in Ryan Tannehill. Why? Are their believable ulterior motives for any of them showing interest in Tannehill?
In the draft, there is always a potential ulterior motive to everything a team does. Teams like the Eagles, Seahawks, Dolphins and Browns will not want other teams to easily guess their targets in the first round, and could show interest in many different prospects in order to keep their true intentions unclear.
For instance, I noticed in the past that Pete Carroll let slip his interest in Brock Osweiler of Arizona State. On one occasion he referred to Osweiler as "a Joe Flacco-type," and on another occasion, caught remarking "...and don't forget the big kid, Osweiler. He's really interesting."
I have heard it put forth through people I trust that Carroll's interest in Osweiler is genuine. Though it would make very little sense to me for the Seattle Seahawks to spend the No. 12 overall pick on a quarterback while the ink on Matt Flynn's contract has yet to dry, I could absolutely see Carroll hedging his bets on Flynn by drafting and developing a player in the second or third rounds of the NFL draft.
However, Carroll is not the only team likely to be intrigued by Osweiler, and perhaps all the interest in Tannehill is a means of obscuring Carroll's interest in Brock. The incentive is there to continue showing interest in Tannehill even if the interest is not genuine.
However, what about the Dolphins? Is there any incentive to engage in subterfuge with Ryan Tannehill? I would submit that there truly is not. The Dolphins were very publicly (and some would say, embarrassingly) turned down by both Peyton Manning and Matt Flynn in the same offseason. They are perceived to need a young stud quarterback, and they just happen to have Mike Sherman as their offensive coordinator.
There is absolutely nothing the Dolphins could do to convince any other team in the National Football League that they are not interested in Ryan Tannehill. In fact, the more they ignore Tannehill and the more they protest, the more everyone will see them as engaging in subterfuge to mask their interest. If the team were truly not interested in Tannehill and wanted the rest of the league to believe they were, that would actually be the better road to take—ignoring Tannehill and giving the impression they doth protest too much.
Under the circumstances, if the team is actually interested in Tannehill, they have every incentive to go ahead and have their general manager and head coach get some exposure to him so that the team's offensive coordinator is not the only one who knows him.
The Eagles' and Browns' motives for openly showing interest in Tannehill are less clear.
Based on the nature of the Browns offense, the tendencies of Mike Holmgren and the simple fact that while attempting to show open interest in Ryan Tannehill the team had its head coach and general manager scouting the Alabama pro day, I believe the Browns are interested in Trent Richardson.
However, the Buccaneers are rumored to be interested in him as well, and the Minnesota Vikings at No. 3 overall have let it be known since their draft standing had been decided that they are open for business on a trade down. The Browns could be showing interest in Tannehill in order to prevent the Buccaneers from being motivated enough to move up to No. 3 overall and pre-empt them on Richardson.
All in all, I find the Miami Dolphins' interest in Ryan Tannehill to be the least conspicuous, and I find his chances of becoming a Miami Dolphin to be the highest on the basis of need, fit and incentive.