Denver Broncos: Potential First Round Trade Partners on Draft Day
March 30, 2012

Butch Dill/Getty Images
It is becoming more and more clear that the Denver Broncos are seriously in the hunt for a defensive tackle in the first round of the NFL Draft come April.
Having lost Brodrick Bunkley to the Saints and spending most of their early free agency time and resources on Peyton Manning (which was 100% appropriate to do), Denver will not find impact players left on the market at defensive tackle.
In order to make a true run at a championship, the missing links need to be added quickly. But above and beyond simply drafting a defensive tackle, they have to pick the right player who can make an immediate impact.
Draft experts are very vocal in touting the depth of defensive tackles in this draft, but the Denver Broncos can not afford to settle for "value" with the 25th pick in the draft. They have made it clear that they are on a shortened time frame to win "now" with Peyton Manning, and taking a "project player" who needs development is not in their plan.
The position of defensive tackle is an incredibly risky one to use a first-round pick on, as there are many more Gerard Warren stories than Vince Wilfork stories floating around the NFL. Still, Denver needs a significant upgrade at the position in order to help continue their defensive growth into a championship caliber squad.
One of the main drawbacks from last season's unexpected success was the fact that Denver continued to slide down the draft order with every win and will now have a tougher time finding a player who can step in and deliver the same kind of impact that last year's first round pick, Von Miller, was able to.
Nobody in the NFL has any sympathy for Denver, even though they clearly outplayed their roster and have significant needs in certain areas, but that doesn't mean that they won't be able to control their own destiny and put themselves in a position to ensure they draft the right player.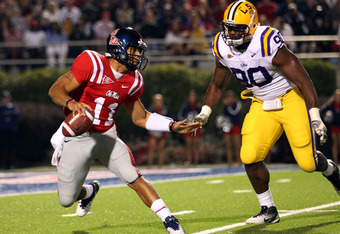 Joe Murphy/Getty Images
The three names at the defensive tackle position that are drawing the most buzz are Dontari Poe of Memphis, Michael Brockers of LSU and Fletcher Cox of Mississippi State.
Many mock drafts have Denver comfortably nabbing Cox at the 25th pick, and most will agree that they would be happy to score the impact player from the SEC without worry. However, some draft experts show Cox and company being gone by the 14th pick, which belongs to the Dallas Cowboys.
Denver cannot allow these three players to be off the board and "settle" for a different defensive tackle that is not currently on their radar as much as Cox, Brockers or Poe. This means that Denver needs to be prepared to deal.
Assuming that McShay's mock is accurate and Denver needs to get up to the 14th pick to convince Dallas to draft differently, they will need to part with their first-round choice (25), third-round choice (87) and the fourth-round choice (108) that they received from New York in the Tebow deal.
That sounds like a huge ransom, but according to the "Draft-Pick Value Chart" that is used to put a point value on picks for NFL executives to evaluate, it is still slightly under what Dallas already owns points-wise with the 14th pick.
Realistically, Denver might be willing to part with only their first-round and third-round choice for the deal. They are able to do so since they have acquired some great draft capital in the Tebow and Lloyd trades prior to Aprils draft. Losing the late third-round pick won't sting as bad because of the early fourth-round selection that Denver acquired from New York.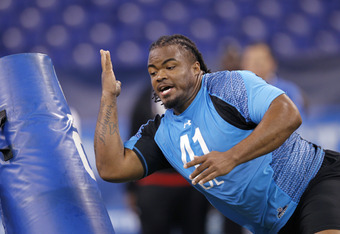 Joe Robbins/Getty Images
Therefore, the more likely landing zone for a Denver trade using those two picks is somewhere between picks No. 17 and 20, which belong to the following teams respectively:
If there is a run on defensive tackles, and the Broncos feel as though they need to move up in order to secure the services of either of the three players mentioned above, they must not hesitate to move.
The addition of Peyton Manning is a time-sensitive deal, and addressing the hole in the middle of the defense is the top priority. Hoarding draft capital is nice for teams that have a long rebuilding plan, but that is no longer the calling card of the Broncos.
This could all work out for Denver, and in a perfect world the Broncos can draft Cox 25th overall and continue to look for special players with the remainder of their picks in 2012.
However, John Elway had better be on high alert come draft day, and if any of these coveted players is in jeopardy of wearing a jersey that isn't orange and blue, a deal must be made.
The Broncos were wise to stock up on draft picks, but the plan has changed now, and if the Broncos need to mortgage part of their future to field the best team they can in 2012, they must be prepared to do so.