WrestleMania 28: Which Superstar Is Going Through the Spanish Announce Table?
March 30, 2012
¡Hola!
¡Buenas tardes!
¡Bienvenidos a Miami!
¡Es Wrestlemania!
Pardon my broken Spanish. However, that is most likely what will happen to the Spanish Announce Table in Miami. It will be broken. This is one aspect of WWE's pay-per-view programming that has been going on for a while and never ceases to get a fan reaction. Carlos Cabrera and Marcelo Rodriguez hosting uninvited guests at their table is a always a party to behold.
So, who is going through the aforementioned table this Sunday in Miami? I briefly look at the matches and the superstar that might end up tasting Spanish wood (or whatever they make the table out of).
Divas Match
Let's get this out of the way. Although I would like Beth Phoenix to put somebody through a table or have Kharma interfere and put Phoenix through it, it just will not happen.
Team Teddy vs. Team Johnny
There are quite a few possibilities here. With Khali and Mark Henry on the teams, it is likely the WWE will try to break the table with this one. I think Khali has a chance to be put through wood in a World's Strongest Slam! Although, I think the fan reaction would be greater if somehow John Laurinaitis went through the table.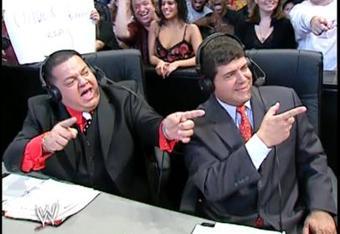 Kane vs. Randy Orton
One hears voices in his head, the other is a monster. Both have been put into a hastily booked match, which seems to lack rhyme or reason. If only for both superstars to remain relevant, a major spot is needed. Whether it comes via Chokeslam or RKO, this match needs someone to go through the table.
Intercontinental Title Match
Cody Rhodes, barring a flying elbow or a forklift, is unlikely to put The Big Show through a table. However, the big man putting the sneaky intercontinental champion through wood not only makes sense, but feels like poetic justice for all of Rhodes' taunts and insults over the weeks.
World Heavyweight Championship Match
Daniel Bryan is highly unlikely to put Sheamus through a table (barring outside interference). However, Bryan being broken in half on the Spanish announce table courtesy a Celtic Cross is a major possibility.
WWE Title Match
This match is mostly going to be a technical affair. Of course, with Chris Jericho's personal attacks on CM Punk's family, things could get heated. While there are multiple possibilities for both superstars, I think a Lionsault for Chris Jericho is the most beautiful way to break the announce table.
Rock vs. Cena
Rock Bottom or Attitude Adjustment? Whichever way it goes, it can be one of those WrestleMania moments that lives on in history. The crowd reaction alone makes this a highly promising prospect for the WWE to try. That there is also the possibility of an interference, makes the match more liable to have a back-breaking (or perhaps an awesome skull-crushing) moment on the table.
Hell in a Cell Match
I saved this for last, not only because it is the most likely match to break the table in, but also because such a spot in this match would be the most entertaining of all. Triple H, Undertaker and Shawn Michaels are all possible contenders for the spot of aggressor and victim. Whether the announce table breaks via the Pedigree, Tombstone, Chokesla, Last Ride, an Elbow Drop off the top of the cell or a Sweet Chin Music on the edge of the cell's roof, the spot has a chance to be the one that defines WrestleMania 28.
Author's Pick
Shawn Michaels delivers the Sweet Chin Music to Triple H on the edge of the cell roof and puts him through the Spanish announce table.
Please leave your thoughts and comments below.