San Francisco Giants: Second-Guessing Manager Bruce Bochy's Roster Decisions
April 3, 2012

Christian Petersen/Getty Images
Note: Many of you might have read my articles on the San Francisco 49ers page. I will be contributing to both the San Francisco Giants and Oakland Athletics pages throughout the 2012 MLB season. Be kind, this is my first article here. 
The San Francisco Giants have one of the deepest rosters in all of MLB. While this is going to help the team a great deal throughout the long regular season, it does create some major issues when it comes to roster decisions.
Bruce Bochy is one of the best evaluators of talent in the entire league. With that said, we need to question some of the moves that he has already made and other moves that appear imminent at this point. 
Barry Zito Making the Roster 
Among the most pressing issues for this team is what to do with Barry Zito. There comes a time when you just have to cut ties, no matter how much if affects your bottom line. While the Giants do owe the enigmatic starting pitcher $57 million over the next three seasons, he doesn't seem to be worth a roster spot at this point.
He was among one of the only regular players that had a negative WAR last season for the Giants. Accordingly, Zito had a WHIP of 1.42 last season, which ranked him dead last on the team.
Since coming over to San Francisco from across the bay following the 2006 season, Zito has racked up 18 more losses than wins while stealing a total of $80 million. Yes, that is about $2 million per win. Give me a break!
San Francisco might not have any other options because of the failing health of some of their starters. Ryan Vogelsong is currently on the DL with back spasms, but is due back during the first week of the regular season. He is the Giants' projected No. 4 starter heading into the season. 
Eric Surkamp comes to mind as a possible replacement. Fangraph projections have the former draft pick with an ERA between 3.85 and 4.75. The primary issue with this is that Surkamp is currently on the DL with an elbow strain. 
Despite the logistical issues that arise with the release of Zito, it just makes sense for the Giants to cut ties right now. They have players that are more worthy of a spot on the 25-man roster heading into the regular season. At some point it becomes evident that a $100 million experiment just isn't going to work. 
That appears to be the case with Zito, and he needs to be shown the door.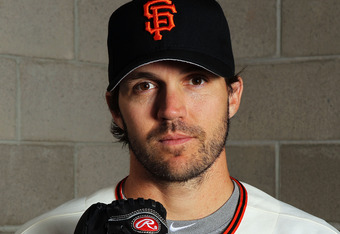 Jamie Squire/Getty Images
Why Eli Whiteside and Not Hector Sanchez?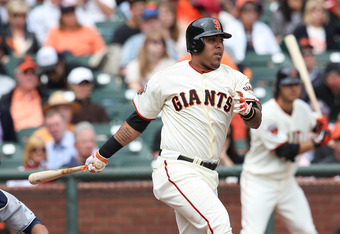 Tony Medina/Getty Images
If the San Francisco Giants are lacking one thing it is pop on offense, especially from the bench. Hector Sanchez provided that and more during the spring. I do understand that he is still young and might not call a great game behind the plate, but that has to be overlooked in order for the Giants to get the necessary power off the bench. 
Despite being a very good defensive catcher, Eli Whiteside has severe limitations on offense. He has just 10 homers in nearly 500 career at-bats. That isn't going to get it done. 
The Giants just need to bite the proverbial defensive bullet here and go with the guy that has more upside at the plate. Sanchez hit 16 homers in less than 400 at-bats in two minor league stops in 2011. He has that power. 
The Release of Mike Fontenot
While it is hard to conclude that the release of a utility infielder with a career .263 batting average is a mistake, you have to look at how valuable Fontenot was to the Giants last season. He played multiple positions along the infield and was one of their primary pinch-hitters. 
He is a valuable player who can come in on a whim and substitute for an injured starter. The Giants are lucky in this one aspect. They had multiple utility options moving into the season. Emmanuel Burriss provides more upside and Brandon Crawford is the starter at short. 
In the end, the decision was probably going to be between Fonenot and Ryan Theriot, both of whom the Giants were shopping in the first place. 
This move was made despite glowing reviews about the veteran infielder by manager Bruce Bochy last season.
"What a great job he's done," Bochy said. "He continues to find ways to get on base and drive the ball. I just liked the way he was swinging the bat, and I think it's fair to say throughout our lineup guys are not locked in."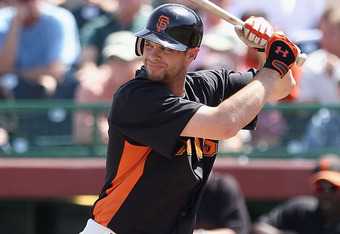 Christian Petersen/Getty Images
Keeping Both Brandon Belt and Brett Pill on the Roster? 
On the surface you would think that it would be a one or the other scenario in terms of who broke spring training with the Giants. That doesn't seem too incredibly sure right now following the release of Fontenot. 
San Francisco could make the decision to keep three catchers instead, but that seems highly unlikely at this point. At 27 and with just 53 plate appearances on his resume it seems that Pill doesn't possess the upside that Belt does. Why make the decision to take at-bats away from one of your younger up-and-coming hitters?
To me it would make more sense for the Giants to keep those three catchers, especially with Buster Posey returning from a gruesome injury. This would enable Belt to get more at-bats in both the outfield and at his more natural position of first base. 
The primary issue here is getting Belt the necessary at-bats for him to be able to get in groove at the major league level. He needs to get 500 to 600 plate appearances to show what he can do with the Giants. They consistently pushed him in and out of the lineup last season and just cannot do that this year. 
If Brett Pill makes the roster it will take more at-bats away from one of the Giants best young hitters. 

Bullpen Depth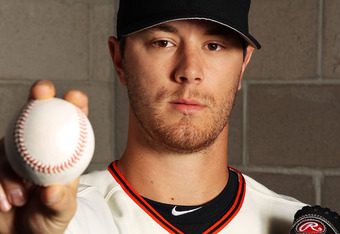 Jamie Squire/Getty Images
This is an area of strength for the Giants. Brian Wilson seems to be fully recovered from offseason surgery, and San Francisco has done a great job building both depth and talent along this unit. 
Wilson, Sergio Romo, Javier Lopez, Santiaga Casilla, Clay Hensley and Jeremy Affeldt are all locks to make the club. This leaves just one spot for the following: Guillermo Mota, Steve Edlefsen or Dan Otero, both of whom performed great this spring. 
Edlefsen: 12 games, 10.2 innings pitched, 1.82 ERA, 4 SO, 4 BB and a 0.94 WHIP 
Otero: 10 games, 11 innings pitched, 0.82 ERA, 8 SO, 0 BB and a 0.82 WHIP
It doesn't appear that Bochy is prepared to go with eight relievers heading into the regular season. This could be some cause for alarm considering the fact that Zito, assuming he makes the team, cannot be counted on to game deep into his starts. 
In Conclusion 
There isn't a lot to be upset about as the Giants prepare for their final cuts heading into the regular season. They seem to be set in the bullpen and at all nine field positions outside of second base, at least until Freddie Sanchez is able to return. 
My primary issue here is what to do with Zito and how to get Belt more at-bats at the major league level. The former's inability to go deep into a game also causes some major bullpen overuse issues moving forward. Keeping Pill on the roster will also take at-bats away from the aforementioned Belt. 
If I were Bochy I would make the decision to cut ties with Zito and give Belt an opportunity to get consistent at-bats, no matter where he starts on the field.