Final Four 2012 Predictions: Players Who Will Continue to Struggle
March 30, 2012

Jared Wickerham/Getty Images
It's getting down to that time in the NCAA tournament—when struggling players need to start stepping up for their respective teams.
Several players have taken nosedives heading into the Final Four, but have been lucky enough for their teammates to bail them out.
Unfortunately, for some of these players, there's no light at the end of the tunnel in sight.
Here are three players who will continue to have miserable performances.
3. William Buford, G, Ohio State
William Buford was a huge part of Ohio State's run last season, shooting 46 percent from the floor and 44 percent from downtown.
But things have taken a turn for the worse in Buford's senior season. He's shooting 41 percent from the field and 35 percent from three-point range this season. He's had a forgettable NCAA tournament.
In his last three games, Buford has connected on just eight of his 33 shot attempts. He went 3-of-12 against Syracuse in the Elite Eight.
Buford is a headstrong player with experience, so I give him more of a chance to bounce back than the other guys, but the fact of the matter is, he really hasn't shot well all season long.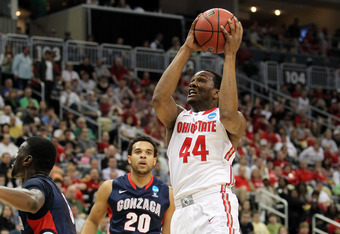 Gregory Shamus/Getty Images
2. Kyle Kuric, G, Louisville
The Louisville Cardinals are not a high-scoring team.
That's why when their starting shooting guard struggles, it's not a good sign, especially when you are set to go up against an opponent like Kentucky.
Kuric is shooting 42 percent from the field and 32 percent from three-point range this season. He's helped on the defensive end, but averaging 9.5 points while shooting 13-of-37 simply isn't getting it done in the NCAA tournament.
Kuric has the ability to shoot the ball well, but he needs to be on top of his game against athletic an Kentucky team, and he isn't even close.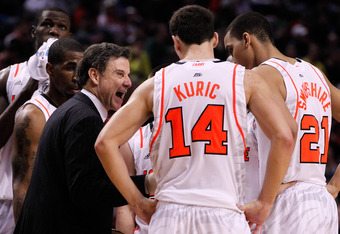 Jonathan Ferrey/Getty Images
1. Elijah Johnson, G, Kansas
Elijah Johnson has struggled in only one game this tournament, but that game happened to be his last against North Carolina. He shot 3-of-11 from the floor.
But this has more to do with an unfavorable matchup than his ability to bounce back.
Ironically, William Buford could be the man who poses problems for Johnson. He has considerable size on the junior (he's listed two inches taller and 25 pounds heavier). Plus, Ohio State's defense as a whole tends to make life difficult on opponents, particularly their backcourts.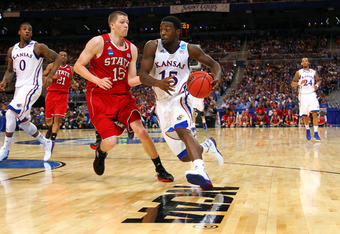 Dilip Vishwanat/Getty Images
Follow me on Twitter. We can talk about the NCAA tournament together.