Fantasy Baseball 2012: BABIP Wonders; 5 Pitchers That Could Regress
March 30, 2012

J. Meric/Getty Images
We took a look at the batters that could regress or improve based on last year's BABIP (batting average on balls in play). Now we'll look at some pitchers who could be due for regression. 
Jeremy Hellickson, Tampa Bay Rays 
Hellickson went 13-10 with a stellar 2.95 ERA. He is a quality pitcher, but you can't help but be a little worried that he posted a league-low (among starters) .223 BABIP last year. Especially pitching in the potent AL East division. 
Ricky Romero, Toronto Blue Jays 
Similar BABIP success (.242) and in the same division. His mark has steadily improved from .333 as a rookie to .289 as a sophomore to last year's mark. Similarly, his ERA has dipped from 4.30 to 3.73 to 2.92 last year.
He's good, but I'm afraid he's not going to post another sub-3.00 ERA this year.
Josh Beckett, Boston Red Sox 
He had his lowest BABIP (.245) of his career, which in turn led to the lowest ERA (2.89).
Given his injury history, I wouldn't be surprised to see those numbers increase more towards his career .290 and 3.84 marks.
Josh Tomlin, Cleveland Indians 
Finally, a non-AL East pitcher to crack the list. He has a solid track record in the minors of low BABIP, but his .253 BABIP mark (along with his 4.25 ERA) may be hard to duplicate.
His ERA jumped from 2.74 through May to 5.24 for the balance of the year. His BABIP also climbed in the second half.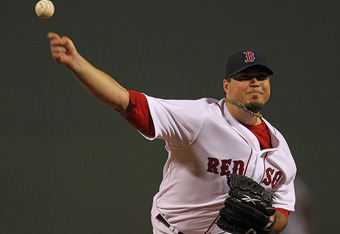 Jim Rogash/Getty Images
Michael Pineda, New York Yankees 
Not only does he have the move from Safeco and the AL West to Yankee Stadium and the AL East working against him, but he is a BABIP regression risk as well. Other than A-plus ball, he has never had a mark as low as last year's .258.
His numbers were much worse in the second half, especially his ERA, which went from 3.03 before the break to 5.12 following it.
Also check out: