Notre Dame Football: Ten Best Quarterbacks in School History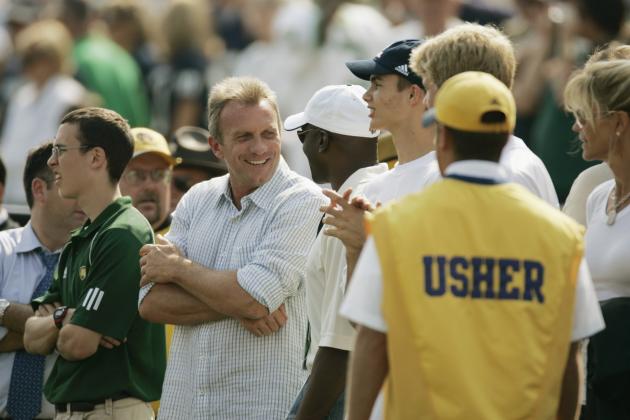 Gregory Shamus/Getty Images

With the breadth of history and tradition that Notre Dame has, putting together a top 10 list of the best quarterbacks to grace the field for the Fighting Irish is no easy task.
Comparing players across decades isn't a walk in the park either, and worst of all, a number of Irish legends will be left off (including two members of the College Football Hall of Fame and quarterbacks of National Championship teams—sorry fellas).
However, unlike some universities, there is no shortage of greats at the quarterback position (or at any position for that matter).
Some of those players went on to have illustrious careers in the NFL, while others' success in football was confined solely to their college years.
Who makes the cut for the top quarterbacks in Notre Dame history (in no particular order)?
Begin Slideshow

»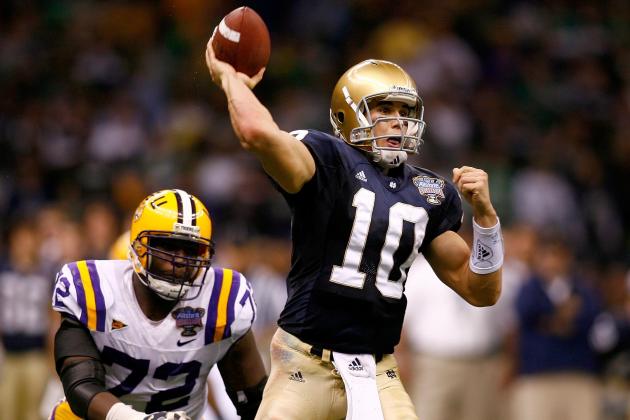 Chris Graythen/Getty Images

The most recent player to make the list, and the quarterback with the best statistics by far of the 10, is Brady Quinn.
Quinn took over the starting job at Notre Dame during his freshman season after a struggling Carlyle Holiday was pulled by then head coach, Tyrone Willingham.
Quinn broke almost every record for a quarterback during his time at Notre Dame, and while they are too long to list here (but you can see them on his Notre Dame profile), among them were the most passing yards and touchdowns in a single-season and career
He finished his career in South Bend throwing for 95 touchdowns and 39 interceptions with 11,762 passing yards. He won the Sammy Baugh Trophy (2005), Johnny Unitas Golden Arm Award (2006), Maxwell Award (2006), Cingular All-America Player of the Year (2006) and
MSNBC Most Valuable Player (2006). He finished fourth in 2005 and third in 2006 for the Heisman Trophy.
Quinn led the Fighting Irish to two straight BCS bowls in 2006 and 2007, but the team lost both.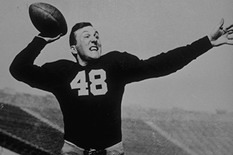 www.collegefootball.org
Under head coach Frank Leahy, Angelo Bertelli became a star at Notre Dame (the switch to the T-formation offense moved Bertelli from single-wing tailback to QB in 1942).
In less than three full seasons, Bertelli threw for 2,578 yards and 28 touchdowns. He helped the Fighting Irish to a National Championship in 1943 with a 9-1-0 record too.
Bertelli was a two-time All-American, and even though he only played six games in 1943 because he went to serve in World War II, the "Springfield Rifle" still won the most prestigious honor in all of college football—the Heisman Trophy.
He is also a member of the College Football Hall of Fame and was inducted in 1972.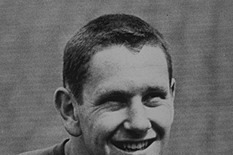 www.collegefootball.org
Bob Williams is yet another two-time All-American Notre Dame quarterback who earned the distinction of being in the College Football Hall of Fame (1988) because of his play on the field.
In 1949 and 1950 alone, Williams threw for 2,409 yards and 25 touchdowns.
He went 10-0 in 1949 under Frank Leahy. He brought the Fighting Irish their seventh championship.
Williams finished fifth in the Heisman Trophy voting that year, and his teammate, Leon Hart, won the award.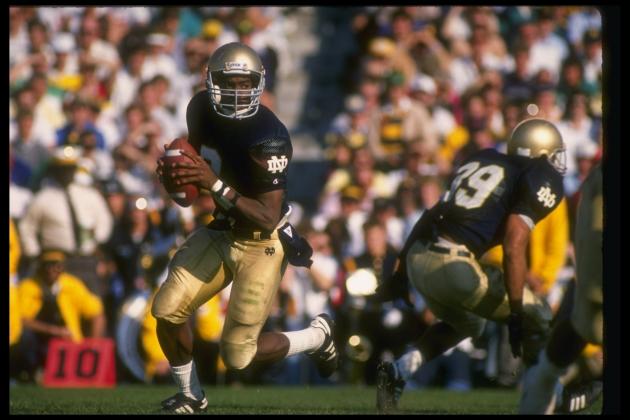 Jonathan Daniel/Getty Images

Tony Rice was the ideal player for Lou Holtz's run-first, option offense. As a quarterback, Rice ran for 2,046 yards and 23 touchdowns on 412 attempts (that is a 5.0 yards per carry average).
However, Rice could let the ball sail as well. He finished his career at Notre Dame with 3,273 yards, 21 interceptions and 13 touchdowns.
In 1989, Rice received the Johnny Unitas Golden Arm Award, was named an All-American and placed fifth in the Heisman Trophy voting.
He also led Notre Dame to its last National Championship that year with a win over West Virginia in the Fiesta Bowl.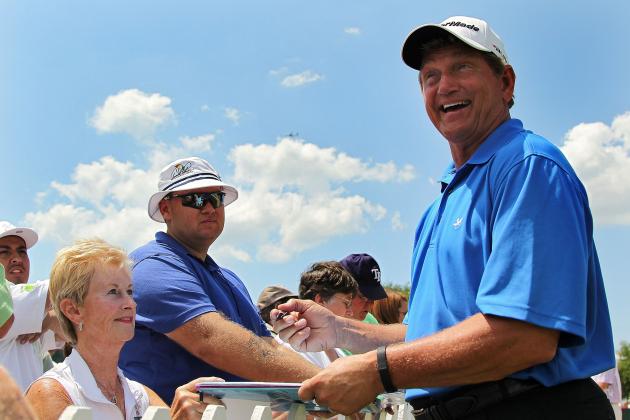 Mike Ehrmann/Getty Images

Was anyone surprised that Joe Theismann became one of the greatest quarterbacks in Notre Dame's storied history? Yes. The coaching staff was.
Theismann's College of Football Hall of Fame profile on und.com states, "When first seeing 5-10, 147 pound Joe Theismann, one of Notre Dame's assistant coaches remarked that he was looking at the team's new water boy rather than a quarterback."
Well, just one year later, Theismann got a chance to play. He finished his career with 4,411 passing yards, 31 touchdowns and 35 interceptions (and 1,021 rushing yards).
In 1970, he was second in the Heisman voting, an All-American (academic and football), and eventually Theismann was inducted in the College Football Hall of Fame (2003).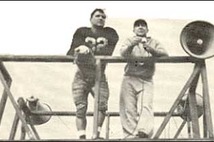 www.irishlegends.com
When Angelo Bertelli left the team in 1943 to fight in World War II, John Lujack, Jr., took over as quarterback.
In his first year, Lujack finished 3-1 and helped the Fighting Irish win their fourth National Championship.
The next year, he served in the Navy and didn't return to play at Notre Dame until 1946.
Upon his return, Lujack won All-American honors in 1946 and 1947 while winning National Champions in both years. He also won the Heisman Trophy in his last year with the team beating out second place finisher, Michigan running back Bob Chappuis.
Lujack ended his career at Notre Dame passing for 2,094 yards. He threw 24 interceptions and 18 touchdowns while running in four more, which was good enough to get Lujack inducted into the College Football Hall of Fame (1960).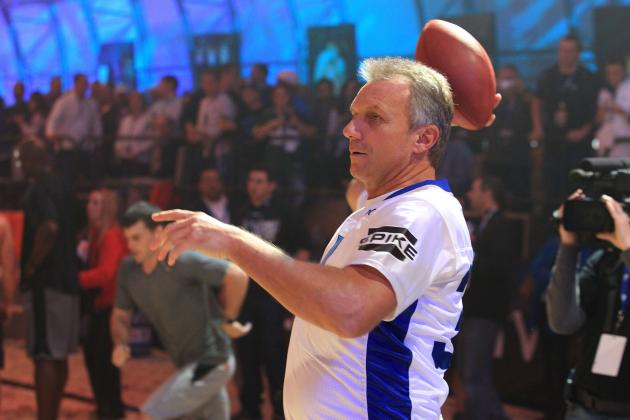 Christopher Polk/Getty Images

Joe Montana may not have received the accolades that other Notre Dame quarterbacks did during their careers, but "Joe Cool" was one smooth sailor.
In his first season with the team, Montana played in only freshmen team games (as was policy for first year players), but in his sophomore year, Montana pulled off comeback victories in the fourth quarter against North Carolina and Air Force (he didn't start either game).
Although Montana proved his wherewithal, he was injured before the season in 1976 and was forced to redshirt.
In 1977, after falling on the depth chart and not playing in the team's first two games, Montana was put in against Purdue and had another impressive comeback victory (because both quarterbacks ahead of him got injured).
Montana went on to lead the team to a National Championship that year after beating Texas in the Cotton Bowl.
Although Montana played well, the team finished 9-3 in 1978 but won in the Cotton Bowl again versus Houston.
He had 4,121 passing yards, 25 touchdowns and 25 interceptions in less than two full years as a starter, and was known for his comeback or near comeback victories.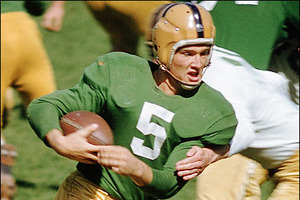 www.thesportsbank.net
Described in his und.com profile as "An outstanding all-around athlete who played quarterback, left halfback, fullback and safety," Paul Hornung was one of the greatest football players to ever play at Notre Dame period.
However, while Hornung did have great statistical success, the team as a whole didn't fare as well. As a junior, Hornung led the team to a respectable 8-2 record (and finished fifth in the Heisman voting), but his senior season the team was a miserable 2-8.
He finished his career throwing for 1,696 passing yards and 12 touchdowns while rushing for 1,051 yards.
In 1956, Hornung became the only player to win the Heisman Trophy on a losing team (which still stands today). He was also named an All-American and given the Chic Harley Award. He was let into the College Football Hall of Fame in 1985.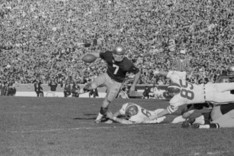 www.heismantrophywinner.com
John Huarte played for just one season as the Fighting Irish starter at quarterback.
His sophomore year he played for just five minutes and as a junior he played for just 45 minutes, according to www.collegefootball.org.
In 1964, Huarte's senior year, he led the team to a 9-0-1 record, won the Heisman Trophy and All-American honors. Huarte nearly led Notre Dame to another National Championship, but the team ended the season ranked third by the Associated Press.
In his Heisman winning season, Huarte threw for 2,062 yards, 16 touchdown and 11 interceptions with a 10.1 yard per pass average.
He was named to the College Football Hall of Fame in 2005.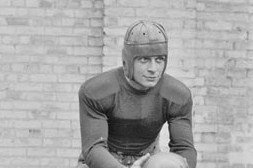 www.fanbase.com
At 5'7" and 175 pounds, two-time All-American (1929, 1930) Frank Carideo was unbeaten during his stint as starting quarterback at Notre Dame.
Under the genius of Knute Rockne, Cariedo went 19-0 in 1929 and 1930 winning National Championships in both seasons.
According to the National Italian American Sports Hall of Fame (NIASHF), for which Cariedo is a member, Rockne called him the "best quarterback he ever saw." The NIASHF also says that Cariedo was "...a dangerous runner, strong passer and intelligent signal caller" as well as a talented punter and defensive back.
He was inducted into the College Football Hall of Fame in 1954.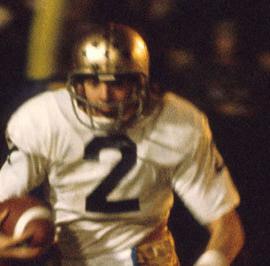 www.allstatesugarbowl.org
Tom Clements was extremely successful as a starting quarterback for the Fighting Irish.
Near the end of the Ara Parseghian era, Clements went 8-4 as a starter in his first season, but the team was defeated soundly by Nebraska 40-6 in the Orange Bowl (Notre Dame finished ranked 14th by the Associated Press).
In 1973, the Irish went undefeated and Clements helped Parseghian win his second National Championship with a Sugar Bowl victory over top ranked Alabama
Notre Dame didn't repeat in 1974, Parseghian's and Clement's last season with the team. The Fighting Irish went 10-2 and beat Alabama in the Orange Bowl to finish ranked sixth by the Associated Press.
Clements threw for 3,954 passing yards, 24 touchdowns and 29 interceptions during his time at Notre Dame. He had 12 rushing touchdowns over his career as well.
In 1974, Clements was honored as an All-American and finished fourth in the Heisman voting.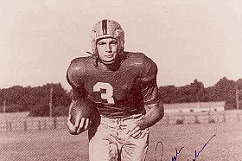 www.bluegraysky.com
Guglielmi finished his career throwing for 3,117 yards, 18 touchdowns and 24 interceptions.
In 1954, after throwing for 1,612 yards, six touchdowns and seven interceptions, Guglielmi was given All-American honors and finished fourth in Heisman voting.
He was inducted into the College Football Hall of Fame in 2001.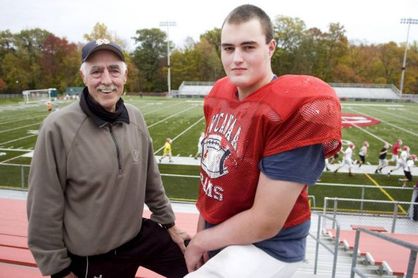 www.stamfordadvocate.com
As a quarterback who started for three years, Terry Hanratty put up some impressive numbers.
Hanratty finished his career with 4,152 passing yards, 27 touchdowns and 32 interceptions.
He was a two-time All-American in 1966 and 1968, and he won the Sammy Bough Trophy in 1967. He helped lead the Irish to a National Championship in 1966, his first year as a starter.
In each year Hanratty played, he was a candidate for the Heisman Trophy. He finished sixth, ninth and third in Heisman voting, respectively (1966,1967 and 1968). An injury to Hanratty late in the 1968 season opened the door for Joe Theismann to come in and play.
Hanratty's son, Conor, currently is on the roster as an offensive lineman for the Fighting Irish.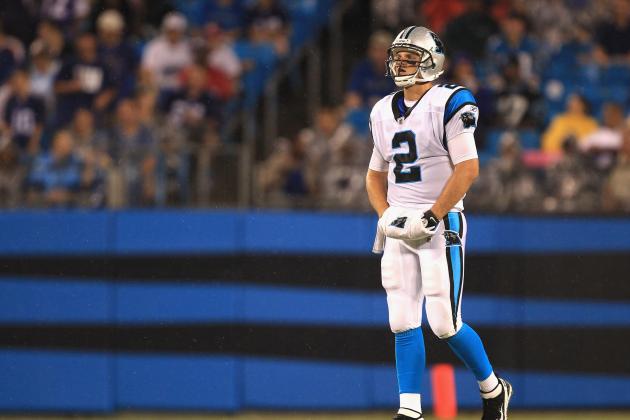 Streeter Lecka/Getty Images
Jimmy Clausen
Gus Dorais
Harry Stuhldreher
Jimmy Clausen
Frank Tripucka
Jarious Jackson
Steve Beuerlein
Rick Mirer
Ron Powlus