NBA: Rating the Odds the Cleveland Cavaliers Make the Playoffs
March 30, 2012

Kevin C. Cox/Getty Images
Not long ago, in an arena not far away from Northeast Ohioans, the local basketball team was actually playing with some force.
Whispers of playoff aspirations were in the air as the Cleveland Cavaliers sat in the ninth position in the Eastern Conference.  The young Cavs were seemingly ahead of their rebuilding schedule.
The week of March 15th presented a plethora of changes to NBA rosters; however, including two that would greatly impact the Cavaliers' chances of reaching the postseason.
First, the division rival Milwaukee Bucks gained star power in Monta Ellis and Ekpe Udoh from the Golden State Warriors for a hobbled Andrew Bogut and an overpriced Stephen Jackson.
While the Bucks seemed to be shooting for a short term gain, the Cavaliers chose the path of future success by trading Ramon Sessions to the Los Angeles Lakers for their 2012 first round pick.
Since then, the two teams have been going in opposite directions, as could be expected.  While the New York Knicks currently own the eighth seed, the Bucks, Cavs and Detroit Pistons all have a chance of snatching the last spot. 
The bottom of the East playoff picture looks as follows:
| | | | | | |
| --- | --- | --- | --- | --- | --- |
| Seed | Team | Wins | Losses | Games Back | Last 10 Games |
| 8 | New York Knicks | 26 | 25 | 14.5 | 8-2 |
| 9 | Milwaukee Bucks | 23 | 27 | 17 | 7-3 |
| 10 | Detroit Pistons | 18 | 32 | 22 | 4-6 |
| 11 | Cleveland Cavaliers | 17 | 31 | 22 | 2-8 |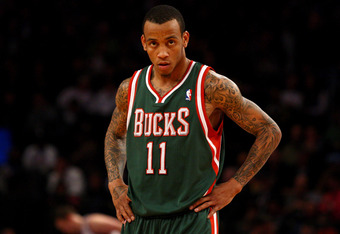 Chris Chambers/Getty Images
As it stands, I think it would be tough for anyone to knock off the Knicks, as they've been playing inspired basketball since interim coach Mike Woodson took over.
Milwaukee has been playing well lately with Ellis, but won't likely pass New York.
The Pistons are still giving Ben Wallace regular minutes, so they obviously aren't going anywhere.
As for the Cavs, the trade of Ramon Sessions and injuries to Anderson Varejao and Daniel Gibson have likely doomed their playoff chances for 2012. 
Only playing 2-8 basketball over their last 10 games isn't exactly inspiring, and speaks volumes to the value Sessions added to this team.
With 18 games left in the season and being 7.5 games out of the playoffs, the Cavaliers statistically have a chance of making the playoffs, although I'd set it extremely low.
Odds the Cavaliers still make the playoffs? 25/1.