Notre Dame Spring Football: The Quarterback Competition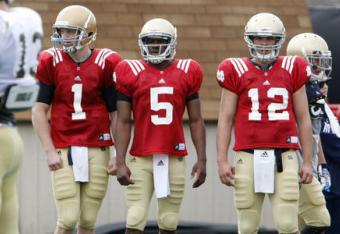 Another year, another four-way race for the starting quarterback position.
A year ago, Dayne Crist, Tommy Rees, Andrew Hendrix and Everett Golson battled through spring and late into the summer before Crist emerged as the winner.
As all Irish fans will remember (and lament), head coach Brian Kelly stuck with his decision for exactly one half before reverting to Rees, who limped through an up-and-down season to keep the position officially open again in 2012.
Crist has rejoined former boss Charlie Weis in Kansas and a new contestant has entered our game, but the basics remain the same.
No one really has any idea who will take the first snap this September in Dublin, Ireland when the Irish kick off the 2012 campaign against Navy.
What is certain is that the coaching staff is again in no hurry.
Newcomer Gunner Kiel, who enrolled early following a tumultuous recruiting process, is probably farthest behind, but only because he has been in the system for exactly five days.
Wearing an old model helmet (pre-glitter gold) with only a black "x" in the space usually emblazoned with a bold-faced "IRISH," Kiel is being coached as if he has never seen a football before, let alone throwing them at the highest level.
He is working on tightening up mechanics, speeding up his movements, and even skills as basic as receiving a snap from center.
Admittedly, the early-enrolled freshman is swimming.
What is notable about Kiel is that he is of prototypical size, and has a very strong arm, making necessary throws with ease. When the mental side of the game aligns with the physical tools that Kiel possesses, his rise up the depth chart could be meteoric.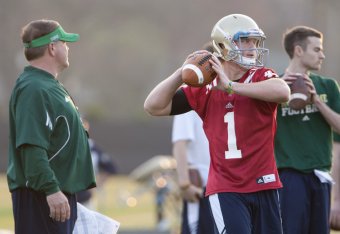 Everybody's favorite whipping boy, Tommy Rees, looks exactly like he did all of last year: Proficient, fluid, and average in every way.
It's not a knock on the kid. He's not bad at anything, he's also just not great at anything either.
He selects the right receivers more often than not, and gets the ball there most of the time.
Mechanically, there isn't really anything to tweak.
While no one will ever call him fleet-footed, Rees has worked on pocket mobility, and has even escaped the pocket, scampering for a 40-yard gain in spring practice.
Still, in comparison with the other three contenders, Rees is the least mobile and has the weakest arm. What he has in his favor is nearly all of the experience.
The only other quarterback enrolled at Notre Dame who has ever taken a live collegiate snap is junior-to-be Andrew Hendrix.
Hendrix came on strong in his first appearance, looking sharp on a limited selection of short simple passing plays and explosive with his legs, outrunning every member of the Air Force defense before succumbing to the Notre Dame Stadium turf, falling one yard short of an amazing touchdown.
But as quickly as hope for Hendrix's future rose, the bubble burst in a terrible performance in limited action against Florida State in the Champs Sports Bowl.
However, Hendrix has never had the chance to live as the starter. He has never had a full week of preparation with the first team. He's never had an offseason to prepare in practice with the confidence of the coach and the team behind him.
There is no doubt of Hendrix's abilities. Of the four Irish quarterbacks, he is the fastest, probably the strongest and has an absolute monster of an arm.
There is concern, as there has to be with any Notre Dame quarterback, with Hendrix.
In two years in the program, he had not learned enough of the playbook to be "unleashed". He was given only a limited set of plays and was never trusted with the "keys to the car".
The final contestant in the 2012 quarterback derby is sophomore Everett Golson.
Golson looks to be the perfect quarterback for Brian Kelly's uptempo offense. Strong arm. Lightning quick, nearly perfect mechanics and blitzkrieg-fast release. On paper he is perfect.
Except that he's never played.
Golson was a fixture next to Kelly last season, on the sideline, No. 5 often shaking his head as Rees slowly walked over after giving the ball away. Golson never set foot on the field.
He earned Scout Team Player of the Year honors, but that was running the other team's offense.
The quarterback that if all were equal would be the odds on favorite to start is also the biggest wild card.
It is unsure exactly what he will bring, what his ceiling would be, and how quickly he could adapt.
The most obvious fact is that there will be no clear-cut leader by the spring game.
Rees has the obvious leg up, because of his experience and his great performance in touch football..
Hendrix and Golson are the guys that everyone (presumably Kelly included) would rather see pull away and battle it out for the starting job in August.
Everyone except Kiel, who has all the talent to surpass everyone else and put a death grip on the job for the next four years.
The problem for Kiel is that he is so new he doesn't even have the right helmet.
This article is
What is the duplicate article?
Why is this article offensive?
Where is this article plagiarized from?
Why is this article poorly edited?

Notre Dame Football: Like this team?