WWE WrestleMania 28: Lineup and Preview for Sunday's Event
March 29, 2012

Gallo Images/Getty Images
After quite an exciting month of basketball, the NCAA tournament has boiled down to just four teams—Kentucky, Louisville, Kansas and Ohio State. The four teams are set to play on Saturday, with Louisville and Kentucky facing off at 6 pm, followed by Kansas-Ohio State at 9 pm. 
But, let's be real here—the games played on Saturday are only a teaser for what's in store for the nation the very next day—WresteMania.
The WWE has chosen Sun Life Stadium in Miami, Florida to be the host of the 28th annual WresteMania—which only means one thing: if you don't live in Miami, you better order the show on Pay-Per-View come game time. And if you don't have access to Pay-Per-View, I really don't know what to say other than the fact that your life will never truly be complete. 
But all joking aside, eight excellent matchups are set to take place on Sunday night. 
1) John Cena (6-2) vs. Dwayne "The Rock" Johnson (4-4) 
The drama and history behind these two particular fighters creates an even greater amount of suspense for the matchup. Trash talk has really been the only means of communication between the two as of late, and this fight serves as an opportunity for the world to see who can actually walk the walk and not just talk the talk. 
2) The Undertaker (19-0) vs. Triple H (7-8)
This match, called "Hell in a Cell," is a unique round in which the only way to win is by a pin or through submission. Triple H, although inferior in terms of his record at previous WrestleManias, has broke the Undertaker's winning streak twice before, so that is something to keep in mind.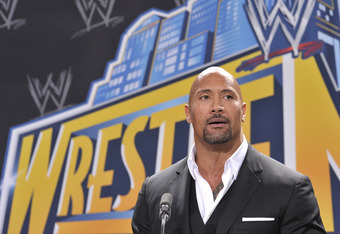 Michael N. Todaro/Getty Images
3) CM Punk (2-3) vs. Chris Jericho (4-6)
In this fight for the WWE championship, CM Punk returns after a short period of absence to avenge Jericho. Jericho, coming off a 10-man battle royal win, has deservedly earned his shot for the championship.
4) Daniel Bryan (0-0) vs. Sheamus (0-1)
With neither wrestler with a W, it will be interesting to see who brings home the Heavyweight Championship this Sunday.
5) Randy Orton (4-4) vs Kane (5-8)
After an uncalled-for attack earlier this year by Kane, Orton seeks revenge in this classic showdown.
6) Cody Rhodes (1-1) vs. Big Show (3-8)
Big Show, who has been struggling for as long as we can remember in WrestleMania, looks to end his streak of terrible-ness Sunday against Rhodes. Rhodes previously pinned Big Show in the Elimination Chamber, which cost Big Show the event. This matchup will be an opportunity for Big Show to express his revenge.
7) Team Teddy: [Santino Marella (2-0), R-Truth (0-1), Kofi Kingston (1-2), Zack Ryder (0-0), The Great Khali (1-0), & Booker T (1-4)] vs. 
Team Johnny: [David Otunga (0-0), Mark Henry (0-3), Drew McIntyre (0-1), Dolph Ziggler (0-2),Jack Swagger (1-0), & The Miz (2-0)]
It's a twelve man tag team match. Enough said.
8) Maria Menounos (0-0) & Kelly Kelly (0-2) vs. Beth Phoenix (1-2) & Eve (0-2)
This is Kelly Kelly's third time in this tournament and her experience should guide her team to victory. But, you can never be to sure.
Along with these fantastic matchups Sunday night, Flo Rida and Machine Gun Kelly will be performing live. 
So.. better go get that Pay-Per-View.