Thunder vs. Lakers: Breaking Down Every Matchup for Tonight's Game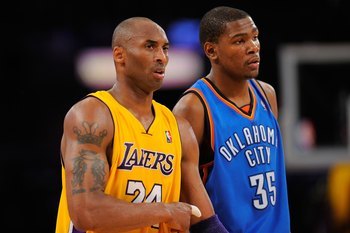 Whenever the Los Angeles Lakers and Oklahoma City Thunder match up against each other, its bound to be a battle of epic proportions.
Certainly, a large reason for that is because of Kevin Durant and Kobe Bryant, two of the league's most proficient scorers.
However, some faces have changed since the Thunder last bested the Lakers, 100-85, on Feb. 23.
Whether or not the additions the Lakers made at trade deadline to get younger or the Thunder's addition of former Laker point guard Derek Fisher will have any influence on the outcome of this matchup is anyone's guess.
With both teams some of their glaring needs, it's possible that this is the most exciting matchup these two teams will have to date.
Begin Slideshow

»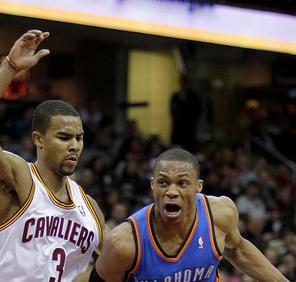 The acquisition of Ramon Sessions addressed the Lakers need to get younger, as well as the need to pair a potent point guard with Kobe Bryant's.
Unfortunately for the Lakers, in this particular matchup, the talented Sessions will be outmatched exponentially by the explosively-athletic Westbrook.
Sessions will have his hands full, as he is inferior to Westbrook on both ends of the floor, and it is highly probable that the Thunder's young high-flying guard will annihilate Sessions tonight.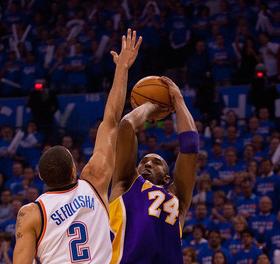 Thabo Sefolosha is essentially nothing more than a defensive specialist for the Thunder, and he will certainly frustrate Bryant's offensive game, but not enough to keep him under his season's average of 28.3 points per game.
Luckily for the Thunder, though, what Sefolosha lacks in offensive firepower, James Harden will make up for admirably as the super sub for the Thunder.
Harden will likely make the bigger impact since he serves as a defensive stalwart and can score in bunches coming off the bench.
Never allowing injuries of any kind to slow him down on either end of the floor, Bryant seems at times like a bionic man. He will have to have a big game against the Thunder in order to give the Purple and Gold a shot a winning this game.
Especially because of how young and agile the Thunder are in comparison to the aging Lakers squad.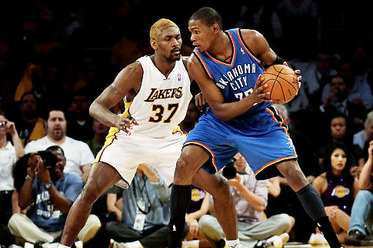 Arguably the best player in the NBA, Kevin Durant is likely to throttle the newly named Metta World Peace.
Back in his days as Ron Ron, World Peace would've likely given Durant a healthy dose of aggravation on the defensive end, since that is certainly where he is most effective.
Like many other Lakers, though, Artest is aging, and Durant is in the prime of his career.
Durant is likely to knock down enough shots from the line and from all over the floor to earn his season average of 27.8 PPG, plus much more.
While it's highly unlikely that World Peace will be able to do so, keeping Durant quiet is always a big key to beating the Oklahoma City Thunder.
However, when realizing that Durant has scored 32, 40, 28 and 25 points in each of the last four games respectively, it's hard to believe that an aging World Peace will be able to stop him.
Especially since the 28 points Durant scored was against LeBron James. If James, who is one of the NBA's top defenders couldn't stop him, don't expect World Peace to do so either.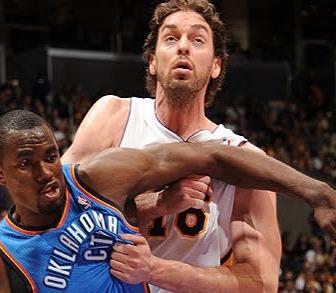 This matchup contains the X-Factor for the Oklahoma City Thunder: Serge Ibaka.
While Ibaka is well-known for swatting shots at a high clip, if he can score in the teens and pull down double-digit rebounds against Pau Gasol, the Thunder may run away with it.
However, on the same note for the Lakers, if Gasol is able to make his presence felt and not allow Ibaka to fluster his offensive game, it could certainly help the Lakers' chances of getting a victory against the young and nimble Thunder.
Look for Gasol to utilize his footwork and finesse to keep Ibaka at bay. Unfortunately, even if Gasol is able to contain him, the Thunder have so many other weapons that it's hard to see them coming out on top with a victory.
Andrew Bynum is the second-best center in the NBA outside of Dwight Howard and must show that against the Thunder tonight if the Lakers have any chance of beating the younger Thunder.
Bynum and Perkins have went toe-to-toe before when Perkins was on the Celtics, but Bynum was not healthy enough to make his presence truly felt.
This time around, however, Bynum should be able to bury Perkins in the post and obliterate him statistically in points and rebounds.
Although the addition of Ramon Sessions and Jordan Hill certainly helped the Lakers to get younger, it will not be enough to overpower the precocious Durant and his explosive Thunder crew.
The matchup will be enjoyable for any basketball enthusiast, but the Thunder are likely to walk away with the victory when all is said and done.