Toronto Maple Leafs: Assessing What Is to Be Done in the Offseason
March 29, 2012

Bruce Bennett/Getty Images
The Toronto Maple Leafs' season is over. With only a handful of games remaining and no immediate playoff hope, Brian Burke now must assess what can be done in the offseason to help the Leafs not limp through next year.
Some Leaf fans are calling for mass firings and trades, forgetting that that was the John Ferguson Jr. way. If the team is looked at critically, they do have some shining points. 
This was a team that at one point this season was at the top of the league, however briefly. Proving that Burke does not have to sell the farm or the future to make the changes needed to turn Toronto's fortunes around.
Randy Carlyle was brought in after the Maple Leafs tanked in February effectively taking themselves out of a postseason run. Dave Farrish was brought in almost immediately after Carlyle was named the new head coach. Though it has not been enough for the Leafs to go on a winning streak, they have improved in some areas.
Glimmers of these improvements have been seen in March, but the Leafs confidence issues would overtake these small improvements. 
With training camp and the preseason still to come before next year's drive, the new play style should be ingrained into the Leafs by then. 
One of the biggest issues this season that will need to be addressed is finding a stable and true No. 1 goalie. James Reimer isn't it. After his injury earlier this season, the young Reimer that returned was not the same one who nearly helped the Leafs to the playoffs the season before.
That is not to say he is a garbage goalie and needs to be traded. With Jonas Gustavsson, more likely than not leaving after his contract expires, it opens a place on the roster to try to find a goalie with depth.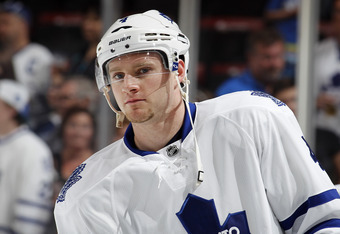 Joel Auerbach/Getty Images
Though the free agency market isn't boasting too many this year and most will be re-signed before July 1, names like Huet and Mason are a top of this list. A trade for a better goalie is a possibility but may cost the Leafs more than it is worth.
Burke and the Leafs need a solid No. 1 goalie next season to allow Reimer at least another year to learn under Francois Allaire.
On defence, there was a lot of high hopes placed on the Leafs squad this year, having seven defencemen throughout the season proved to be a burden as neither Wilson or Carlyle could decide on a permanent pairing.
Constantly bumping out Franson or Komisarek to sit in the press box, the main difference is that while Franson had voiced his unhappiness at the beginning of the season with lack of ice time Komisarek continually under-preformed. 
Even when Carlyle entered the picture, fans were sure that Komisarek would step up and find a place in Carlyle's system that favours the big defenceman's style of play, he was bounced to allow Franson a shot. The best remedy for the Leafs would be to package Komisarek with some other talent in a trade during the offseason. 
The subpar performance does not solely fall on the shoulders of Mike Komisarek alone. Schenn and Phaneuf have both had rough seasons, with Schenn making some very bad plays throughout the season and seemingly sliding further away from the potential seen by the Leafs organization a few years ago.
Phaneuf hasn't had a horrible season with 42 points thus far, but he has been caught out of position a number of times and seems to be having trouble handling some of the faster players. 
With the second worst penalty kill in the league, right above Columbus, and holding the third worst goals against record, something in the Toronto defence needs to change.
Their AHL affiliate has a number of young defencemen ready to move up and play at the NHL level, including Lashoff and Holzer. An offseason trade that includes some of the current defence to fill holes elsewhere could help this team improve. 
Up front, the offence has struggled as well with players like Kulemin who posted career high stats last season, only to post career lows this one. At 25 the Russian winger has time to improve his game back to the level it was last season, but the question is: Will that time be spent in Toronto? 
The biggest hole on offence the Leafs face is not having a forward who can play well and consistently to compliment Kessel. Rumours around the deadline showed that Burke saw this as a hole that needed to be filled. While Bozak has been allowed to play with Kessel, the two seem to do fairly well together.
The question remains if Bozak can mature enough by next season to be the centerman that Kessel needs. 
Lupul and Grabovski both had decent years in spite of the rest of the team, showing that the Leafs do have the offensive capability to win games. Having to get one top-six forward in the offseason will be tough enough, and if Kulemin can't produce, the Leafs may need to be looking for two.
An easier option is to trade for one top six forward and give Bozak one more year to develop among the top two lines.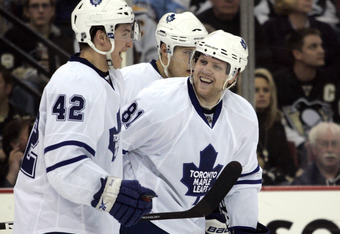 Justin K. Aller/Getty Images
Once again, the Marlies have a number of young guys who could be ready to make the move, names like Kadri and Colborne come to mind, if they started next season on the bottom six to learn the NHL game they could develop into top players in the future.
Leaving the Leafs the ability to trade a few of the bigger names who still have trade value such as Kulemin, in order to address their needs.
Leafs fans needs to remember that Burke chose a different route than a minor-league rebuild. Five years later, we are not much better, if at all, than we were. Thankfully, he did not completely disregard the Marlies, and has held onto some promising young talent. 
At the trade deadline and beyond, he has continually bolstered that roster for the Leafs to have some trade leverage and not be in a position like Montreal, who have very little left in the AHL team.
If the Leafs backtrack with a fire sale—or make irrational trades that affect a number of their upcoming prospects—then Leaf fans will have to wait even longer to see the postseason. 
The current roster is not horrible, there are a few players who need to be traded or dumped, but, realistically, the current Leafs are only a few moves away from having a contending team for years to come.