Coach Brady Hoke Favors Scrimmaging Other Programs for Spring Game
March 29, 2012

Gregory Shamus/Getty Images
Clemson coach Dabo Swinney and Michigan coach Brady Hoke are united together to influence the NCAA to allow scrimmages against other programs in the spring. 
Here's what Hoke had to say from this annarbor.com article:
"I think that would be kind of cool," he said Thursday during a news conference at Schembechler Hall. "I've thought of it before. Whether we do, like the NFL, different teams going to different places and interacting for two days, three days, off of that model. I think that would be kind of neat, if you could do that."
Both head coaches are correct with their desire to make it happen.
It's difficult to properly gauge whom some of the best players on your team are without overcoming various tests first. Could Fitzgerald Toussaint have been the starter for the Wolverines sooner had the coaches seen more from him against other football teams?
The National Football League has a preseason that includes four games against opponents that don't count against their overall record. It benefits teams that are looking for the best players to fit their 53-man squad. 
Major League Baseball also has spring training before its regular season beings. It allows new players to try out for roster and position spots against other teams. Like the NFL, it's vital to finding the best players available to help their squad be victorious.
The National Basketball Association and the National Hockey League mirror the importance of what preseason does to assist each team.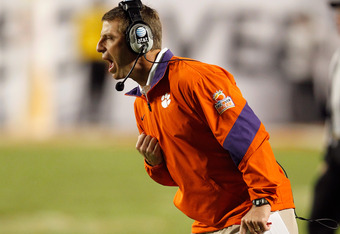 Streeter Lecka/Getty Images
So why doesn't college football follow suit? Certainly, more money could be brought in to various schools as the people are charged to see these scrimmages. 
Despite the advantages of coaches getting to see more of their football players and increased revenue for the school, unfortunately, it's not all sunshine and rainbows.
There are some crucial downsides to scrimmaging against other schools as well. Every year in the NFL, we hear about devastating preseason injuries to star players that ruin their season. 
In 1998, Jason Sehorn was considered an elite cornerback for the New York Giants. On the very first play in preseason against the New York Jets, Sehorn suffered a torn anterior cruciate ligament that required season-ending reconstructive surgery.
In 2003, Michael Vick broke his fibula during a preseason game against the Baltimore Ravens. He missed the first 10 games of the season that year. 
And those are just two examples out of the many injuries players have suffered over the years in preseason football.
Coaches would also need to be careful not to open up too much of their playbook on the offensive and defensive side. Regular-season opponents would see too much on film, ultimately prepare too well and be ready for anything Michigan would throw at them.
So there's definitive advantages and disadvantages to playing against another school for one or two spring games. What do you think?